Posted by DecoArt on Oct 11th 2020
Vintage and reclaimed wood bowls can take on an entirely new life with a little paint! Finding old bowls and painting them to use in different seasonal decorating is great way to add an interesting custom decor item without breaking the bank. I used
Americana® Pearls™
to create an upcycled black and white abstract bowl for a fun boho look. 
Americana® Pearls™
adds a beautiful, soft shimmer effect without being too over the top.
Creating this gorgeous look was easy! We painted the outside in a two-tone on the sides, and then added fun boho-inspired arrows and dashes! The inside is painted with the beautiful Lamp Black Pearls to add depth and sheen. You just need a few supplies to recreate this project.
Items Needed:
A Soft Flat Brush
A Soft Round Brush
Wooden Bowl
Instructions:
Clean the bowl and make sure it's free of all grease and oil. If it seems like it's been waxed, or has a glossy finish, give it a quick sanding first for better paint adhesion. Once it's painted, the bowl will be for decorative use only and no longer used for food.
Begin painting one side of the bowl to almost the middle, leaving the paint lines uneven with the
Multi-Surface Satin™ paint in Black Tie.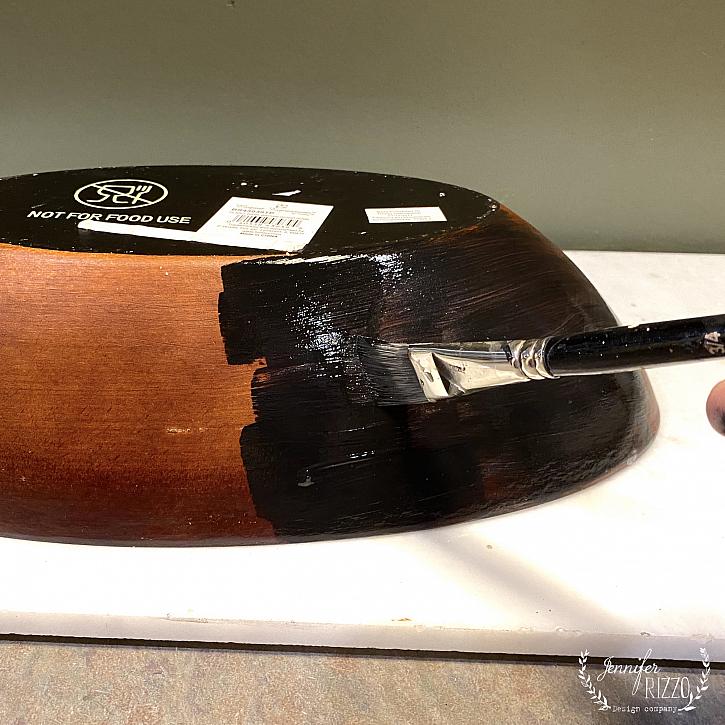 Once it dries repeat on the other side with the Multi-Surface Satin™ Acrylics in Cotton Ball.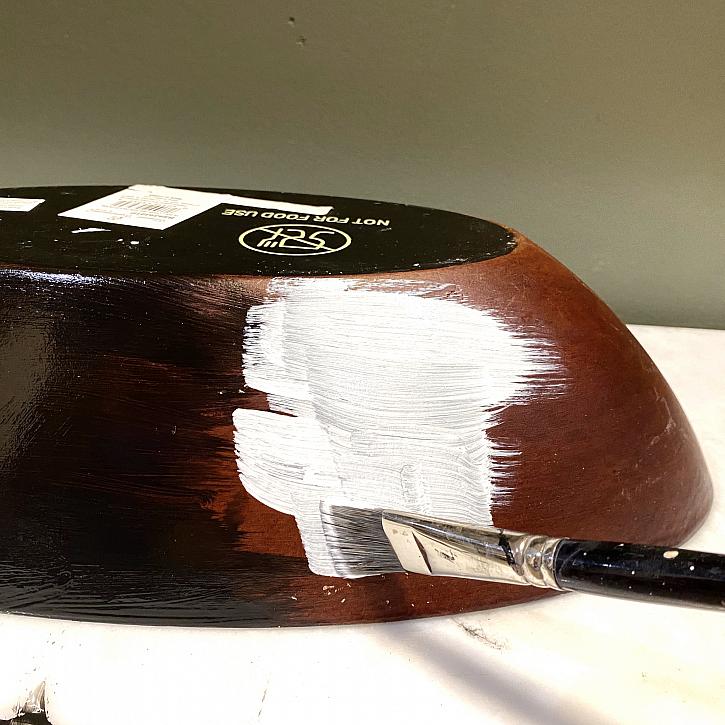 Paint the top rim of the bowl (if it has one) with the black multi-surface paint.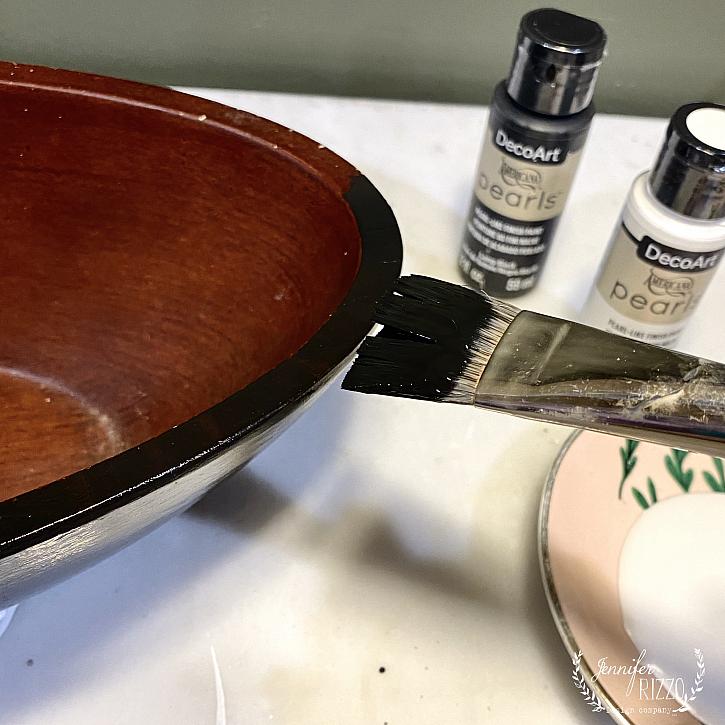 When both sides and the edge are dry, paint over them with black multi-surface paint and with Americana® Pearls™ in Lamp Black using long, even strokes. The color will brush on a little lighter, and will dry much darker and richer in appearance.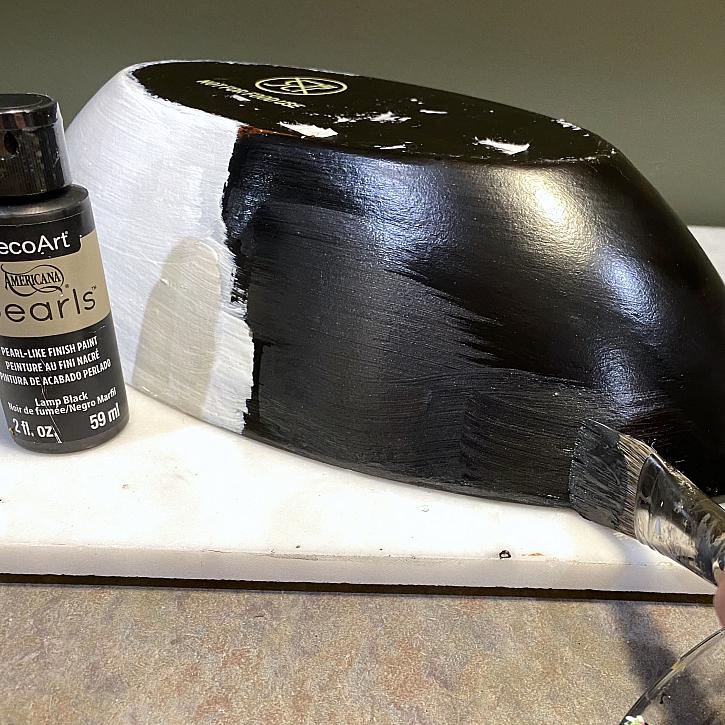 Once the side of the wood bowl with the black paint is dry, repeat with the Snow White Pearls™ to create your black and white pattern. Add with long, even strokes and let it dry.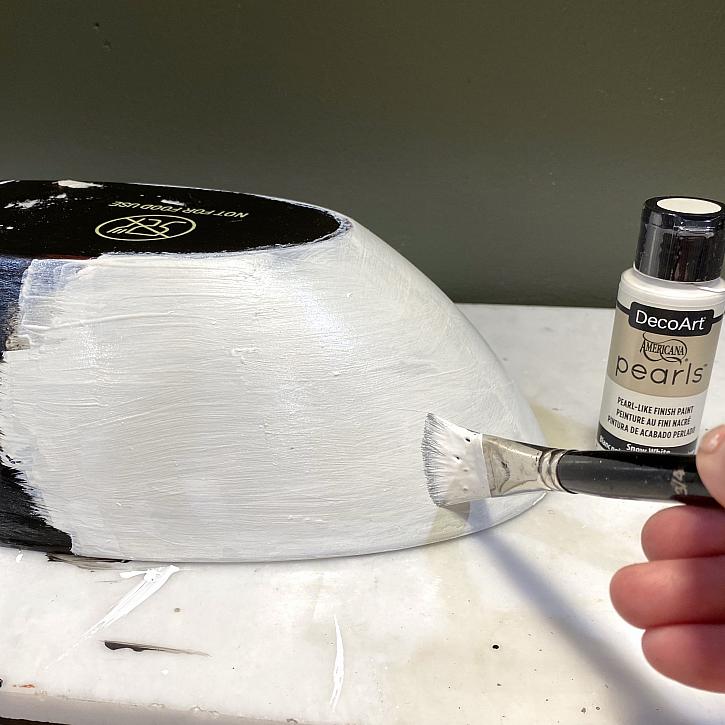 Use the Americana® Pearls™ in Lamp Black to paint the inside surface of the bowl, applying two coats if needed to deepen the color and effect.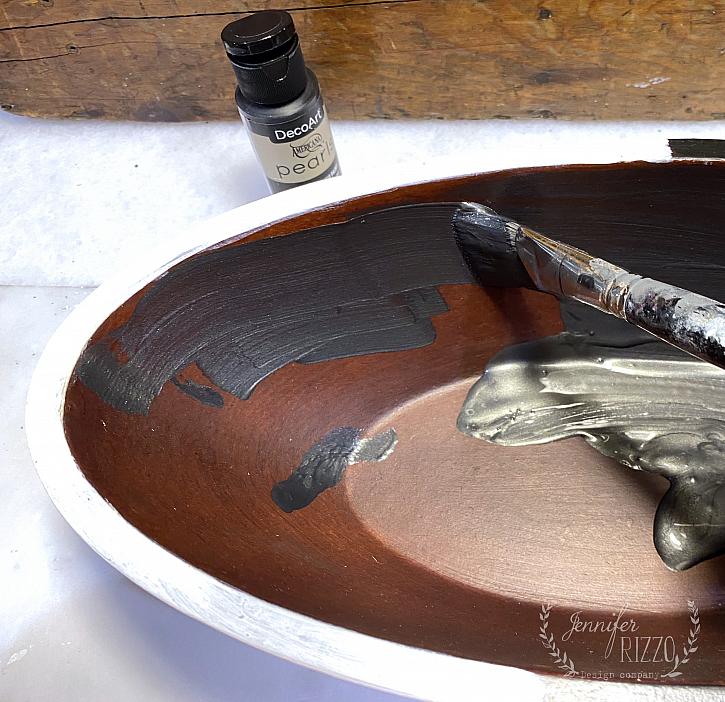 Once the inside has dried, flip the bowl over to paint fun designs. We painted a black dash pattern over the white, and a fun white arrow pattern over the black. That's the great part about boho style, you can be as creative as you like and try painting all kind of marks!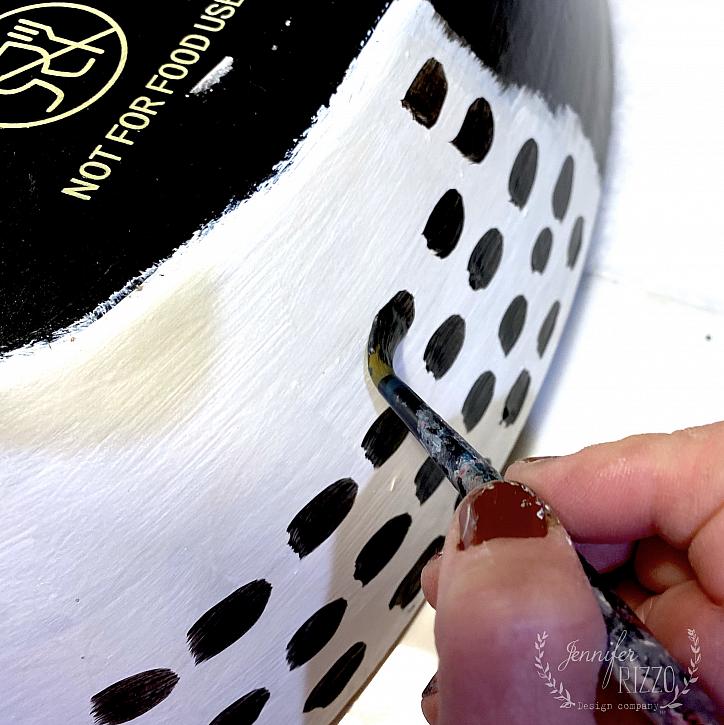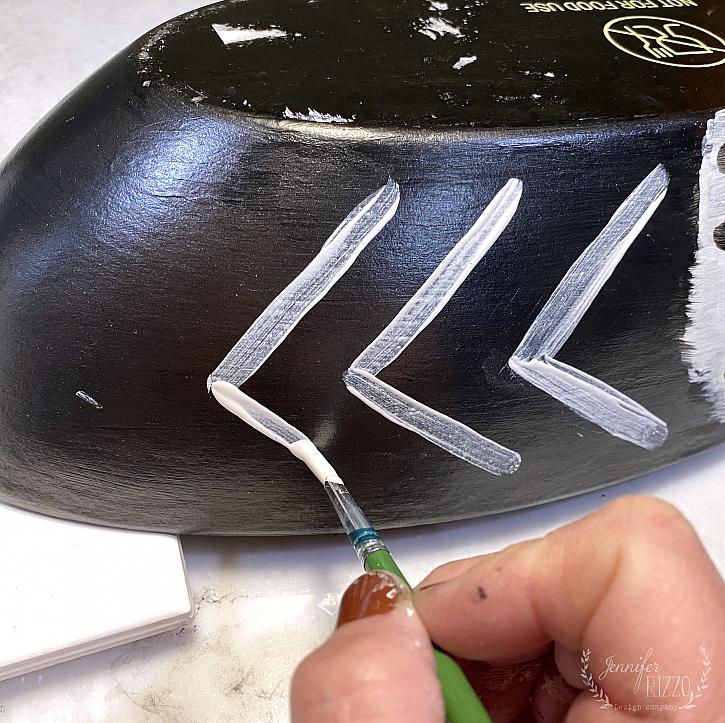 When it has dried for 24 hours, it's ready to style!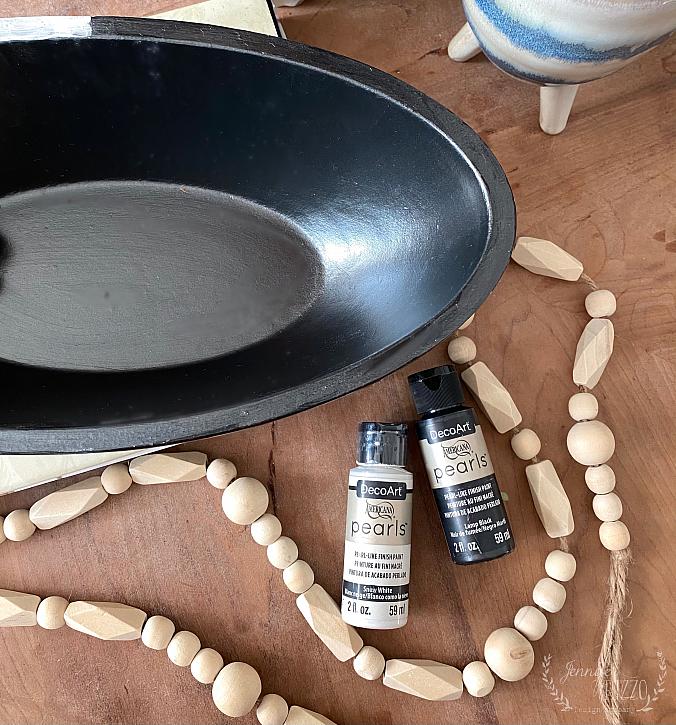 Black and white is such a classic combo, and abstracts and boho are so trendy; they are a great pairing! The light, pearlescent sheen of Americana® Pearls™ is the perfect backdrop to add some "wow" to this upcycled bowl project!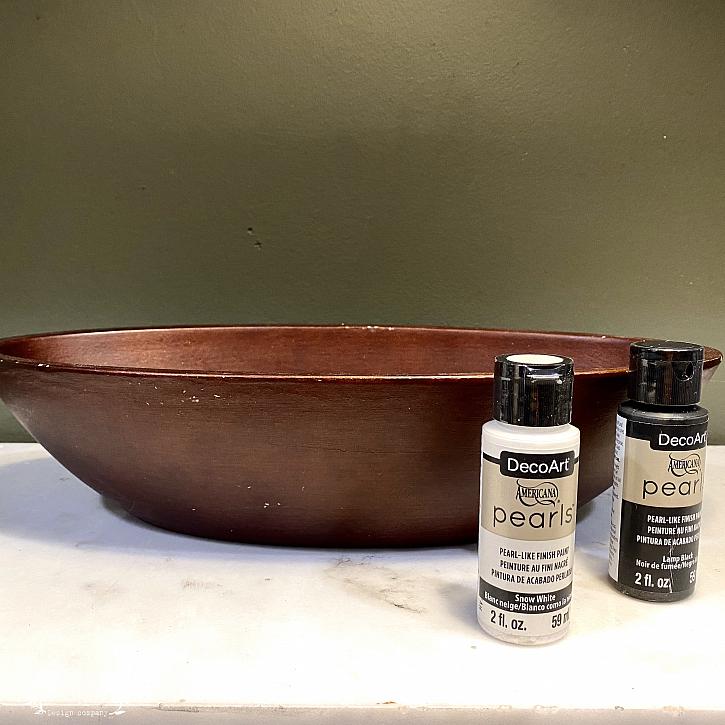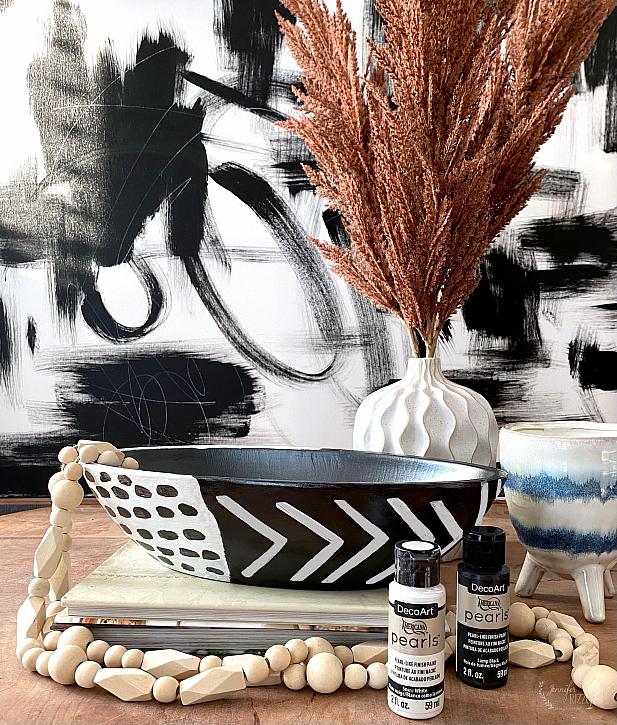 For more inspired craft and decor projects, visit jenniferrizzo.com, because you have it in you to create a home you'll love.