Posted by DecoArt on Aug 11th 2013
Black and white prints are one of the hottest trends this season, so when I was looking through my DecoArt Frost Gloss Enamels, I thought it would be a great way to bring this trend into our glassware.
Items Needed:
Instructions: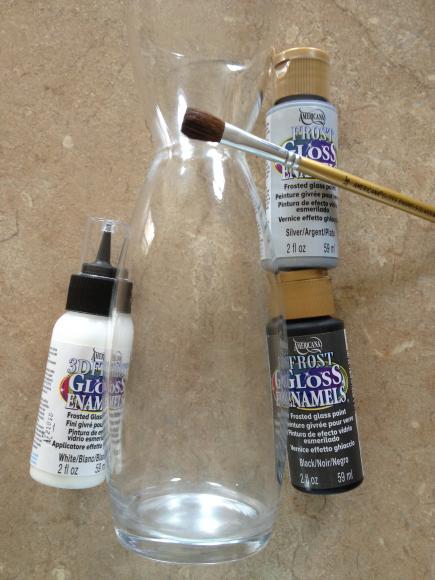 I picked out a glass half litre wine carafe and went to town with my frost paints. First, I painted about ½ way up the carafe with the black frost paint, using the gloss enamels brush in long vertical strokes. I absolutely love these brushes; they are nice and soft, which came in handy for my next step, and flow really nicely with the frost paint which is a medium viscosity paint and flows quite fluidly on the glass.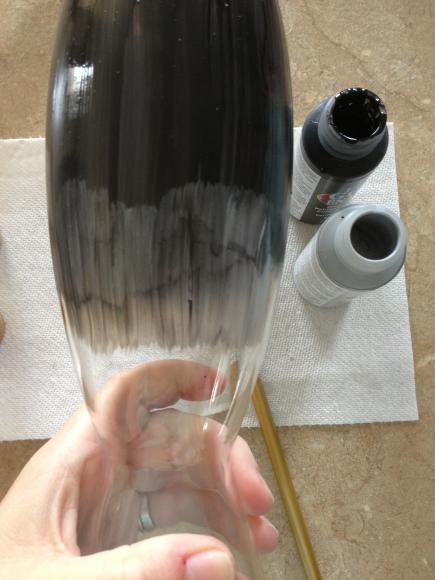 I sat back and looked at the piece, thinking it was lovely but thinking it needed some extra trendy element to make it really stand out. I grabbed my white frost gloss enamels writer and placed four sets of dots on the bottom third of the carafe. What I didn't expect was the paint to dry and the peak of each dot to harden, almost like a spike. Now, this is a happy accident in my books because spike detail is another amazing trend taking centre stage these days and I am really excited to have a piece of barware that has both the black and white trend, as well as the spike trend.
While the black paint was just about dry, I went over the edges for about 2" with the silver and blended that into the black. I love the effect it gave; a slightly smoky look and it blends naturally into the glass…almost as if it was meant to be there.
The next part is the excruciating part; the four day wait. Allow your gloss enamels to dry on your painted surface over the next four days, then bake your creation in an un-preheated oven at 275 for 30mins. Now it's dishwasher safe, ready to be used and displayed as a trendy piece of home décor!