Posted by DecoArt on Sep 7th 2015
This project was designed by Sharon Cook as an entry to the Americana Decor Chalky Finish Second Chances Contest.

Watching my grandchildren grow and "bloom" into the wonderful, happy, delightful, and intelligent little people that they are becoming was the inspiration behind this project. This wooden Adirondak chair was originally purchased for my oldest grandson when he was three years old (he is now nine). It was my hope that he would use it on those wonderful summer evenings sitting outside with his parents enjoying the twinkling stars in the night skies and discussing the day's events. He has truly enjoyed the chair, and now has two younger sisters who also have grown to love it. As the chair has aged, however, and the wood has been exposed to the summer sun, water from the sprinkling systems, and even a few early snowfalls, it became obvious that if the chair was going to survive, it needed some type of good protective finish. The "Americana Décor All About Second Chances" contest was the perfect incentive for me to finish this beloved piece of furniture that our grandchildren have grown so attached to.
Items Needed:
Assorted Brushes
Transfer Paper
Painter's Tape
Sand Paper
Tack Cloth
Show-Offs Stencil - Bird Decorative Stencil
Show-Offs Stencil -Blank 8
Show-Offs Stencil Cutter Kit
Instructions:
Sand surface as needed. Fill any chips or dents that you want removed with wood putty or filler; sand again; tack to remove dust. Apply Stain Blocker/Sealer and allow to dry.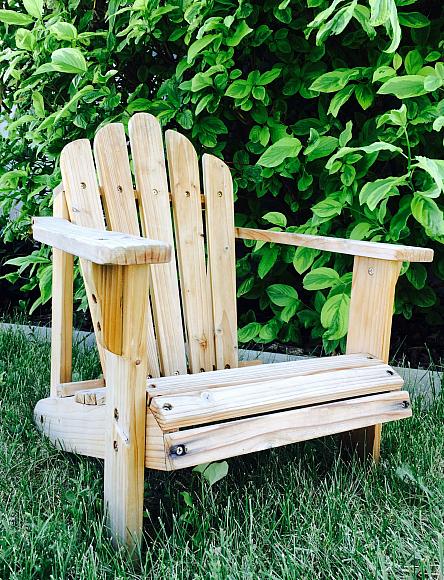 Escape: Base the chair with two coats of paint.
Serene: Using the Classic Quatrefoil stencil and the stencil brush, apply pattern to top of chair seat, top of chair arms, and front of chair back.
Cutting Stencils: If you desire, you can easily cut stencils for the BLOOM lettering, for the flower centers, and for the leaves. Following manufacturer's directions on the stencil cutter, cut out the letters, flower centers, and leaves from the stencil blanks. NOTE: Be sure to leave enough room between each element that you cut out so that your stencil brush won't run into the next element and stencil it by accident. If you are concerned about this happening, however, block any area you do not want stenciled with painter's tape. If you do not want to cut your own stencils, the letters, flower centers, and leaves can easily be based in and shaded/highlighted in any manner you are accustomed to.
Flower Stems and Leaves: Use painter's tape to block off three stems for the flowers. Stencil between the tape with New Life. Load stencil brush again with New Life and a tiny bit of Fortune; tap on palette to blend. Stencil down one side of each stem to shade. Gently remove painter's tape. Using the leaf stencils you cut, stencil New Life in each leaf; load a bit of New Life and Fortune on brush; tap on palette to blend. Stencil bottom portion of leaf to shade.
Birds and BLOOM Lettering: Cut off the eye from the bird stencils. Block off the bird legs with painter's tape. Stencil the birds and letters with Delicate (this may require more than one application to cover the blue background). Stencil to highlight the top of the birds and lettering with Primary Yellow. Stencil to shade the bottom of the birds and bottom of bird's wing with a very light application of Coral Blush (pounce out most of this paint on your palette before applying to the birds and lettering). Repeat with a tiny bit more Coral Blush at the bottom of the birds and lettering. Strengthen the highlighting by floating around top of bird's head and top of the lettering. Deepen the shading on the bottom of the letter and birds by floating around bottom.
Flower Petals: Tape off the appropriate flowers from the Oopsy Daisy stencil (refer to photograph) and stencil petals with Bubblegum Pink. Stencil tips of petals with Pumpkin; base the bottom of petals with Razzle Berry. Strengthen Pumpkin and Razzle Berry by floating over the stencil areas.
Flower Centers: Stencil flower centers with Delicate (this may require more than one application to cover the blue background). Stencil Warm White at the top of each flower center; stencil Primary Yellow at the bottom of each flower center.
Bird's Beaks: Base beaks with Pumpkin; shade bottom of beak and on beak next to bird with Razzle Berry.
Bird's Legs: Stencil bird's legs with Espresso (note that the birds legs have been extended to be longer than what is on the stencil).
Eyes: Base eyes with Warm White. Base iris with Serene; shade iris with Peacock Teal. Line around eyes and line lashes with Espresso; dot pupils with Espresso. Dot center of pupil with tiny dot of Warm White.
Decorative Dots: Dot bottom of flower centers with various sizes of Espresso dots; dot bottom right side of each letter with descending dots of Espresso. Dot tops of flowers centers with various sizes of Warm White; dot upper left side of each letter with descending dots of Warm White.
Ultra Matte Varnish: Finish chair with two or three applications of Ultra Matte Varnish. Enjoy!