Posted by DecoArt on Jun 5th 2014
There's no denying that we're entering PRIME wedding season, and there's a good chance you know someone getting married or will be attending a wedding soon!  Usually the bride & groom are registered, which makes gift giving a bit more simple, but sometime its nice to add a gift with a bit more meaning...and what's more meaningful than something you've handmade for them!?
Items Needed:
Water Basin
Paint Brush
Toothpick
Paper Towel
Instructions:
Starting with the groom's glass, begin by painting a straight line around the circumference of the glass, then outlining the shape of the tux using Americana's Frost Gloss Enamel in White.

TIP: I always paint with toothpicks when I'm working on tiny, detailed projects. Toothpicks enable you to keep lines slimmer and straighter.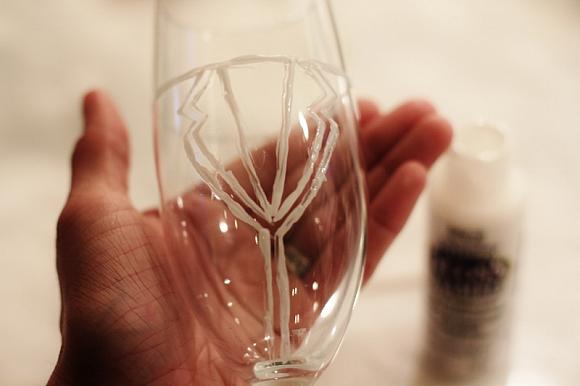 Once you've outlined the grooms tux, use the small paint brush to fill in the remaining space with one light coat of the Frost Gloss Enamel in White.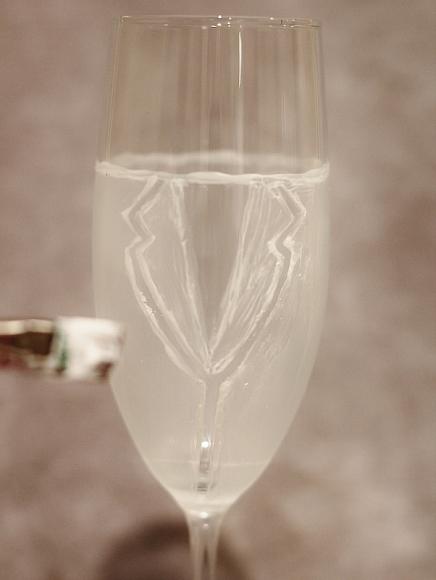 Finish the groom's glass by adding a bow tie using the Multi-Surface paint in Black Tie.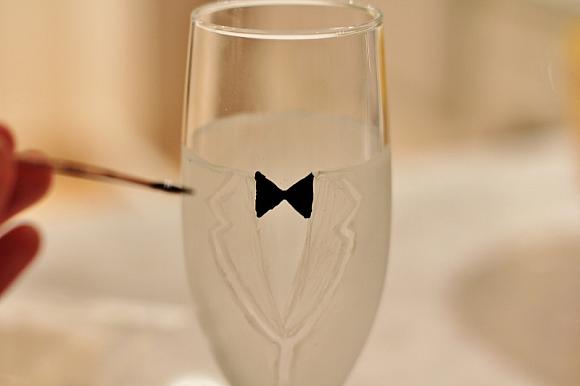 Moving along to the bride's glass, use the Frost Gloss paint in White and a toothpick to draw scalloped curves around the circumference of the glass. Draw the curves into whatever shape you'd like the brides gown to be (I drew mine into a simple sweetheart cut).

Use the Frost Gloss Paint in White and a paint brush to fill in the remaining space.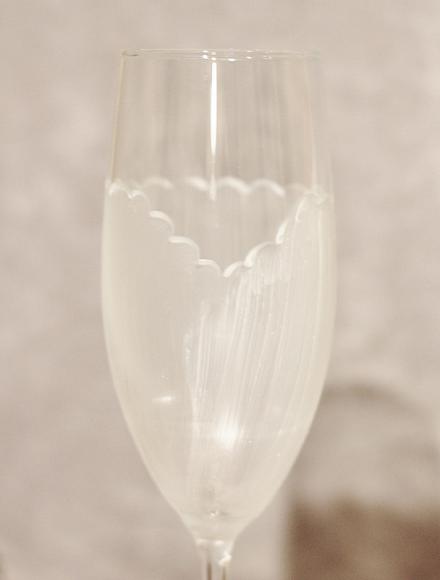 Polish off the bride's dress by adding a simple necklace! Use a toothpick to place small dots above the dress. I used Americana's Glamour Dust Paint in Ice Crystal (if you'd prefer the necklace without the sparkle you can use Americana's Multi-Surface paint in Cotton Ball instead).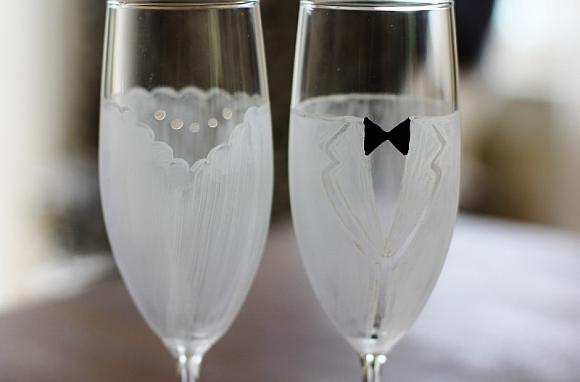 Once both glasses are complete, bake them both in the oven for 30 minutes at 325 degrees. Once cooled, they'll be ready for their toast, cheers!