Posted by DecoArt on Apr 8th 2014
Can I tell you how much I adore DecoArt's new Chalky Finish Paint?  This fabulous new paint was recently chosen as one of the Hot 20 Innovative Craft Products by the Crafts and Hobby Association and I just couldn't agree more.  I made a beautiful beaded necklace with the Chalky Finish Paint and I am in love with it.  It was incredibly easy to make and it is a stunning statement piece of jewelry without the hefty price tag.
Let's learn how to make a Chalky Finish Paint Beaded Necklace...
Items Needed:
Paint Brush
Unfinished Wooden Beads
Silver Beaded Chain Necklace
Flower Pin (optional)
Instructions:
The process is quite simple. You will begin by painting the unfinished wooden beads with the paint. I love that you don't have to prime the wood... the paint adheres extremely well. For the best coverage, I held each bead between two fingers and painted them. I let them dry and then made sure to paint over any bare spots. I was able to use only one coat of paint for the beads and it dried in no time.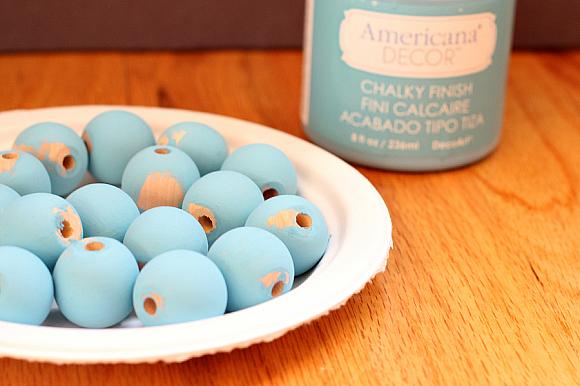 Now it is time to make the necklace. This was a quite simple task. I put the beads on the chain until it covered about three quarters of the necklace and made sure to close the clasp.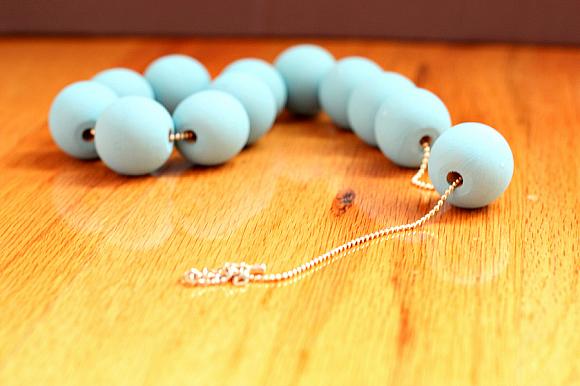 To finish it off, I pinned the flower off to the right of the necklace. All done... so easy, but so elegant!