Posted by DecoArt on Dec 14th 2017
I needed a little Advent home decoration gift for my sister and she told me lately that she had seen a gorgeous wall hanging with a wire loop and a wooden bird on a branch,  so I decided to make my own from die cuts and crafting stuff I had at home. I always have little sticks, various kinds of craft wire and other craftsy stuff in my stash and together with DecoArt's great products it is great fun and quite easy to make my own home decor pieces to give away as little presents to family and friends. 
Items Needed:
Wood Stick, 6 Inch Long
Black Wire, 20 Gauge Diameter
Round Nose Pliers
Cutting Pliers
Hand Drill Or Dremel
Bird Die
Christmas Quote Die
Banner Die
Die Cutting Machine
Heavy Cardstock
Calico Craft Parts MDF Snowflake Wood Shapes
Palette
Palette Knife
Assorted Brushes
Instructions:
Drill two holes in the wood stick. Cut off a 14 inch piece of wire and bend it into shape. Form a little loop on top. Die cut your bird from heavy cardstock or greyboard.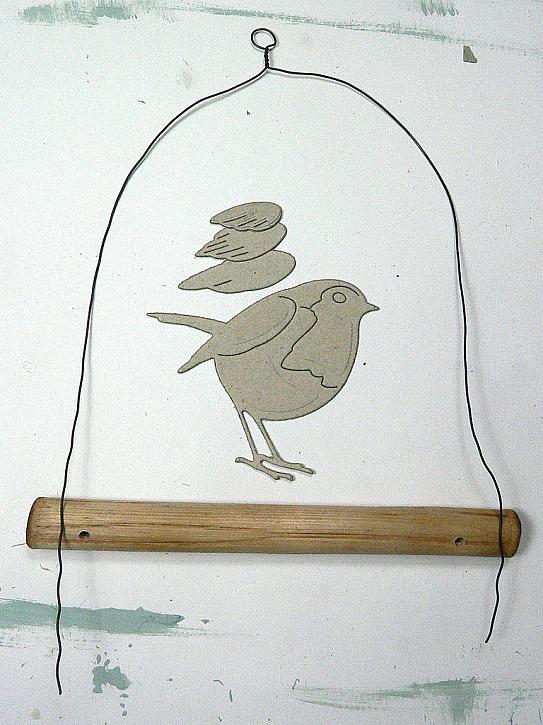 Paint the bird and snowflakes with Chalky Finish paints Timeless and Refreshing. Let dry.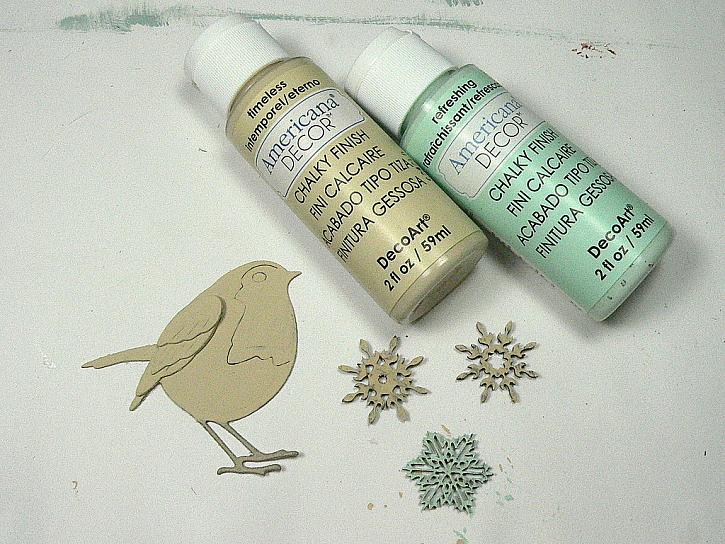 Paint the bird's legs with Chalky Finish Relic. Let dry.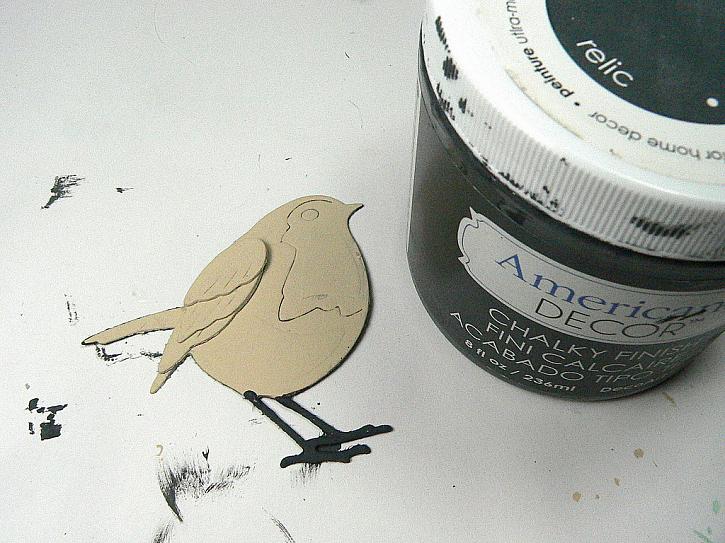 Add a coat of DecoArt Glamour Dust Ice Crystal and Turquoise Sparkle to the painted snowflakes. Let dry.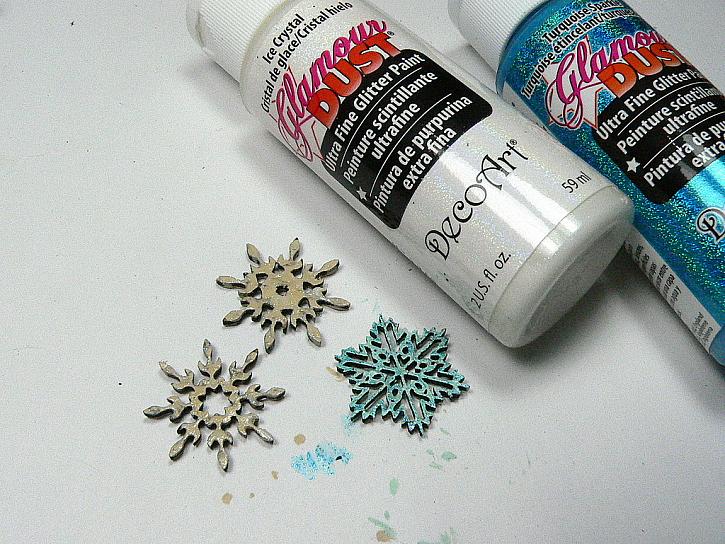 Paint the wood stick with Chalky Finish paints Rustic and Timeless. Add the darker colour first and paint on the lighter while the first layer is still wet to create streaks and mixed tones.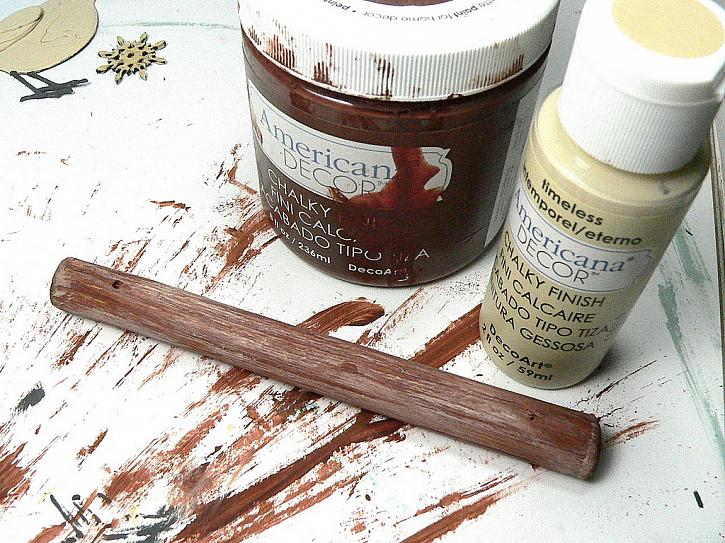 Paint the bird's eye and beak with Carbon Black. Use mixes of Prussian Blue Hue and Dark Grey Val. 3. to paint the wings. You can also later add some Turquoise Sparkle Glamour Dust to the wings once the paint has dried.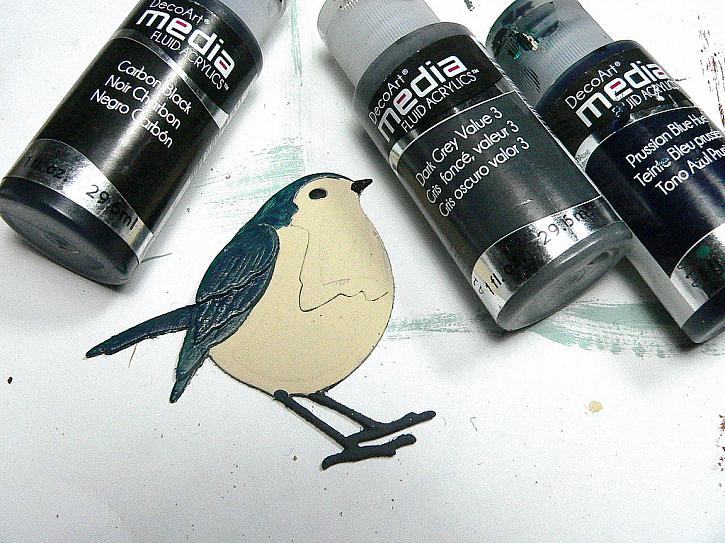 Use Dark Grey Val. 3 and Titan Buff to paint the bird's body. Mix the paints directly on the substrate to create some shading. Use Titan Buff to add highlights to the feet and eye.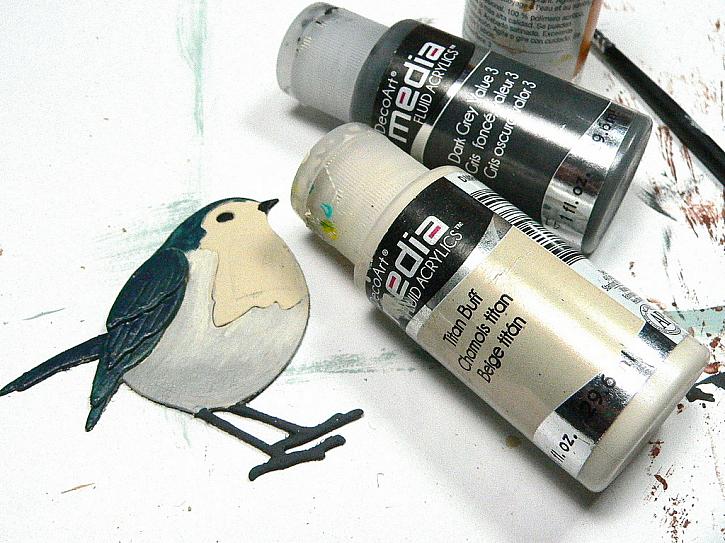 Paint the Robin's chest with mixes of Diarylide Yellow and Quinacridone Gold.
Add Liquid Glass to eye, beak and feet. Let dry naturally.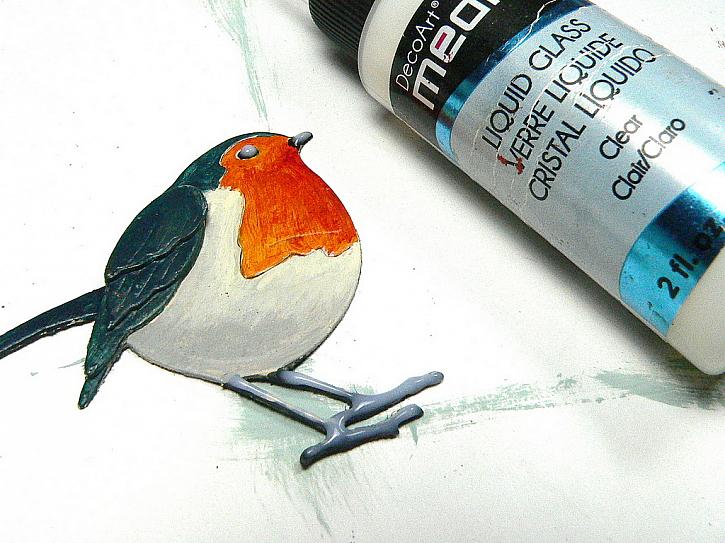 Glue the snowflakes to the wood stick using matte Decou-Page. Insert the bent wire to keep the stick from rolling over while the glue dries.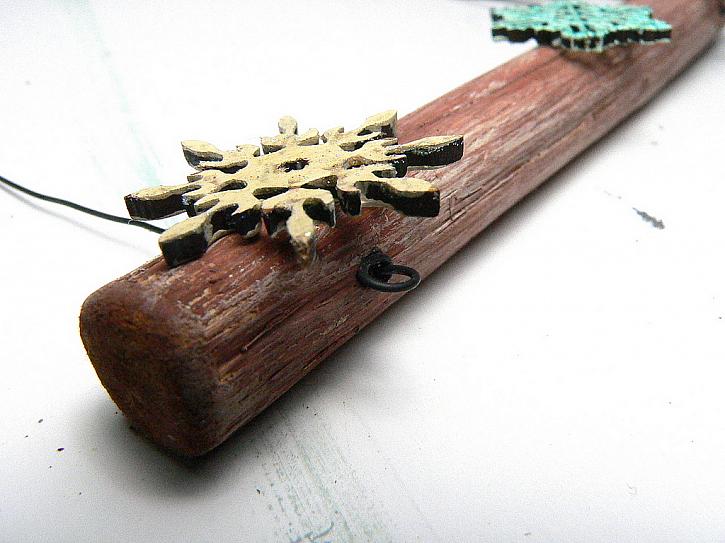 Once all is dry create loops at the wire's ends. Bend a loop and wrap the wire around two times before you cut off the excess. Then insert the wrapped around wire ends into the holes until only the loops are visible.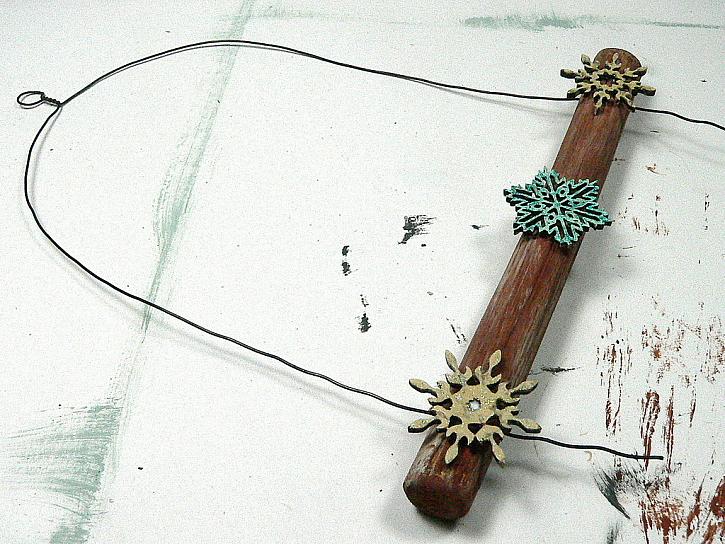 Use a palette knife to generously add Snow-Tex to the wood stick. Stick the bird's feet into the wet Snow-Tex. Use something to stabilize the bird while the Snow-Tex dries. Once the Snow Tex has dried, you can also add some Decou-Page across the feet and Snow Tex for a better hold.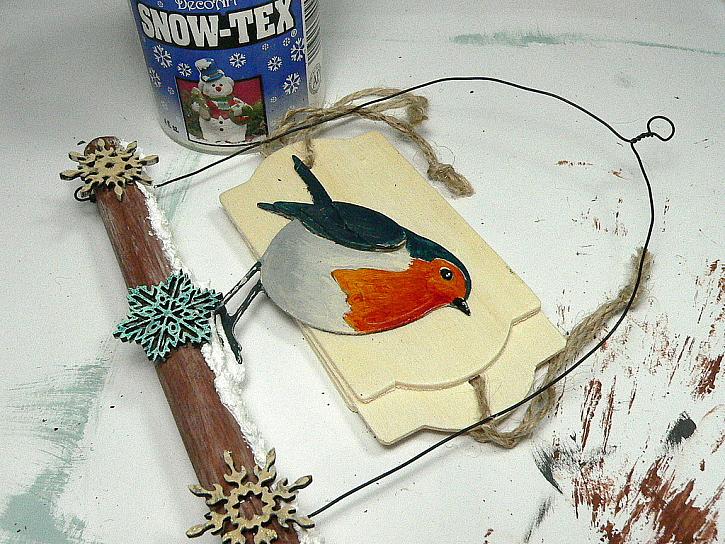 Die cut two banners and your Christmas words and glue them to the wire by creating a banner-wire-banner sandwich. You're done! All you have to do now is find a good home for your robin.