Posted by DecoArt on Feb 10th 2020
February is the month to celebrate love, especially on Valentine's Day. This year though, I created a special memory canvas for a friend and her young daughter whose Mother/Grandmother recently passed away. It's filled with many circle images and designs to celebrate the circle of life. The embroidered hearts represent each of them joined together in life and memory. I wanted to create a richly layered and soft pink canvas to celebrate their bond.
Items Needed:
Stretched Canvas (8x8)
Small And Large Bubblewrap
Palette Knife
1-inch Flat Brush
Craft Sheet Or Palette
Heart Patterns (I Made My Own)
Embroidery Thread
Embroidery Needle
Scissors
Canvas (or I Used An Old Pair Of Pants)
Embroidery Hoop
Pencil
Fine Permanent Black Ink Pen
White Paint Pen
Scratch Tool To Distress Fabric Edges (or By Hand)
Fabric Glue
Baby Wipes
Cosmetic Sponges
Instructions:
Step 1: First layer on the canvas is a vibrant red swirl design. I'm using the Segmented Swirls stencil and dabbing a light layer of Cadmium Red Hue through the stencil for an all over layer. I also brought the design around to the edges of the canvas, and do this with each layer.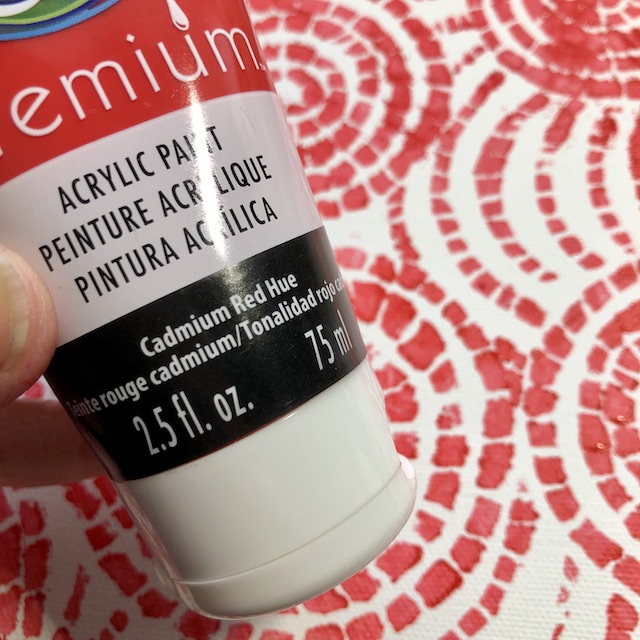 Step 2: I mixed the remaining red paint with Titanium White on my craft sheet with a palette knife, then randomly spread this over the first layer.
Step 3: Paint a layer of Primary Magenta over the large bubblewrap and press randomly onto the canvas. Again, mix the leftover paint with Titanium White and spread onto the canvas with the palette knife, leaving areas untouched.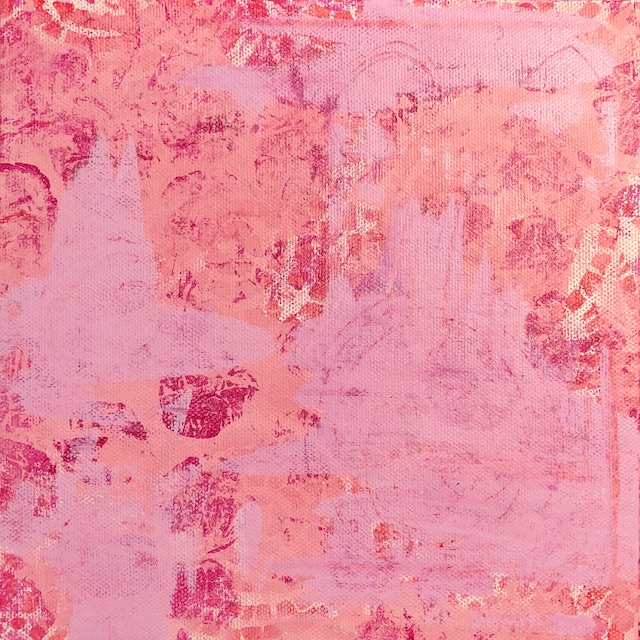 Step 4: Build another layer onto the canvas with the Doily stencil and Cadmium Red Hue. I placed this design closer to the edges of the canvas.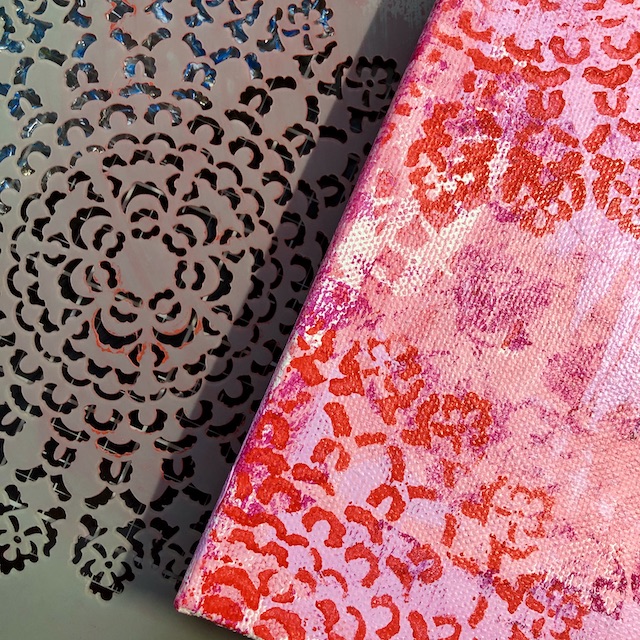 Step 5: Mix the remaining red paint with a good-sized dollop of the white paint, and spread this on the small bubblewrap. Stamp in a random fashion all over the canvas. This will be a very subtle layer.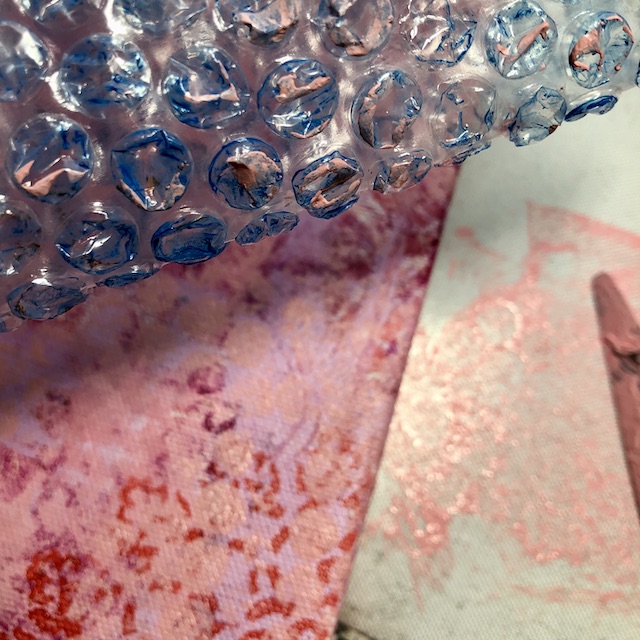 Step 6: Time to tone down the canvas. Mix Translucent White and Primary Magenta fluid acrylics to a very light pink and paint over the canvas. Wipe back with a baby wipe to ensure some of the design shows through.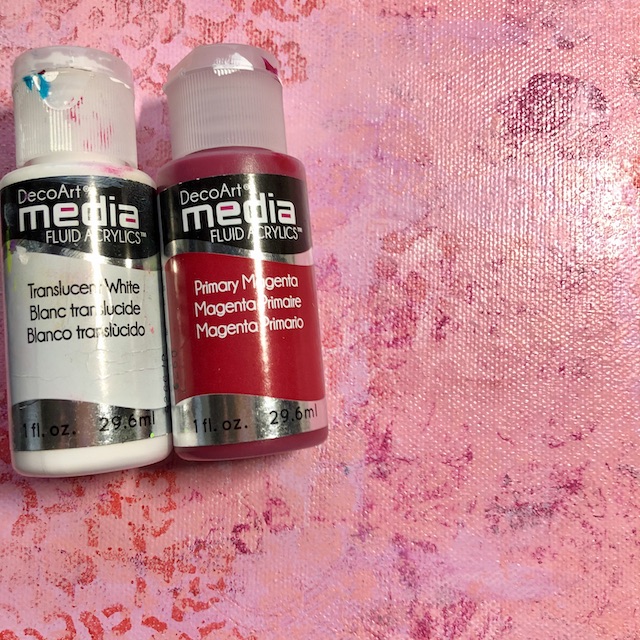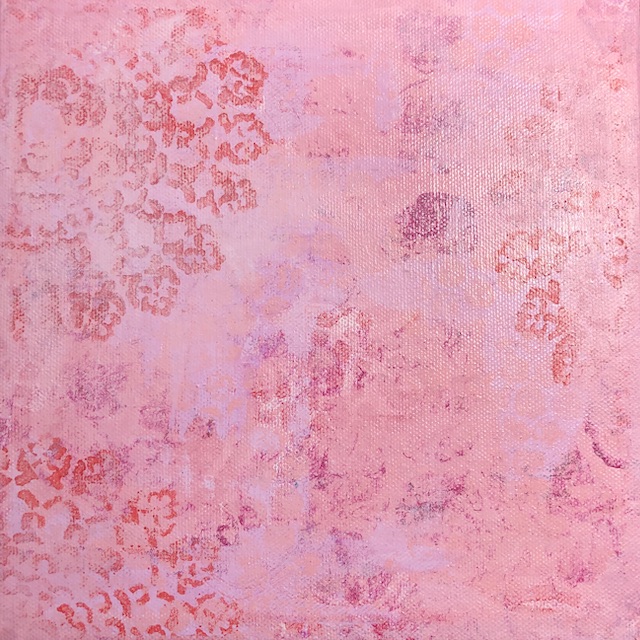 Step 7: Add another layer with the Segmented Swirls stencil and Interference Magenta, by dabbing the paint through the stencil with a cosmetic sponge.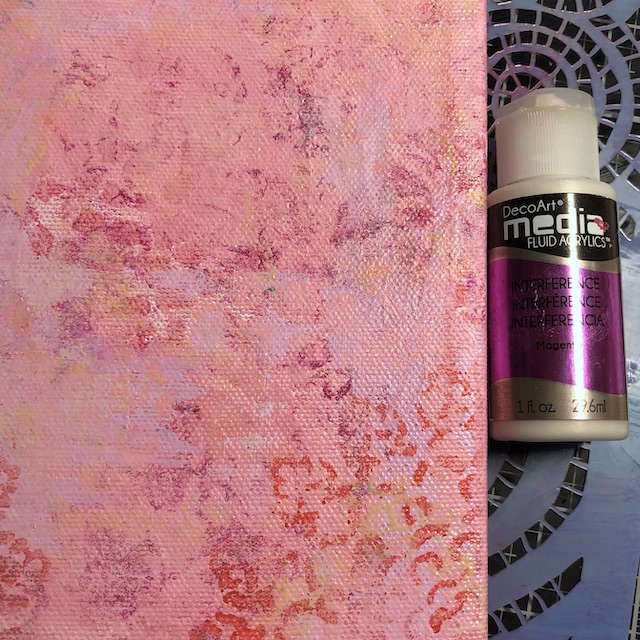 Step 8: My color goal with this canvas was a very light pink with hints of layers of rich color and design, so I added one more layer. For my final layer, I rubbed on the Translucent White fluid acrylic and wiped it back with a baby wipe. Again, I went around the edges of the framed canvas with this step as well as previous ones.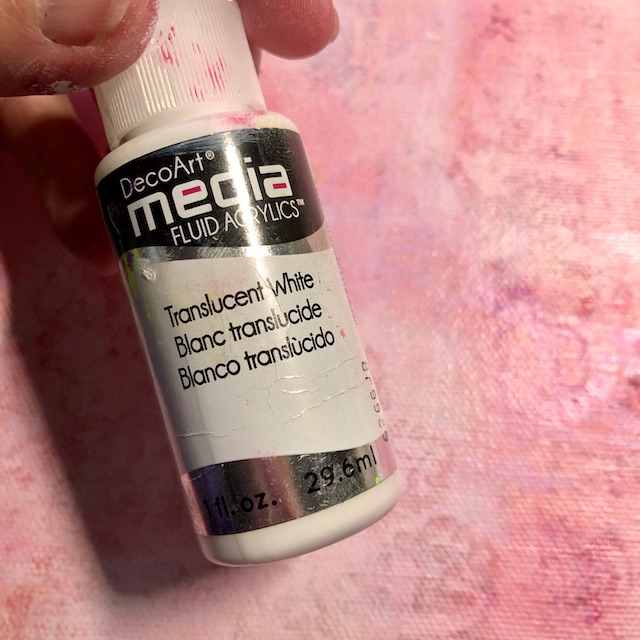 Step 9: I knew I wanted to work in some embroidery with this project, so I pulled out my embroidery floss and tools, plus an old pant leg. (You could also use canvas for this.) I cut three different sized hearts on paper and traced them onto the cloth. Then, I embroidered each heart in a different color. I found it was easier to keep the cloth in a large piece, so I could hold it in the embroidery hoop to do my stitching.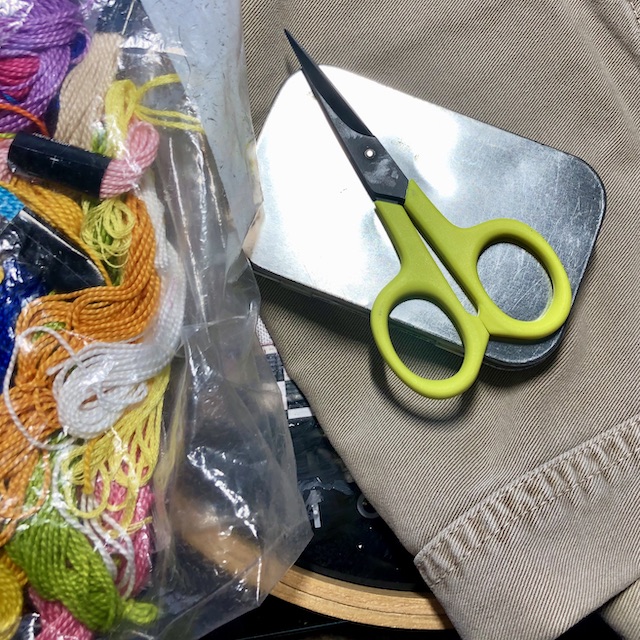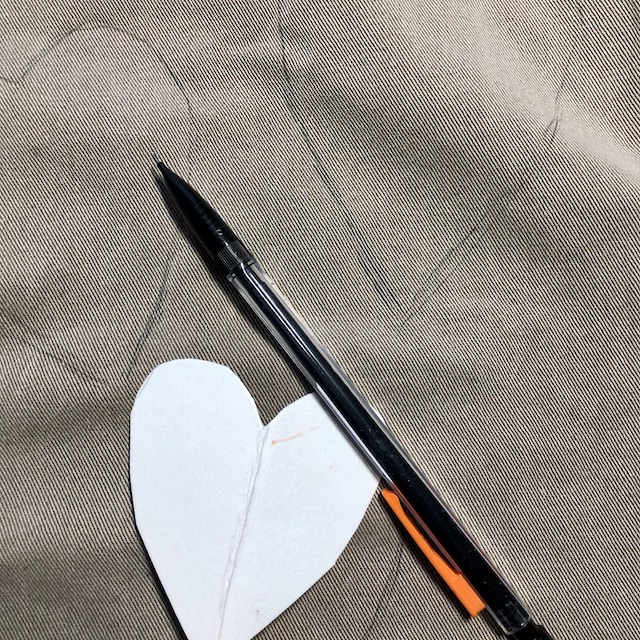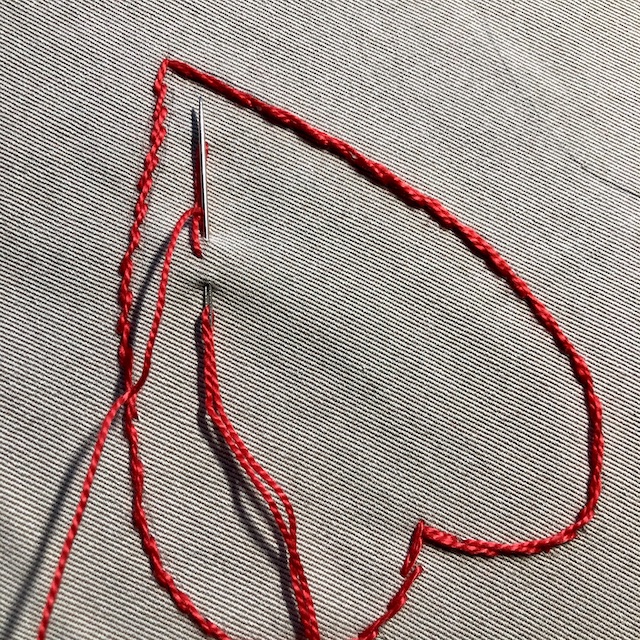 Step 10: After I had embroidered my first heart, I felt it was too plain, and came up with the idea of adding polka dots, so I took a pencil (eraser end) and dipped it into Titanium White (premium acrylic) and added dots to each of the hearts. Definitely easier to do before embroidering, but sometimes the ideas come to me in the midst of working.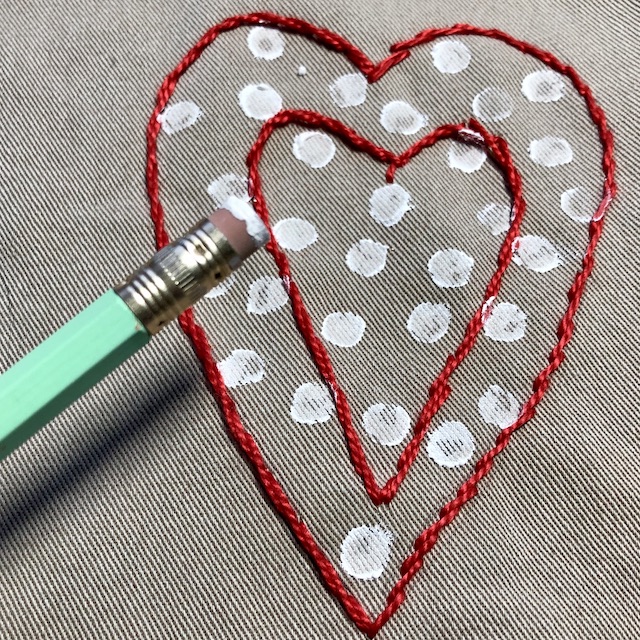 Step 11: I cut out each heart, then distressed the edges so there would be lots of loose threads. You can pull them by hand or use a tool as I did. I glued the finished hearts to the canvas and wrote the words with a white paint pen. When that dried, I outlined it very lightly with a black pen, and voila! It is done!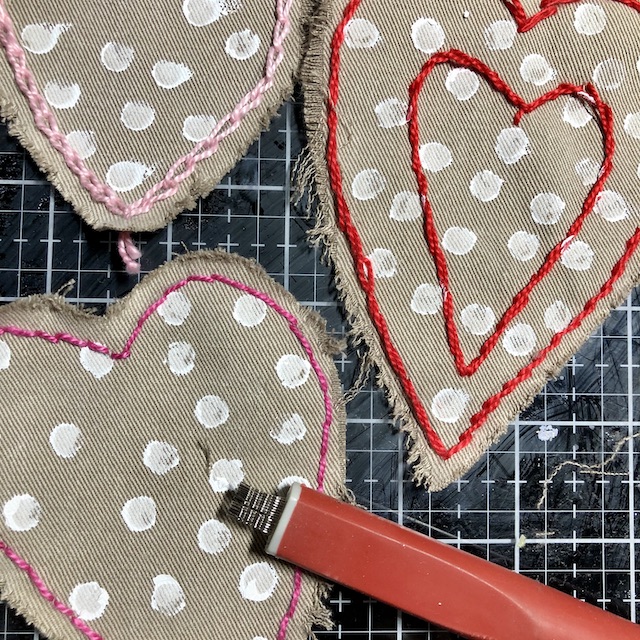 Details: Each heart is unique to represent each person, and I overlapped them to connect their hearts together. As I worked, I noticed I was using lots of circular patterns which prompted me to come up with my words I added - "the Circle of Love", a riff on the circle of life. I hope my friend and her daughter will find comfort in the meaning behind this canvas. You could create a similar project for your favorite Valentine, or maybe your canvas would have a heart for each person in your family or circle.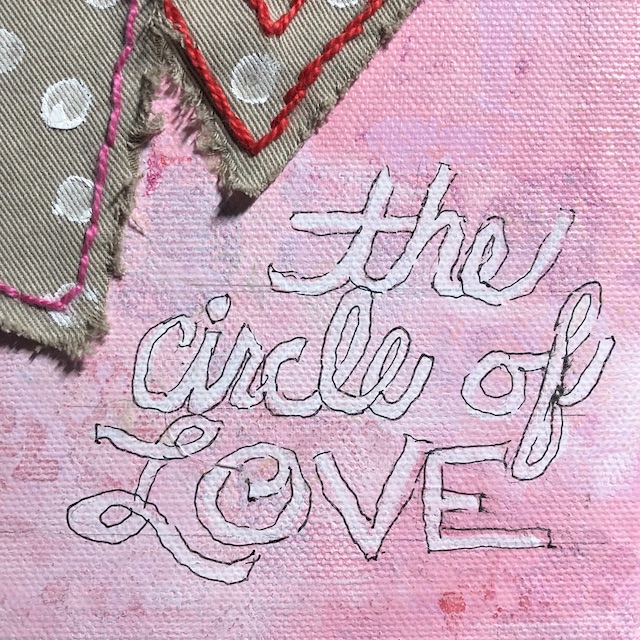 Happy Valentines Day to you!

Maura