Posted by DecoArt on May 26th 2016
There is something about the coastal color that is so appealing, even though I live in the heart to of the Midwest. There is a certain kind of ease to the cool look of blues and grays that just seems restful and serene.
On my recent patio refresh, I was inspired to use DecoArt's new Color Stain and some craft store crates to make a fun, coastal color inspired outdoor patio table. I needed a table to set my drink and books on when I go outside to read.
It took me about an hour to complete the project, and I loved how the new Color Stains are low VOC, yet self-sealing at the same time and can easily be layered for a deeper tone and color.  
Items Needed:
Americana Decor Color Stains 8oz - Navy
Americana Decor Color Stains 8oz - White
Americana Decor Color Stains 8oz - Ash Grey
Americana Decor Color Stains 8oz - Turquoise
Americana Decor Color Stains 8oz - Forest
Americana Decor Color Stains 8oz - Charcoal
Foam Brushes
Raw Wood Crates
Galvanized Metal Table Top
Paper Towels
Instructions:
I found a few bare wood craft crates that one their end were the perfect table height, and at the same craft store, I found a galvanized metal panel meant to be a memo board that was the perfect size for a table top!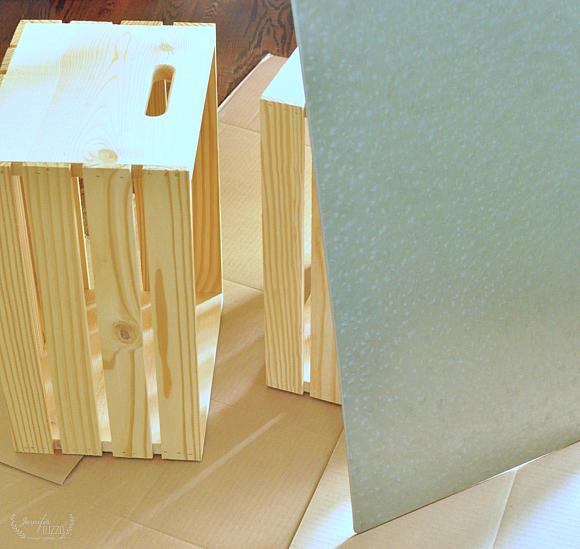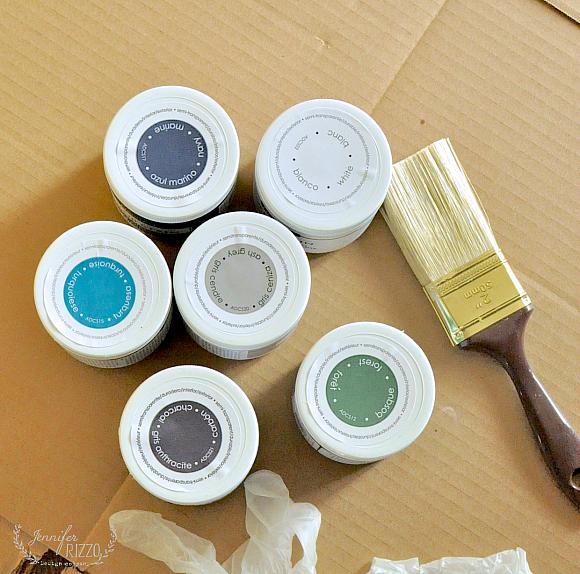 After giving my crates a quick sanding, I applied DecoArt Color Stains according to the directions, layering my stains where I wanted it darker, and leaving it with only a coat or two where I wanted it lighter. The nice thing about the stains vs. paint is the wood grain still comes through underneath, giving it a nice rustic texture.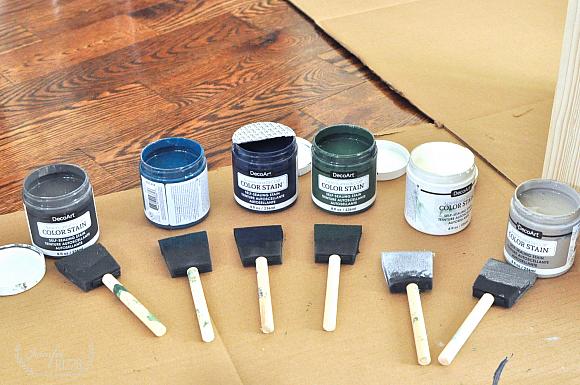 I alternated colors as I went around the crate to give it that coastal feel. I used small brush to get the colors in between the slats. And made sure to do both the top and bottom of the crates even though they wouldn't be seen. I wanted the entire crate stained so it was completely protected from the elements. It's been crazy rainy here! Once I finished the outside, I stained the inside with the Charcoal Color stain.
A bit of construction adhesive to put the crates together and to keep the top on and once that set, the table was ready to go!

If you don't think construction adhesive will hold where you are, you can also screw the crates together using a bracket from the hardware store and screw the top on as well. You could also mix it up a bit by adding wood feet. That's what I love about crates, they are so versatile!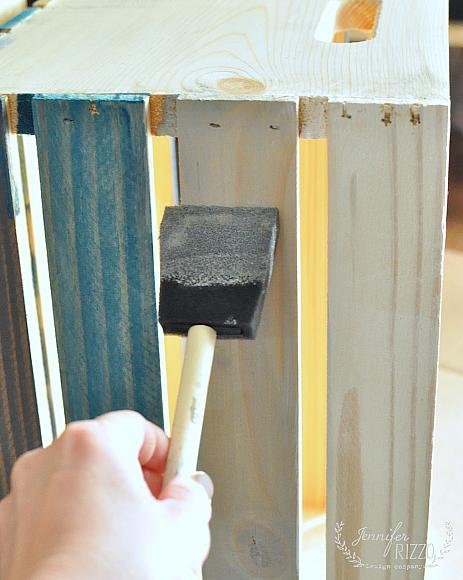 I was so pleased with how it turned out and how the Color Stain looked, and the table is the perfect size to go with my love-seat.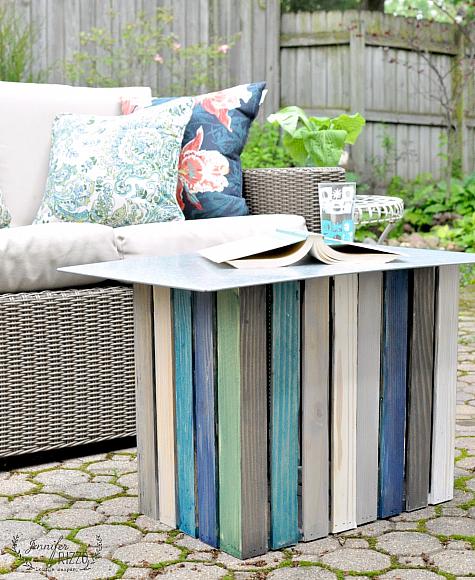 It's my favorite part of our yard to sit, and I am out here every chance I get on a warm day.