Posted by DecoArt on Apr 7th 2016
One of my favorite home decor trends right now is geometric shapes.  This trend seems to be popping up a lot on the internet and store shelves. For me, geometric shapes never went out of style.  I think they are classic and will be around forever.  Today, I am sharing how to make this Colorblock Triangle Shelve using a store-bought wood shelf and Americana Acrylic Paint in NEW colors.
Items Needed:
Americana Acrylics 2oz - Aqua Sky
Americana Acrylics 2oz - Frosted Plum
Americana Acrylics 2oz - Chartreuse Yellow
Wooden Triangle Shelf
Assorted Brushes
Instructions:
DecoArt has NEW colors of Americana Acrylic Paint. I absolutely love these vibrant and fun colors. This color palette has endless combination possibilities.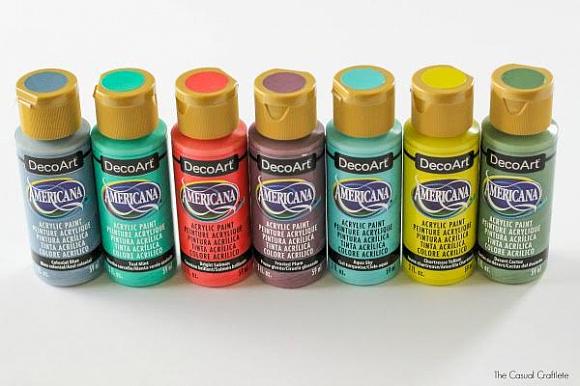 I started by purchasing a wood triangle shelf at Hobby Lobby.

This particular shelf was stained dark black. I used a hand sander to remove as much as the stain as I could because I wanted to start this project using raw wood.

The shelf itself is rather large and I cut it directly down the center of the shelf essentially creating two shelves. The picture below is before I cut the shelf in half. I am planning on saving the other piece for a possible project in the future.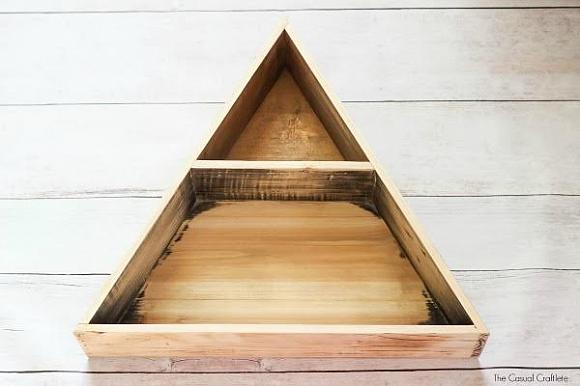 Once the prep of the shelf was complete, it was time to paint it. I started by painting the three outside angles of the triangle using the color Aqua Sky. This is a gorgeous and bright color. Since I am painting raw wood, it took approximately three coats to cover for my liking.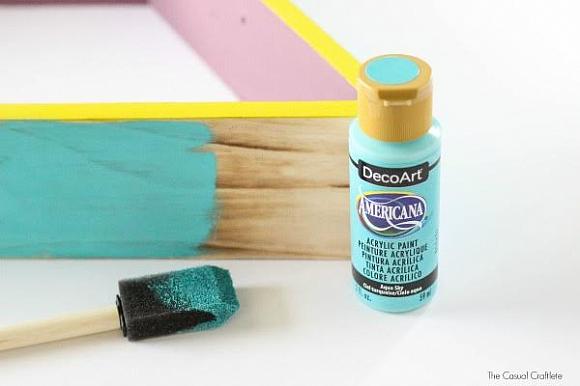 Next, I painted the inside of the triangle shelf using Frosted Plum. This is a very pretty purple color and is slightly muted. I think this color counterbalances with the vibrant aqua color. I again applied three coats of acrylic paint using a foam brush.
The very last step was to paint the front edges of the shelf. To really make this triangle shelf pop, I used the very bright and bold Chartreuse Yellow acrylic paint. I have to say this might be my favorite color of the three I chose for this project.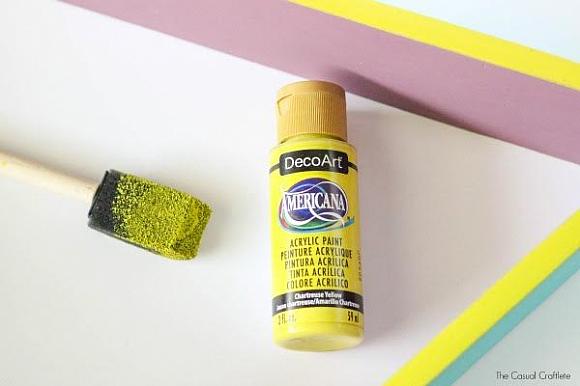 I just love how this Colorblock Triangle Shelf turned out! My four year old daughter loves it too, which is great because it will be going in her room to hang on the wall.
Thank you for letting me share today! What are some of your favorite geometric shapes and which is your new favorite Americana paint color?