Posted by DecoArt on Mar 12th 2020
The days are getting longer and the warmer weather has us longing for lazy afternoons on the porch. It's time to savor the warmth of the sun, so gather your friends and pour a glass of refreshing lemonade. Of course, sipping lemonade is even better when it's served in a stylish DIY Colorful Brushstroke Painted Pitcher.
One of the things I love about this time of year is the weather is actually perfect here in Texas to enjoy being outdoors. It's also the perfect excuse for lots of casual get-togethers. The perfect hostess is always ready with cold drinks and a comfy place to relax. This summer I'll be serving drinks in style with my new DIY colorful brushstroke painted pitcher!
We spend lots of time hanging out on the patio this time of year and I'm always whipping up batches of homemade lemonade to enjoy while we are out there. I decided that my boring glass pitchers needed a makeover so I grab some of the new DecoArt Glass Paints, now available at Michaels, and created this colorful pitcher.
The power of paint is unbelievable, and with amazing products like the DecoArt Glass Paint, the possibilities are virtually unlimitless. I simply took an old pitcher that I've had for years and gave it a fresh new makeover in less than 30 minutes.
This colorful pitcher is going to be a summer staple and I'm can't wait to show it off. If you too want to create a beautiful and unique pitcher for your signature summer drinks simply follow the easy step-by-step instructions.
Items Needed:
Paintbrushes
Glass Pitcher
Glass Mason Jars
Instructions:
How to Make DIY Colorful Brushstroke Painted Pitcher:
Start by thoroughly cleaning and drying the glass surface that you will be painting on.
Next, dip a medium to large size paintbrush in the Coral paint and add light brushstrokes of paint all around the vase.
Then, brush Yellow strokes of paint around the vase.
Add a pop of bold color with the Aqua paint. Be sure to let the paint dry before brushing on any additional coats of paint.
Once you have all the colors painted on you can add small embellishments like painted lines, dots and designs.
Apply the same technique to glass mason jars, or use washi tape and paint color-blocked lines around the mason jar.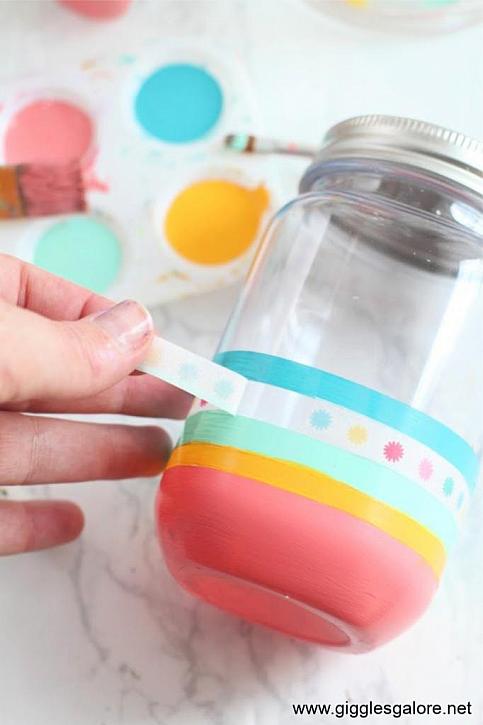 Now that you have achieved the desired look it's time for the final stages of your project. You will need to allow your new design to cure for 4 days. After 4 days place the pitcher and glasses in the oven at 275 for 30 minutes. Allow the project to completely cool in the oven. For more details and specific instructions for care and use be sure to visit DecoArt.com.