Posted by DecoArt on May 16th 2017
Sip, sip, hooray, summer is on its way!  And you know what that means - it's time for outdoor entertaining!  I love entertaining, but summer entertaining is one of my favorite ways to hang out with family and friends.  In the summer everything is more casual, colorful and fun.  So, to help you get ready for the summer season of pool parties, porch sitting, backyard BBQ's, and more, I'm sharing this simple and colorful DIY Outdoor Bar Cart you can make in under an hour.
Items Needed:
Unfinished Wood Bar Cart
Assorted Brushes
Instructions:
When I think of summer entertaining I think of bright, bold colors. Last year I made a DIY Lazy Susan for our patio table and loved the bright pop of color it added to our outdoor decor. So, when I spotted this unfinished wood cart at my local craft store I knew exactly how I would transform it. I used the same bright Americana Decor Outdoor Living paint colors to give this bar cart a vibrant makeover, perfect for all of our outdoor entertaining.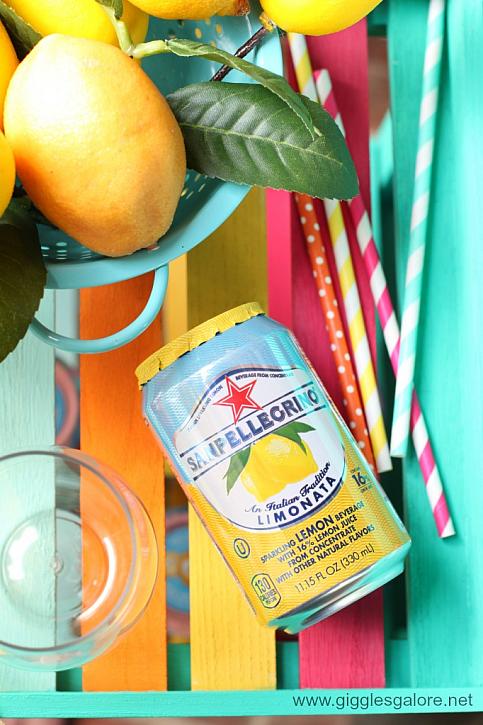 One of the things I love most about summer entertaining is the simplicity of things. In the summer we throw lots of impromptu pool parties or backyard BBQ's and they were some of my favorite memories are made. While these events are low key, I still like to make them extra special for our guest. Having a colorful drink station is a way to not only add a touch of whimsy but provide variety and function for your guest.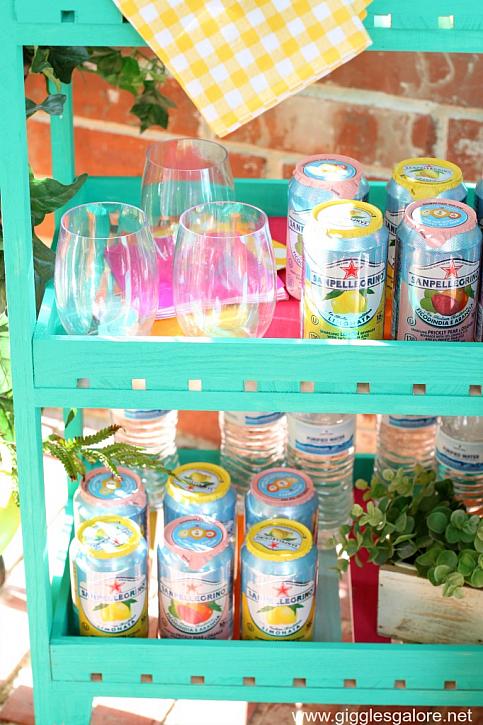 Gather your supplies.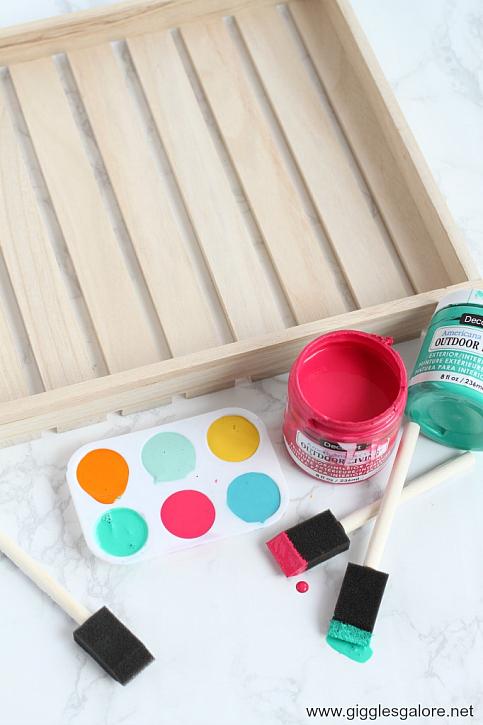 Decide what you want the main color of your bar cart to be. I picked Adirondack because it is my favorite, and it matched my lazy Susan from last year. Paint the outside part of your cart with your main color. Use painters tape to tape off the inside edges of your bar cart trays.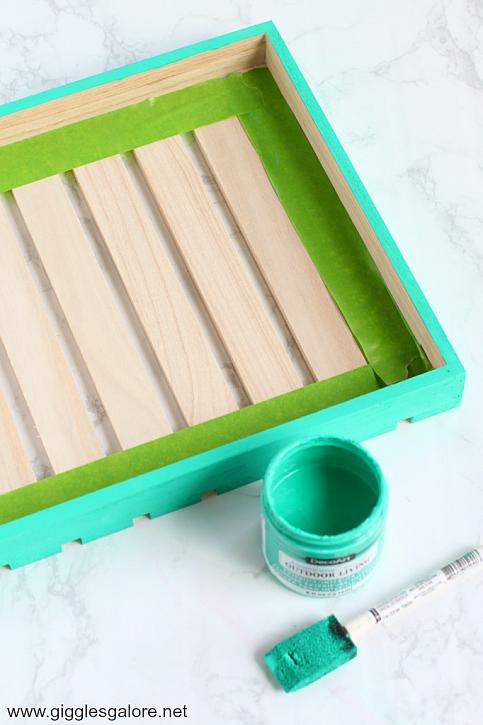 Begin painting a colorful pattern with the other Americana Decor Outdoor Living paint.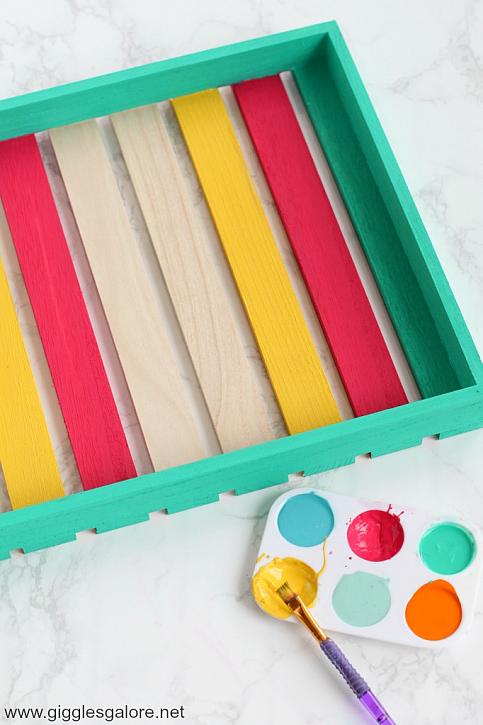 Once you have painted all of the wood slats on your tray, let the paint dry thoroughly. If you'd like to add extra protection to the cart apply a coat of Americana Multi-Purpose Sealer to your DIY Outdoor Bar Cart.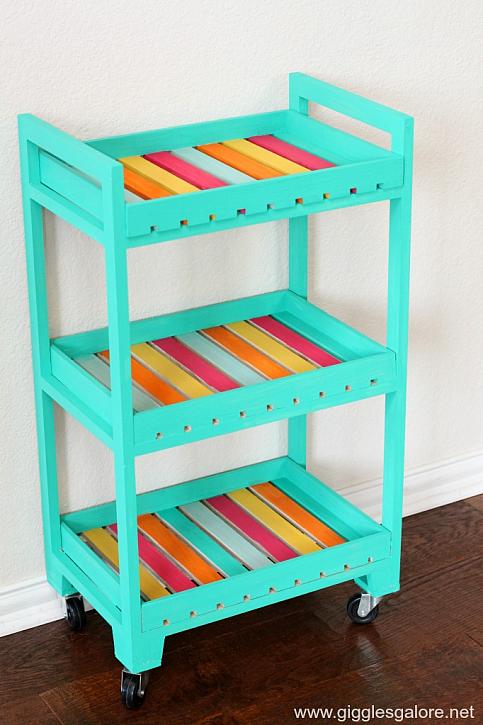 Now, it's time to style your bar cart for all of your outdoor entertaining needs. Remember the key to a great bar cart is style, function, and variety. Make sure you stock your bar cart with a variety of drinks, napkins, cups and straws. This not only makes it easy for you as the hostess, but it is also convenient for your guest too.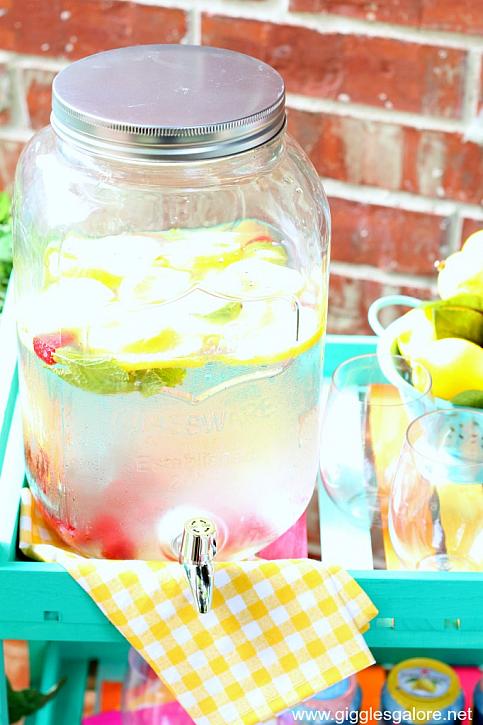 You can wheel your DIY Outdoor Bar Cart to your front patio to sip on a glass of refreshing watermelon lemonade, or you can move it around to the backyard for an impromptu BBQ with friends. No matter where you put this colorful cart, it's sure to make summer entertaining easy, breezy!