Posted by DecoArt on Aug 20th 2015
I tend to pick up on trends fairly late, especially when it comes to home décor. Remember the chevron craze? I wasn't a fan until it had been out for two years. Then I briefly decorated my entire house in chevron patterns. Recently, I discovered the concrete trend that can be found in home décor. I'll admit at first I was a little skeptical on how this would work with my style but I think it's a trend that can easily accommodate everyone's style preference. To stay on top of the trend I decided to try my hand at creating my own concrete planters.  
Items Needed:
Concrete Mix
Paper Cups
Paint Stirrer
Brushes
Instructions:
Prepare concrete according to package directions. I used a quick setting mix and played around with the water to dry mix ratio until it was perfect. Now here's where I share the super fancy molds that I used…
Paper cups worked perfectly for what I was trying to achieve. Any mold or disposable cup will work. To create a shallow center I placed a smaller cup into the center of my concrete mix. You'll want to weigh it down to make sure the cup doesn't move around. Even though the mix was quick setting I left mine to dry overnight.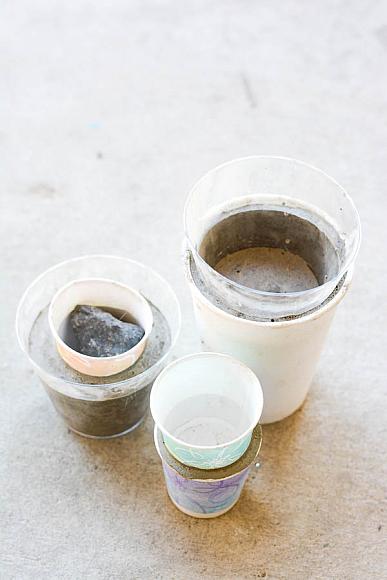 Remove the concrete from cups and begin painting. I used Patio Paint in to give my home décor a nice pop of color. I create the diagonal line with painters tape and applied one coat of paint.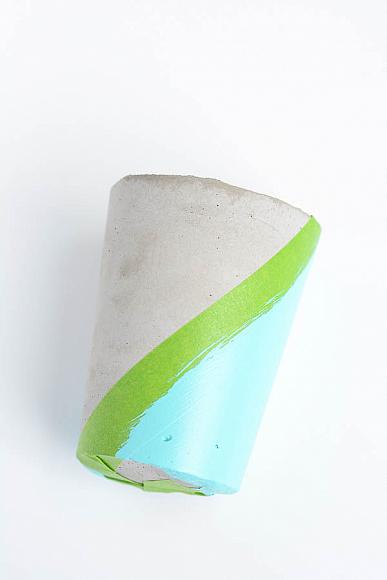 Fill your planter with moss and a faux succulent. You can use a small styrofoam ball and hot glue to keep things in place.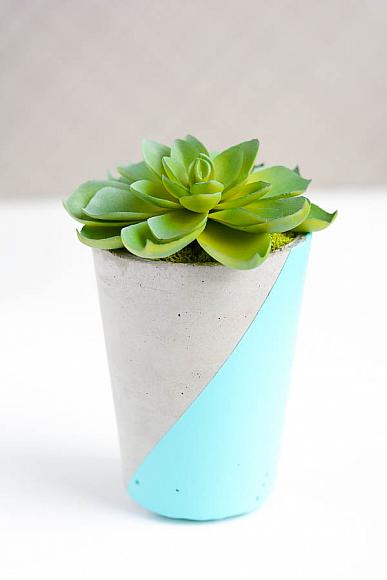 It's pretty small, but I've found it's the perfect size for displaying in a vintage cubby shelf. These were so easy that I plan to make a couple more in different shapes and sizes to decorate my kitchen with.