Posted by DecoArt on Jun 8th 2016
Altered Playing Cards (or short APCs) are great fun to do! They are slightly larger than the better known Artist Trading Cards (ATCs) but still quite small – so they are perfect when you have only little space or time to create. And did you know that you can use DecoArt Media Crackle Paste to stick found objects directly to any substrate– without having to use additional glue? It's so easy, so quick and so much fun!
Items Needed:
Playing Card
Palette Knife
Baby Wipes
Soft Flat Brush
Black Archival Stamping Ink
Crackle Pattern Rubber Stamp
Rub Ons
Old Book Pages
Small Embellishments, Die Cuts, Chipboard Pieces, Etc.
Instructions:
Step One: Prepare your playing cards by covering them with old book pages using matte Decou-Page. Make sure you seal the whole card as the Crackle Paste will only do its magic on a sealed surface!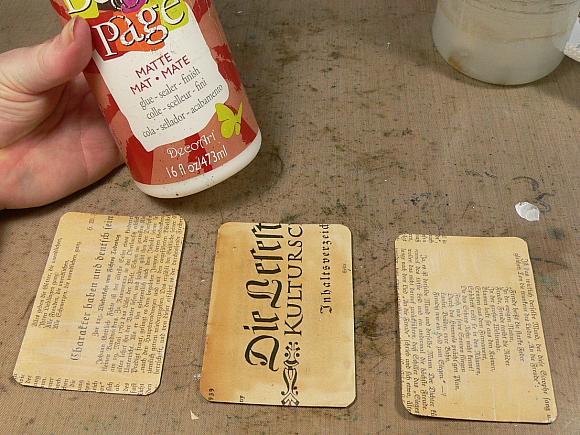 Step Two: Use a palette knife to randomly scrape on white Crackle Paste and stick various embellishments directly into the paste. The Crackle Paste also works as a perfect glue! Let dry naturally.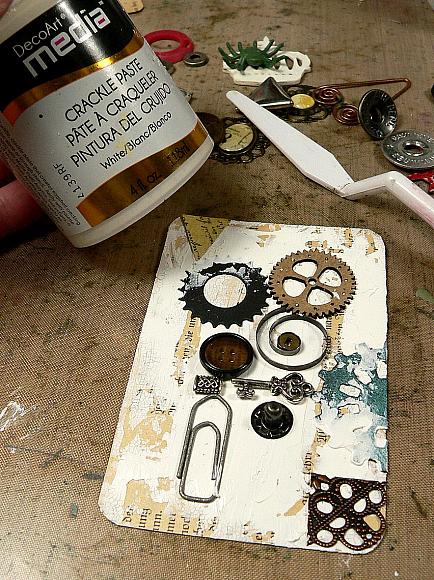 Once the crackle process has finished its magic, your APC will look like this: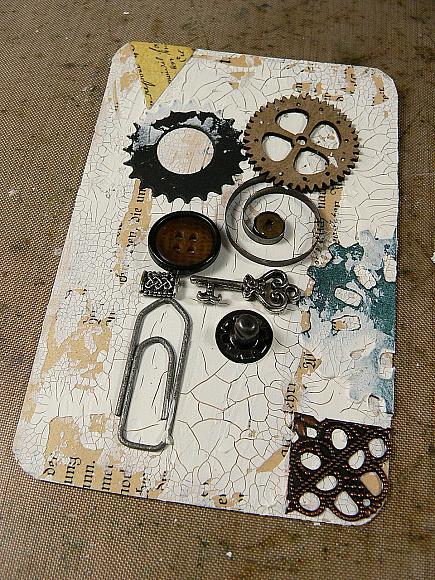 Step 3 Preparation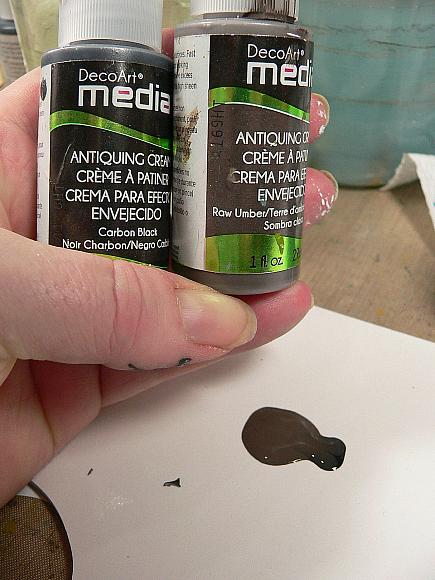 Step Three: To make the cracks more visible, mix Carbon Black and Raw Umber Antiquing Creams and apply a thin coat to your APC. Let dry.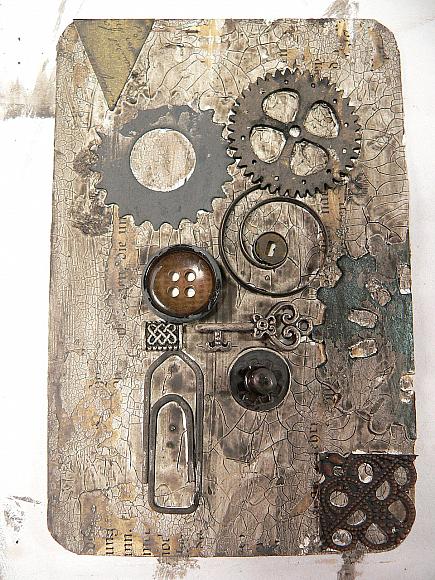 Step Four: Wipe back the Antiquing Creams until you are content with how your APC looks. Don't go for a too dark result as we will add some more layers of media and colours later!
Step Five: Seal this layer with a coat of Matte Medium to save your Antiquing Creams from being reactivated or worn off during the next steps.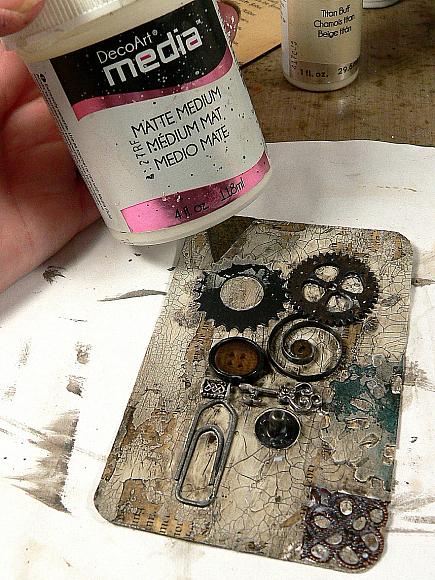 Step Six: Create a wash of Patina Green Antiquing Cream and apply to your APC. Only wipe back if needed. Seal again with Matte Medium once all is dry.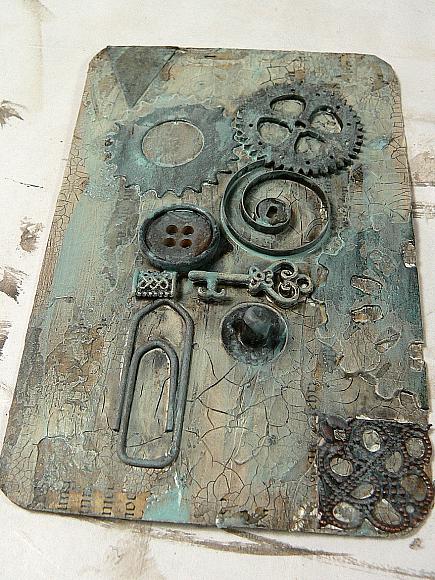 Step Seven: Mix some Prussian Blue Hue with water and create drip lines across your APC by pressing a loaded soft brush in various spots while holding the APC upright. Let dry.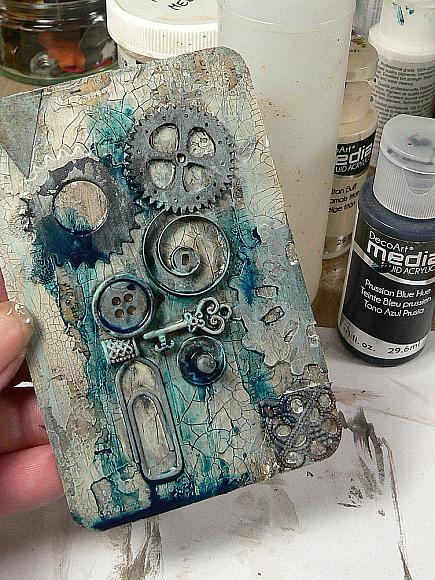 Step Eight: Repeat step seven with Raw Sienna.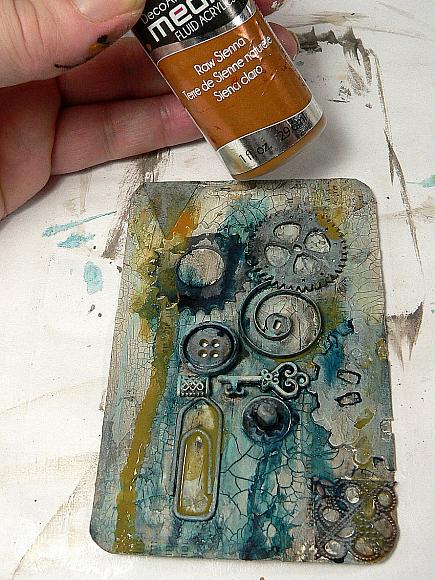 Step Nine: Apply a very light wash of English Red Oxide over the whole piece. Let dry naturally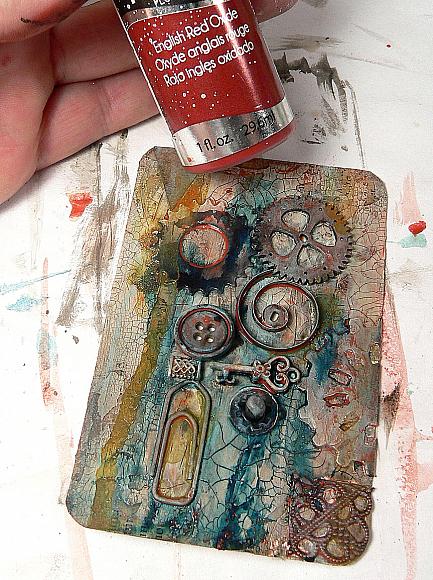 Step Ten: apply Phtalo Blue Hue around the edge using your fingertip.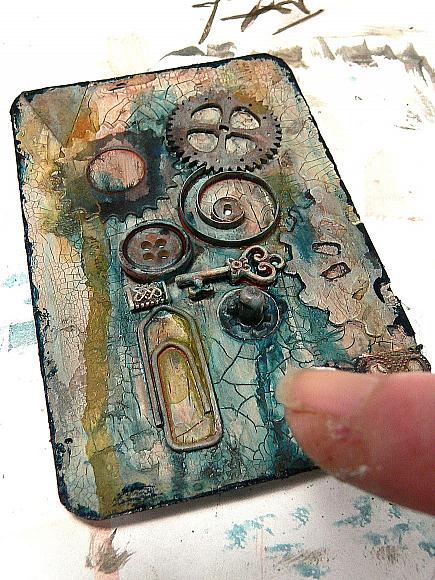 Step Eleven: To add a bit of bling randomly rub on Cosmic Blue and Gold Rush Metallic Lustres with your fingertips. Buff to a sheen using a soft cloth.
Step Twelve: For more depth add some crackle patterns to the glued on cogs using black archival stamping ink and a crackle pattern rubber stamp.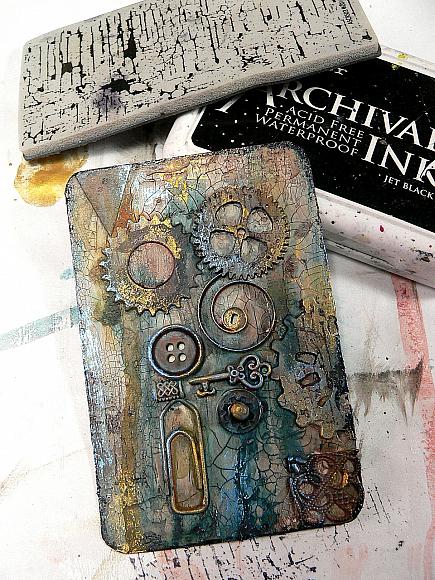 Step Thirteen: Finish off your Altered Playing Card with some rub ons. You're done!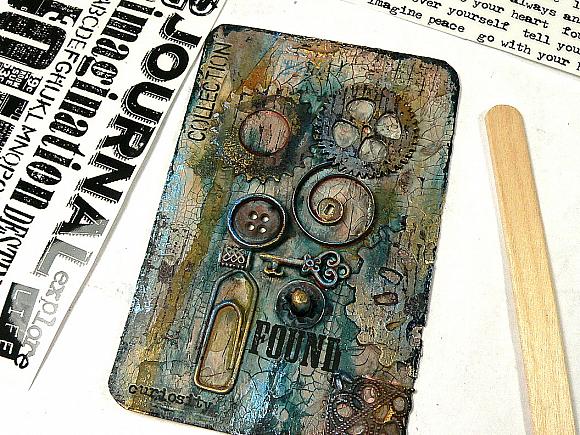 Altered Playing Cards can be easily swapped via mail, you can use them to create your own 52 Card Pick Up pack or simply go for this format when you are in the mood for a very small and quick project.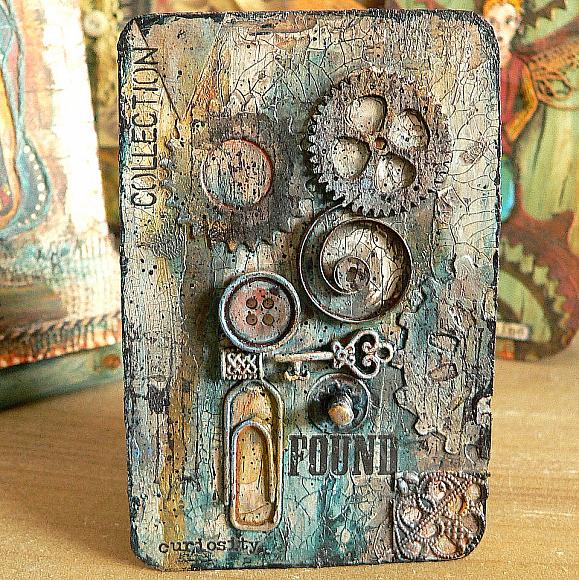 Have Fun!