Posted by DecoArt on Oct 7th 2015
I had the opportunity to create artwork for the new DecoArt offices. It's always a little scary to create for someone else or for a specific project. I got the colors and some patterns that were in the offices and dreamed up what I thought would be inspiring in an office setting. The most important thing when creating for others is to make sure to create from your heart and what you love. I hope you enjoy the process.
Items Needed:
DecoArt Glazing Medium
12
Charcoal Pencil
Latch Hook Rug Material
Palette Knife
Rag
Spray Fixative
Jacobean Floral Stencil
Instructions:
I started with these media supplies and threw in a few other things along the way.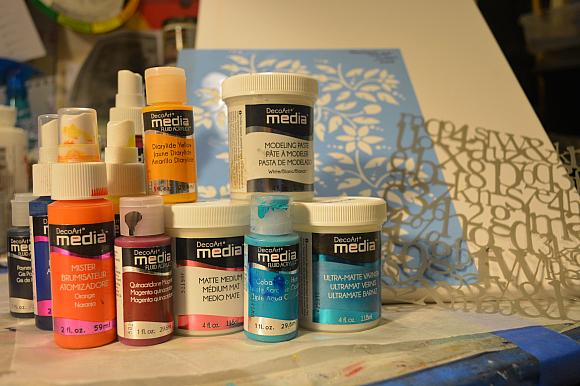 On my 12x24 primed canvas I tore up book pages and put them down with matte medium.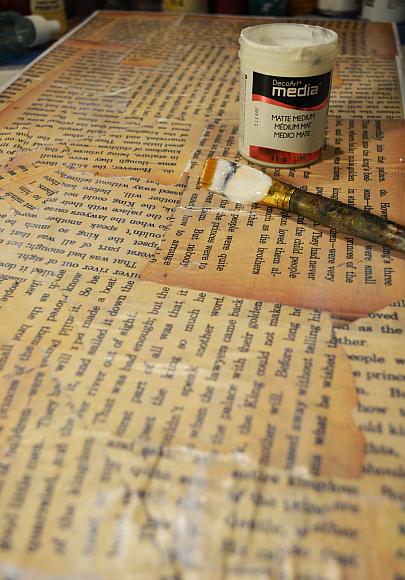 With my heat tool I dried that and used two DecoArt stencil and 4 misters to create the background. The misters work so well in this technique. The stay put when sprayed.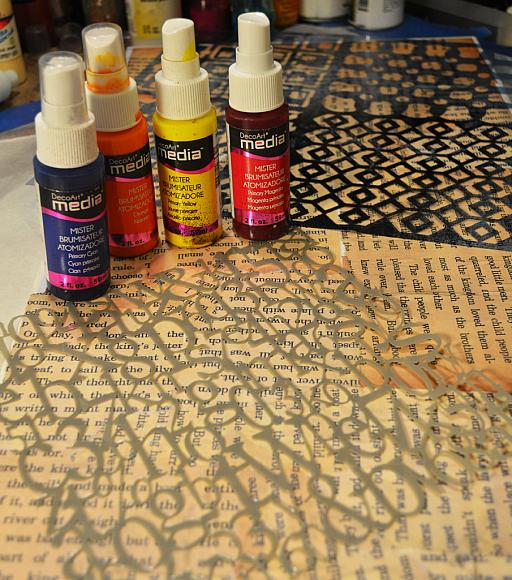 The mister colors mixed beautifully together. Let dry.
I then used fluid acrylic Titanium white and a palette knife and dragged that across the canvas.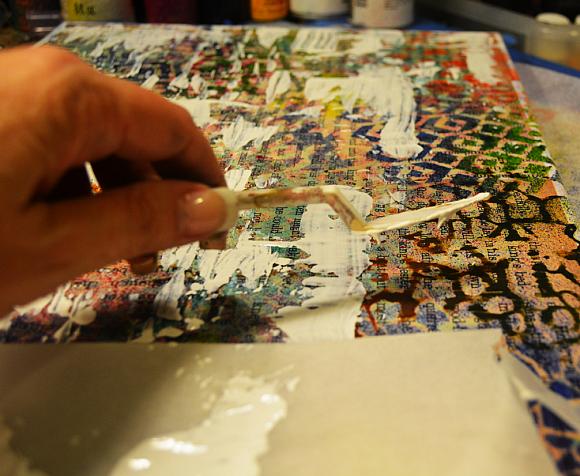 This neutralizes the canvas and prepares it for the next layer.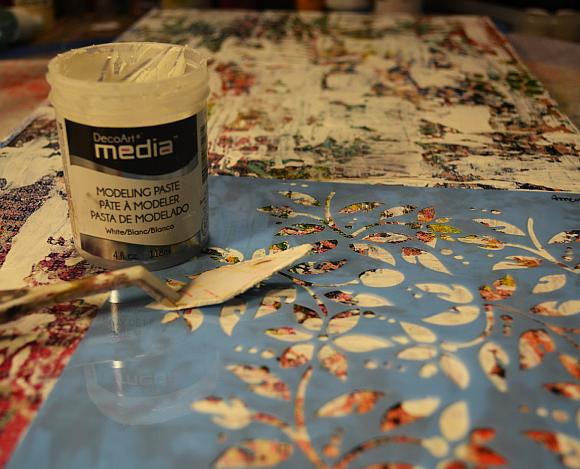 Using Media Modeling Paste and Jacobean floral stencil I spread the modeling paste through the stencil on the outer edges of the canvas.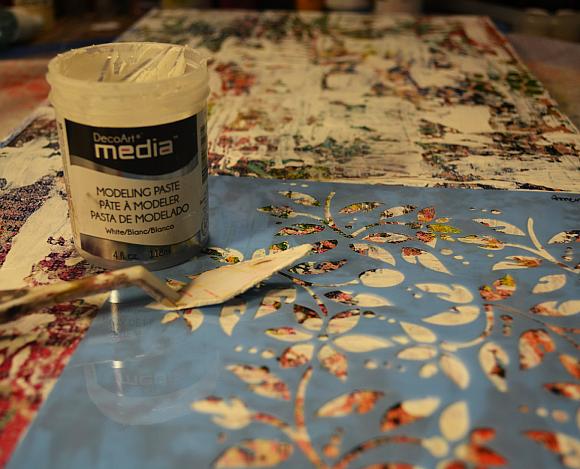 I only use just a small portion of the stencil, letting it hang off the canvas. Making sure that I have a nice thick even coat of modeling paste. Make sure your stencil goes into water or goes to the sink to get cleaned so that you don't ruin your stencil.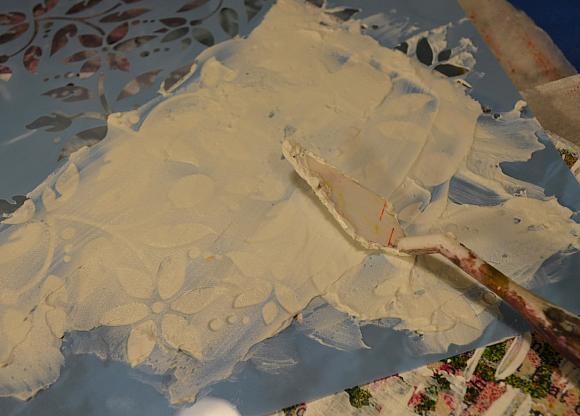 It will take some time to dry. I used a heat tool to help it and then put it out in the sun for about a half an hour. Dry time will vary depending on the climate you live in.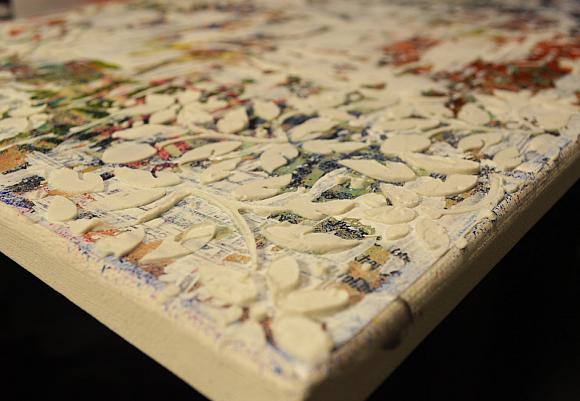 The next layer I used fluid burnt umber and glazing medium. I used 50/50 paint to glaze. After I mixed it together I brushed it on and with a wet rag rubbed it off.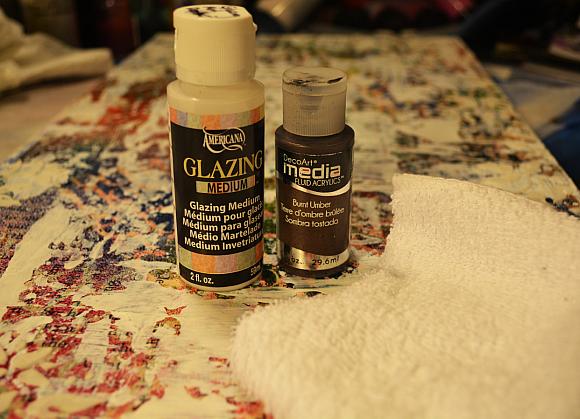 After the glazing was dry I brushed the dry Modeling Paste with Titanium White.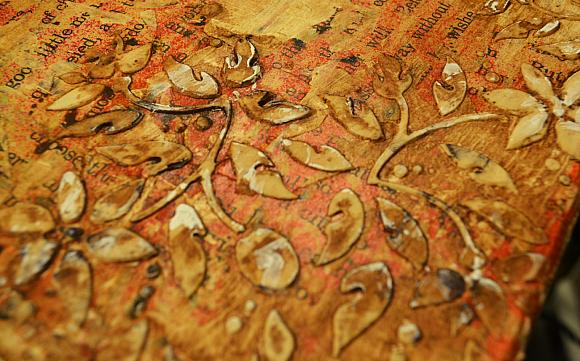 and then added charcoal pencil around the stenciled design. This further brings out the Modeling Paste design. I sprayed the charcoal with a fixative. And using a piece of latch hook rug material as a stencil I added some white highlights using titanium white.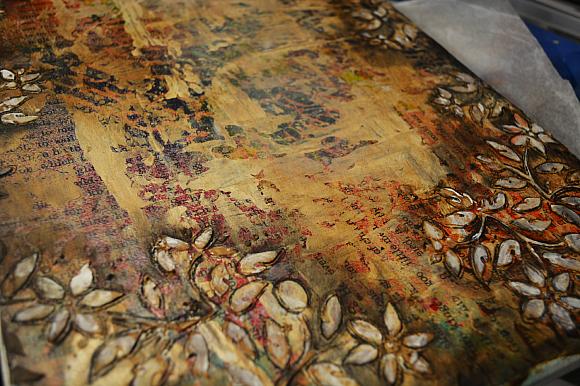 I sketched out a phrase and painted it in with Paynes Grey Fluid Acrylic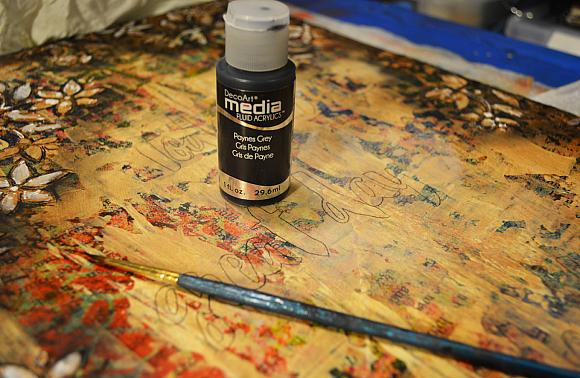 and then highlighted the edges of the words with Titanium White.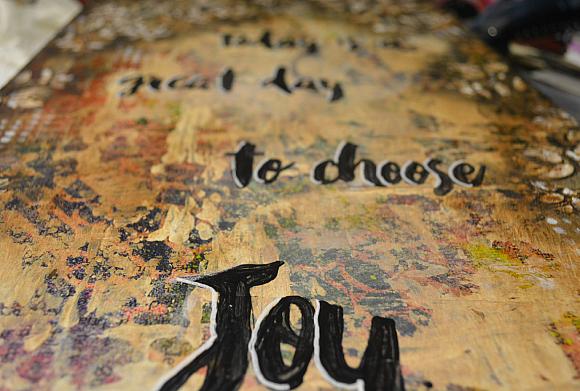 I sealed the piece with Matte Varnish and I painted the sides black and signed.