Posted by DecoArt on Jun 28th 2018
Curb appeal is a big deal to me, to most people really. You want your home to look it's best at all times, of course. When we stumbled upon our future home a year ago, I fell in love with the home immediately. I loved the peaked roof, the windows, the beautiful entry, and then I noticed the horrible front door. Luckily, I knew that a front door is an EASY fix! Thanks to DecoArt and their
Americana Decor® Curb Appeal Paint
. Little did I know how EASY it was going to be to transform our front entry and where that excitement would lead me!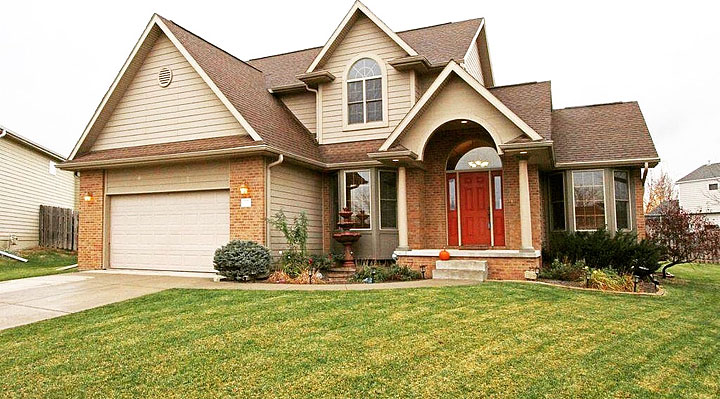 Hey guys! I'm Heather from
WhipperBerry
and I'm thrilled to share my door makeover story with you today. The very first thing I knew I had to change with our new home was the front door and, it had to change QUICK! I've always loved a good classic red door (but, not that rusty red) or a nice black door. When I was dreaming of my future home, I knew that it was going to have one or the other. With the brown tones of this home that we finally purchased, I knew that red wouldn't work without a total home paint job but, black could still totally work. I grabbed 2 bottles of Americana Decor® Curb Appeal paint in Colonial Black and the bottles... sadly lived on my counter for a month or more. Finally, a friend came over and we decided that today was the day! Here is my Instagram Story that quickly documented the whole experience. Forgive my excitement and the overuse of a word my husband hates. See if you can guess which one!
Now, do you get why I was so excited? I couldn't believe that ONE bottle of Americana Decor® Curb Appeal transformed THREE different areas of my home. Here's a recap...
Front Door Makeover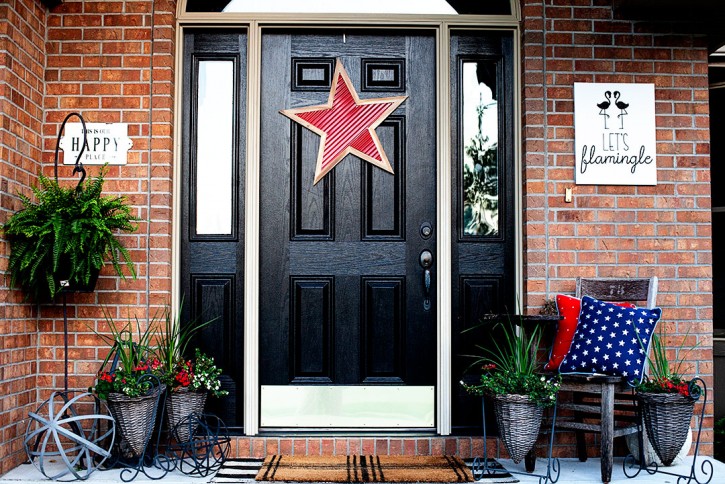 I LOVE how the black turned out on my front door. It looks great in any season...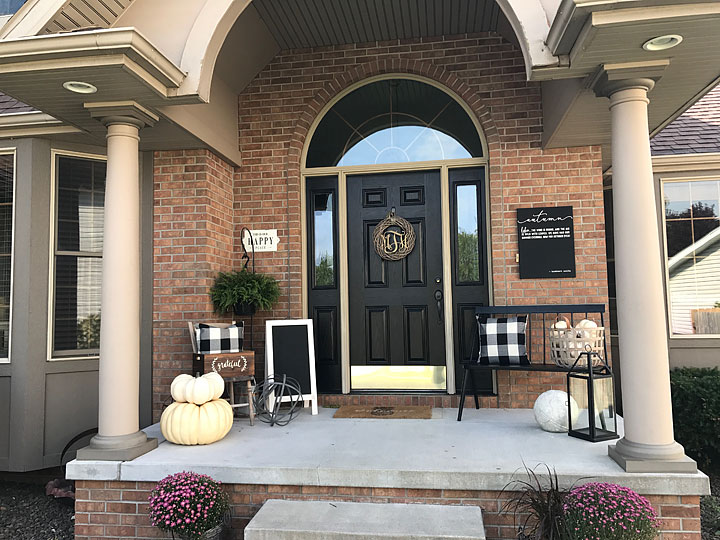 Day or Night...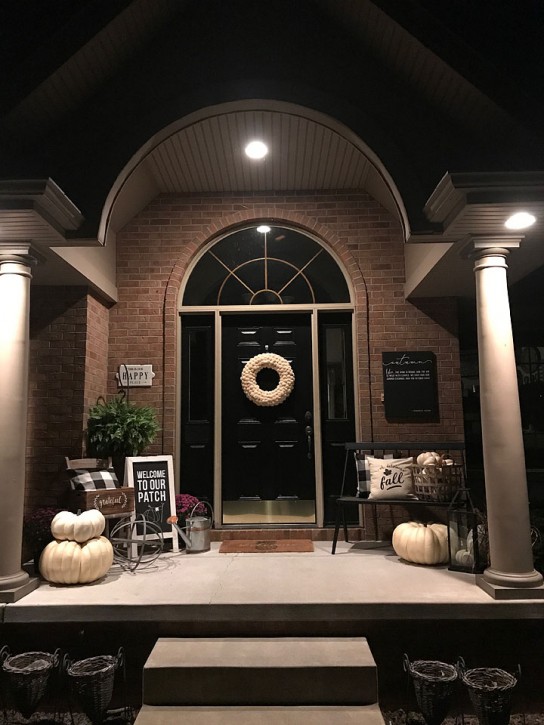 The transformation took less than an hour and it was better than I could've ever imagined. Here are a few tips before you get started
Tips for Painting Your Front Door
Sand down any imperfections - If you have any imperfections in your door, now is the time to take care of them. However, with Americana Decor® there really isn't a need to sand the whole door, you just need to sand down lumps or bumps.
Clean your door first - I know we are all excited to start a project and just want to get the show on the road. However, When it comes to painting, the better you prepare your space beforehand, the better the outcome will be. Wipe down the door and surrounding area with a damp cloth to remove any dust or cobwebs.
Remove hardware or tape around hardware to protect door knobs and hinges.
Paint the indention of the panels first and then the raised sections.
Once the panels are taken care of, paint the rest of the door.
Americana Decor® Curb Appeal has incredible coverage - The paint is really saturated so you won't need more than one coat with a few touch-ups after. Let your first coat dry and then look at it carefully in good light to take care of missed sections.
No need to worry about brush strokes, the paint does a fabulous job of self-leveling.
Fireplace Makeover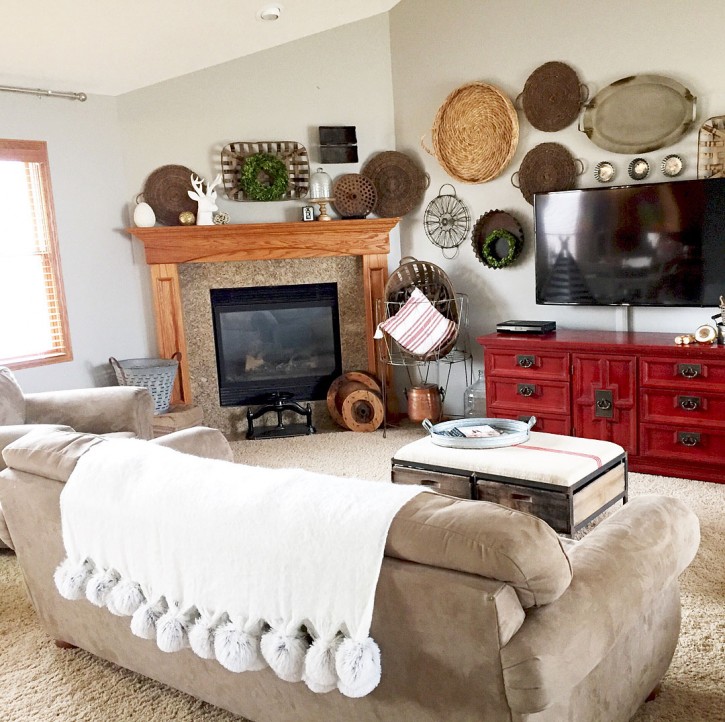 With the excitement of my front door makeover AND the leftover paint, I next turned to another less than awesome feature in my home, our fireplace. I'm not a lover of honey oak and this house is filled with honey oak everywhere. I needed to break-up all of that wood and my friend and I thought that painting the mantel black to match the door would be a great way to class-up the joint and boy did it!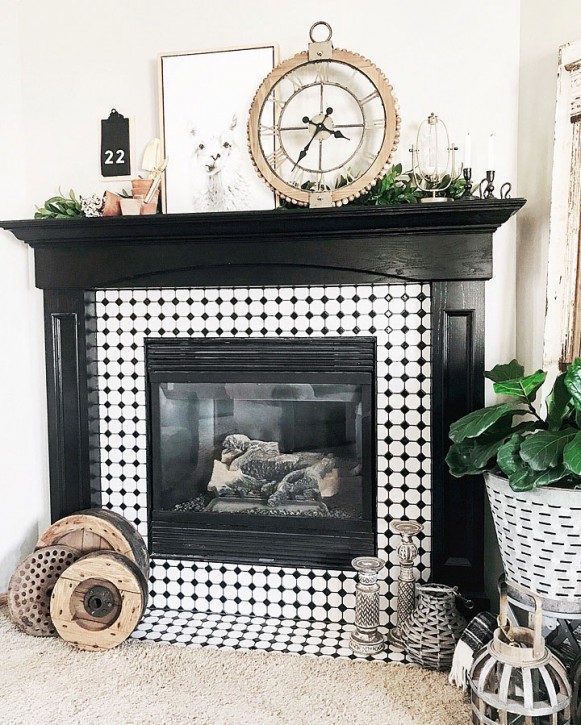 We were then inspired to change up the tile and we are thrilled with how this project turned out. Over the moon excited! See what a little bit of paint can inspire?!
Banister Makeover
Now the banister was a bit of a test. I am planning on replacing the banister here in the near future so I thought I would see how the Curb Appeal would work there. If it worked on doors and shutters outside, let's see how it will do inside on a heavy traffic area. If you're being tempted... STOP.
The Americana Decor® Curb Appeal didn't work all that great on the banister. I didn't sand down the banister or anything and, the paint rubs off on surfaces that are touched quite frequently. You know what they say, you need to use the best tool for the job. It's the same for paint. When it comes to heavily touched areas in your home, Americana Decor® Curb Appeal is really not the best option. For this job, I would say that the
Americana Decor® Satin Enamel
would be a much better option. It handles high traffic much better.
Well, there you have it, the story of my front door makeover and how it turned into so much more! I was amazed at how quickly changing these two areas of my home helped me to feel like this new home, that we had just purchased, was no longer metaphorically speaking, in the hands of the old owners. This new home now had my stamp on it. It felt more like me, I was extra proud of my new home now and all it took was one bottle of inexpensive paint, not a major renovation! What do you want to transform? What will help you fall in love with your space more? What is YOUR favorite Americana Decor® Curb Appeal color? Selling your home soon? A
new front door paint color
could actually help you get top dollar for your home as well!
Isn't it amazing what paint can do?!