Posted by DecoArt on Sep 13th 2020
This elegant daisy and butterfly painting captures the beauty of Summer. Paint your own using our
DecoArt® Traditions™ Artist Acrylics
and
Traditions Brushes.
Items Needed:
8x10 Stretched Canvas
3/4 Oval Brush TB51 For The Background
12 Filbert Brush TB44
1/4 Angle Brush TB72
#3 Round Brush TB21
Pine Green DAT19
Ultramarine Blue DAT26
Medium Grey Value 6 DAT40
Hansa Yellow DAT14
Yellow Oxide DAT56
Naphthol Red Light DAT03
Extender And Blending Medium DATM02
Medium White DAT37
Titanium White DAT35
Opaque White DAT 57
Burnt Sienna DAT44
Black DAT42
Glazing Medium DATM01
Satin Vanish DATM04
White Gesso DTAM07
Instructions:
Method:
Prepare canvas with 2 coats of Gesso sanding between the 2 coats. Let dry.
Mottled background:
It is a wet on wet blending of two or more colors softly. It creates movement and adds dimension to the composition. Add Extender to the canvas and wipe it with the paper towel so it is not too wet. With a large Filbert Brush apply enough paint.

Apply Pine Green from the edges. Add Medium White to the center towards the upper right corner. Pinch wipe the brush and start blending/softening the two colors. Add
Ultramarine Blue to the edges to darken them. Again blend and soften.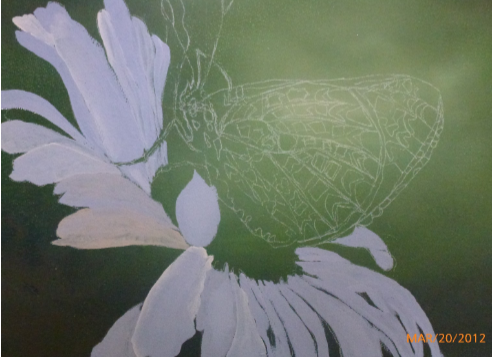 Repeat the process until you are satisfied with the background.
Basecoat:
Basecoat the daisy with Medium Grey Value 6.

Basecoat the center of the daisy with Hansa Yellow, in a stippling motion. Use the Round Brush to do this.

Basecoat the white, black, and brown (yellow oxide) areas of the butterfly.
Daisy:
Apply extender to the daisy and apply several layers of White to the petals. This
should be light and very thin so the gray will show in-between.

Shade the edges of the back petal grey to set them back. You can also apply a wash of the background color to the back petals to distance them.
Center of Daisy:
Stipple Burnt Sienna under the butterfly and towards the lower part of the daisy and around the edges. Stipple Hansa Yellow on top for the highlight. Blend the two.
Butterfly:
Add the black lines with a liner. Side load Naphthol Red Light on the tip of ¼
angle and float on the top edges of the Yellow Oxide. Do the same for the antenna as
well. Go over the white spots with Opaque White.
Finishing:
Apply a very light wash of blue, yellow, or green on the petals near the center
and here and there. Varnish after it is dry.

Hope you've enjoyed painting this as much as I have enjoyed creating this.