Posted by DecoArt on May 25th 2016
Here is my latest DecoArt Media Design Team project for  May.  This is a collaboration with Maureen Baker.  I used her great pattern complete this piece. 
Items Needed:
Americana Decor Metallics 8oz - Pewter
12
Assorted Brushes
Maureen Baker Flower Pattern
Painters Tape
Rice Paper
Instructions:
Flip 12 X 12 Wood Panel backwards.
Painter's Tape the perimeter and sides of panel to protect frame to paint later.
Paint entire surface and sides of frame with DecoArt Media Gesso.
Apply grass with DecoArt Media Fluid Acrylics (Green Gold) and Sky (Cobalt Turquoise Hue) with a stipple brush.
Complete the sky.
Apply Japanese rice paper with DecoArt Media Matte Medium.
Use DecoArt Misters (Primary Cyan, Yellow Green and Shimmer Turquoise) to mist around perimeter of piece.
Trace pattern on background.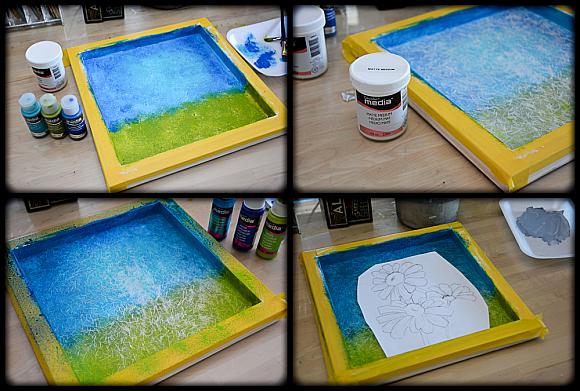 Color in pattern with DecoArt Fluid Acrylics: (Titanium White, Diarylide Yellow, Yellow Green Light, Quin Gold, Green Gold, Primary Cyan, Hansa Yellow Light and Phthalo Green-Yellow). Doodle around perimeter of flower and stems with a Liner Brush and DecoArt Media Fluid Acrylic (Carbon Black).
Add grass with DecoArt Fluid Acrylics (Green Gold and Phthalo Green-Yellow) with the edge of a palette knife.
Complete piece by removing painters tape and painting the frame with DecoArt Americana Decor Metallic (Pewter) and dry brush on DecoArt Media Fluid Acrylics (Paynes Grey).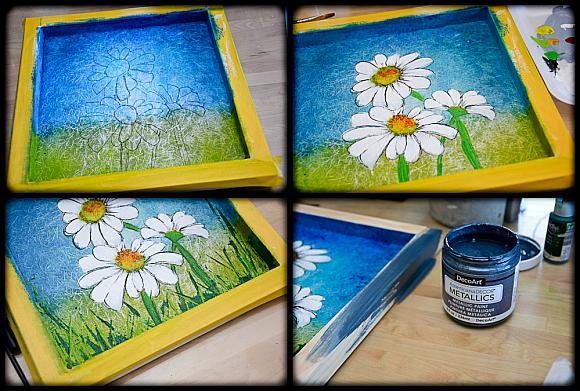 I created this fun time lapse video so you could see my creative process HERE!