Posted by DecoArt on Feb 5th 2015
The challenge has been set and by the support of so many for this collaboration 
HERE
.
Here are the Dares set forth by each of us!
I dare Andy Skinner to:
Color outside his drab (I mean antique/distressed) style and hit those primary vibrant colors.  No cheating and mixing the primary paint colors!  Andy, embrace the magenta's, turquoise, YELLOW and everything bright and cheery.  You might as well put your shades of brown aside Mr. Skinner.
Bonus points for using hearts and flowers!
I highly recommend 3 cocktails minimum before attempting
Share your techniques!
Take photos of your work space as you go along
Free to use black & white
Deadline March 9th!
Color Palette chosen just for him…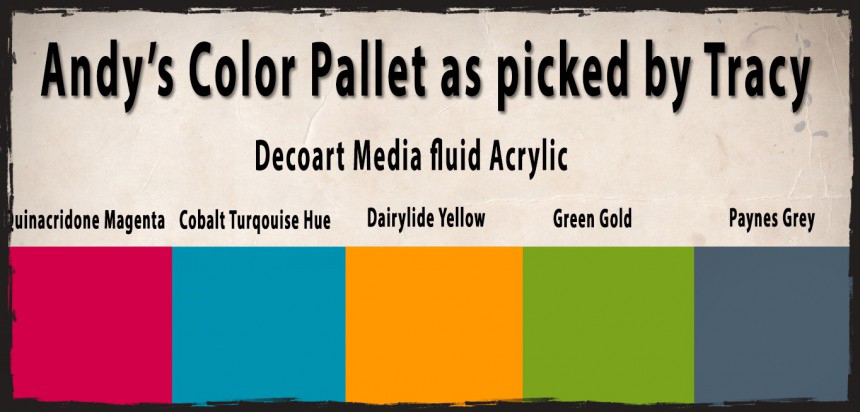 I know all you Andy fans are out there and I am ready to take on the Master of steampunk/industrial!  I have to say that I am nervous!!! (but never let them see you sweat!  I can see lots of wine and painting now just to ease into this!
And my Dare as set forth by Andy….
I dare Tracy Weinzapfel to:
Join me and enter the dark side, if only for  a brief spell during this challenge, experiment with earth tone colours rather than sticking to those awful sickly in your face…oops (I mean bright colours) that you are normally accustomed to.  Put those rose tinted glasses down girl, the challenge is on!  
Bonus points for: The use of cogs or anything with an industrial element.
3 cocktails?..  are you serious?……. I have seen you drink Tracy Weinzapfel so lets make it 6!
Please control that cackle laugh
Free to use black & white
Deadline March 9th!
Color Palette chosen just for her…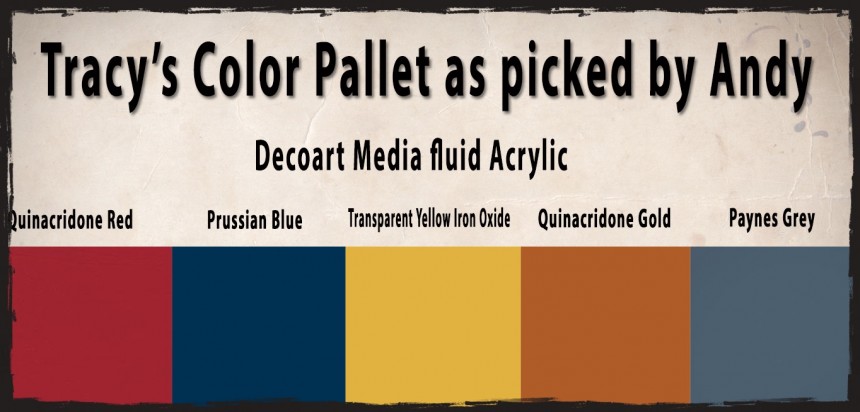 Tracy has a wonderful style, when you view her work it honestly instantly makes you feel happy, uplifted and ready to take on anything…. (shame her personality does not match!)   
Thank you Andy for your kind words.  If my artwork can make you smile anything is possible.   Cheers my Friend!  
We have sponsors for this awesome challenge!  Special thanks to DECOART who is generously giving away: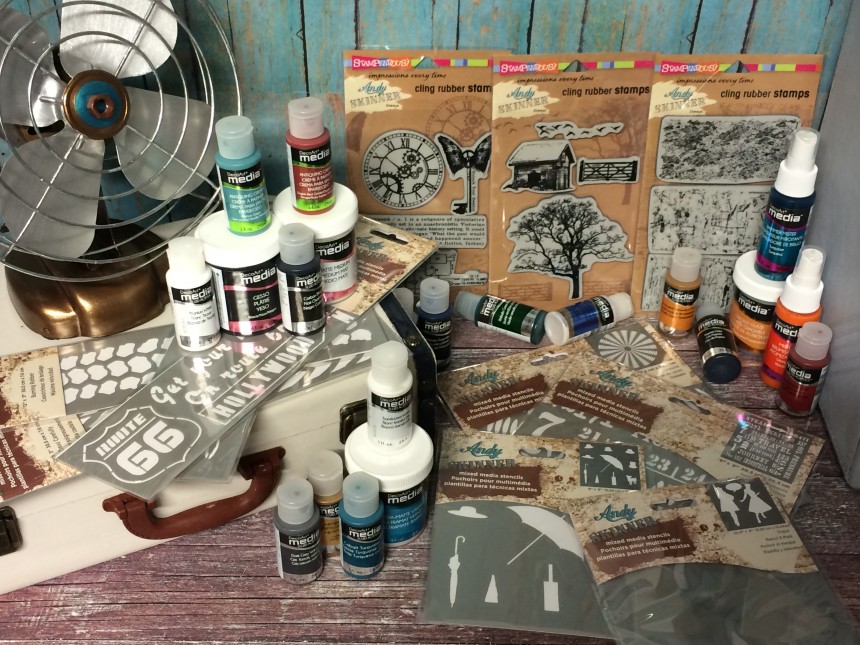 – 12 regular Fluid Acrylic colors, 1 Metallic and 2 Interference
– 2 Antiquing Creams
– 2 Misters
– Matte Medium, Modeling Paste, Black Gesso
– Crackle Glaze
– Ultra-Matte Varnish
– Andy Skinner's new stamps from STAMPENDOUS
– Assortment of Andy Skinner stencils
Also, two sets of Tracy Weinzapfel's new stamps from DARE 2B ARTZY will be given away!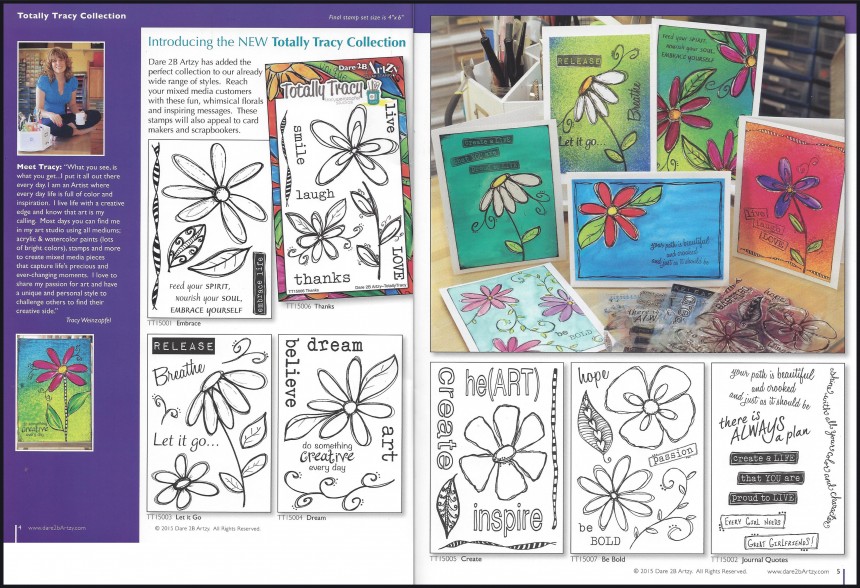 There are multiple ways you can enter:
Ready set……….let's get our DecoArt Mixed Media Paint on!  Cheers!