Posted by DecoArt on Jun 2nd 2021
Today we are featuring the next artist in our DecoArt® Doers series, Deb Brown and her business Art & Grace! After caring for her mother during her battle with Alzheimer's, Deb turned to the power of art to help her work through this difficult journey. Now she teaches art to help other women experience the healing joys of creativity! Read on to hear more about her amazing work.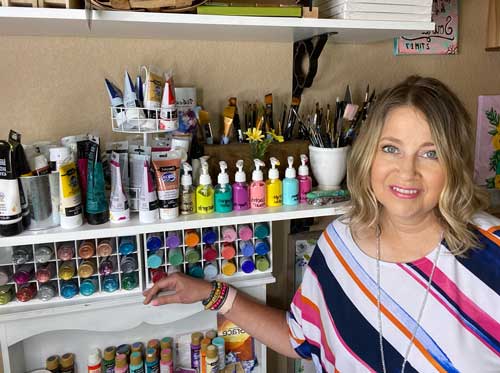 Describe your organization and its mission.  
My business is called Art & Grace and I teach women how to reduce stress, increase joy, and find a supportive community through art. We host mobile paint parties that focus on fun and whimsical art that gives you the freedom to express yourself!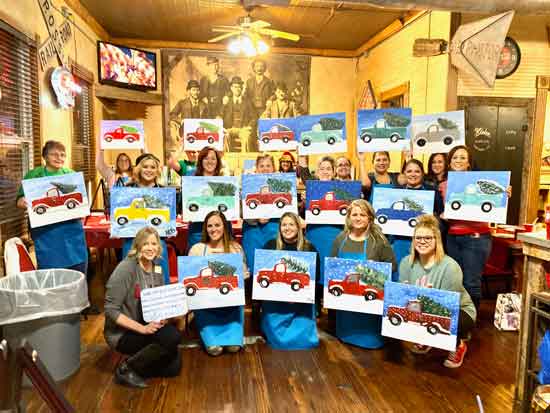 What circumstances led you to start this project?
My mom had Alzheimer's and as her condition worsened, we moved her from West Texas to a memory care facility within minutes of our home. I was working full time but running by to see her nearly every day. Sometimes I wouldn't get home until 9 pm and was too tired to even eat dinner. 
I was under more stress than ever before. I knew if I didn't find a way to de-stress I was going to have a heart attack or stroke. I have been a crafter all my life and I began painting regularly in 2018 to help reduce stress. It worked so well I became a little obsessed!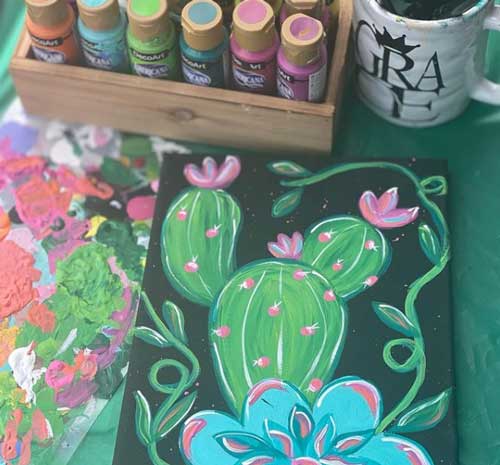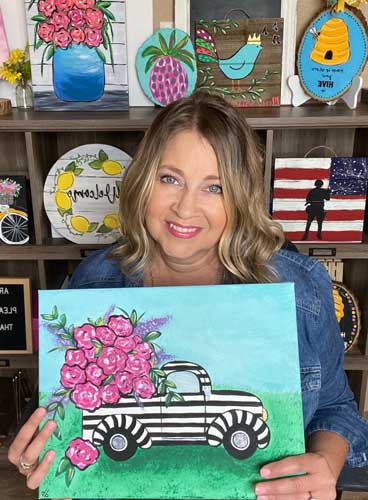 Over the next year, I was amazed at how art could quite literally melt my stress away. I was adjusting my work schedule so I could have time to paint, even for just a moment. By January 2019 I was convinced helping other women discover the healing art can do was my calling.

In October of 2019, I made it official and started Art & Grace, my mobile paint party business. The goal was to make enough on nights and weekends that I could replace half of my full-time income, I would then quit my day job, and spend more time with my mom.
In December I held my first paint party at a local restaurant and I had the time of my life! I had parties from December to March, then as you know, it all was shut down. I was devastated because we needed that income and now it was over. But the motto I've had my entire life is, "where there's a will, there's a way." I was determined to keep going somehow. 
I had a mentor, Heidi Easley, who began teaching me how to pivot and take my business online. And a few months later, I launched Grace, my monthly membership where we have online paint parties, a guest artist, a fun little DIY craft, and I'm able to show them just how relaxing art is!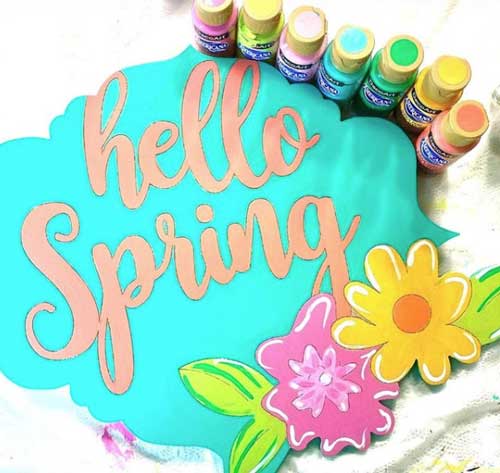 How do you enjoy giving back to the community through your art? 
I love hosting fundraisers benefiting the Alzheimer's Association. I ended up losing my mom to complications from Alzheimer's in August 2019. It lights me up inside to help raise awareness and funds for them. It's truly such an awful disease. Worldwide 50 million people are living with Alzheimer's and other dementias.

Right now I'm working with several talented artists on our second annual Artists for Alzheimer's Awareness fundraiser. We'll be providing free arts and crafts tutorials and encouraging people to donate what they can to support the cause. It's so inspiring to see thousands of participants come together to fight the darkness of Alzheimer's through art and creativity!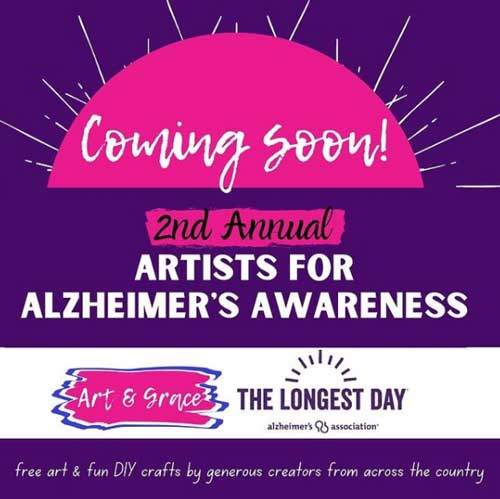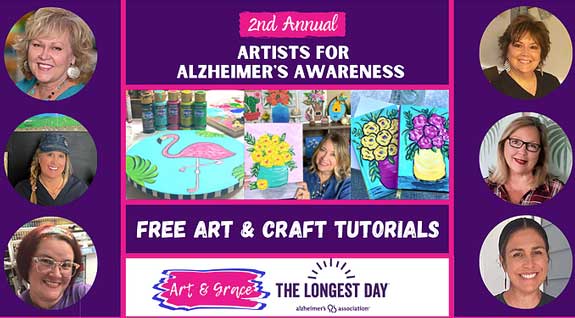 Why do you enjoy using DecoArt paints? 
Over the years I have tried many different brands but DecoArt has the best quality and colors for the price! I truly love them and they're all I use for my artwork.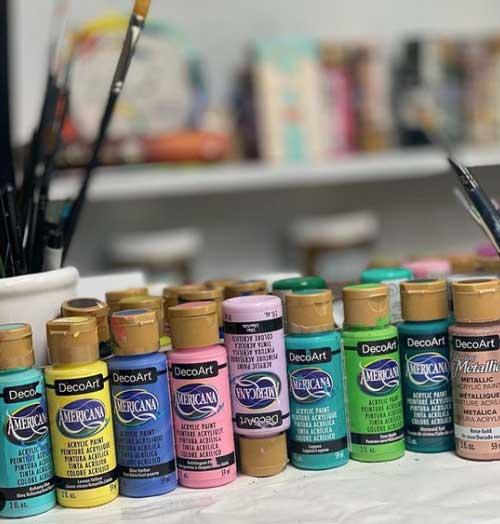 Do you have a favorite DecoArt product or color? 
That's a hard one! Royal Fuchsia and Bahama Blue are my favorite colors in the Americana Acrylics. I can't say I have a favorite product because I use and love them all! But right now I love Triple Thick! It's now all I use on my ceramics. It gives such a thick, glossy look.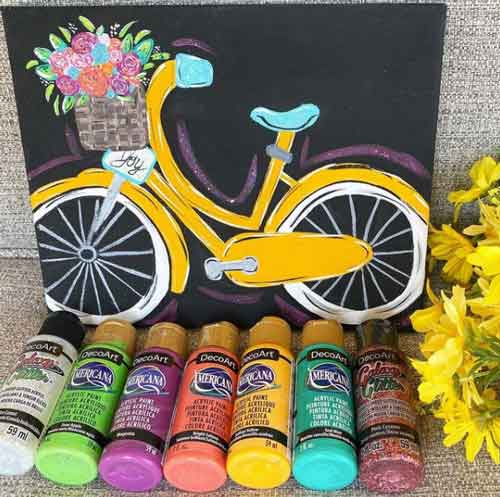 What advice would you give others who want to use art or creativity to inspire change?
If you love creating then there are people out there who need to be taught or shown how to do what you're doing. They are working a stressful job or caring for a parent, and they need help finding ways to use art to relax and unwind. 
Find out how to use your gifts and talents to serve others. If you have a heart for kids, partner with the local library, a school, or the YMCA. If you have a heart for pregnant teens, volunteer and teach them to paint or create with their hands things they will be proud of. Take the tools you have and combine them with the things you care about or some of the needs in your community. You will never regret sharing what you have in this way!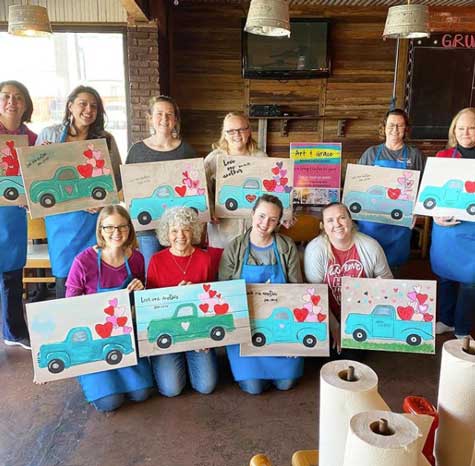 What has your experience revealed to you about the art community? 
When I host my fundraisers, I post on my Facebook page what I'm doing. I almost immediately start getting messages from my artist friends saying they want to help. I have 17 artists plus myself who will be giving away hundreds of dollars in free art tutorials as well as raising money for the Alzheimer's Association and many of them have never had any experience with Alzheimer's. They just see my passion for it and want to help. To me, that is the power of the artist community and yet another reason why I love art!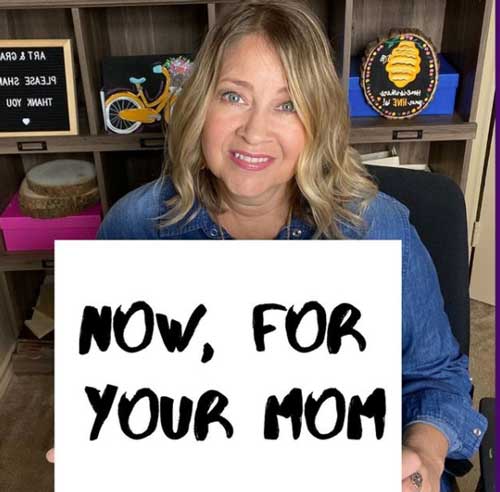 Which artists inspire you? 
All artists inspire me. From the uninhibited 4-year-old to the 80-year-old woman whose hands shake as she paints. The famous like Van Gogh to the unknown mom of three. I love Texas artist Heidi Easley, for showing me how to create "fun" art and how to use it to bring women together, have fun, and reduce their stress!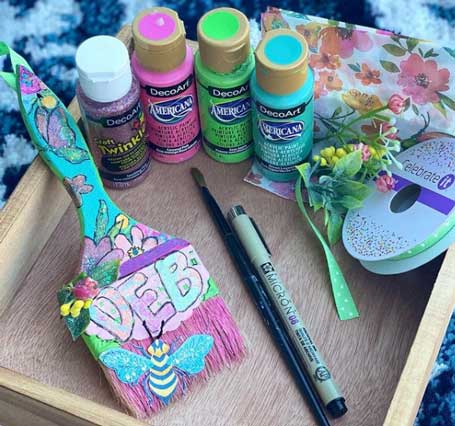 Is there anything else you would like to share? 
Just to try things. If you don't love one art form, try another. There are so many different ways you can create, never stop until you find one you love. And even then, don't stop learning and trying new techniques! Art is relaxing, it brings joy, and you can even find a community through it.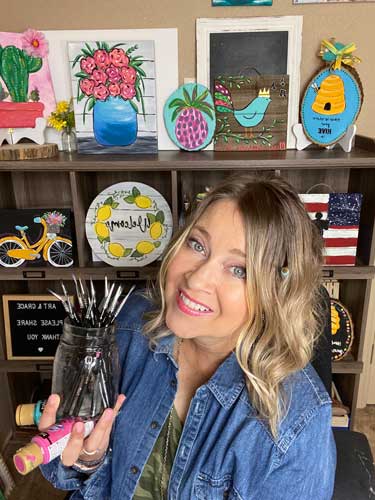 Thanks for sharing your story with us Deb! It was great getting to know you and talk about your artistic journey with Art & Grace. You can find out more about Deb and her on Instagram, Facebook, and at her website artgracepaint.com.

Every month we feature a new artist or maker who is using their creative gifts to make a difference! Each DecoArt Doer gets a feature written on them as well as a $100 Michael's gift card. We're happy to be able to support makers who make a difference! You can read about our past DecoArt Doers over on our blog.