Posted by DecoArt on Nov 13th 2020
Today we are featuring the next artist in our 
DecoArt® Doers
series, Jessica Burgess of
Jesc Burgess Art!
Jessica is a full time artist as well as the founder and instructor at
Art In Pajamas.
She started her organization in order to help others heal through the therapeutic power of art, and she has such an inspiring story to share. Read on to learn more about Jessica and her amazing work!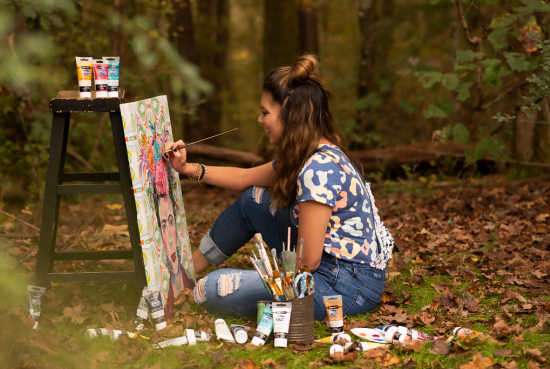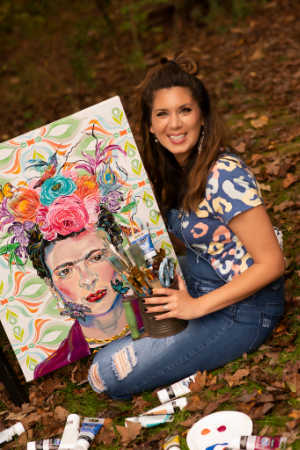 Describe your organization and its mission.
"Art In Pajamas
was born out of a desire to inspire people to learn to create from their souls, to use art as a creative and therapeutic outlet, to not only create something beautiful but also to realize there is beauty in their souls that can shine for the world to see. I have suffered through great loss and trauma, and I am real, just like you.
I want others to know that they are not alone, there is hope, and love conquers all. Art helps me cope in so many ways and I am blessed to be able to share this with the world."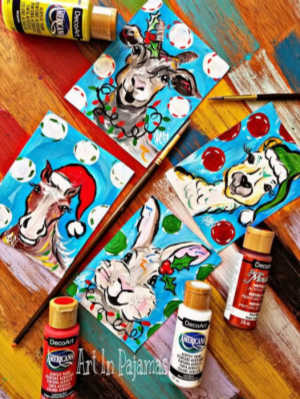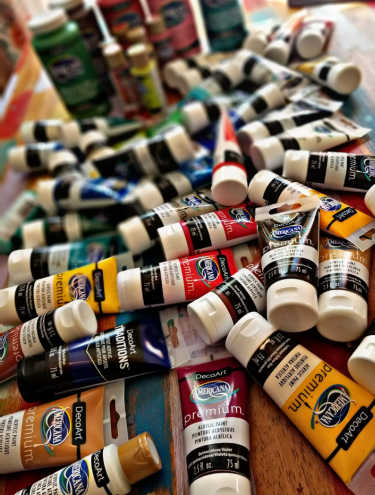 What led you to starting this project?
"Two years ago we lost our youngest son Ezra to a battle with a genetic, lethal, bone disease. He passed away in my husband and I's arms. The moment he died, a part of me did too. My world was shattered, my life transformed forever. The notion of being a mother on this earth with empty arms is abstract. 

I spent days, weeks, months trying to overcome this battle with grief. My living family deserved to have me back and I did not want this to consume our future. While outwardly I was trying to hold it together, internally I was not succeeding.

Then one day I received an original art order from a new client. I was in shock, as if it were the first art sale I had ever had. In that moment, I felt someone still believed in me. I went to Ezra's grave, I stood in the wind at his bunny shaped headstone, and starred at his pin wheel as it turned so quickly. My eyes were exploding with tears and I made Ezra a promise that 'Mommy would try.'"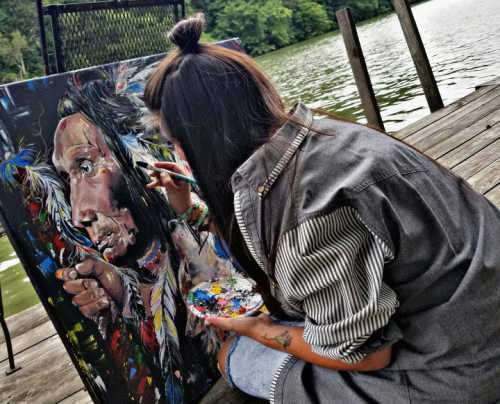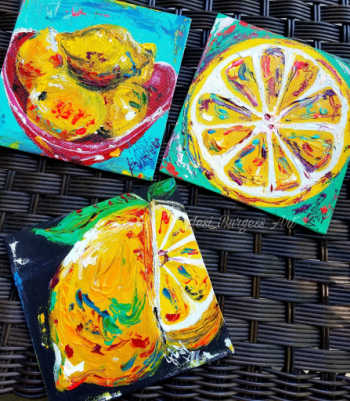 "There was no way this new client knew my circumstances but I will forever be grateful for her. She was the the push I needed and from her view, all she did was purchase art.
I told her parts of the story after she received her painting. I found out that her husband had recently been in a terrible car accident. On the back of my art, I wrote, Jeremiah 29:11. She flipped through the bible and read 'For I know the plans I have for you, plans to prosper you and not to harm you, plans to give you hope and a future.' That gave her hope and touched her soul during her trials. I truly believe we were brought together through art for a reason.

I began painting again. I began learning to not try and make sense of the senseless. I accepted that I am a work in progress and that grief will never end. Not even time makes it better. I began to learn to live beautifully broken day by day."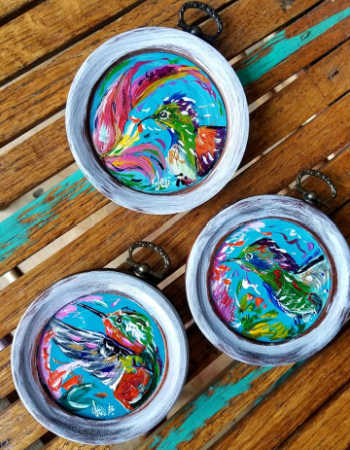 "When the 2020 lockdown came, depression and anxiety were both soaring for many. I decided to start Art In Pajamas, a group with free online painting classes for those in quarantine. I thought if I could just reach a few people and help them find a new activity to do with their families, that I would have succeeded.

Thousands of people started painting in just a matter of weeks. People were making posts about how much this helped them cope with the quarantine, including pictures of entire families creating together. I was in tears! It was amazing!

Now here we are, quarantine has ended and many have wanted to continue their creative journey with me. I am beyond honored and humbled to help them! I am so proud of my Art In Pajamas family. They are more than just students, I consider them my artsy family. Watching them grow and blossom will always be the greatest reward for me. Our motto is "be wonky," they learn to throw perfection out the window, be themselves, and even how to live beautifully broken."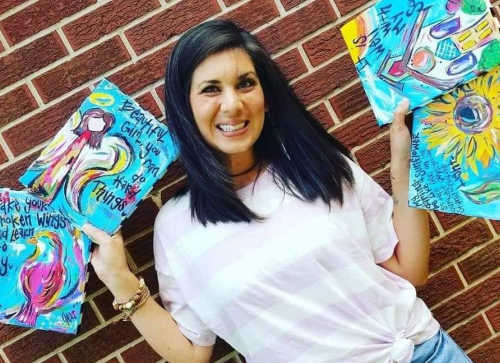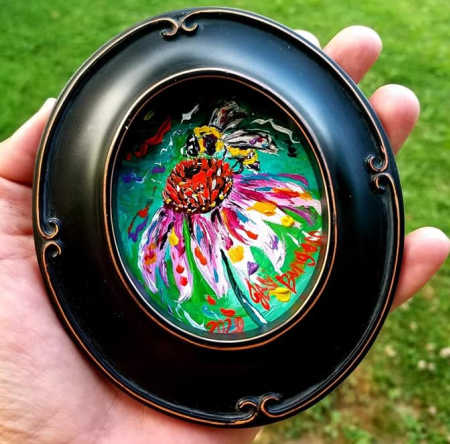 Where do you obtain the materials that you use?


"Mostly online at
Hobby Lobby
, but my favorite is when I can make a repurposed piece of art out of salvaged wood or any materials from my husbands guitar building shop. I even teach classes and paint on the inside of a cut up Little Debbie Snack box. They are perfect for gliding paint and super cool recycled art!"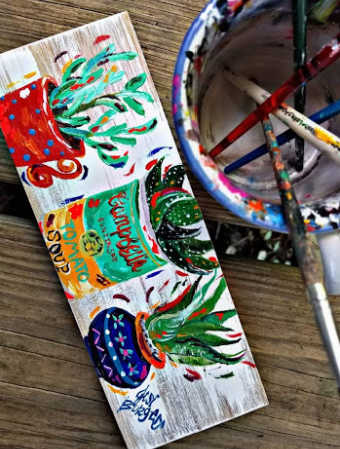 Why do you enjoy using DecoArt paints?
"Multiple reasons! First, I would say the vibrance and the coverage! Perfect!! The tones are so bold and I love it! They also flow so well! They are very easy to work with. They are a great paint for beginners and avid painters."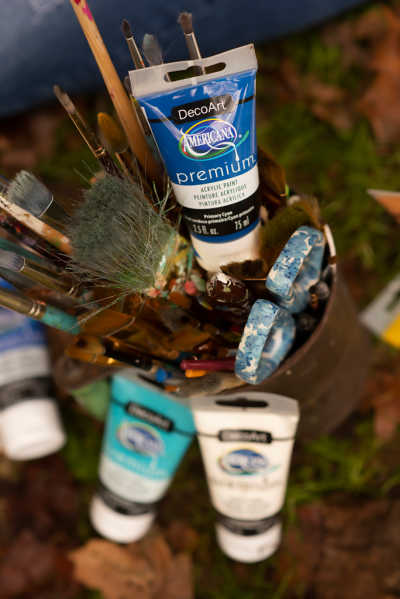 Do you have a favorite DecoArt product or color?


"That's a tough one to choose! I'm really digging the
Margarita
and
Peacock Teal
in the
Americana® Premium™
acrylic paints. I actually have recommended these in my last few classes."
What advice would you give others who want to use art or creativity to inspire change?
"I say go for it!!! The good does win! Some are just born to inspire. If it is in your heart and and you work hard enough to encourage the great in others, just go and be the light!"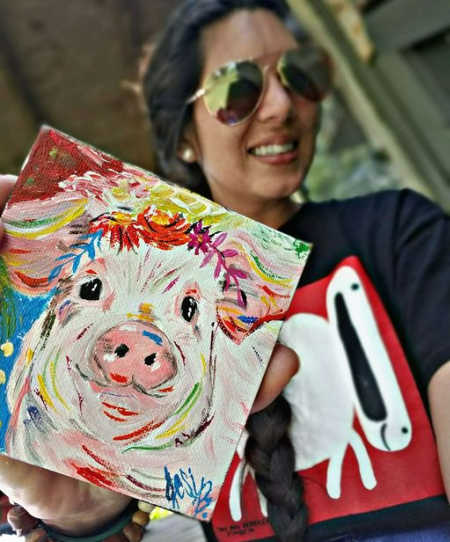 What has your experience revealed to you about the art community?
"That art and creativity are actually necessities. It's food for the soul and mind."
Which artists inspire you?
"Frida Kahlo
. Although our painting styles are different, I admire her perseverance greatly." 
"At the end of the day, we can endure much more than we think we can."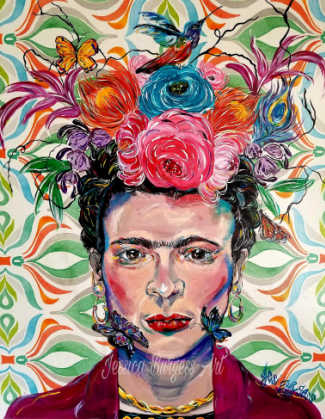 "Ralph Waldo Emerson.
He speaks in words that I wish one day I could paint in a picture."
"What is success? To laugh often and much; to win the respect of intelligent people and the affection of children; to earn the appreciation of honest critics and endure the betrayal of false friends; to appreciate the beauty; to find the best in others; to leave the world a bit better whether by a healthy child, a garden patch, or a redeemed social condition; to know even one life has breathed easier because you have lived. This is to have succeeded!"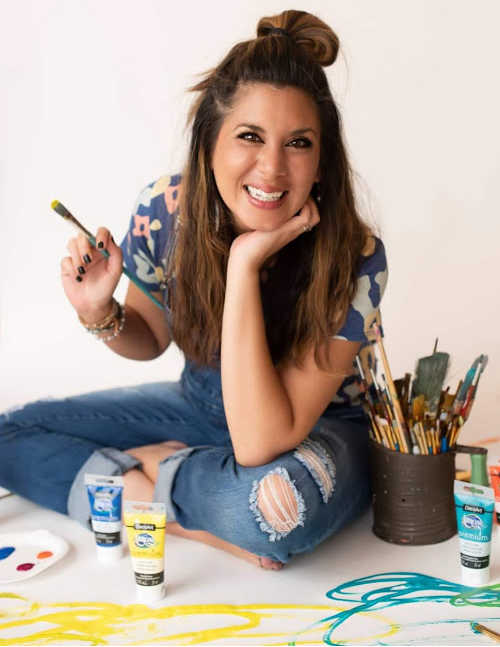 Thanks for sharing your story with us Jessica, we're honored to be a part of your artistic journey! Jessica lives in Florence, Alabama and you can find more about her and her art on her Facebook page.