Posted by DecoArt on Oct 10th 2017
Nothing says fall like plaids and buffalo checks of all kinds; flannels, napkins, blankets, shirts and even socks! I decided to put mine on two plastic platters to serve as colourful chargers and you can too using the Americana Chalky Finish paints in combination with your acrylics.
My name is Ariel and I'm the voice behind PMQ for two. I create bright, bold, colourful and eclectic home decor and DIYs.
As we enter the mother of all entertaining seasons I thought it would be fun to create some custom chargers or sous-plats dishes. These are super easy to make, and you can create your own using plastic plates, proper chargers or even wood platters.
Items Needed:
Plastic Chargers
Painters Tape
Paint Brushes
Instructions:
Gather your supplies.
Because the chalky finish paint will stick to anything, you can use it as a primer for most things. I was amazed but it actually stuck to the plastic plates, but it clung to the plastic beautifully and covered the plates to provide a beautiful coverage.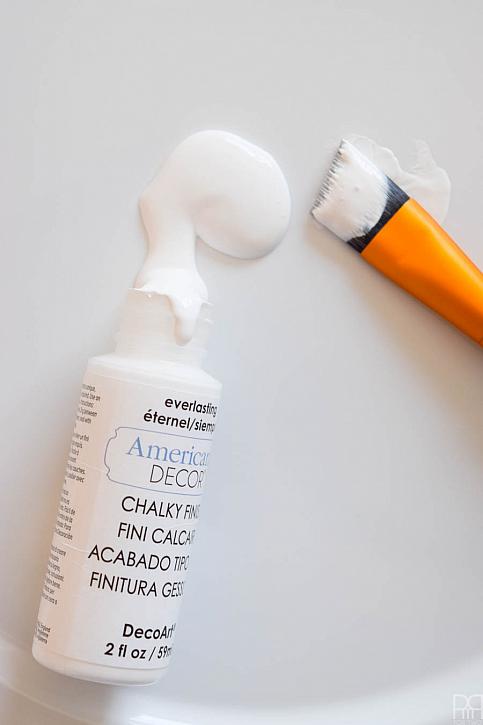 Once it's dry, tape the plate in parallel horizontal lines. I chose to make a wide check, but you could make a small one too. Using the width of your tape is a great way to start.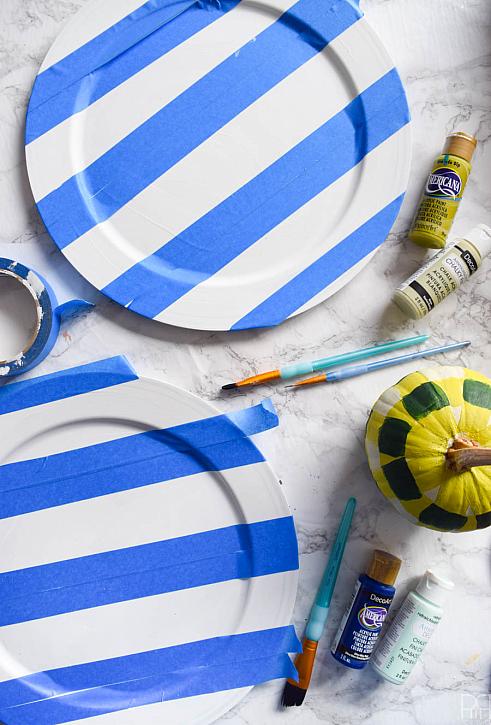 Paint the un-taped spaces in a lighter colour. I chose the Refreshing and Revive colours in the chalky finish.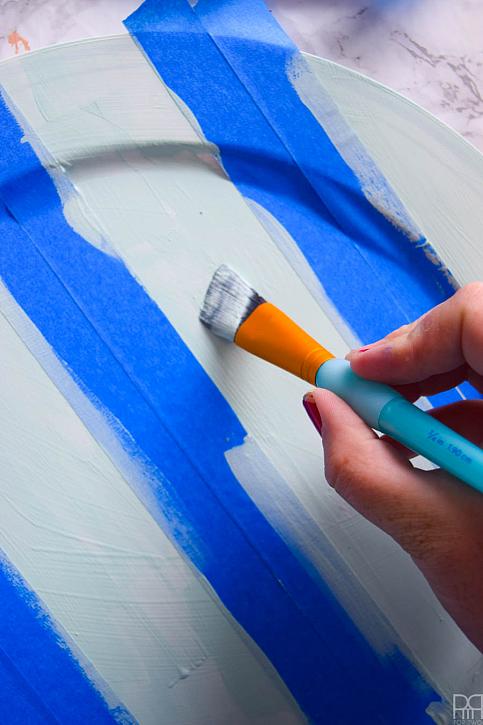 Apply a second coat if you want more consistent coverage. Wait about 15 minutes until it's nice and dry before removing the tape.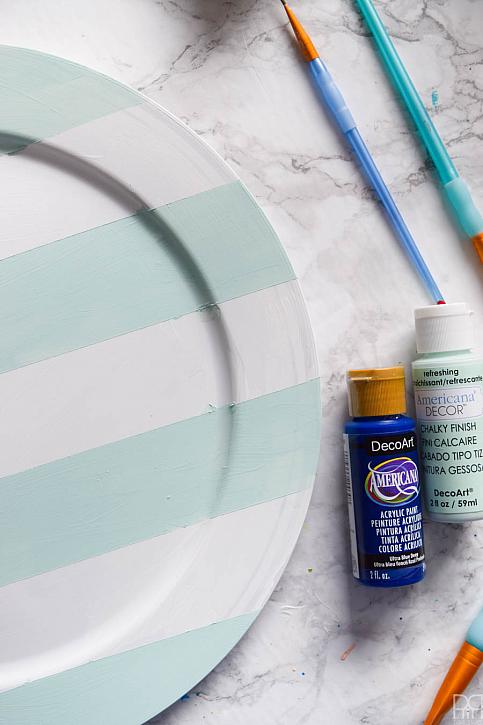 Apply taped lines across the existing painted stripes to make a criss-cross pattern. Paint over the negative space again.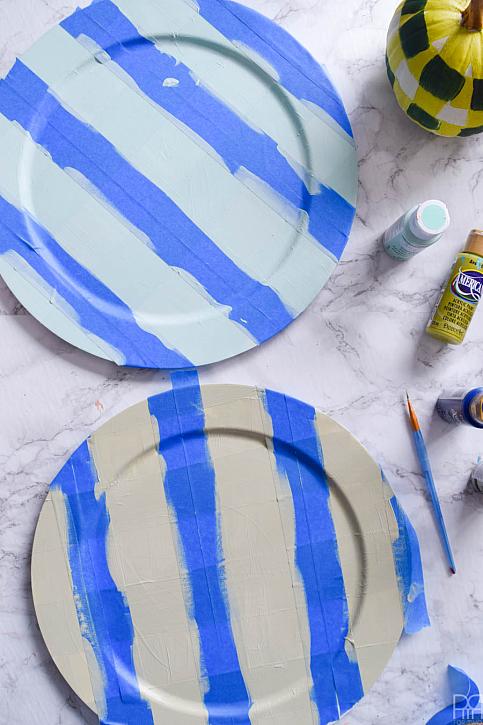 Once all the lighter paint is dry, take your darker accent colour and shade-in the intersection of all the lines. I used Avocado and Ultra Deep Blue in the Americana Acrylic line.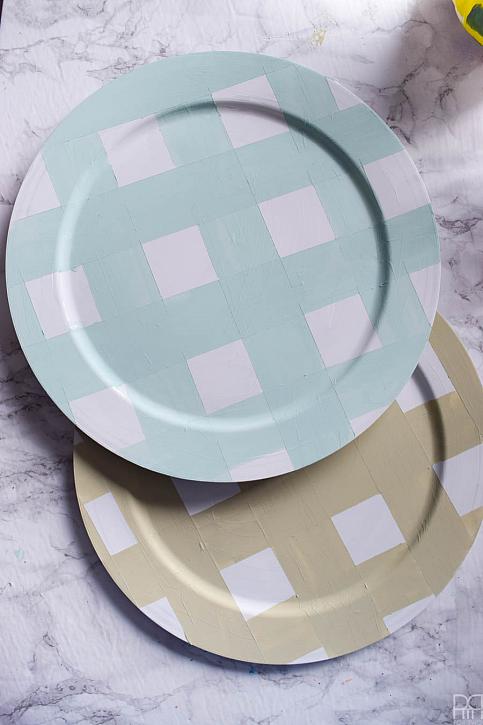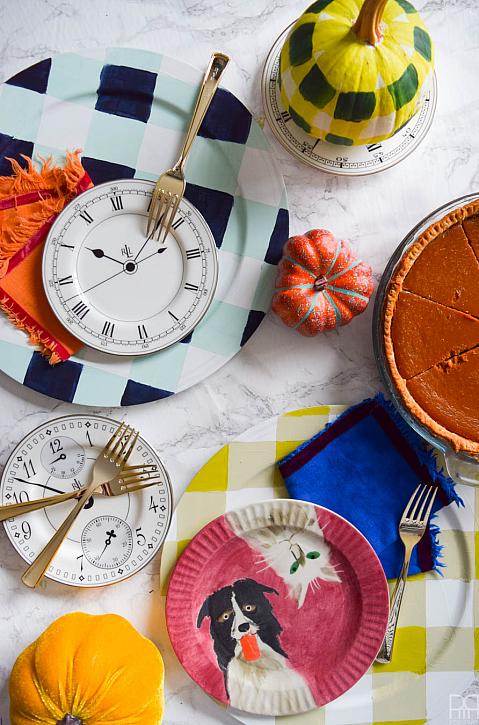 You can clear coat the chargers using any Americana Decor Varnish or DuraClear but I left them as is.
This is where I got to test them out with these pretty animal plates and a good ole' slice of pie. I think the colours are fantastic for fall, and I may, in fact, make some more in different colours. Black, white and grey, and some pinks and reds would look lovely.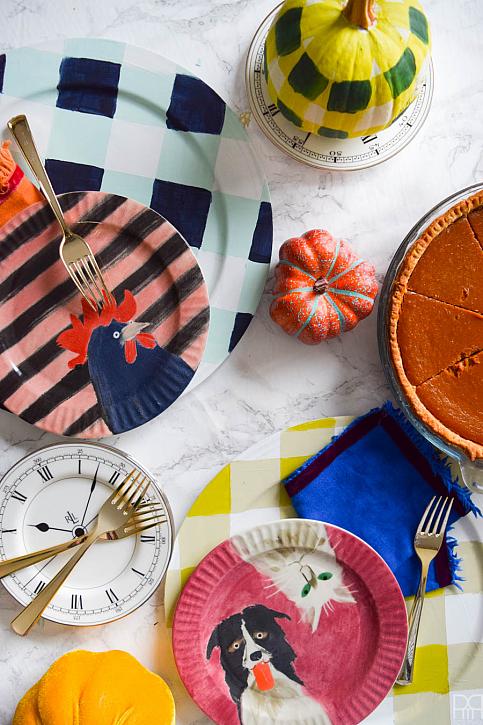 *These plaid chargers are not food or dishwasher safe, they are intended for decorative use only.