Posted by DecoArt on Feb 16th 2018
What is decoupage?
I love the freedom of decoupage! This is an art form that has been around for centuries. The dictionary defines it as: The art or craft of decorating objects with paper cut-outs. 

The art form appears to have come originally from East Siberian tomb art. Nomadic tribes used cut-out felts to decorate the tombs of their deceased. From Siberia, the practice came to China, and by the 12th century, cut-out paper was being used to decorate lanterns, windows, boxes and other objects.

In the 17th century, Italy, especially Venice, was at the forefront of trade with the Far East and it is generally thought that it is through these trade links that the cut-out paper decorations made their way into Europe. Decoupage was especially in fashion during the time of King George III of England.
Today, we are so lucky to have the art form of decoupage alive and thriving. People decoupage all kinds of items; furniture, frames, boxes, art... You can even decoupage WALLS! Think of what you can do to dress-up a room that won't cost an arm and a leg.

I purchased 2 rolls of wallpaper a few months ago and I spent $80 PER ROLL! After spending all of that money, the wallpaper is still sitting in my dining room unused because I am terrified of destroying it. That would be in essence, burning money.
Items Needed:
Decorative Paper
Paintbrush
Disposable Bowls
Misting Water Bottle
Cookie Sheet
Paper Towels
Brayer (optional)
Scraper (optional)
Instructions:
Last year, we purchased a new home that we LOVE! However, my poor son's room needed a major make-over. The room was pink and purple with a sign that had been hand painted on the wall with the names of the previous owners' girls on it. Obviously, my little guy, who is seven, wasn't too jazzed about making that room his personal living space.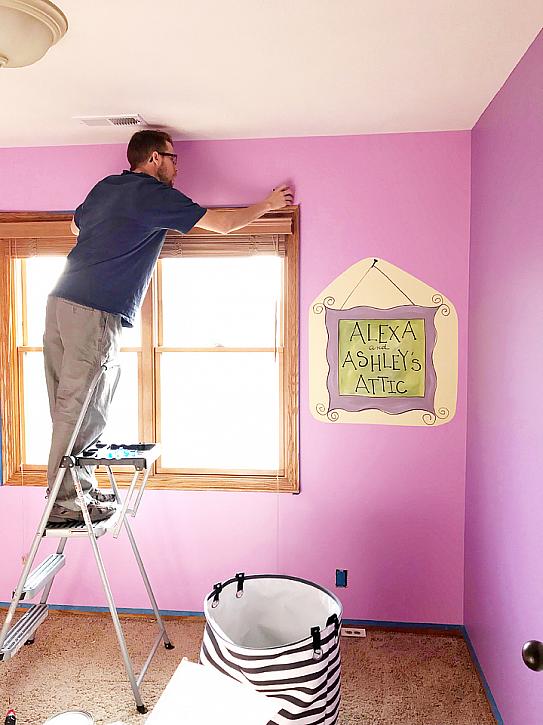 After some thought and discussion, we still weren't quite sure what we wanted to do with his room. I wanted something unique but we hadn't quite figured out what. A few months down the road, I found a book at a friend's vintage shop that she had rescued from the local library's trash bin. As soon as I saw it, I knew exactly what I wanted to do with it and, the DecoArt Americana Decou-Page was going to help! It was a large book of the copies of the original notes and sketches from the Lewis and Clark expedition. I thought it would be perfect for one wall in Gage's new vintage explorer room. The good news, this wall makeover was going to cost pennies on the dollar compared to the expensive (unused) wallpaper that I'm still too chicken to unwrap.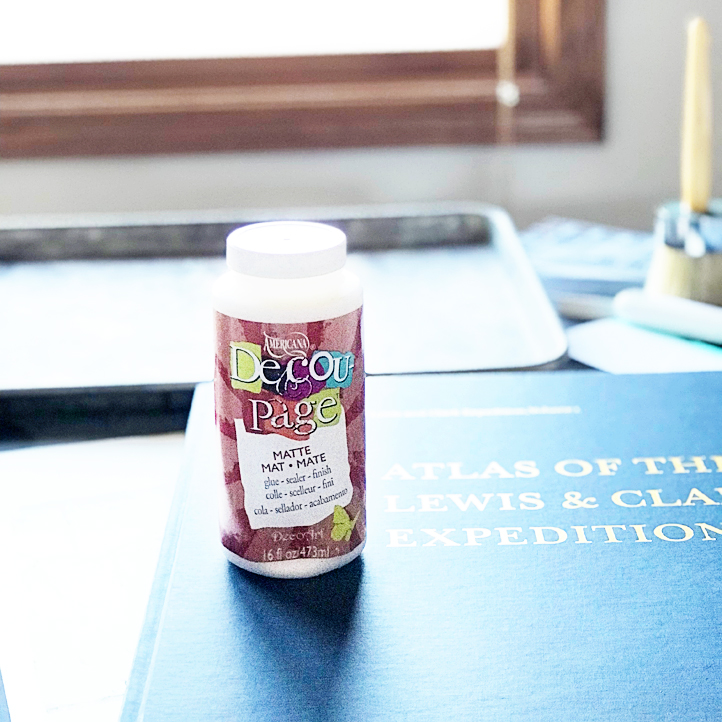 The nice thing is that you really don't need a ton of crazy supplies for this project. The major item is the paper you are going to use. You need to calculate how much paper you'll need for your size wall to make sure you'll have enough. The rest, you may already have at home already.

I also use my grubby folding table that I use for all of my painting projects. That way I don't have to worry about being messy. The nice thing about using Decou-Page is that it cleans up easily with soap and water.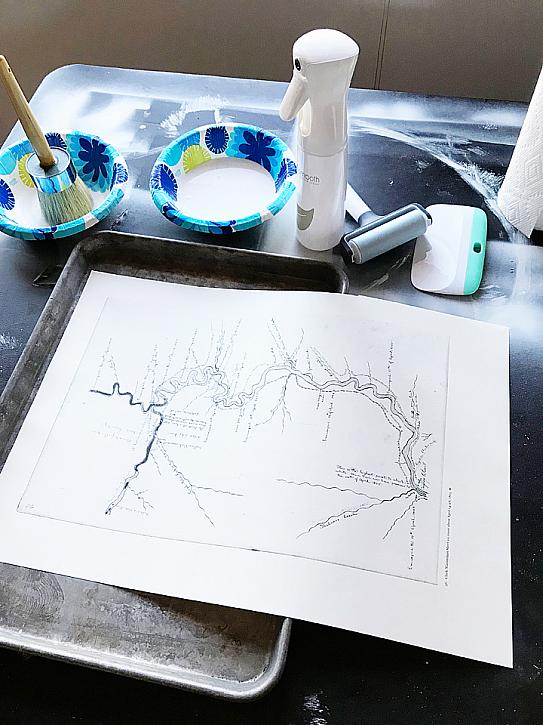 This project can be as messy or as clean as you would like. I worked to keep my workspace as clean as possible and to make sure to corral the Decou-Page within the cookie sheet as much as I could. Here is a quick video to highlight my workflow:
Sand, clean, and prepare your wall - this may include painting if you're working with darker colors and such. We were priming the entire room and decided to prime the wall that we were going to cover with book pages so that there wasn't any chance of the pink coming through.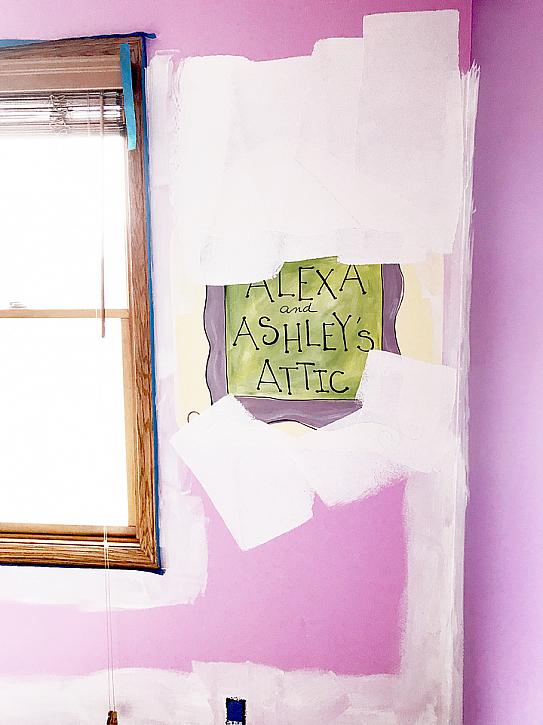 Prepare your work space - plan out your work flow a head of starting your project to cut down on the mess factor.
Plan out how you want to lay out your paper - is it going to be random placement or are you going for nice straight lines.
Mist the paper with water - Place paper in your cookie sheet and mist with water on both sides. This will cut down on issues with bubbles.
Brush on the Americana Decou-Page on the back of the paper making sure to cover the entire sheet of paper.
Carefully place the sheet of paper on the wall and smooth with your hands. I tried using the brayer and scraper tools and found that I really preferred just using my hands. However, you can see what method works best for you. Don't get too crazy about bubbles. You want to smooth as best you can but, the bubbles will take care of themselves as the Decou-Page and paper dry.
Move onto the next piece of paper until the wall is completed. Let dry overnight.
To clean-up your workspace, all you need to do is discard of disposable bowls and wash other items like the paintbrush and cookie sheet with soap and water. That's it!