Posted by DecoArt on Jan 8th 2018
Who doesn't want to get organized in the new year?! It seems at the kickoff of each year I tend to purge old stuff to declutter and start fresh. I am always looking for a unique and fun storage solution for items in my small house. Today I am sharing how I turned a plain IKEA Moppe into a fabulous boho organizer.
Items Needed:
Painter's Tape
IKEA Moppe Organization Chest
Instructions:
First, I started by gathering all of my supplies. I love using raw wood like the IKEA Moppe because it is a blank slate and easy to work with. I decided to use three different types of Americana Decor paints but you can seriously use anything. How would you decorate this organizer?
I started by painting the entire outside of the organizer using one coat of Americana Decor Color Stain in the color Chocolate. This is a deep rich color stain and is so much easier to use than traditional wood stains. I used a paintbrush to apply the color stain and cleanup was a breeze. Let the Color Stain dry completely before moving on to the next step.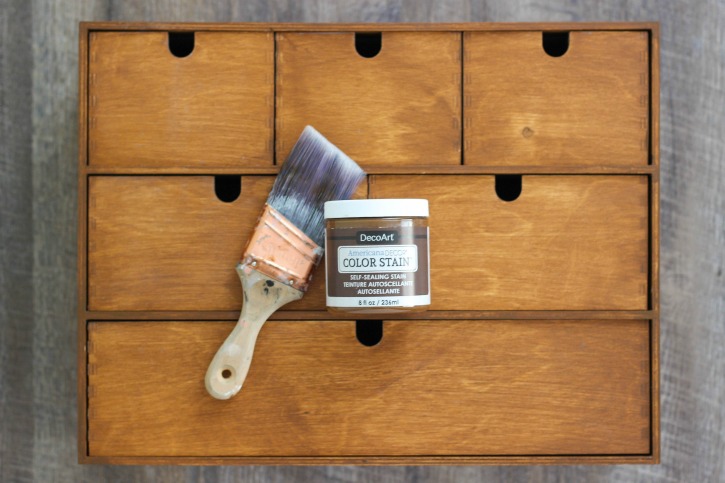 For a fun element and pop of color, I painted the inside of the drawers with one coat of Americana Decor Chalky Finish in the color Colonial. This is my favorite color blue in the Chalky Finish line. It is the perfect medium blue and adds charm to the organizer. Now every time I open a drawer, I can see that beautiful color. Let the paint dry before moving on to the third and final step.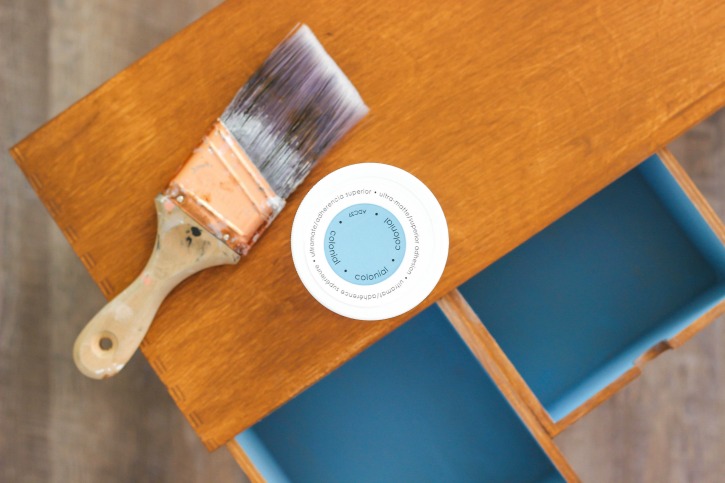 I removed the drawers from the organizer and separated them a quarter of an inch apart using wood shims (this is the measurement of the wood dividers on the organizer). I placed the 12" by 12" Mandala stencil where I wanted it on the drawers (off centered) and used painter's tape to secure the stencil. Next, I used stencil daubers to apply Americana Decor Satin Enamels in the color Pure White. The best tip for applying paint over a stencil is to use as little paint as possible. You also want to hold down the area where you are stenciling and apply very light pressure with a brush. Let the paint dry before removing the stencil.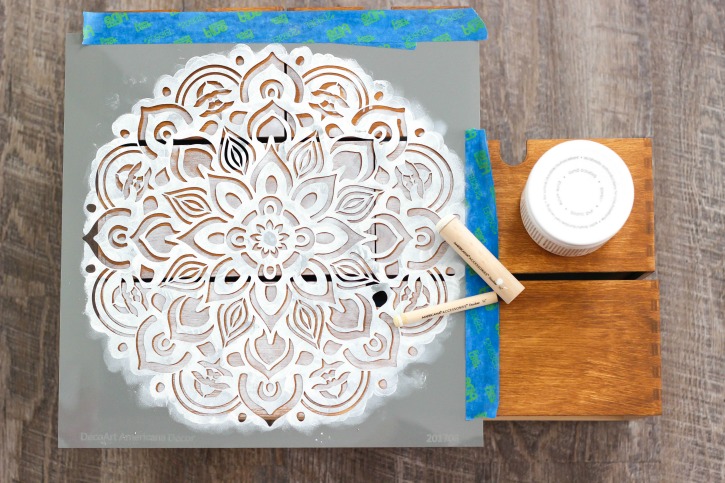 I lightly sanded over the painted Mandala to add a faded/distressed look. This DIY IKEA Moppe Organizer has a boho look that matches my office decor. I keep it in there to store my craft supplies. You could also use this organizer in the kitchen, bathroom, pottery bench or anywhere in your home that needs organization.