Posted by DecoArt on Oct 10th 2019
If you want to add some festive florals to your holiday décor, these DIY Iridescent Halloween Paper flowers are perfect!
When it comes to traditional Halloween colors, typically black and orange stand out the most with green and purple next in the line-up. I wanted to incorporate a bit of purple into my Halloween décor this year since I'm super heavy in the orange and black department! To do that, I thought a little bit outside of the box and made flowers out of paper along with Americana DuraClear Iridescent Varnish in Violet. When the varnish was added to the plain black cardstock, it magically created the PERFECT shade of purple for Halloween!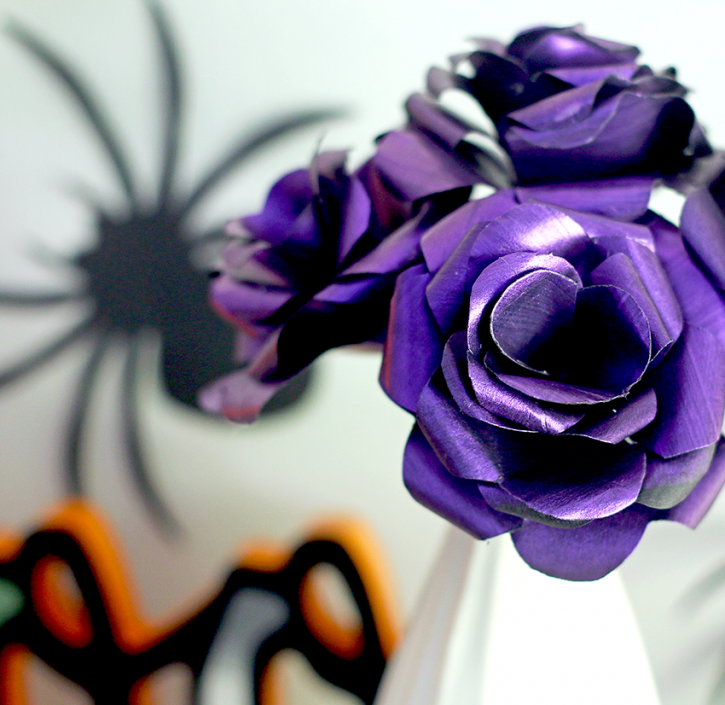 If you want to sprinkle a bit of purple into your Halloween décor this year, check out my video tutorial below. You'll be amazed how this simple tutorial packs some serious shine when finished!

Items needed:
Americana DuraClear Iridescent Varnish - Violet
Americana Acrylics -  Lamp Black
DecoArt Stencil Paintbrush
DecoArt Flat Paintbrush
Black cardstock
Scissors
Hot glue gun and glue
Pencil
Floral wire stems
Wire cutters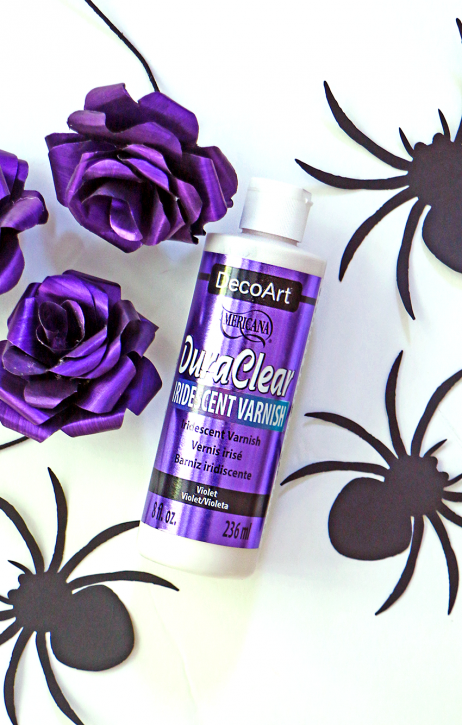 Step 1: Add a coat of varnish to the cardstock. Let dry.
Step 2: Add second coat of varnish. Let dry.
Step 3: Add two coats of varnish to the back of the black cardstock letting it dry in-between coats.
Step 4: Cut 4 squares measuring 4"x4".
Step 5: Fold the square in half, and then in half again.
Step 6: Draw a heart shape on the bottom corner of the square and cut.
Step 7: Cut the tip off and then cut one of the petal sections off.
Step 8: Repeat Step 5, using the heart you cut off as the template for the 3 remaining squares.
Step 9: Cut petals from each flower until you are left with a flower with 7 petals all the way down to just 1 petal.
Step 10: Use the floral wire to curl all of the petal ends.
Step 11: Add glue to the edge of the flower and glue the ends together, making sure the petals are curling out.
Step 12: Cut your floral wires in half and add a coat of DecoArt Americana Acrylic in Lamp Black paint. Let dry.
Step 13: Add a dollop of glue about 3/4" down from the floral wire and add the flower with 7 petals.
Step 14: Add glue to the inside of the first flower and add the flower with 6 petals on top.
Step 13: Continue adding glue to the inside and adding the flower petals until you've added all of them to the center.
When you're finished, add your flowers to a vase and bend the floral stems until you get the perfect spooktacular arrangement for your DIY iridescent Halloween paper flowers!