Posted by DecoArt on Nov 23rd 2020
Hey y'all! I'm Katie from The Rustic Boxwood, and I'm so honored to be a guest writer here on the DecoArt® blog! I'm making this fun outdoor decor project for Craft Friday and will be doing a live tutorial over on the DecoArt® Facebook page, so be sure to check it out!
I'm showing you a quick and easy way to transform an outdoor container for Christmas. This project works great as home decor for the holidays or even as a gift idea for a loved one. The fun thing is that you'll probably be able to find a random container sitting around your home for this project, just like I did! It's always great to upcycle materials into amazing new pieces!
Items Needed:
Metal Bucket Or Other Container
Fan Brush
Mini Mop Brush
Sponge Brush
Optional: Painter's Tape And A Protective Surface To Paint On
Instructions:
I chose to use DecoArt® Patio Paint Outdoor™ for this project due to it's weather-proof finish. I wanted something durable and lasting I could use outdoors year after year, and this acrylic is perfect for that! No sealer is required either, which makes it quick and easy. This line comes in 54 vibrant colors, so be sure to pick some up if you're working on outdoor projects for the holidays!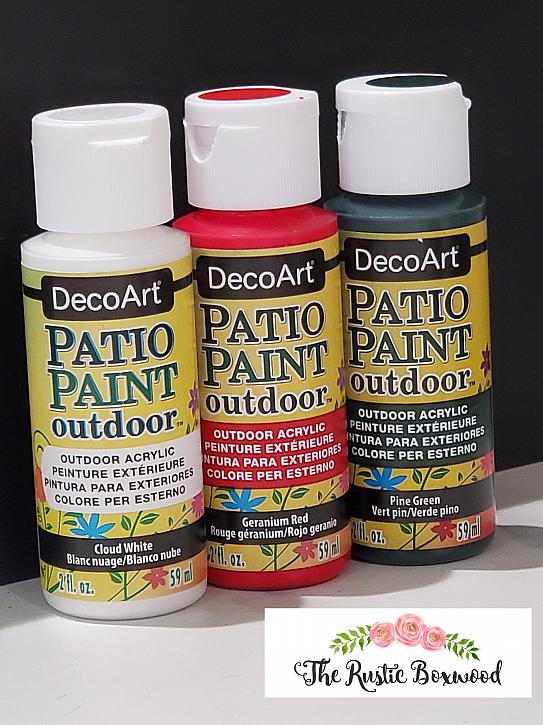 Let's begin! First, prep your surface with a drop cloth or trash bag. Or, you can do what I did and secure the bucket in your lap. :)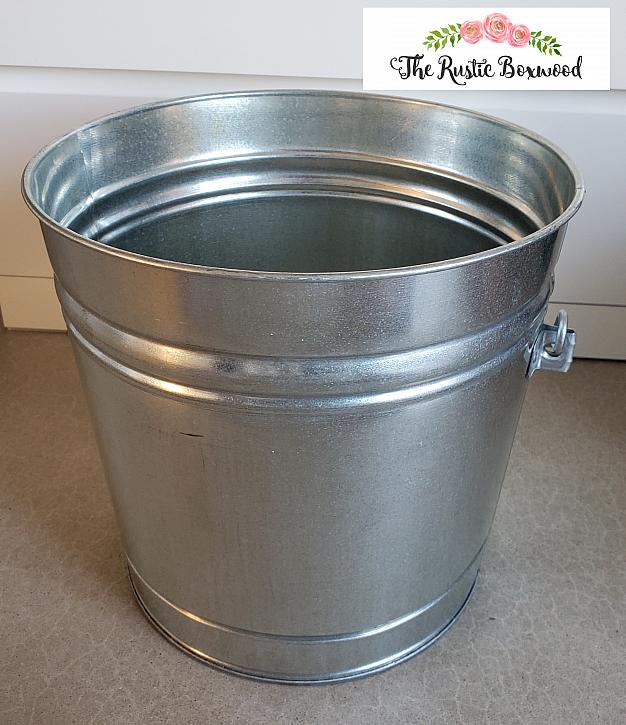 Next, use your sponge brush and Patio Paint Outdoor™ in the shade "Cloud White" to paint a large square on the front of your bucket. You'll probably need to paint a few coats onto your surface to make sure it's good and white. Let dry.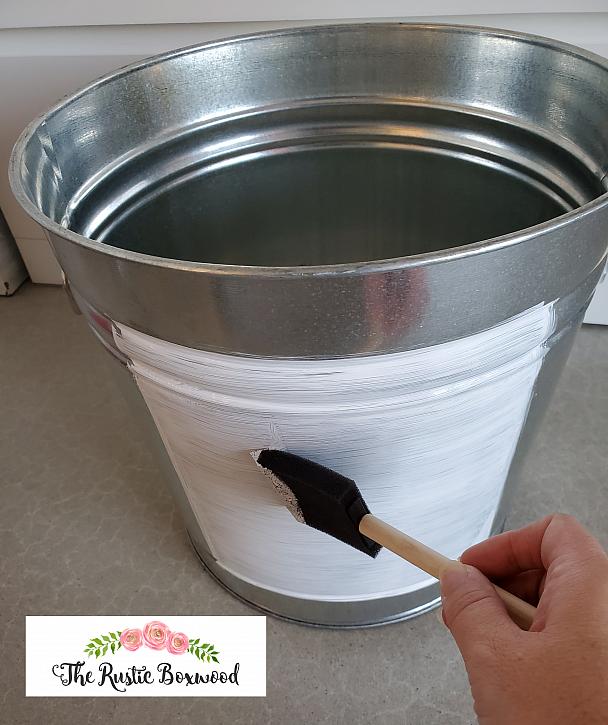 Now it's time to paint your red, grain sack stripes! You can either use painter's tape and tape off the areas you want to paint or you can eyeball it. With this particular bucket I dabbed my brush into the Patio Paint Outdoor™ in "Geranium Red" and painted into the grooves that were already molded into the container!
(In my Facebook Live, you'll see that I taped off the areas I wanted to stripe in order to show different ways to do this project.)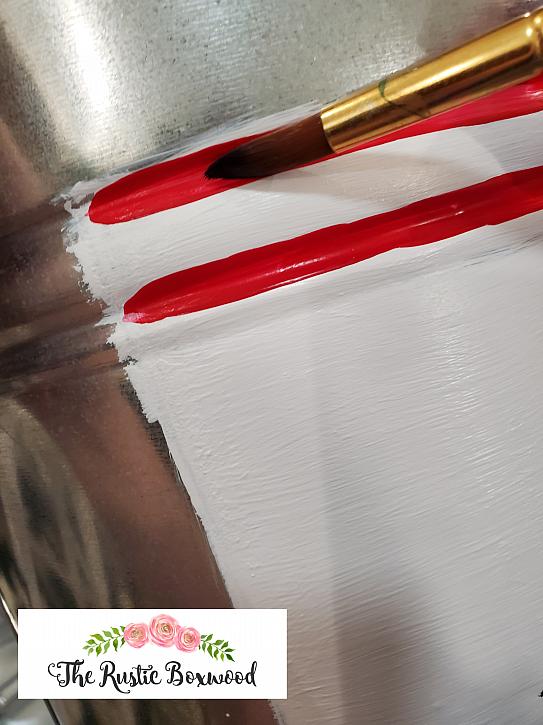 After you've finished the stripes, it's time to begin painting those Christmas trees! I chose to paint a set of 3 trees bundled together, but you can paint whatever suits your fancy!
(Tip: Try practicing your design on some watercolor paper or card stock first to ensure you're comfortable with your design. Don't stress about making it perfect! This is supposed to be fun and relaxing, and anyone can do this project, I promise.)
First, coat the fan brush in the Patio Paint Outdoor™ in "Pine Green." Using the tip of your fan brush, lightly pat a straight line down the white-painted square on the bucket to form the base layer of the tree. This step will help to guide you as you paint your stems.
Next, using the corner of your fan brush, and starting at the top of the tree, lightly dab the paint on one side of the base.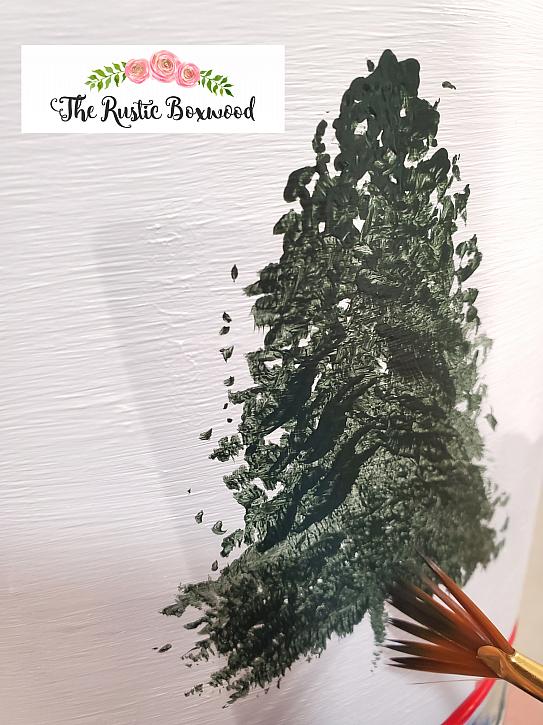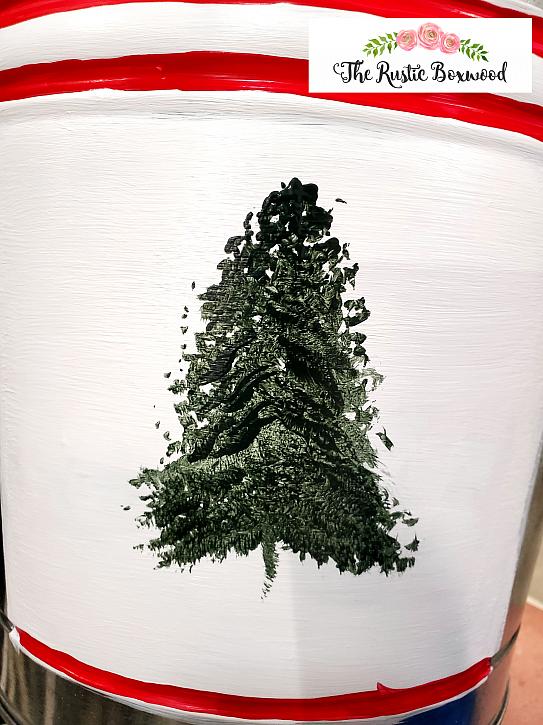 Then, do the same thing on the other side. Working your way down the tree, make your "stems" longer and longer as you work your way down the tree. As you're painting, keep in mind that the greenery is always lighter at the top of the tree and then darker as you work your way down, so you'll add a little more pressure as you travel down the tree! :)
After you've painted your first tree (in the middle of that white square), you'll repeat this step and create another tree on either side of your first tree.
And voila, you're all done!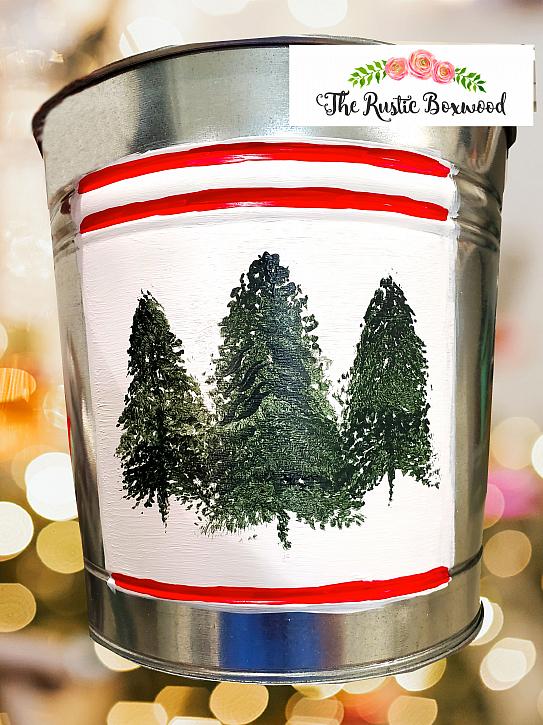 Step back and marvel at a job well done! Because you've used DecoArt's Patio Paint Outdoor™ paints, you can use your beautiful bucket on your porch. Fill it with vibrant Christmas decorations or use it as a special gift basket filled with…
Outdoor games
Camping supplies
Holiday treats
Handmade goodies
Hot chocolate fixings
You name it!
If you'd like to see me paint the trees on this container step-by-step or are looking for more fun ways to use this festive container, be sure to watch my Facebook live on Craft Friday 2020 the day after Thanksgiving by visiting the DecoArt® Facebook page!
Thanks again for stopping by! I appreciate each and everyone of you! If you liked this post, be sure to comment below and tell me what you'll do with your beautiful container. You can also check out some of my other collaborations with DecoArt® by clicking on the links below:
DIY Christmas Gift Basket
DIY File Cabinet Makeover
DIY Modern Wall Art