Posted by DecoArt on Apr 17th 2016
Are you looking for a thoughtful handmade gift to give to mom this Mother's Day?  She will love this DIY Wooden Painted Bracelet. This handmade gift is not only trendy, it's something she can cherish forever.
I love jewelry and so does my mom, especially fun and funky jewelry.  Right now geometric designs and raw wood surfaces are hot trends, so it only made sense to combine the two trends to make a stylish gift for Mother's Day.  This DIY Wooden Painted Bracelet is a fun way to customize ordinary jewelry and make it extraordinary!  
This is an easy project that you can make with your favorite 2016 Americana Colors.  Right now I am obsessed with these new colors from DecoArt, Chartreuse Yellow, Bright Salmon, Aqua Sky, and Teal Mint. 
Items Needed:
Americana Acrylics 2oz - Teal Mint
Americana Acrylics 2oz - Aqua Sky
Americana Acrylics 2oz - Chartreuse Yellow
Americana Acrylics 2oz - Bright Salmon
Wooden Bangles Via DIY Bangles
Assorted Brushes
Instructions:
Other than these gorgeous paint colors, here is what you will need to make your own DIY Wooden Painted Bracelet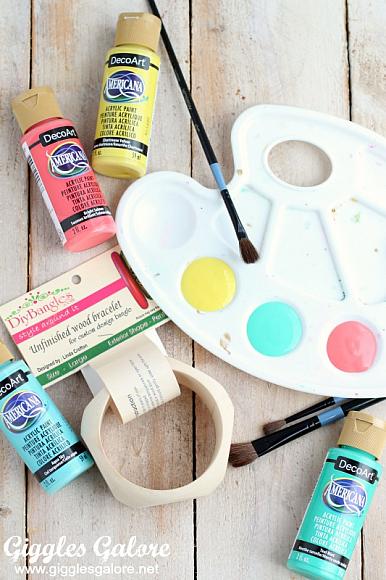 First, paint the inside of the bracelet, I used the Chartreuse Yellow. Let the paint dry and then paint the outside of the bracelet, I used the Teal Mint.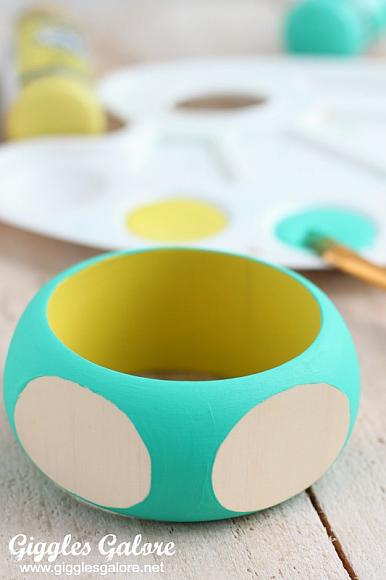 Once the paint has dried paint the raised inserts with your desired color. I wanted a bright pop of color and used the Bright Salmon.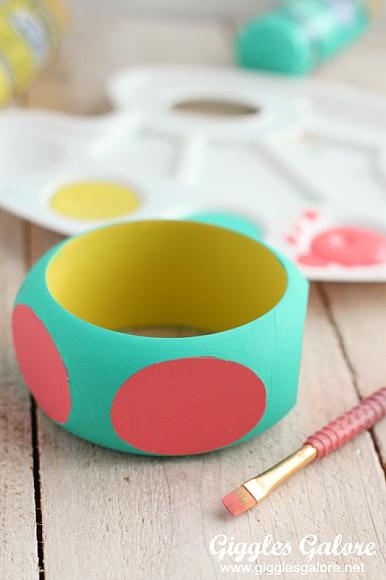 You could leave the bracelet as is, or you can go bold and add a little extra flair and incorporate the geometric trend that is so popular right now. I used a small paint brush and added on different geometric prints to each of the raised insets on the wooden bracelet.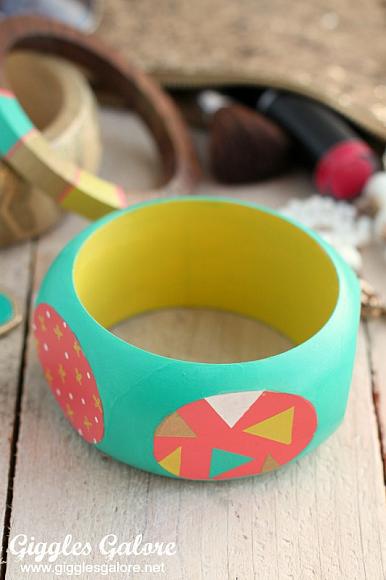 I decided that mom needed more than one bangle to make her Mother's Day gift complete. Last summer I made some other DIY Painted Wooden Bracelets using my electronic cutting machine and decided to give those another makeover. I used my favorite new Americana paint colors to give them a pop of color and now mom will have three great bangles that will make her feel fabulous and extraordinary!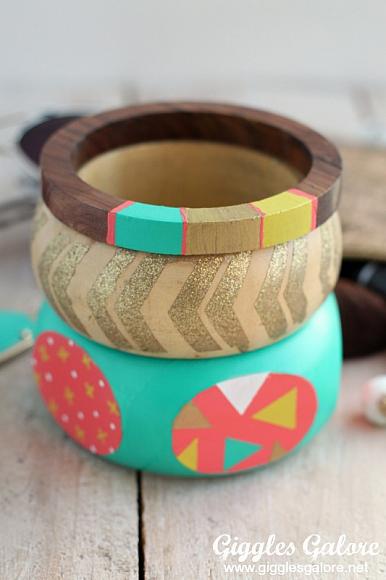 What are you giving mom for Mother's Day this year? If you are looking for other great gift ideas make sure you visit Giggles Galore where we share tons of creative handmade gifts mom will love!