Posted by DecoArt on Jul 14th 2020
If you're looking for a way to incorporate the latest holographic trend into your home, this DIY holographic picture frame is for you! This craft is a fun and easy way to add a dazzling depth of sparkle just by using paint. I transformed a plain ceramic picture frame into an eye-catching home décor piece using the NEW DecoArt® Holographic Illusions™!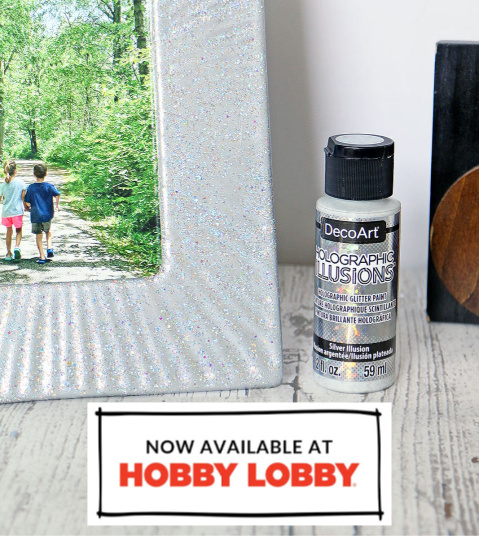 This dazzling new product is available at select Hobby Lobby stores right now. Holographic Illusions has glitter flakes that provide a prismatic sparkle and shine that really pops! This unique paint is unlike anything on the market today. It has a heavy glitter load in each brushstroke without the mess of traditional glitter. I went with the Silver Illusions (there are various colors to choose from) for my frame. Holographic Illusions can be used alone, but when applied over a similar DecoArt™ paint color (I used DecoArt® Pearls™ in Slate Gray as my base), you'll achieve a more intense shine!
Check out the full tutorial below to see how you can make your own DIY holographic picture frame using DecoArt® Holographic Illusions™ now available at Hobby Lobby.
Items need:
Ceramic Picture Frame
Silicone Mat (or Craft Mat)

Step 1: Remove the glass and back of your frame.
Step 2: Shake the DecoArt® Pearls™ paint well and add to the front and sides of your frame. Let it dry.
Step 3: Once dry, add 2 more coats of paint (for a total of 3 coats), letting each coat dry before applying the next.
Step 4: Next, shake the DecoArt® Holographic Illusions™ well and squeeze out onto your craft mat.
Step 5: Begin adding a coat of Holographic Illusions™ on top of the Pearls™ paint. Be sure to add it all over the front of the frame as well as the sides. Then, let it dry.
Step 6: Once the paint is dry, add 2 more coats of Holographic Illusions™ (for a total of 3 coats) to the frame allowing each coat to dry before adding the next. This will give it extra shimmer!
Step 7: After the final coat of Holographic Illusions™ has dried, place the glass back into the frame, add your favorite picture, and place the frame back on securing it into place.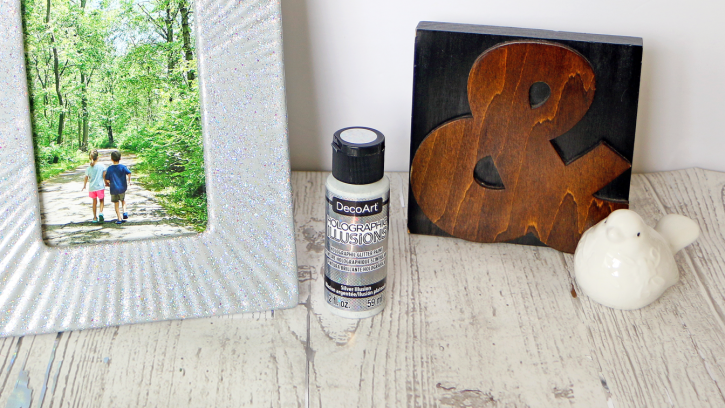 This DIY holographic picture frame adds a fun element of shimmer to any room. When you or any guests in your home walk past the frame you'll see how beautifully the holographic glitter pieces reflect. This frame will definitely be a showstopper! You can grab DecoArt® Holographic Illusions™ from Hobby Lobby, in stores or online today.