Posted by DecoArt on Dec 26th 2018
There is something about when the holidays have passed, and the decor is being packed away, that makes me want to organize. Maybe it has to do with the clean slate of the new year too, but it makes me want to dig into my house, clear out the clutter, and make sure everything has a place.
One area I have a problem organizing is the top of my dresser. I have lots of little dishes for my jewelry, and somehow it seems to still end up all over the place, and my necklaces end up tangled with my earrings. Plus, I have three teenage girls who love to dig through and borrow my "stuff," which seems to tangle them even more. With the challenge of organizing, I hit our local dollar store and looked for containers that I could dress up with a little Americana Multi-Surface Satin paint, and use to corral my bling.
I love using Americana Multi-Surface paint because it makes it really easy to customize your home decor on any surface.

I found a cute, little, three-compartment, plastic container that was perfect! I decided to use a reverse glass painting technique on it. Reverse glass painting has been around since the mid-1700s and was used heavily in logo painting on windows and doors in the early 20th century. The trick to reverse glass painting is that your images are painted on the back side so they will be seen from behind the glass, or in our case, plastic, instead of the paint laying on top of it. So, when painting an image, or logo, you almost have to think about layering the paint with the highlights on top, working backward into the painting. 
The nice thing about using this technique is that on an item that you are going to use, it keeps the paint protected from daily wear and tear. I had so much fun with this project, I made two versions. One has black lettering with gold highlights, and a white background, and the second one I played with a vintage looking gold-lettering, and a gold background, painted with white over the top. I love how much fun it was, and how after it was painted, the tray doesn't look like it was only $1!
Items Needed:
Plastic Or Glass Tray Or Container
Small, Liner Brushes And Larger Round Or Flat Brushes
Workspace Covering Or Tarp
Word Templates
Painter's Tape
Instructions: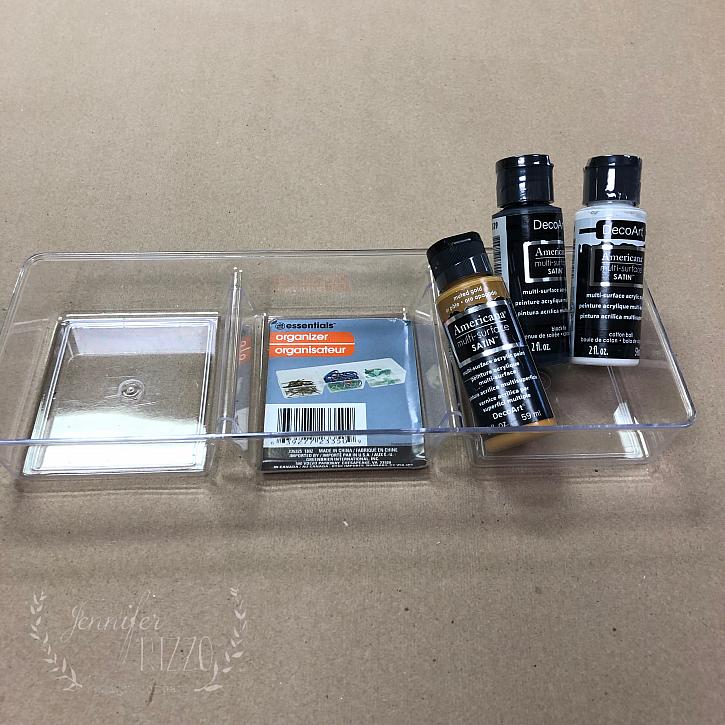 Step 1: Clean tray thoroughly to remove any grease, dirt, or oils. Print image to size and tape on the inside front of the tray. If you are using your own image or words, make sure that it looks how you would paint it on the surface. When you flip it over, you'll be painting over the reverse.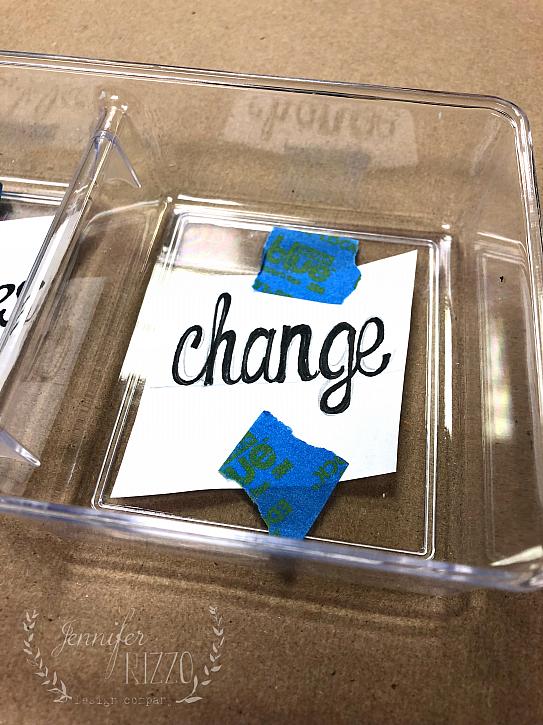 Step 2: Flip the tray over and paint over the words or image with Black Tie using a liner brush. Let Dry.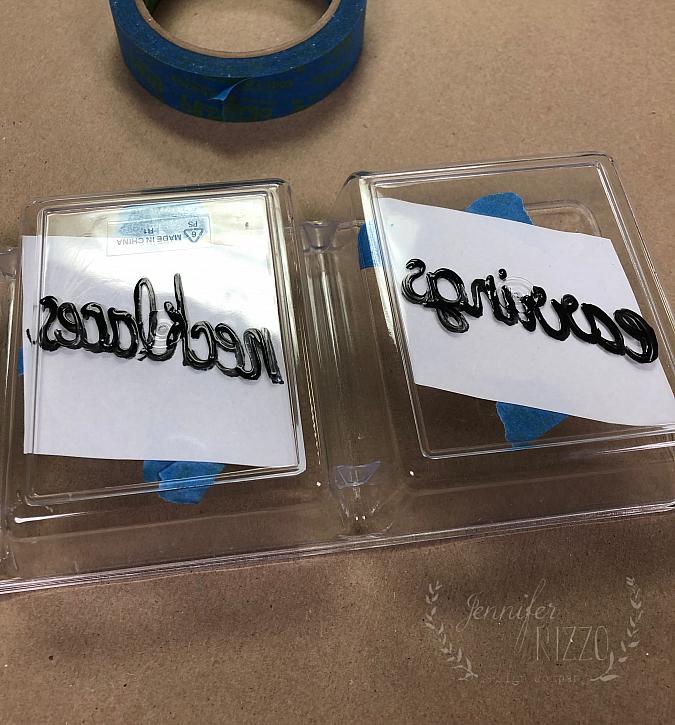 Step 3: Use Gold to paint an accent shadow around the word. This is used to highlight the word and create contrast.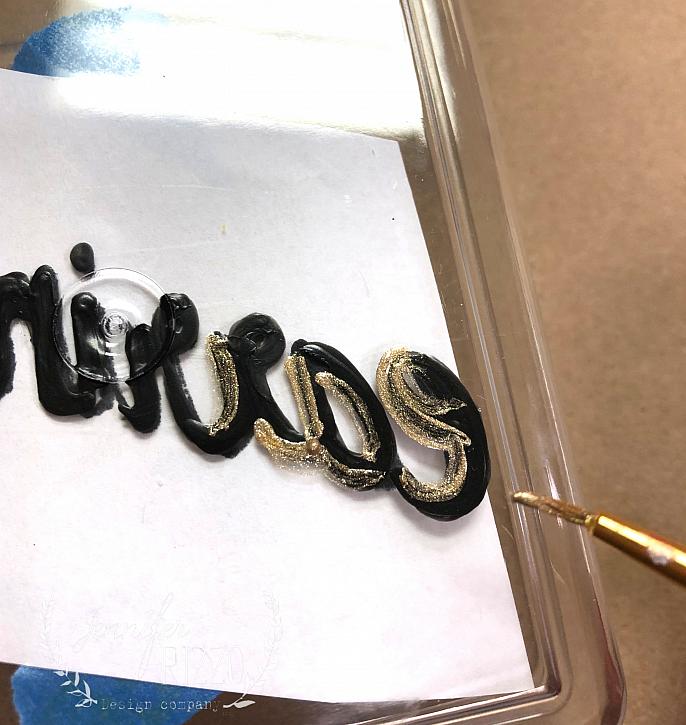 Step 4: Once words are dry, cover the entire surface with a background color. Cotton Ball (white) was used in this project. Add several coats, drying between each, until the paint is solid.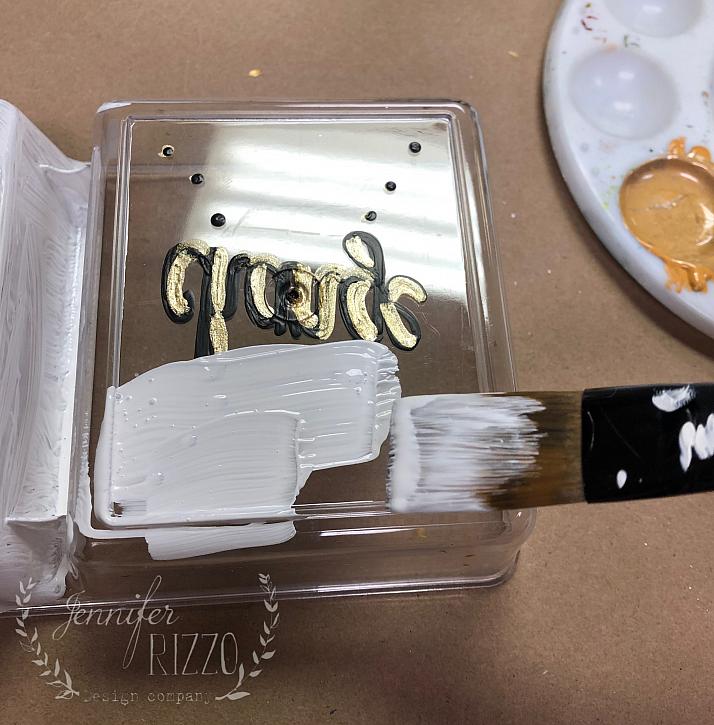 Step 5: Once the white is dry, cover it with Muted Gold paint, this may take several coats. Once Muted Gold is dry, paint a layer of Gold to add some sparkle.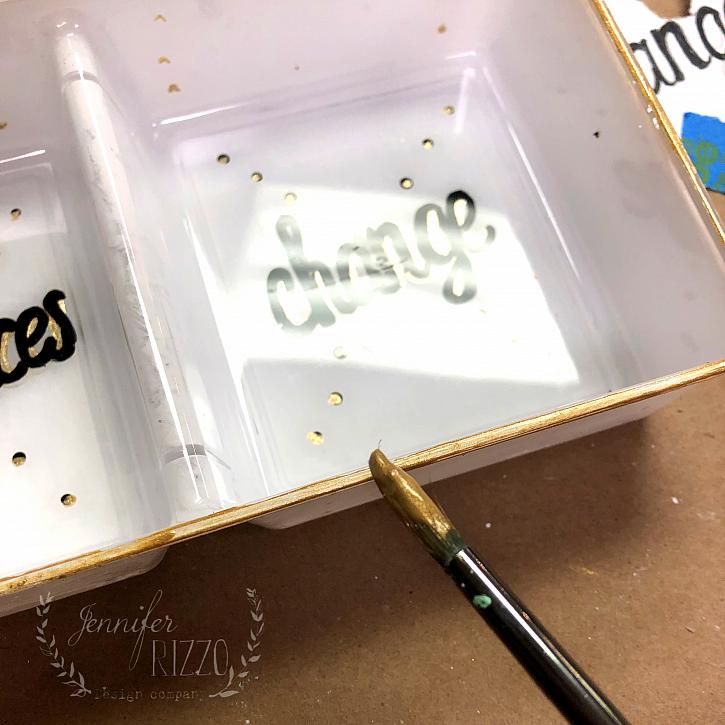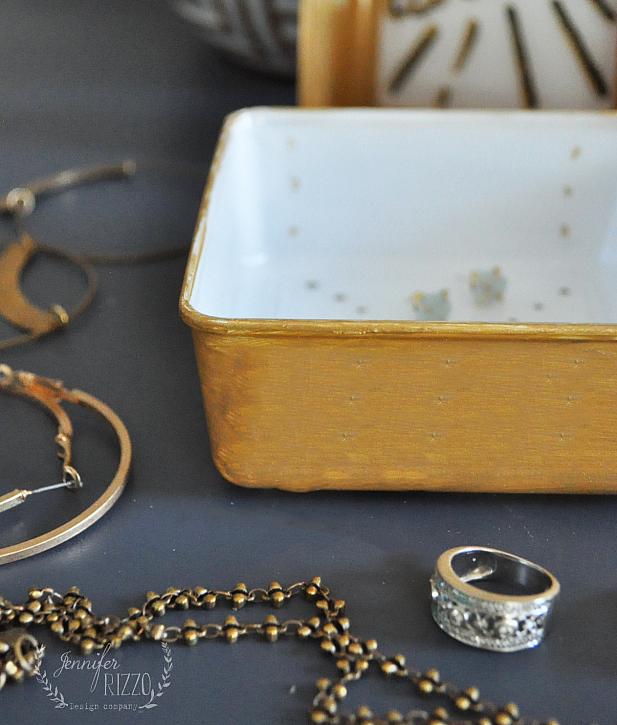 Enjoy using your new DIY reverse painted jewelry tray!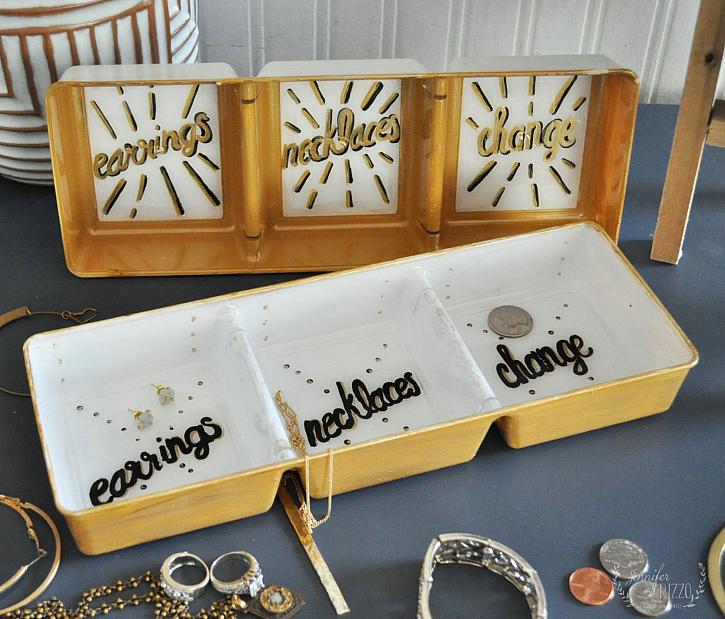 Find more creative inspiration at my site: JenniferRizzo.com, or visit my retail store The Collective lhe Makery in Lisle, IL.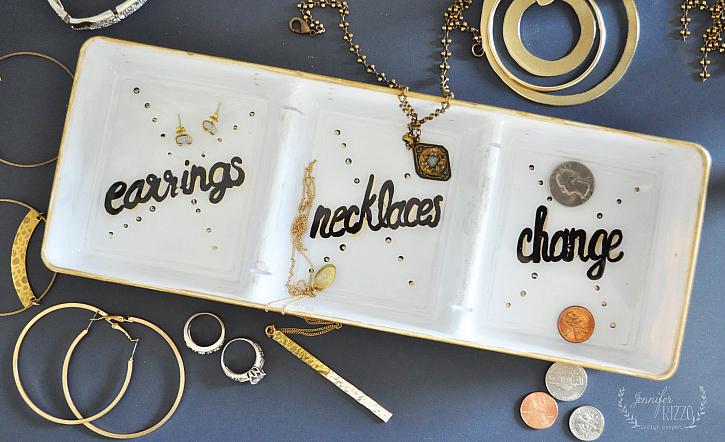 Save and print these word templates to trace: