Posted by DecoArt on Oct 27th 2020
These pumpkin blocks are so cute and easy to make! I made mine double-sided so that they could work for Halloween and Fall. Add them to your bookcase, coffee table, or any place that needs a set of cute pumpkins to bring the Fall spirit!
I tend to keep the scraps of wood left over from projects just in case I can use them again. My pile was getting pretty big so I needed to use them before my husband claimed my scrap wood pile for firewood. This pumpkin block project was a perfect way to upcycle some of those scrap 2x4 pieces into cute fall decorations!
Items Needed:
Scrap 2x4 Blocks In Different Lengths
2" Chip Brush
Pen Or Pencil
Small Flat Paint Brush
Fine Point Paint Brush
Shredded Corn Husks
Wine Corks
Hot Glue Gun & Glue
Instructions:
I found 3 scrap 2x4 pieces that would work perfectly for my block pumpkins. Two of the pieces were 4 inches tall and the other one was 7 inches tall.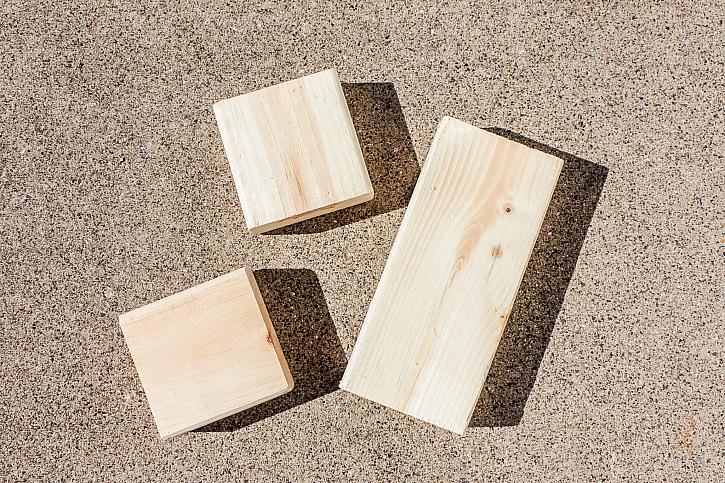 I started off by painting the blocks using DecoArt® Americana Acrylics® in the shade Warm Sunset. This new shade from DecoArt® is a warm orange shade perfect for pumpkins! I love it so much more then the typical blaze orange that most pumpkins are. This is a bit more toned down and fits in well with Fall and Halloween decorations.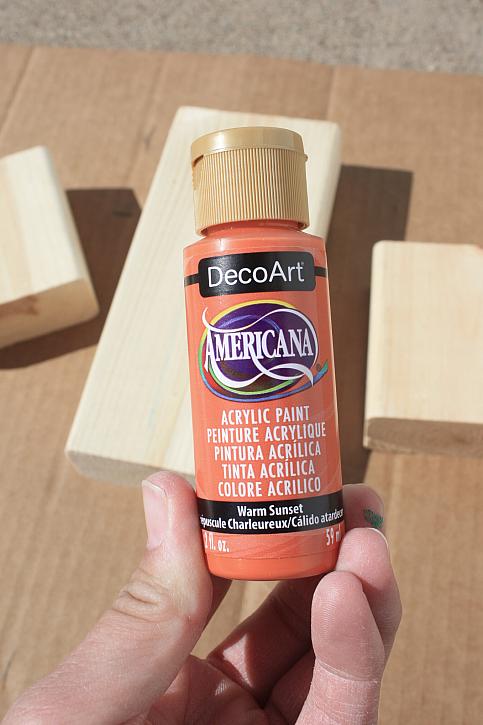 If you want a more rounded block pumpkin use a sander to sand down and soften the edges of the blocks. I liked my blocks just the way that they were and did not sand them down.
I used a 2 inch chip brush to paint the 2x4 blocks. I tried using that brush on the tops of the blocks but I couldn't get into the small creases of the cut wood. I used my 1/2 inch angled flat brush to paint the tops and it worked perfectly by filling the small holes and creases in the wood.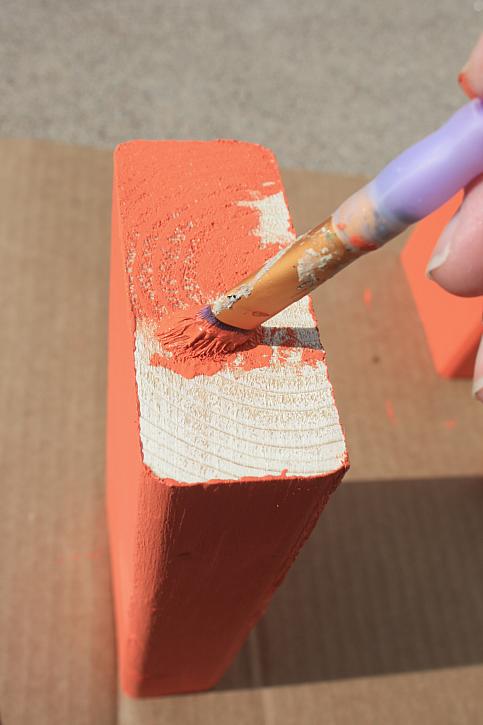 The Jack-O-Lantern faces are totally optional, so if you want regular pumpkin blocks, skip this step.
Making the pumpkins double-sided is the perfect way to transition from Fall to Halloween decor!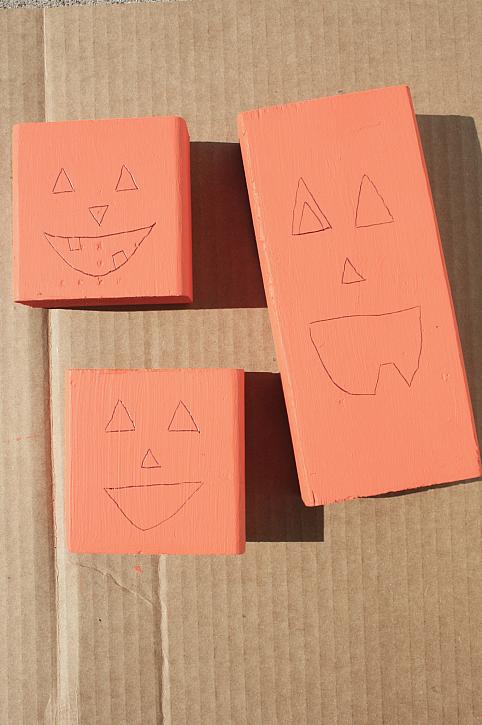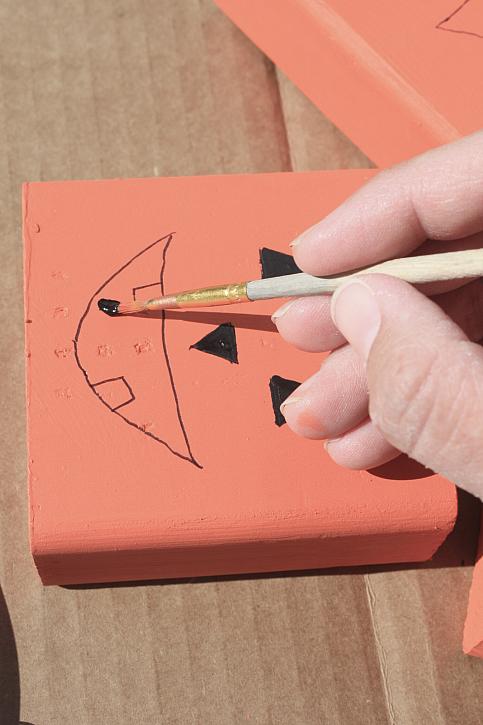 To make my pumpkin blocks double-sided I drew some Jack-O-Lantern faces with a pen on the back side of the pumpkin blocks. Once I had the faces looking how I wanted them I filled them in using DecoArt® Americana Acrylics® in Lamp Black with a fine tip paint brush.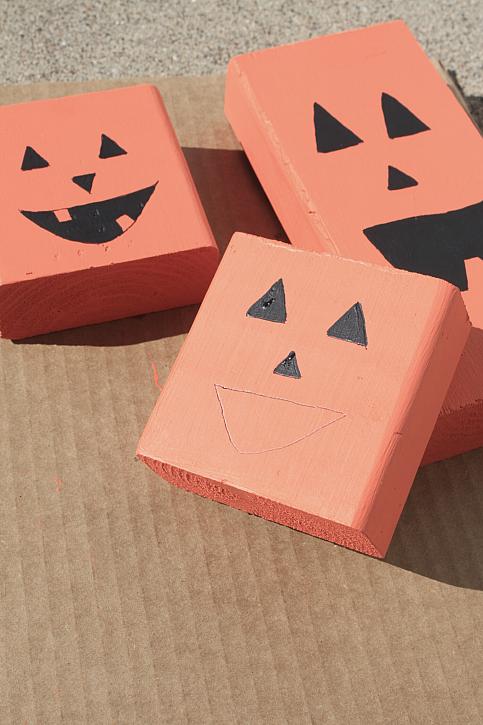 Once the paint was dry I hot glued some wine corks to the top of each pumpkin block. The wine corks made the perfect stem for the pumpkins! I like how one of the corks even had some leaves and vines on it as decoration!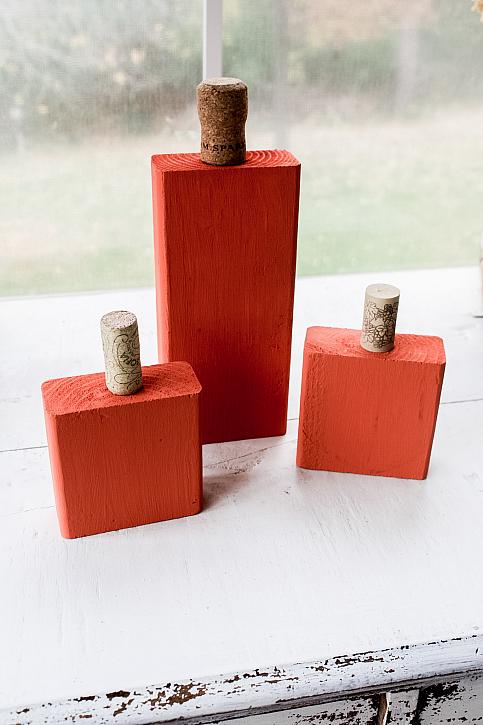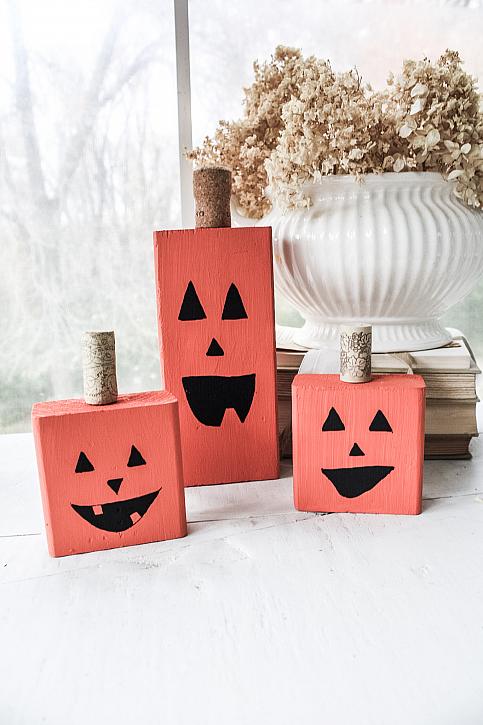 After that I added some shredded corn husk pieces to fill out the tops of the pumpkin. Some of the corn husk pieces I cut down to size and some of them I just pulled apart with my hands. I made sure that the corn husks were going in every direction and kept adding more until I had filled up the top of each pumpkin to my liking.
Just like that my pumpkin blocks were done!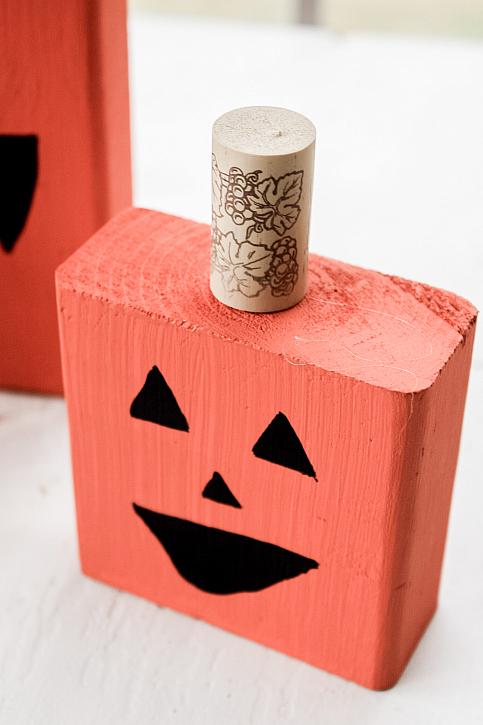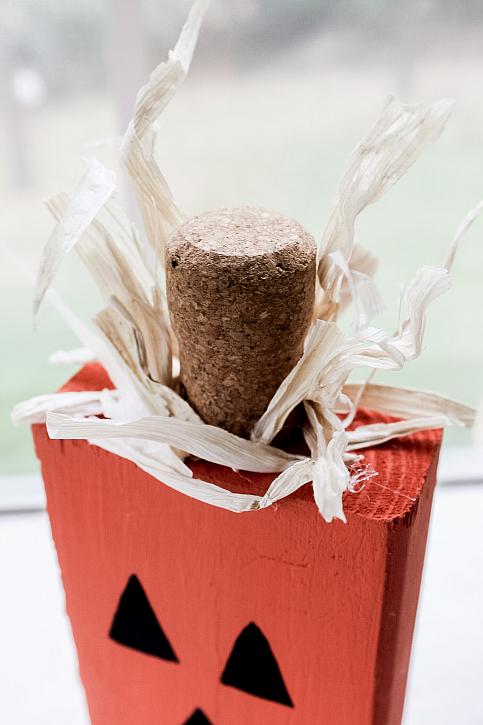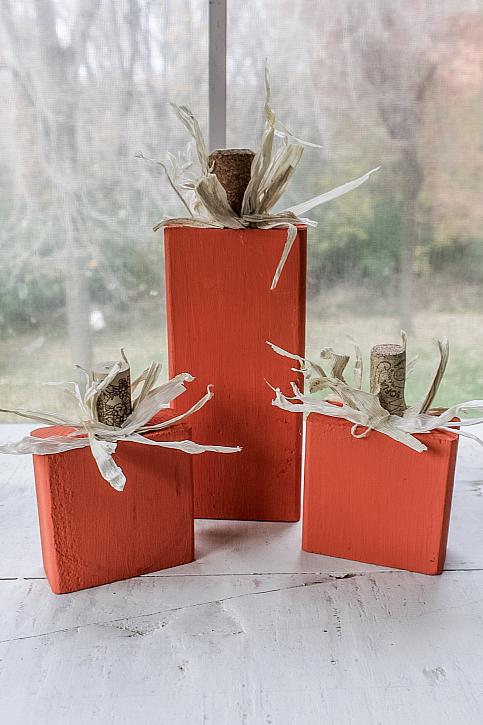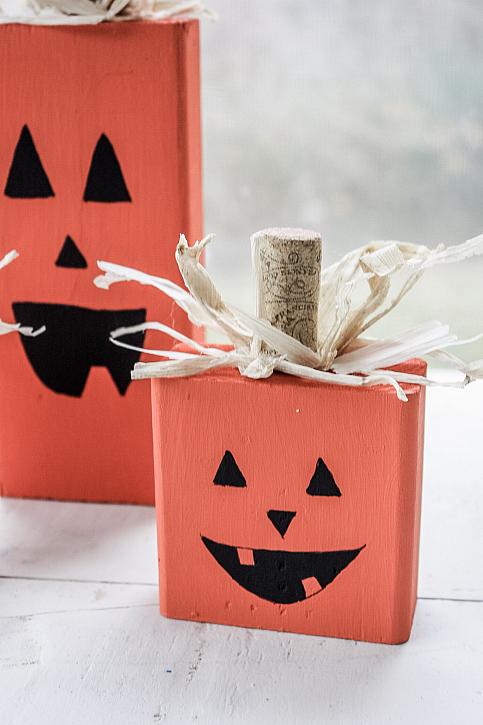 Since they were double-sided I had to try them out two different ways. First I added my DIY pumpkin blocks to my fall tiered tray.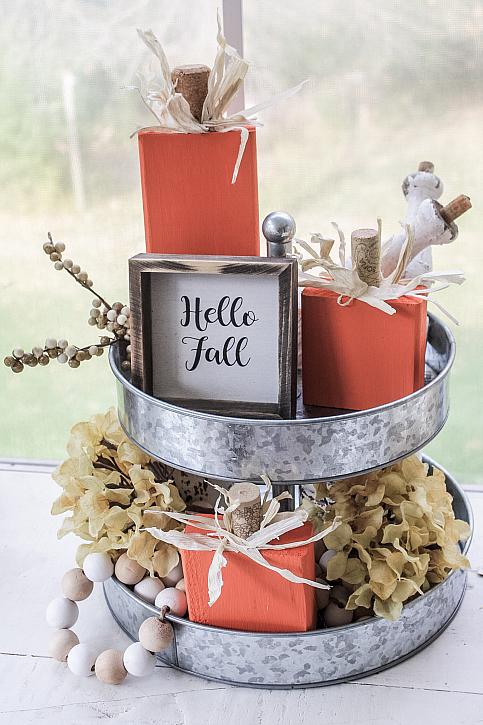 Then I tried out my Jack-O-Lantern blocks in my dining room hutch all decorated for Halloween.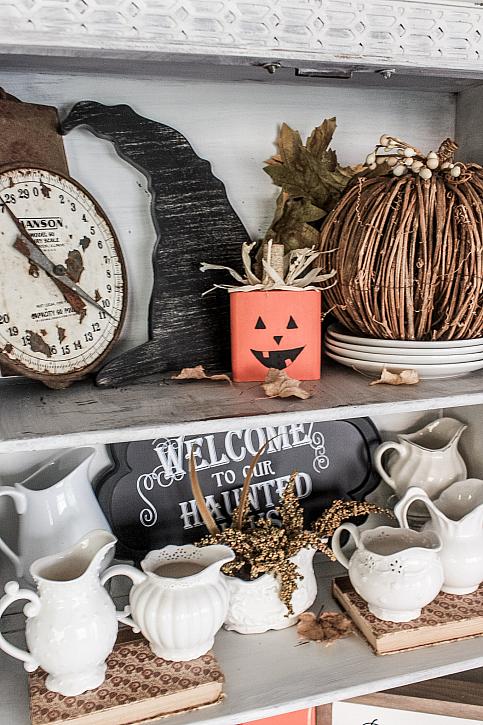 I love how both sides of the blocks look with my other seasonal decor! I hope you enjoyed this fall craft tutorial, be sure to check out my blog for more crafts and decorating inspiration.