Posted by DecoArt on Jun 13th 2021
The weather is getting warmer and summer is just around the corner. After a long year of not being able to see family and friends, I am looking forward to summer BBQs and pool parties!
In anticipation of summer BBQs, I thought it would be fun to create some colorful new tea towels. Whether you want something fun to mop up spills, or you want to create a whimsical hostess gift these colorful DIY summer tea towels are an easy way to add a pop of color to your summer celebrations!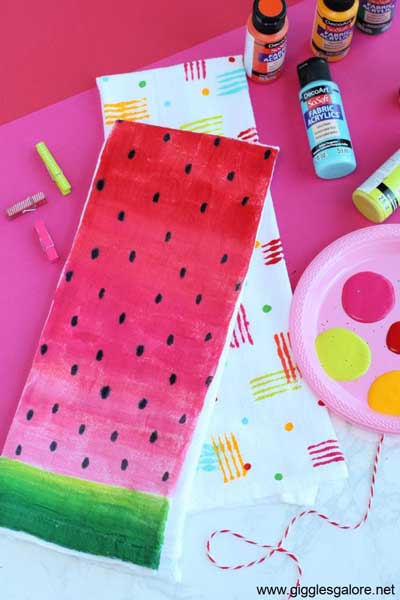 Watermelons are a quintessential summer icon. So I decided to use them as my inspiration for these cute new DIY tea towels made with DecoArt SoSoft fabric paint.
SoSoft fabric paint is a fun and easy way to personalize your own fabric crafts from t-shirts to towels this summer. They are machine washable and the colors stay bright wash after wash.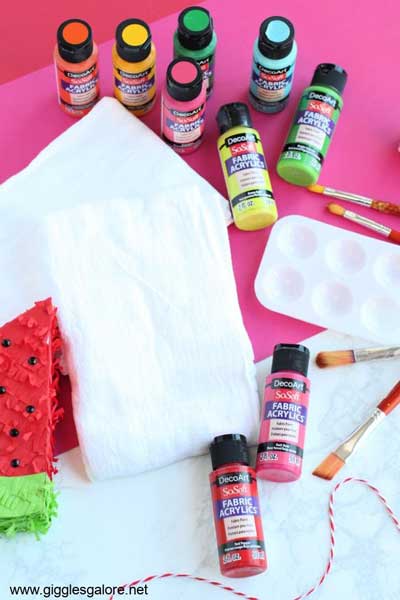 DecoArt SoSoft Fabric Paint is my favorite fabric paint because it is the softest fabric acrylic on the market. It is permanent and requires no heat setting. Once dry, it is extremely soft and flexible to the touch. It adheres to all textiles and will not crack, peel, or harden even after repeated use and washings.
Nothing says heartfelt like a handmade and personalized gift. This easy and affordable DIY is a great way to add character to your kitchen or to create a personalized gift for friends.
Items Needed:
White Tea Towels
Wax Paper
Paint Brush
Paint Palette
Paper Plate
Instructions:
Use an iron to iron out the wrinkles on the towels to make sure you have a smooth surface to work with. Place a piece of wax paper over the tea towel and fold it into thirds. I decided to only paint the front of my towels rather than painting the entire towel, but you can certainly paint the entire thing if you would like.
Once you have it folded into thirds, fold it in half and place it between a piece of cardboard. This will make sure that the paint doesn't seep through to the backside of the towel.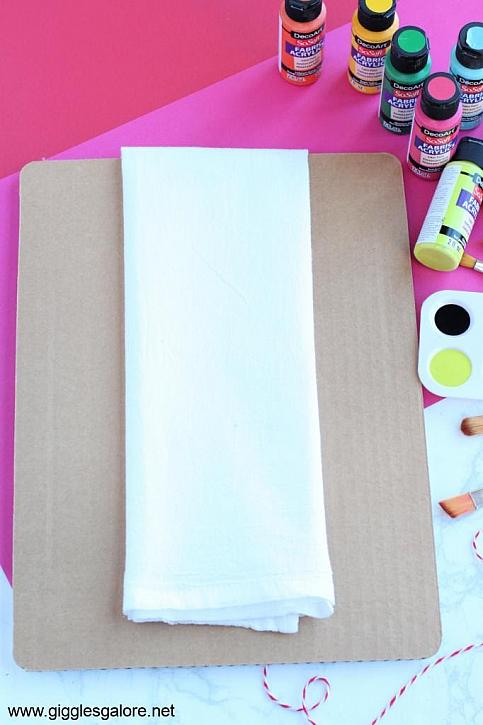 Start at the bottom of the towel and brush the dark green paint across the bottom of the towel. Continue to blend the green paint going from darkest to lightest to create the "rind" for the watermelon towel.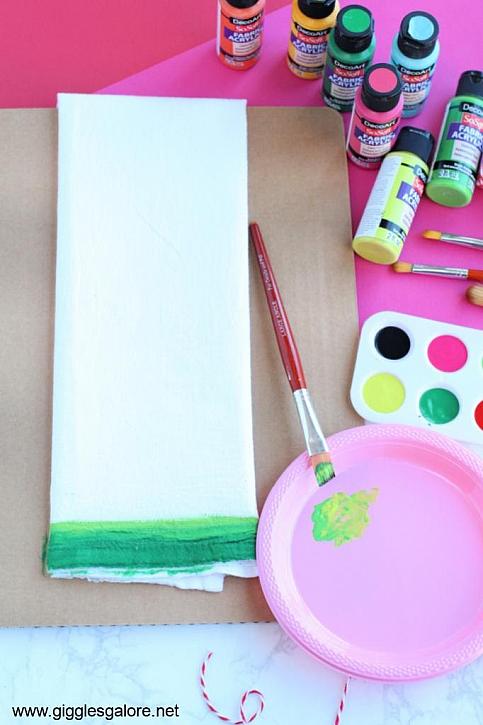 Next, mix white and pink paint on a paper plate and begin painting the pink on the towel. Blend the paint to create an ombre effect going from light to dark.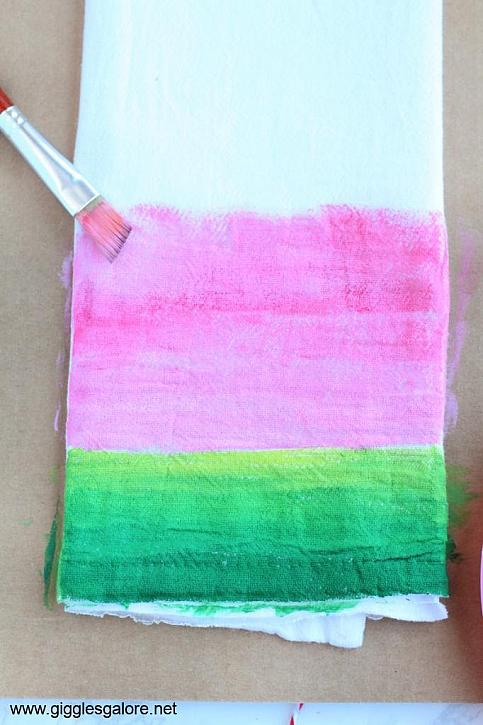 Continue to mix and blend the pink paint with the red to create the juicy part of the watermelon on your towel.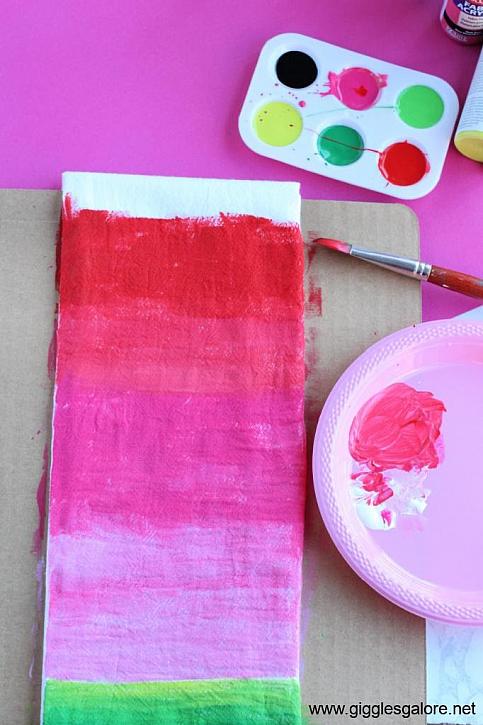 Let the paint dry, the great thing about the SoSoft paint is it dries quickly so you won't have to wait too long.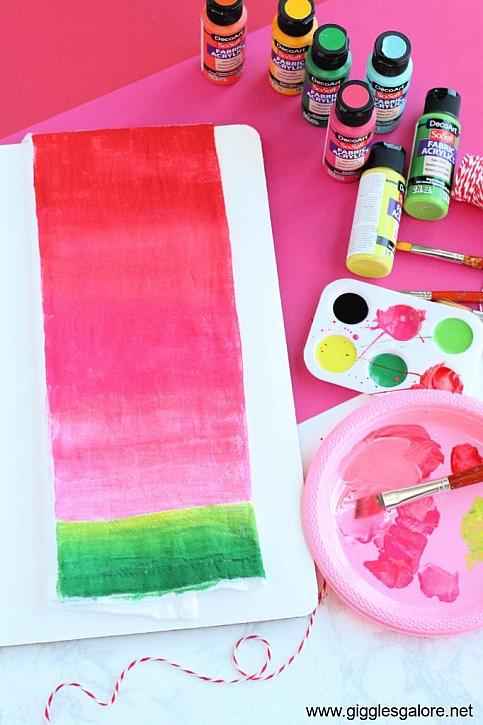 Finally, finish the DIY watermelon towel by painting black seeds on the towel.
I love how festive these DIY towels feel for the summer!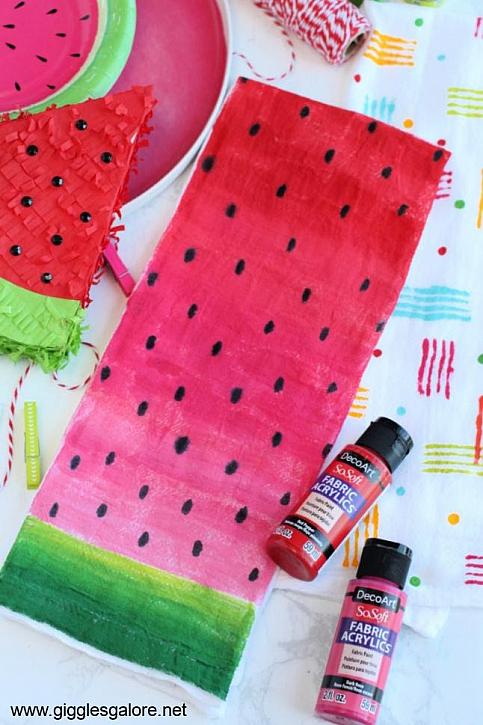 I knew I wanted to add a little pop of color to some of the other tea towels so I used bright SoSoft paint and a plastic fork to create a whimsical and colorful towel to coordinate with my watermelon towel.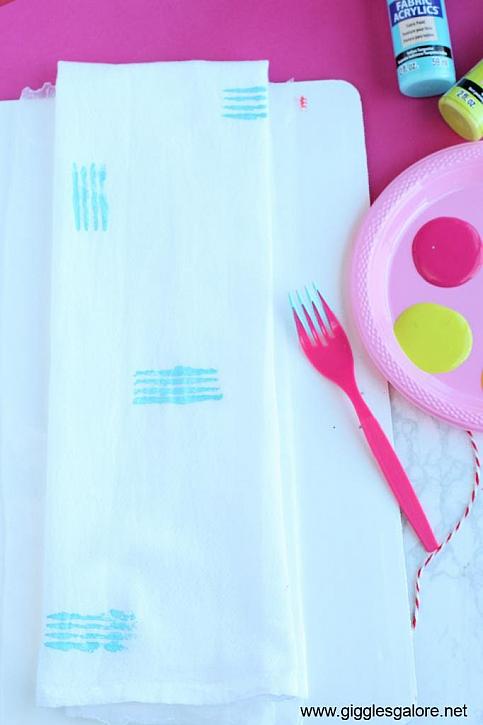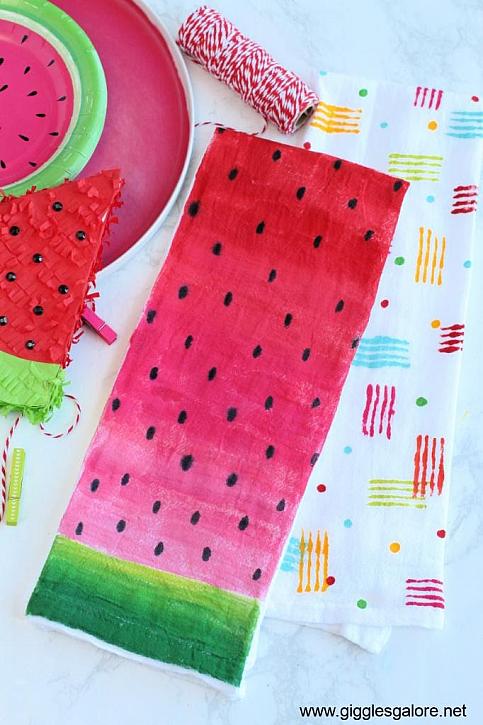 Before packaging up my DIY tea towels as a gift I threw them in the washing machine. You can see that even after being washed the SoSoft Fabric Paint is still vibrant and bright. The color won't fade and the paint doesn't leave a hard texture like many other fabric paints. These DIY towels are soft to the touch and ready for use all summer long!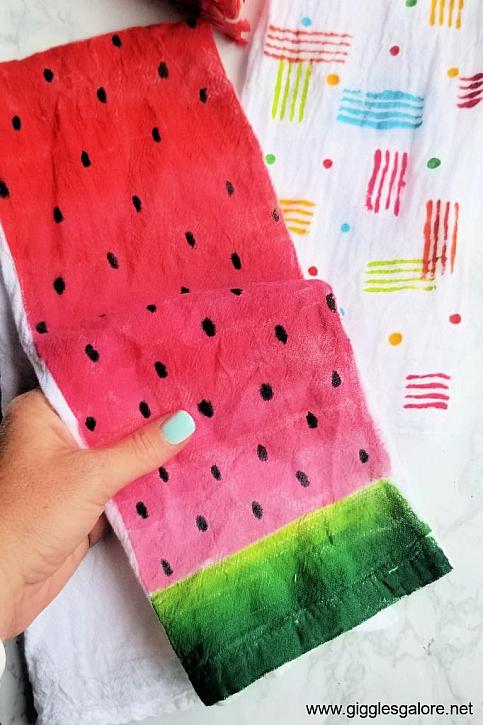 Add a "One in a Melon" printable tag to the towel and pair it with colorful watermelon plates and napkins for the perfect hostess gift.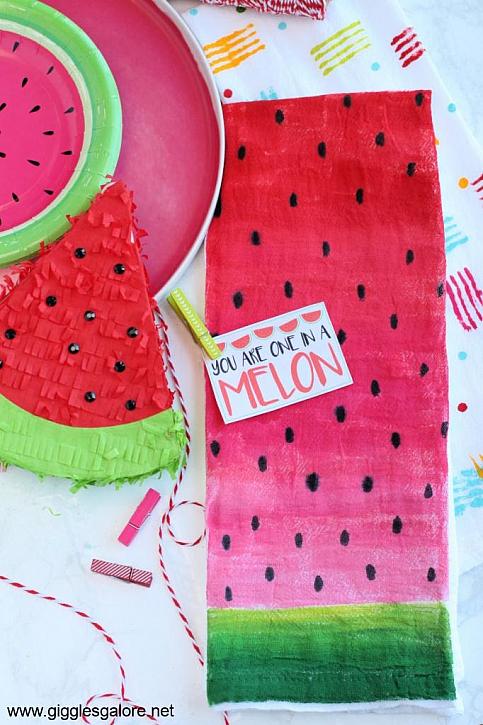 There are so many fun ways to personalize your own tea towels with SoSoft fabric paint. What would you paint on your tea towels?