Posted by DecoArt on Aug 9th 2020
I admit it, sometimes I buy one of these cheap, small wooden trays holding pretty tags and colored string sets for gift wrapping just because I NEED that wooden tray! I love working on small formats and these tiny trays are perfect for being altered!

The inspiration for this particular tray originates from David Bowie's song "Heroes," but I especially love the cover version performed by Peter Gabriel. His interpretation has added a special, more melancholic twist to Bowie's wonderful song and the line, "We can be us, just for one day." Always touches me deeply. So I decided to let the lyrics guide me through this project. Songs can be a wonderful source of inspiration for making art, can't they?

And hey - when was the last time YOU wore your crown?
Items Needed:
Assorted Brushes
Printer With Copy Function
Small Wooden Tray From The Craft Or Dollar Store
Vintage Fussy Cut Photographs Of A Man And Woman In Sepia
Black And White Copy Of The Photographs On Sturdy Printing Paper
Old Dictionary Pages
Paper Tissue
Black Archival Stamping Ink
Script Stamp(s) And Acrylic Stamping Block
Small Palette Knife
Black Wire
Hand Drill
Pliers
Sticky Foam Pads
Scissors
Instructions:
Step One: The first picture shows the tiny tray still holding the tags and string, the paper dolls I've used, and the copy I've made. You do not have to have this particular kind of paper dolls, simply print out two sepia toned pictures of vintage photographs (from the internet) and fussy cut these. Make sure you use sturdy printer paper though!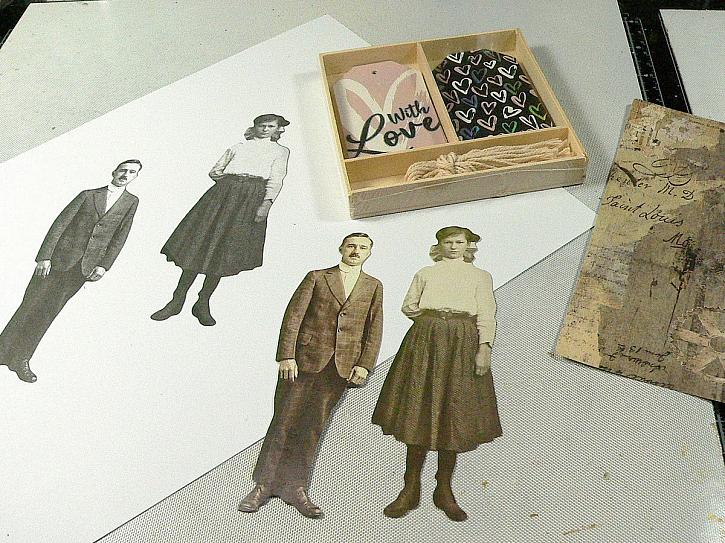 The picture also shows a designer paper scrap that I used as inspiration for the background I wanted to create. But first I started with priming the little tray with a thorough layer of Chalky Finish paint in Primitive.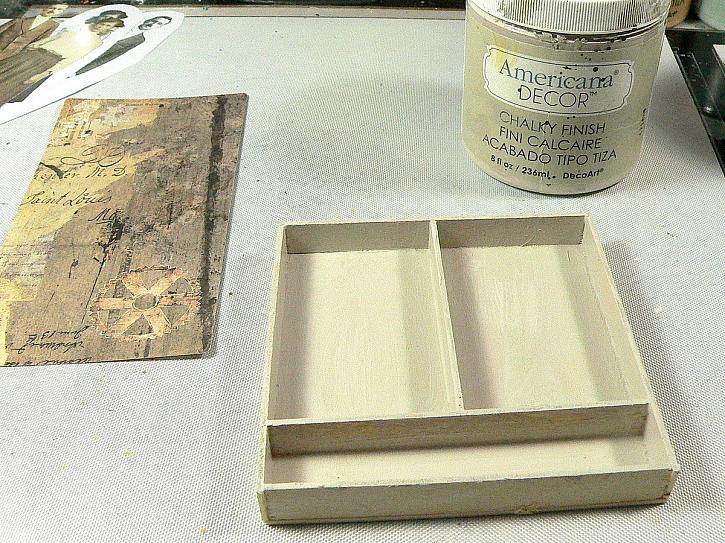 Step Two: On top of the dried first paint layer I added scraps of dictionary pages that I had roughly torn to size. I used Decou-Page in Antique as it tones down the ephemera you use on your project while you glue them in place.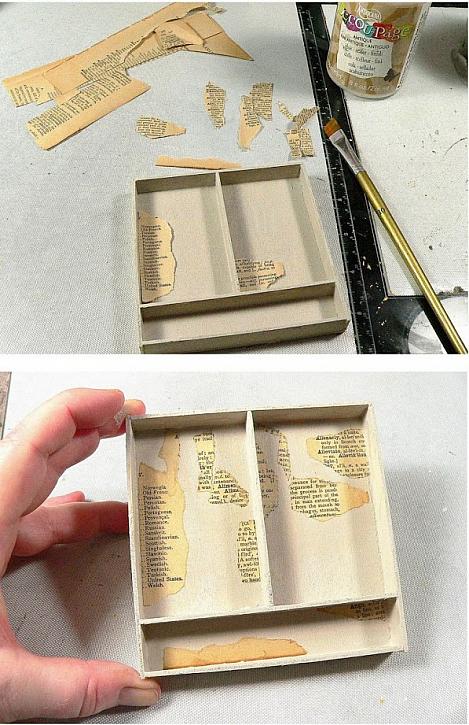 Step Three: Once the Decou-Page had dried, I scraped on more Chalky Finish paint with the very tip of my smallest palette knife. I started with Vintage and that was followed by Heirloom. I also scraped some to the insides of the tray's frame sections.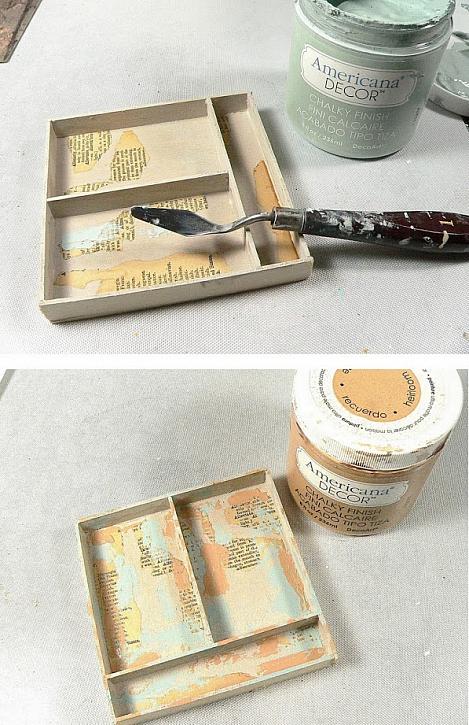 Step Four: Next I stamped some vintage script onto a tissue using black archival stamping ink and cut out the sections of the script images I wanted to use. Using just the top most layer of the stamped tissue guarantees the patterns and colors underneath still show through. This time I used Decou-Page in Paper as it is very liquid – so it does not tear the tissue while you glue it in place with a very soft brush. I sealed the glued on tissue scraps with a top layer of the Paper Decou-Page too. Once that had dried, I toned everything down with a layer of slightly diluted Walnut Gel Stains. I smudged and wiped it back with a soft cloth where I felt I had added too much.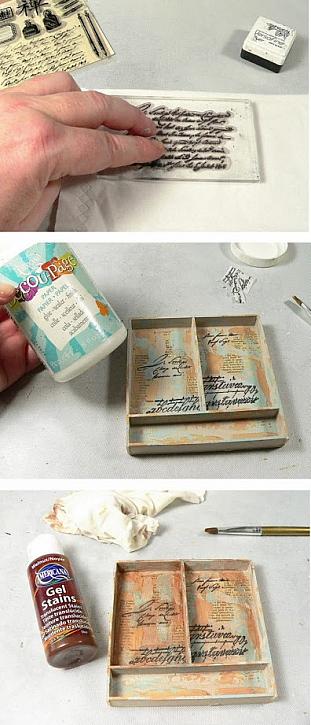 Step Five: To prime my paper dolls and their B&W copy for further treatment, I brushed on a thin layer of Antique Decou-Page and heat dried that. Afterwards I used heavily diluted Prussian Blue Hue Media Fluid Acrylic to just add a hint of it to the eyes of my copied couple.
The eyes-sections where then cut out and glued to the faces of the sepia toned characters – only that the woman's eyes went on the man's face and vice versa!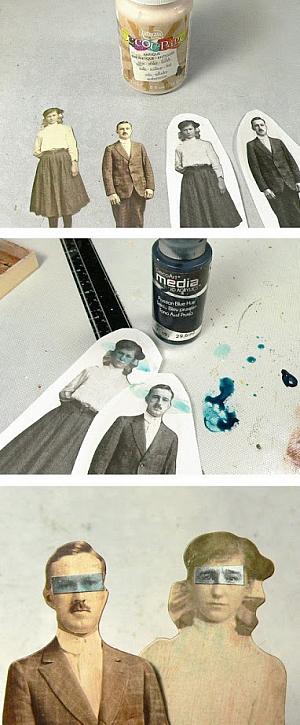 Step Six: Time to add some White Media Crackle Paint to my tray's background (using the very tip of my palette knife again). I set it aside to let it dry naturally.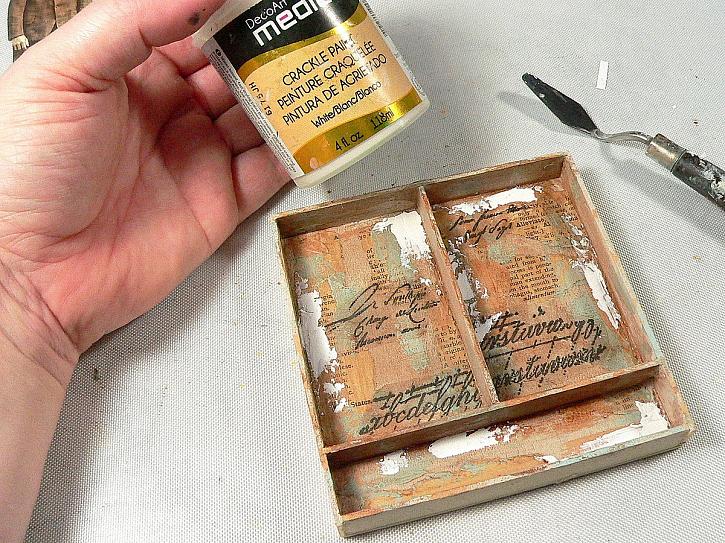 Step Seven: My royal couple still needed to get their crowns! I used their heads to eyeball the width and hand-drew two crowns on some dictionary page scraps. These were given a thin layer of Turquoise Interference Media Fluid Acrylic paint before I heat dried and cut them out.
They got fixed to the royal heads with a bit of Decou-Page, using an old detail brush.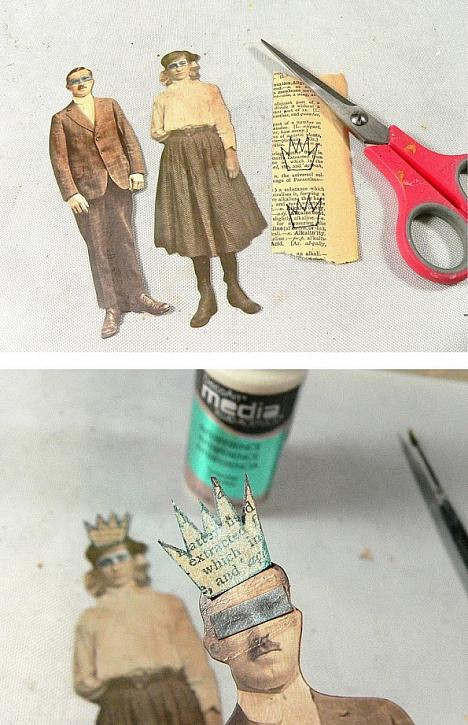 Step Eight: I diluted some Metallic Gold Media Fluid Acrylic Paint with a brush on my palette and sprinkled that across the tray's background and the couple's chests.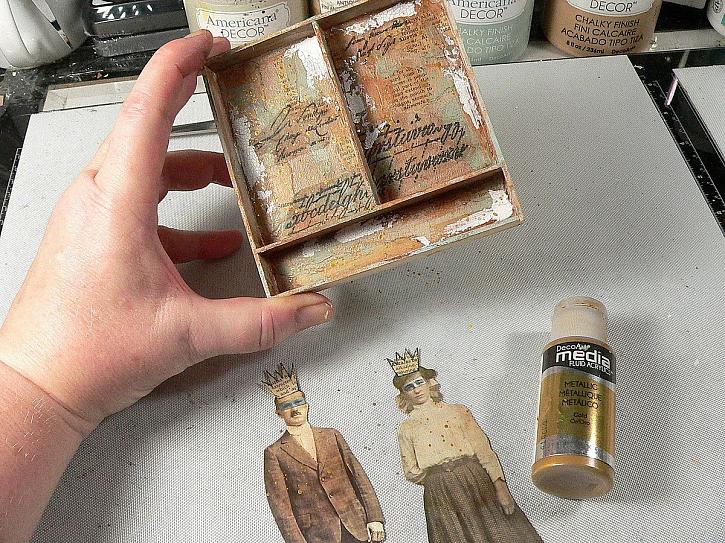 Step Nine: Then I prepared my favorite mix of DecoArt Media Antiquing Creams – about five drops of Raw Umber and one drop of Carbon Black – and diluted that before I spread it across the whole tray with a wide, flat brush. That beautifully highlighted the crackle and also toned everything down a bit for an even more grungy look.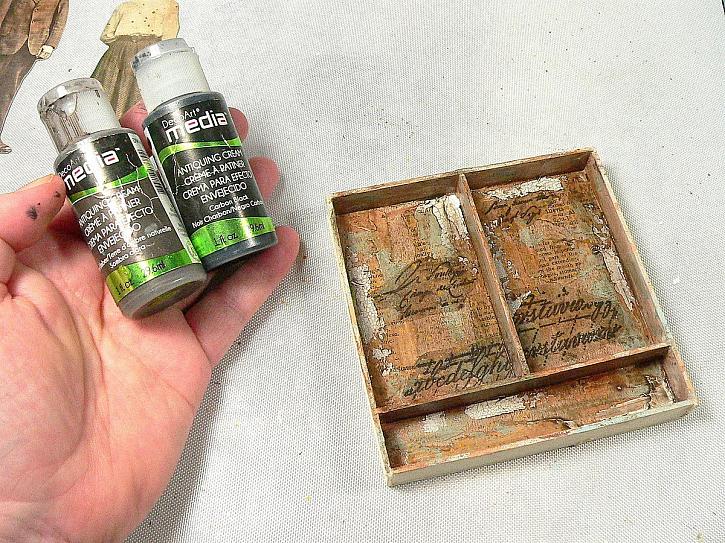 Step Ten: I printed out my quotes from the song's lyrics, using one of my favorite fonts. I usually print text in three different sizes, so I can see which one fits the project best. I also heat dry prints before I use them on a project, to avoid any smudging of the ink when working over prints with washes or other media.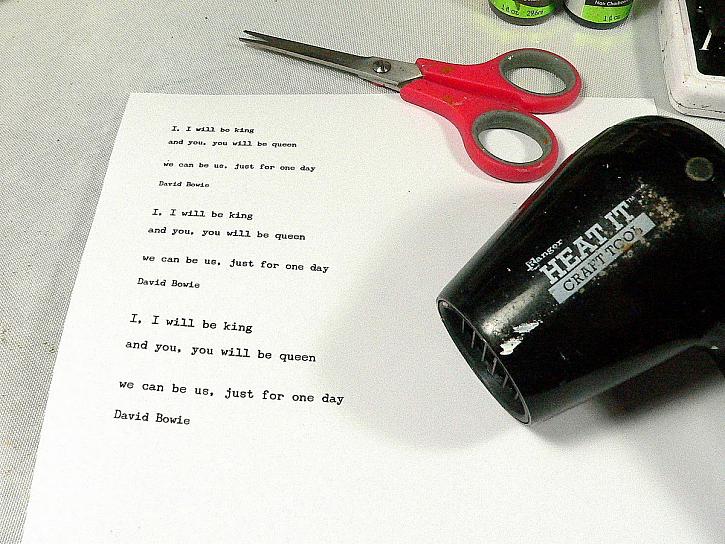 Step Eleven: I inked the edges of the king and queen and then cut to size quotes with black archival stamping ink for better contrast. I prefer to use a piece of blending foam for that, but a cheap cosmetic sponge does the job too.
Then I added a thin wash of Transparent Yellow iron Oxide Media Fluid Acrylic paint on top of the quote strips and also the characters' shirt and blouse.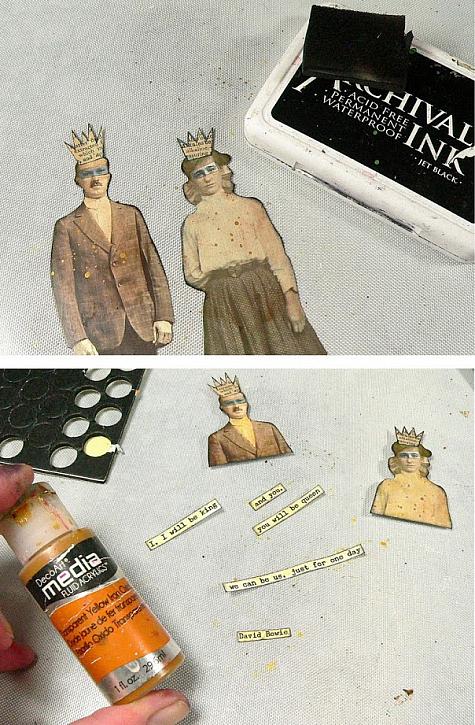 Step Twelve: To fix the royal couple to the tray I used thick sticky foam pads. The lyrics were glued in place with Antique Decou-Page.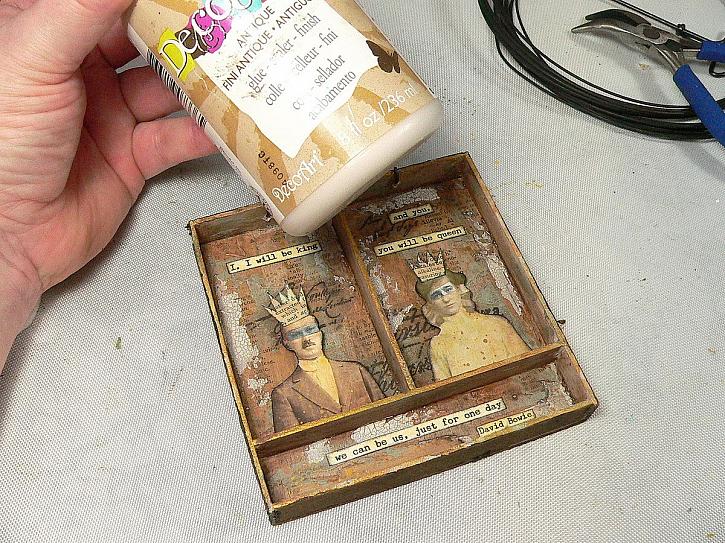 Step Thirteen: I painted the tray frame's outside using Raw Umber Student Acrylic. After that I also felt my little tray needed a hanging loop. I bent one from sturdy black wire, drilled two holes, inserted the wire ends from the top, and bent these up again and towards the tray's back using a pair of pliers.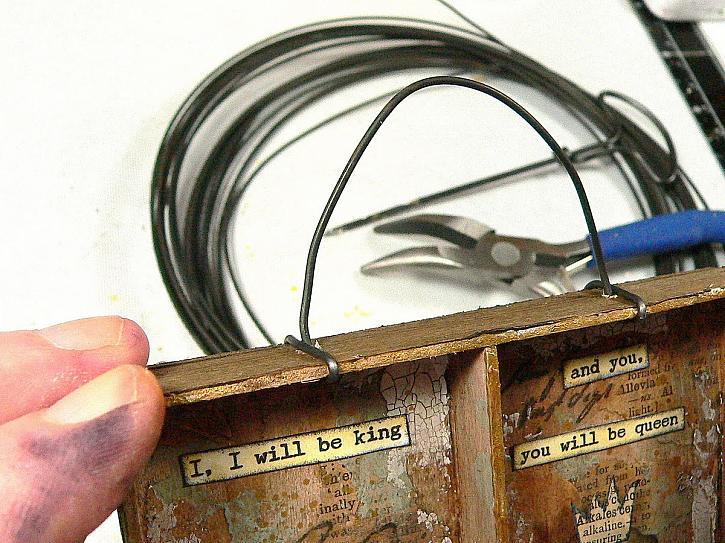 Done!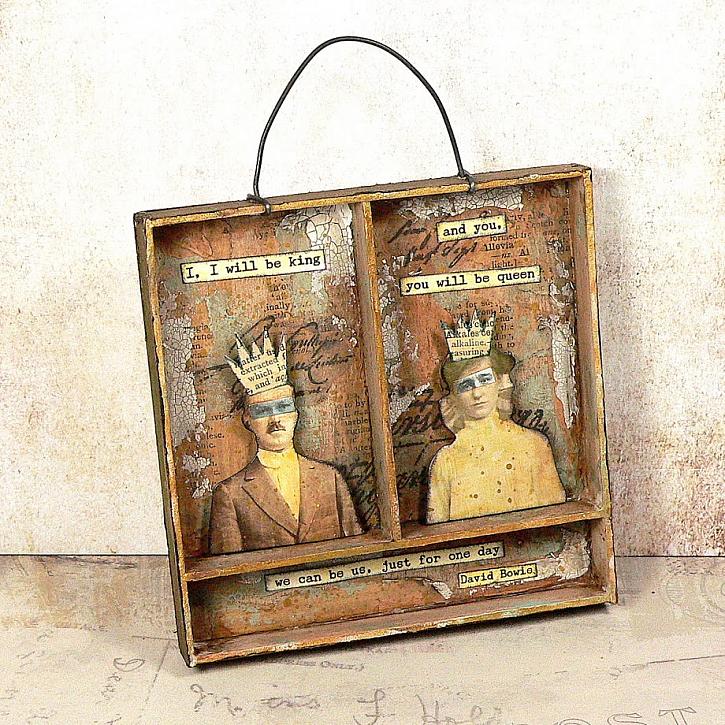 I hope this project has inspired you to look at all those small, unnoticed tray containers differently! They are the perfect size for creating tiny art treasures!

Hugs and happy crafting!

Claudia

xxx