Posted by DecoArt on Jul 21st 2015
As you're heading off to college and moving into your dorm there is so much to think about. We are here to make it a little bit easier and more fun for you with this Dorm Decorating Guide! We have lots of tips and things you won't want to forget as well as lots of fun DIY projects to make your dorm as homey as possible. (Click on the photos for sources.)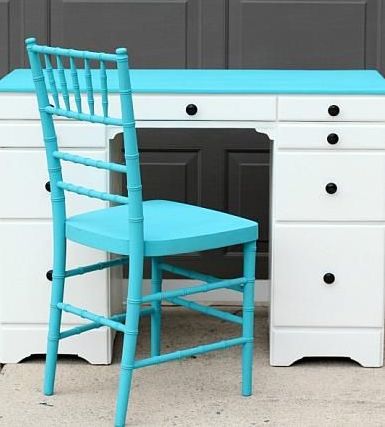 You're going to spend a tremendous amount of time studying during the school year. You'll definitely want an area dedicated to doing just that. You can pick up a desk at a yard sale for cheap and with some Chalky Finish paint turn it into the perfect study space.


You're going to need some light when you're up studying in the middle of the night. Why not turn an old bottle into a super cool new lamp!




Moving onto organization! Dorms are small so your organization game needs to be strong. These jars with cute vintage knobs are perfect for storing all kinds of little things.



These bowls are also great for catching small objects lying around your dorm. Not to mention they are adorable!
This DIY chalkboard that doubles as a cork board would be really helpful for remembering all those due dates that you don't want to miss.
If you're digging the monogram trend right now, you may prefer this aztec monogram bulletin board to tack your reminders up onto.
When it comes to storing larger things, this DIY crate book case will do just the trick.
I know it is sad to think about, but you're not going to have your mom at college to iron all your clothes. This mini dorm sized ironing board will help you get the job done without taking up too much space.
Now that you're all organized, it is time for the fun part - DECORATING! You're walls are probably going to be plain white on move-in day so you'll want to bring lots of wall art to cover them up. This color block mirror will surely add some color to your dorm!
These scrabble tile canvases are pretty cool too. You can spell out anything you want or maybe even connect all your roommates names- that would be really fun!
College is the time when you are working towards your dreams, right? A dream catcher makes a fabulous addition to any dorm room and this DIY bike wheel dream catcher is so cool looking.
Be prepared to share a bathroom. You're going to want to bring something to carry your toiletries back and forth to the bathroom. Personalize your toiletry bag with some fabric paint like this polka dot one.
The last homey touch every dorm room needs is plants! Succulents are relatively easy to take care of and these decoupage tin can planters are cute while not taking up too much of your precious space!