Posted by DecoArt on Nov 10th 2015
I openly admit I am a bit of a geek. A fantasy sci-fi nerd who loves, among other things, computer games, Tolkien, Wiccan witches, Magic etc (you get the idea.). I started out wanting to make a large spell book like a book of shadows of some kind but I caught a chest infection and couldn't get out to the shops to look for a big enough book to put spells in. Desperate to try out my idea for a "dragon skin" effect, I decided to try it all out on a wooden treasure box instead.
Items Needed:
Assorted Brushes
Palette Knife
Wooden Box
Toilet Paper
Polystyrene Ball
Instructions:
You will need a plain untreated wooden box.(if it is a previously treated/painted box then prepare it first by sanding and washing down.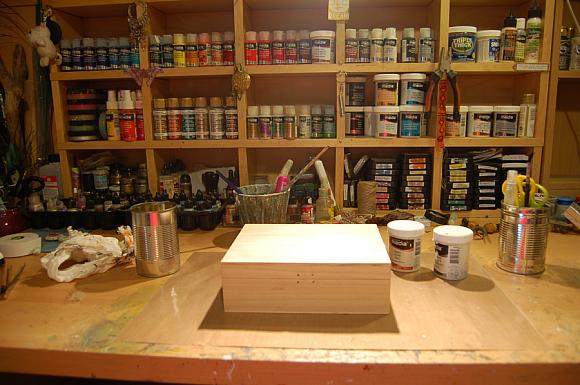 Coat your entire box in a thin layer of gesso and allow to dry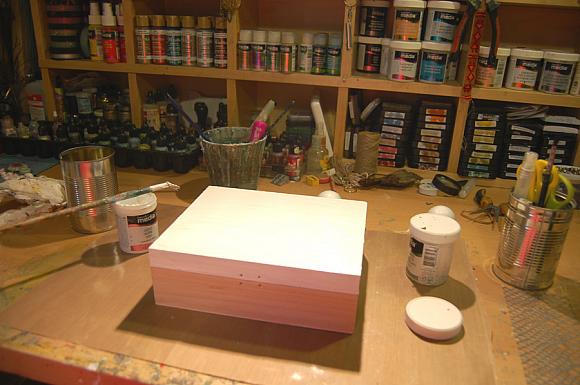 Using Andy Skinner's snake skin stencil and a palette knife, add some modeling paste to the lid.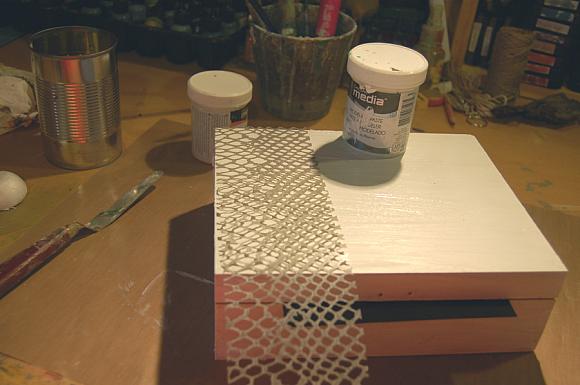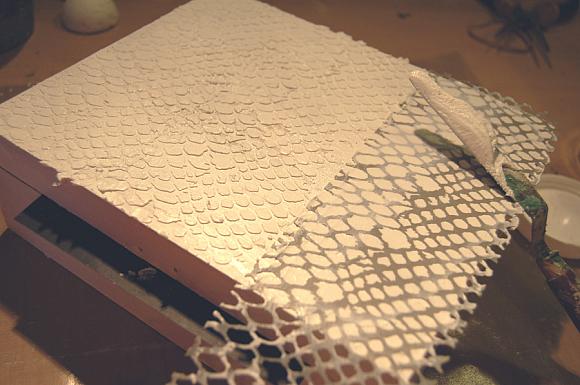 When the modeling paste has dried and hardened, paint your lid. I chose to do mine green so used a mix of Media Fluid Acrylics Prussian blue, Phthalo green-yellow and Yellow green light that I had left over from a project I was doing just before, rather than waste it. I then began to add my first layer of interference paints.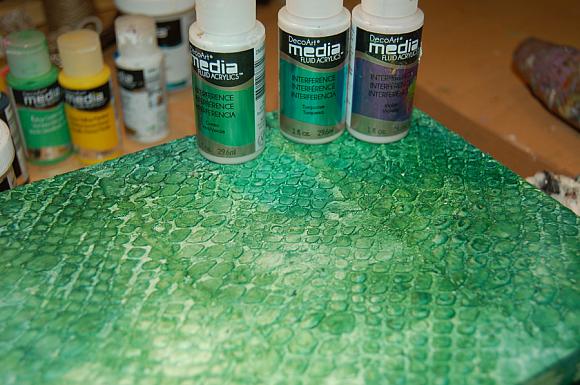 I did not want it a uniform colour when the light hit it but wanted a more magical multi coloured look so I added patches of different coloured interference paints to the surface.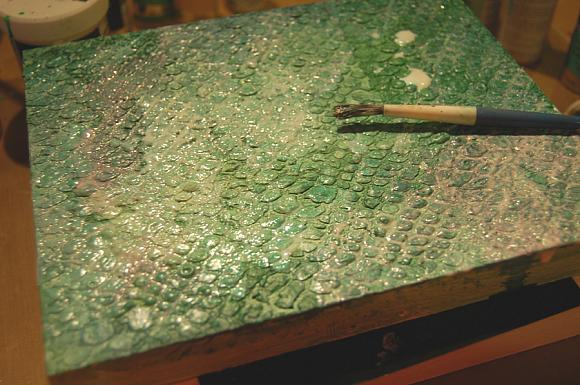 As I was going to be going for an aged "used" look to the box, I decided to start darkening the edges. I used some antiquing cream. I added a few dots around the outside edge and then blended it in with a brush. Once it had dried I was able to wipe it back a little with a cloth.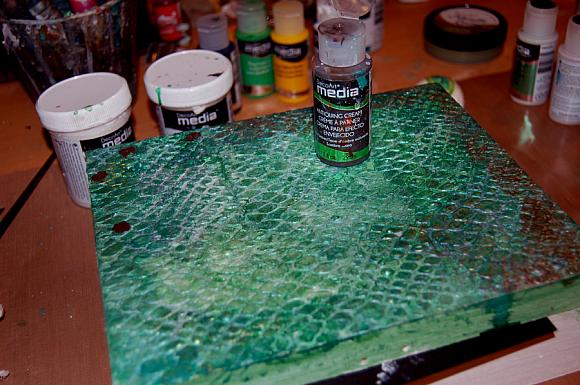 To add more magical colour and shine I began to build up layers of Metallic Lustres that just hit the surface of the texture. I used lavish green, fab fuchsia and brilliant turquoise at this stage. You can build more layers of colour with lustres and interference paints after you have added your eye feature.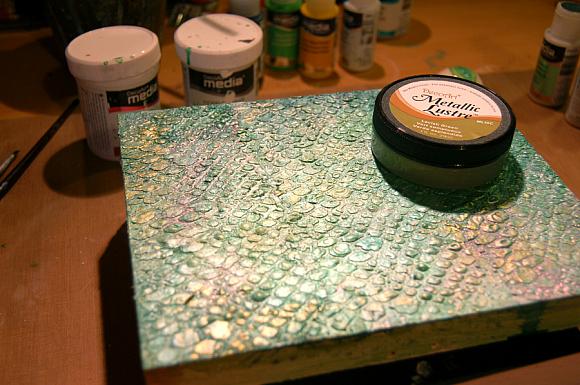 For the eye, I used a polystyrene ball. I cut a section off (less than half as half was too tall. Probably about a third) and painted it to look like a dragon eye.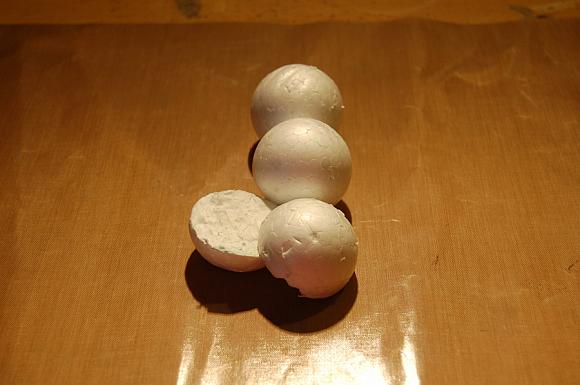 I have no doubt you can use clay for this next part, but I didn't have any. What I did have was toilet tissue and Decou-Page medium. So I soaked my tissue in the medium and sculpted an eye socket and lids from the slightly pulpy mixture.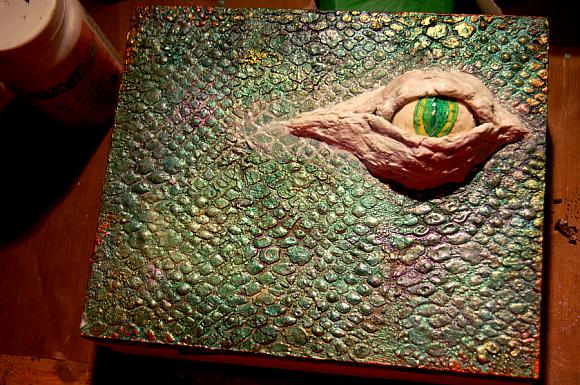 When the eye area had dried out and hardened up, I painted it to match and blend with the rest of the box. (I ended up changing the eye on the finished item as I didn't think it looked dragon'y enough as it was. I also added more antiquing cream and a layer of Copper Kettle Metallic Lustre to the edges.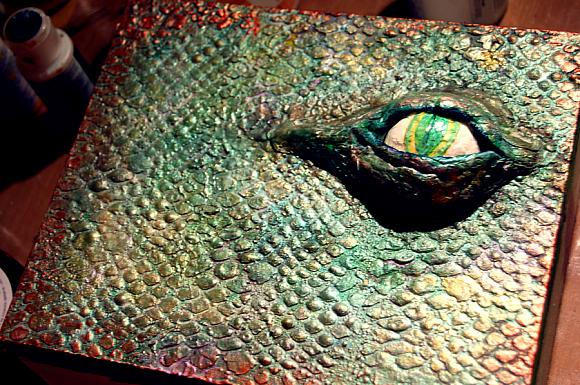 Now I simply spent time adding more layers of Interference and Metallic Lustres until I was content with how it looked. The layers added a great depth and age to it and when it hit the light lots of new colour appeared. To finish it off and seal it, I gave it a coat of crackle glaze, let it dry and then highlighted the cracks with some orange acrylic in places. (you can do this by painting on the orange paint then wiping it right back off with a damp cloth. The paint stays in the cracks).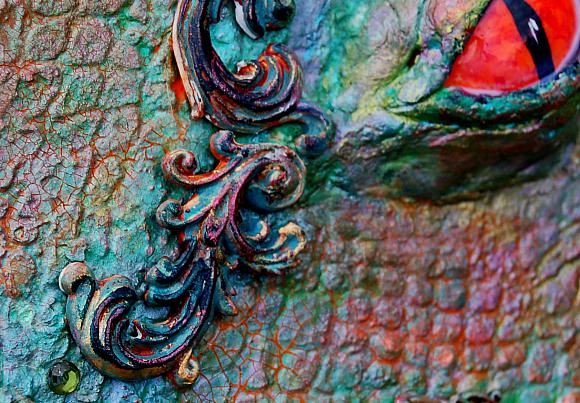 Now you can go ahead and decorate and embellish your box in any way you like.
Good luck!