Posted by DecoArt on Mar 7th 2016
 I love terra-cotta flower pots that are chippy and aged and while there are lots of ways to achieve this look, I'm kinda crazy about what happened when I used Americana Chalky Finish Paint and Americana DECOR Creme Wax!
I experimented with techniques to see which outcomes I liked the best, I'll show you in just a second!
Items Needed:
Tiny Terracotta Pots
Shallow Jar Or Bowl
Dirt And Plants To Fit Your Pots
Paint Brushes
Instructions:
After painting the tiny pots, I simply added some of my cuttings from my succulents.
Every time a tiny leaf or stem breaks off of one of my succulents, I stick it in this pot. (I call it the hospital :) ) Succulents are true survivors, those broken pieces simply sprout roots and continue to grow!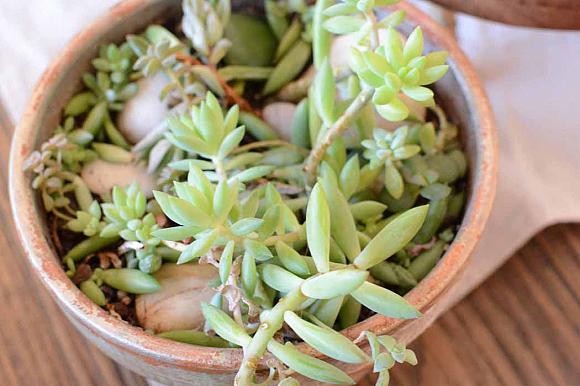 And when transplanted in tiny pots, they make the cutest little gifts!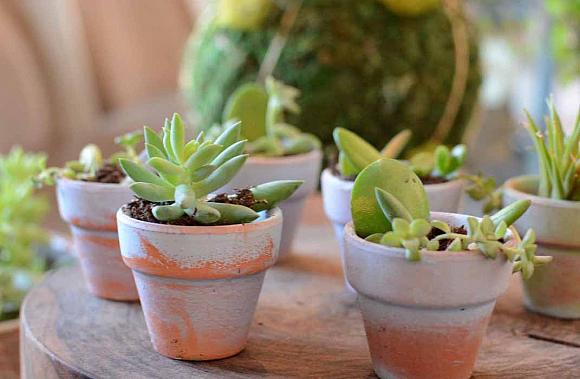 Gather your supplies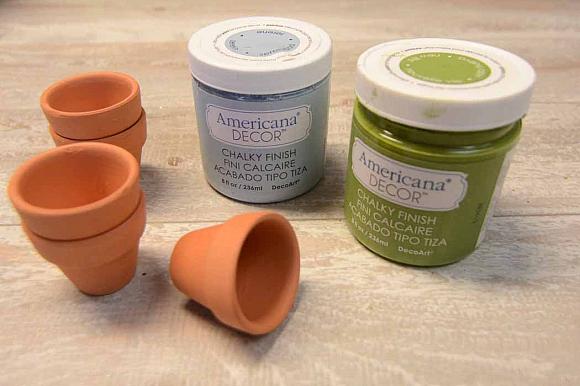 First I put a little water into my jar- then added some Chalky Finish paint and stirred - You want the consistency thick enough to leave color on the pot but thin enough to act as a wash.
For the first technique, I submerged my little flower pot...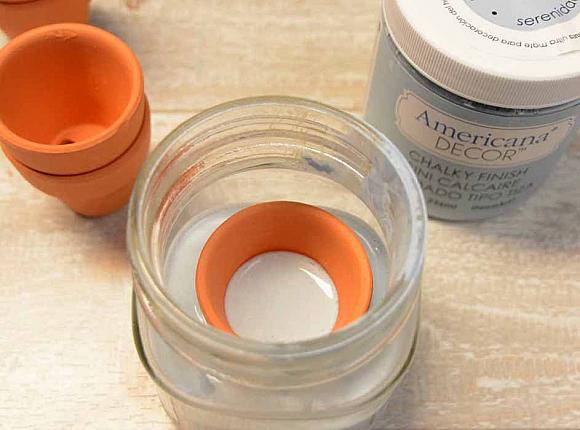 On all sides!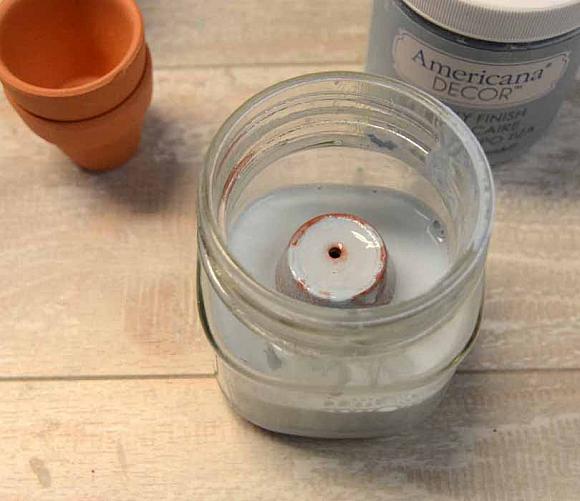 It came out looking like it was color washed--soft and pretty...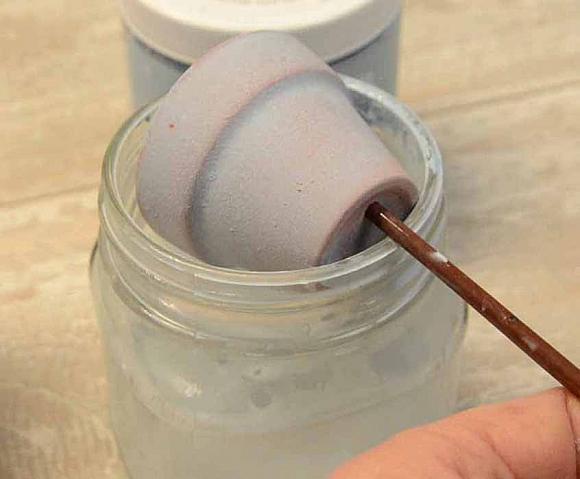 I quickly painted the bottom part of the pot with the wax, a little of the blue paint came off which it turns out was good ...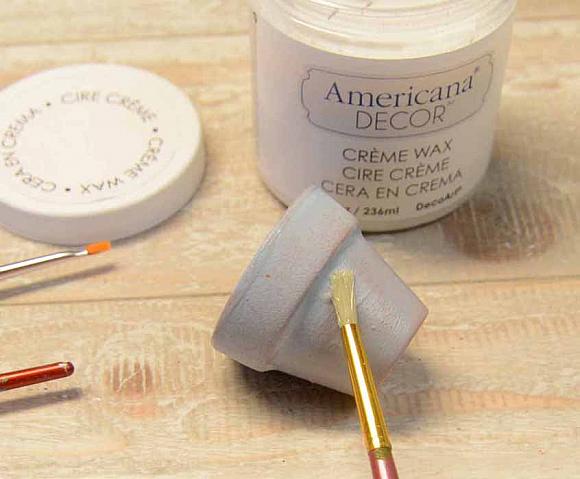 Because when I put it back into the watered down chalky paint, look what happened!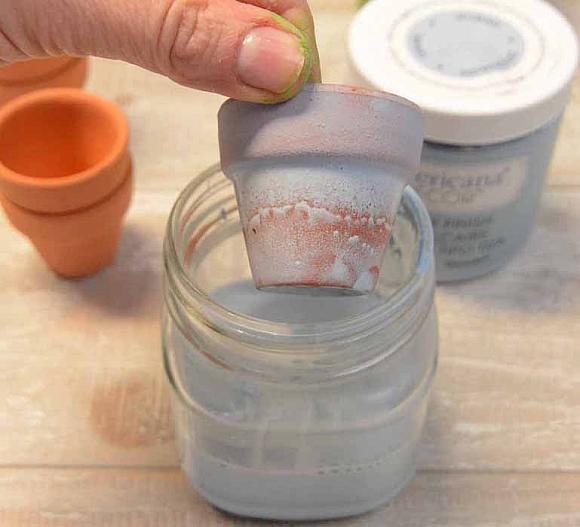 Next, I tried brushing on wax before dipping the pot into the watered down paint. I put wax only on certain parts of the pot...
The result was kinda wonderful!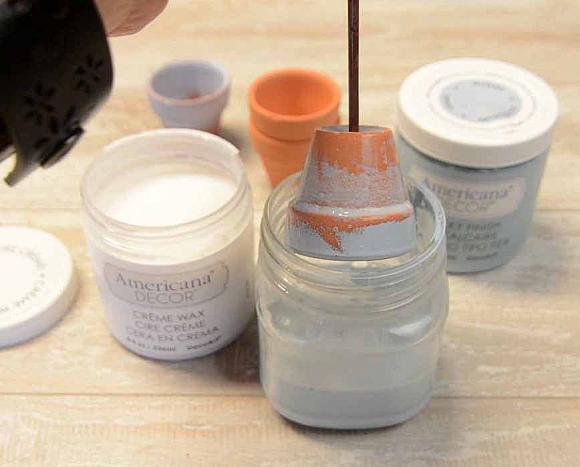 And lastly, after dipping a clean pot into the watered down paint, I dry brushed a bit of the New Life paint over the Serene (blue)- my thought was the New Life paint would look a bit like moss on the terra cotta...
After gently wiping off some of the green, here's what I was left with...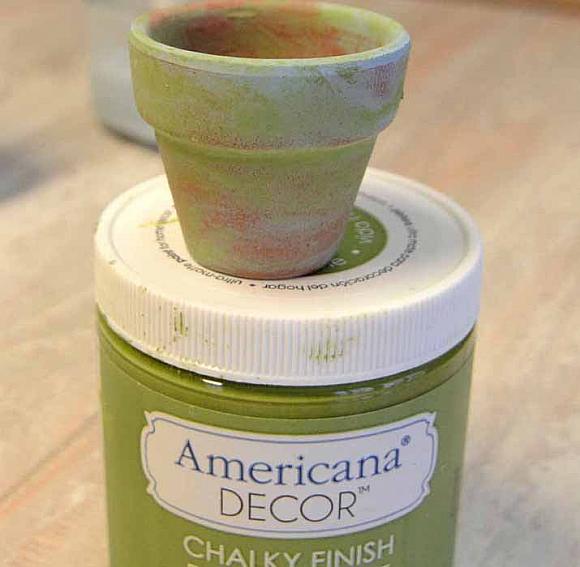 I love the looks of these pots so much that I'm going to do some larger terra-cotta pots with the same painting/aging technique!
(before you add a plant to your pot, it's a good idea to line the pot with plastic wrap to keep the paint from seeping into the soil)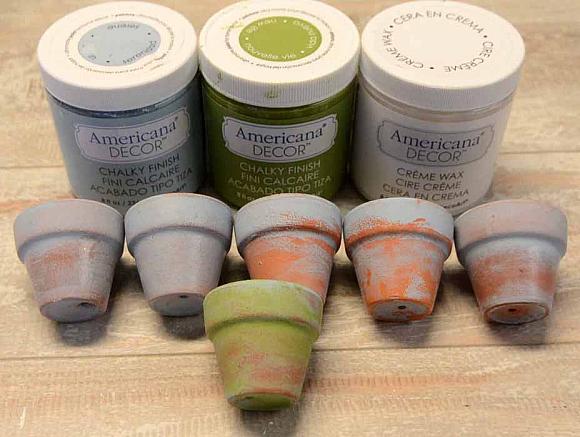 Do you have a favorite?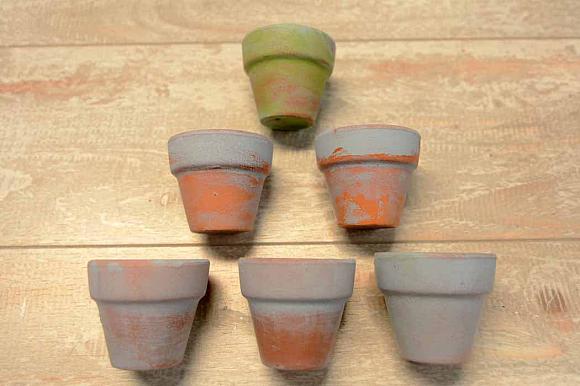 After adding a bit of Cactus Soil and a few rooted cuttings from my succulents these will be perfect little gifts for my lady friends at Easter Brunch! (One of these plants (far right) is an Air Plant and I simply filled the pot with tiny pebbles before adding that one!)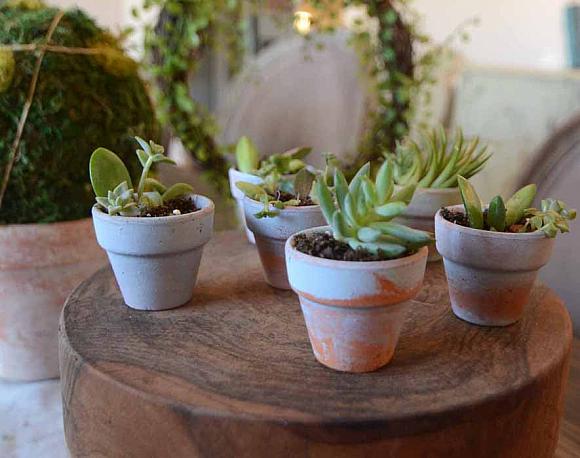 I hope you have a spring full of all things new my friends -xo