Posted by DecoArt on Nov 29th 2013
Summer is here and it's time to dress up your kitchen table with an easy project using Dazzling Metallics and Americana Paint!
Items Needed:
Burlap
Wide Rounded Paintbrush
Medium Flat Paintbrush
Instructions:
First, be sure to lay down some plastic to protect the area you will be painting your burlap on. As burlap is not a tightly woven fabric, the paint will seep through onto the surface below!
Lay your burlap out on your table to get a sense of how long you want it to be. I intended on laying the runner widthwise across the table, so didn't need to cut as much had I chosen for it to go lengthwise. Cut a panel approximately 12" wide. Don't stress about this being a perfect line; mine sure isn't and I think that it adds a certain rustic charm to the project.
Next, decide how wide you want the first band of color to be; I wanted my metallic paint to pack a punch, so chose to paint a strip approximately 1.5" wide. To create your border, use the large round brush to save time and ensure even coverage of the burlap. I used Venetian Gold Dazzling Metallics and love how it gave a beautiful bronze tone when applied to the burlap. The outer border does require a decent amount of paint, so make sure that you have one full bottle of Dazzling Metallics prior to beginning this project.
Now, you don't have to wait for the metallic paint to dry to continue on with your thin line of accent paint on the inner portion of the burlap. I chose Baby Blue Americana Paint to match some of the other blue, turquoise and aqua tones that we have accenting the kitchen. It is bright and fresh, and gives a beachy feel to our home décor.
Paint a line approximately a ¼" thick with your medium flat brush, and allow the paint to fully dry.
Since you have likely painted your burlap table runner on plastic garbage bags, you will have some leftover paint to peel off the edges of the fabric. That is completely normal! Discard the dried bits of paint, and you are ready to put your table runner on your table!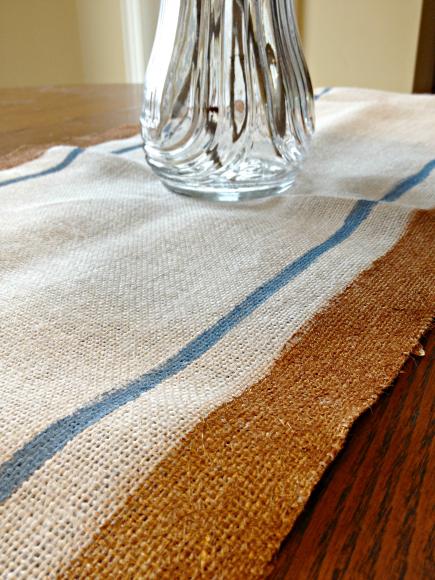 Tip: Add a clear vase of coordinating flowers in the centre of your table runner to celebrate spring! I chose dried hydrangea blooms to accent the golden tones of the metallic paint.
To read more about inspired living, home décor, art and design, check out Shannon's blog
Sweet Stella's