Posted by DecoArt on Sep 6th 2017
Let's step into the coming season together! 
Just close your eyes for a moment?  Imagine yourself walking through fall tinted grass onto stepping stones covered with the luscious colors of autumn leaves. Perhaps...you will be inspired to create your own stepping stone!!
Items Needed:
Vermillion Archival Ink
Black Archival Ink
Green Archival Ink
Andy Skinner Handle With Care Stamp Set
Andy Skinner Toxic Stamp Set
Totally Tracy Textures Stamp Set
Stretched Canvas
Assorted Brushes
Faber-Castell Pitt Pen
Instructions:
Choose a substrate and apply gesso to the surface. When dry, draw or stencil your stepping stones. Create your 'mortar' by adding DecoArt Media Crackle Paste.
When your crackle paste 'mortar' is dry, add colors of DecoArt Metallic Lustre. It highlights the crackle and gives a unique glow to your project.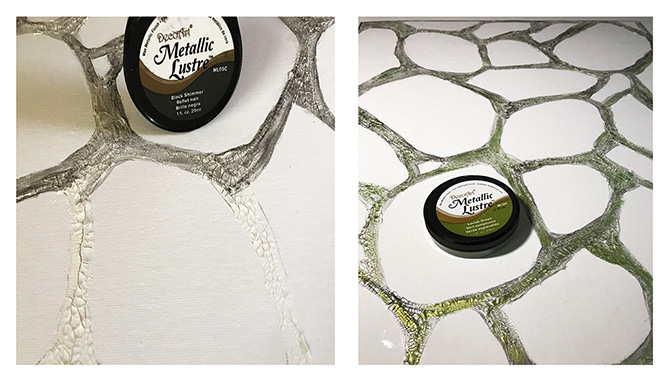 Begin painting your stones with the DecoArt Fluid Acrylic colors of your choice. Add texture designs as you go using texture tools, paint brush, fingers. stencils etc. Just have fun creating!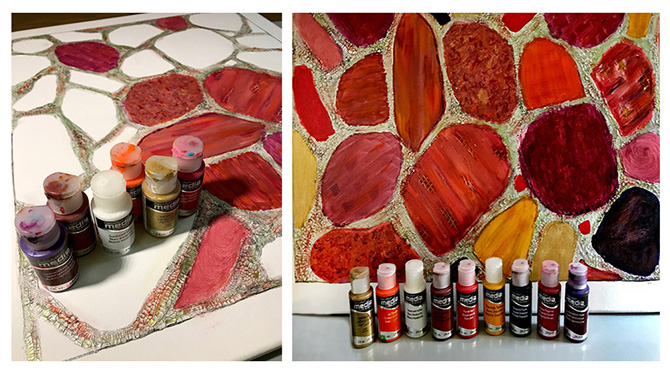 Carefully cover your stones with DecoArt Media Carbon Black Antiquing Cream. Try to avoid getting it on your 'mortar' but if you do… it will wipe off or add a bit more dimension if left in some places. When the antiquing cream is dry, wipe off as much as you like from your stones.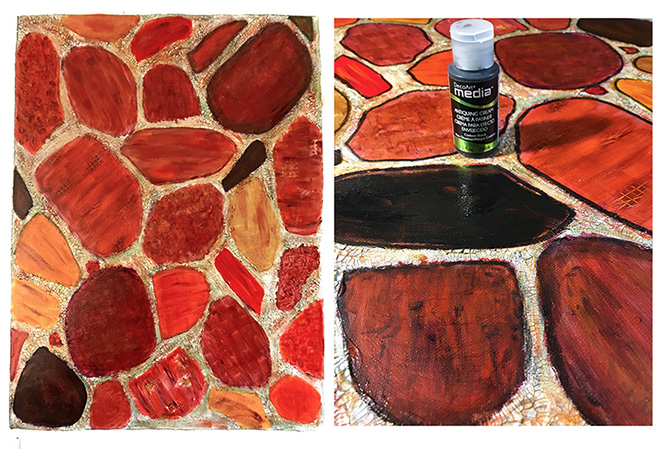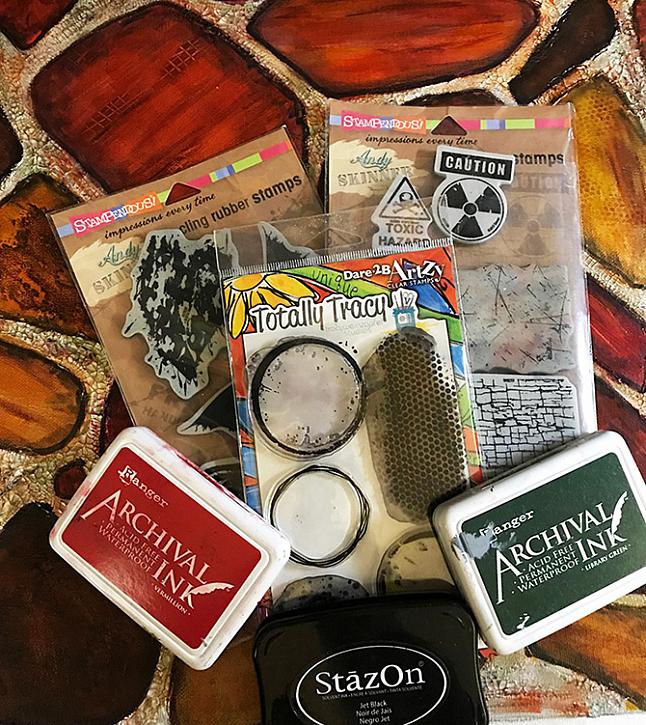 Time for some lively leaves! Apply DecoArt Media Textured Sand Paste through your leaf stencils. The sand paste is such a yummy texture!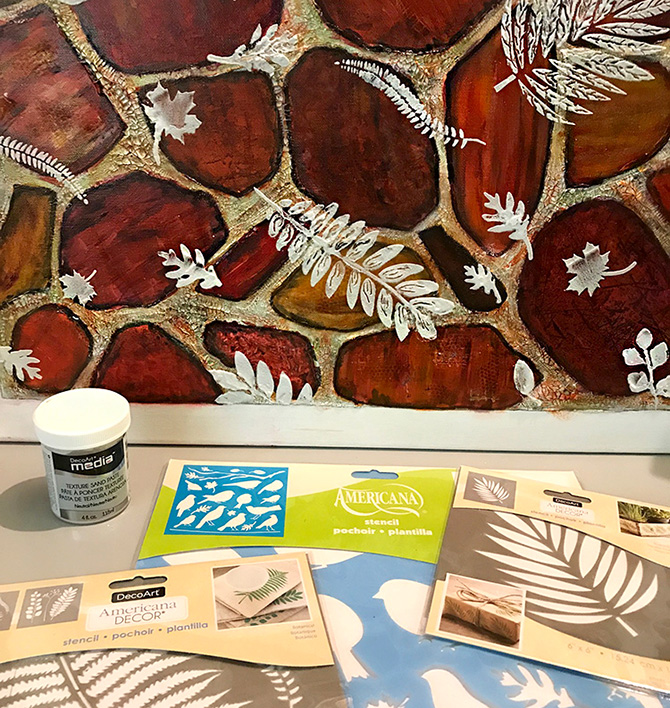 When the Textured Sand Paste is dry, lightly add layers of paint to your leaves for color contrast and dimension. I chose to leave some of the texture sand paste color showing. You can add a lot of color or less color.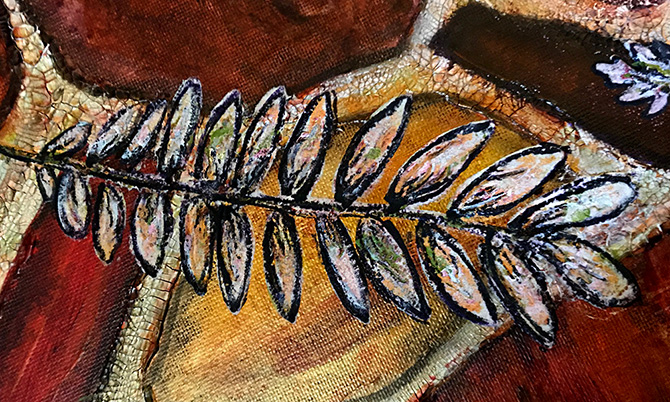 Begin creating your grass tufts. Do not mow the grass!!!
I so enjoy painting anything that lets me use my liner brush. Do not let the tufts of grass intimidate you. Just start drawing curved lines – it's fun. I began with dark Sap Green, then layered paint from dark to light. There is no right or wrong.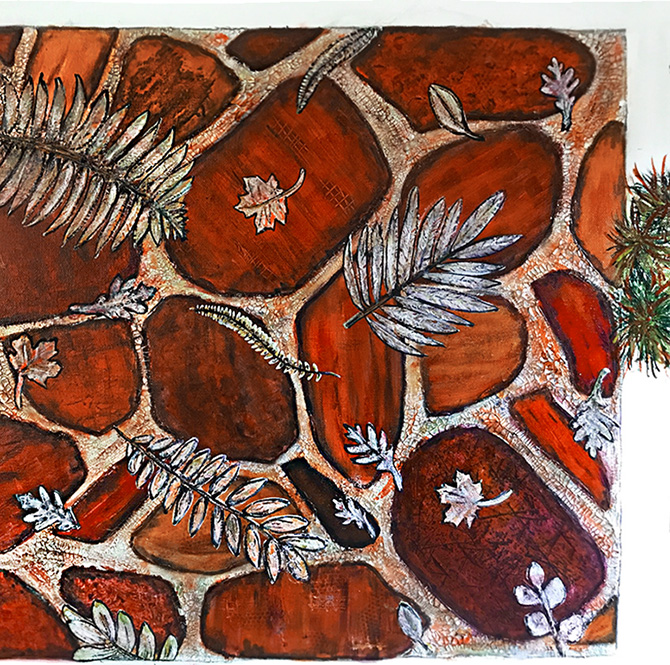 Varnish your creation with the DecoArt Varnish of your choice.
Close-ups of the finished piece.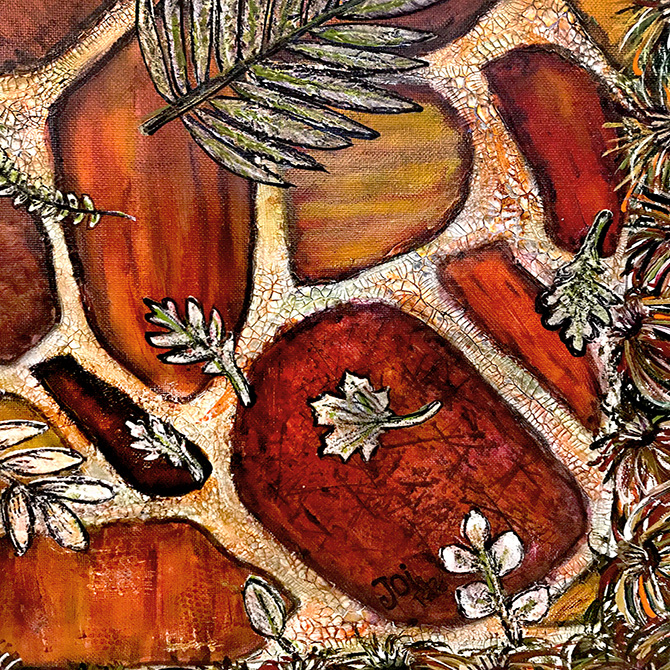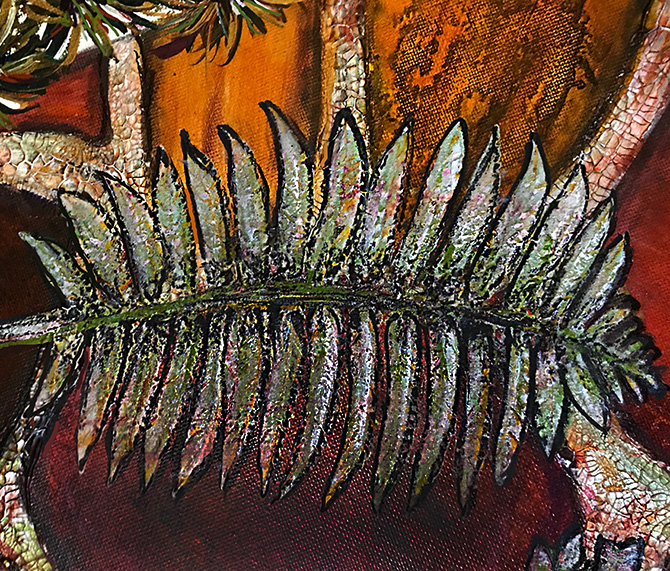 I encourage you to "step into autumn" by creating an art project with leaves! One thing I know for sure…DecoArt and DecoArt Media products make your fall art gloriously lovely!