Posted by DecoArt on Sep 16th 2019
Fall is my favorite season and one of my favorite things about this time of year is decorating my home with all the fall colors and pumpkins. I especially love creating handmade decorations that I can display in my home. This DIY wood bead and metallic leaf garland is a colorful and fun way to add a little pizzaz to your fall decor.
I was inspired by the vibrant colors that tend to show off this time of year, as well as the deep hues of blue that are so popular right now. It's easy to bring these colors to life in this easy DIY with DecoArt paint. I used a combination of Americana Acrylic paint and American Decor Metallic Texture. 

The American Decor Metallic Texture adds a shimmery element to this fall-inspired project as well as detail and texture. The heavy-bodied paint makes building texture easy and works effortlessly through a stencil. 
With a few supplies and 30 minutes you too can create your own dazzling fall decorations. 

Check out Mariah's Facebook live for this project (giveaway ends 9/23/2019): 
Items Needed:
Paintbrushes
Unfinished Wood Beads
Unfinished Wood Leaves
Yarn Pom Poms
Twine
Needle
Stencil
Instructions: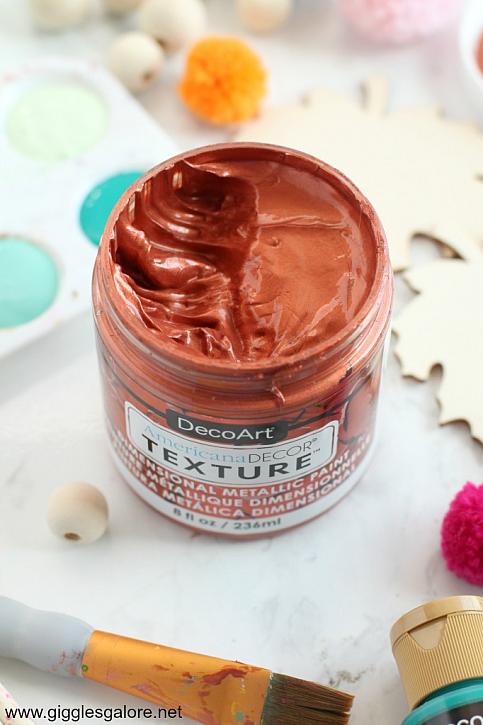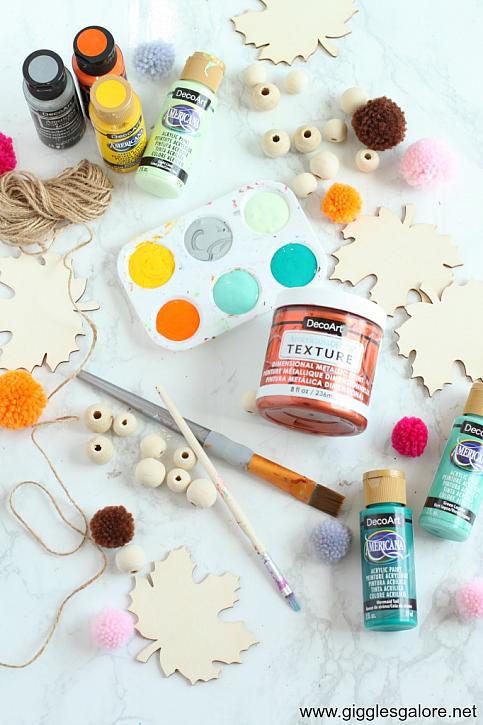 Start by painting a base coat on the leaves with the metallic Texture. Set aside and let the paint dry.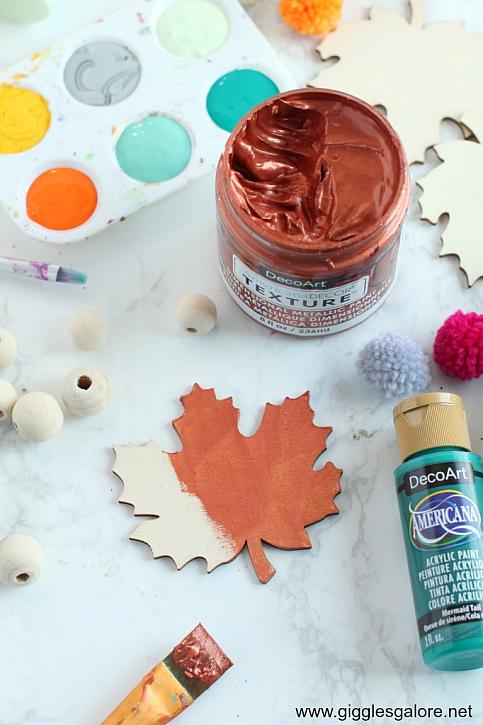 Once the paint has dried on the leaf, place the stencil on top of the leaf and add a thick coat of the metallic texture. Carefully remove the stencil to reveal the design. Be sure to clean off the stencil in between each new leaf.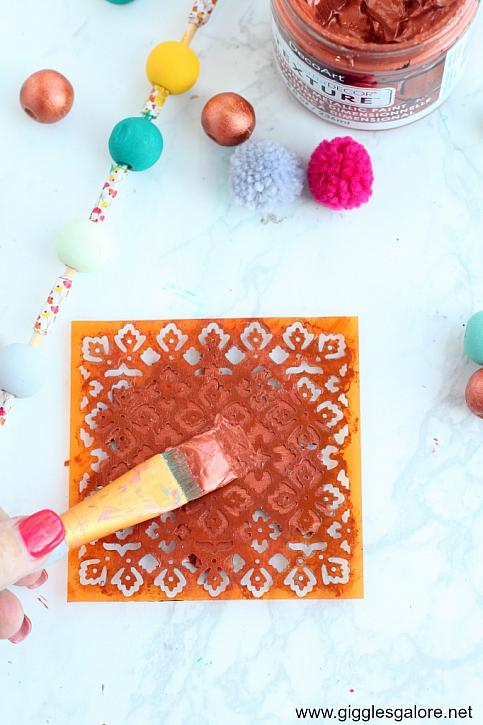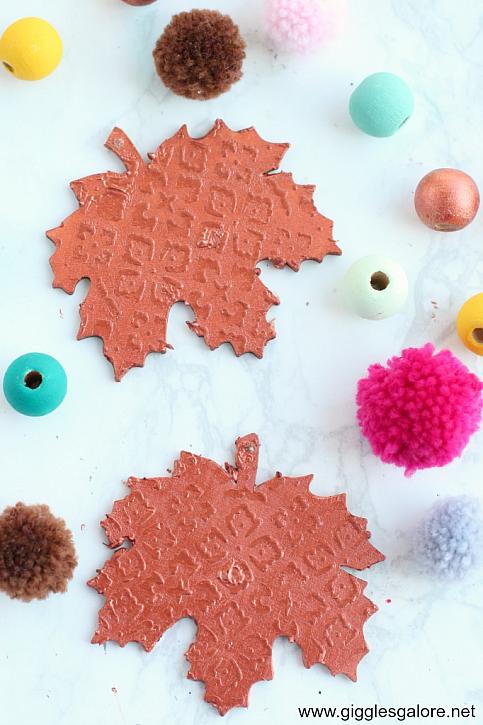 Next, it's time to paint the wood beads with the American Acrylics and Americana Multi-Surface Acrylics. I used Green Lagoon, Mermaid Tail, Light Lime, Golden Yellow, and Pumpkin Patch to paint my beads. Depending on how long you want your garland to be you will need to paint 5-6 per color. Here is a tip for making it easier to paint the beads: put them on a bamboo skewer and wrap washi tape in between the beads to keep them from moving around.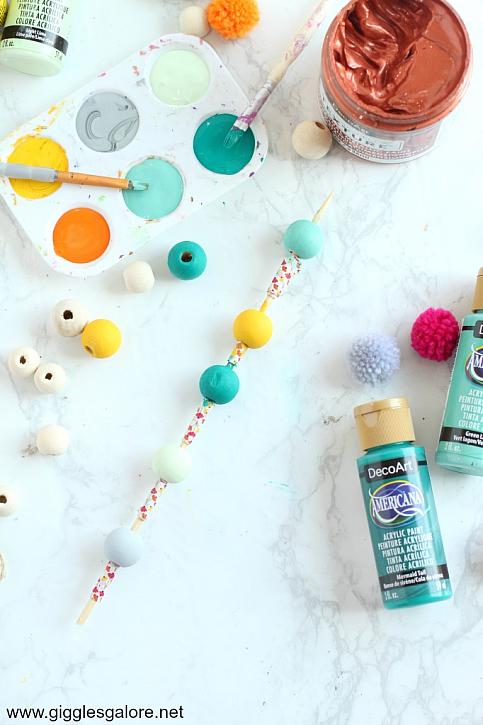 Once the paint has dried on the beads it's time to start stringing them together to create your fall garland. Thread some twine through a needle and start stringing the beads together in a pattern.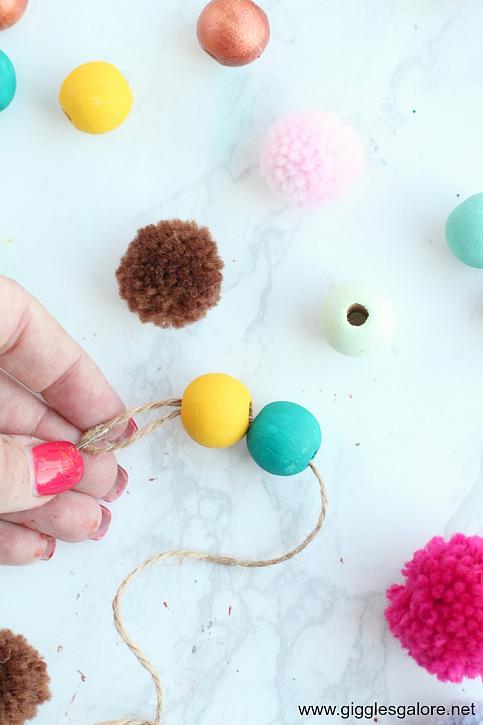 To add even more texture and color to my garland I decided to use a few yarn pom-poms. Thread the pom-poms onto the twine with the needle.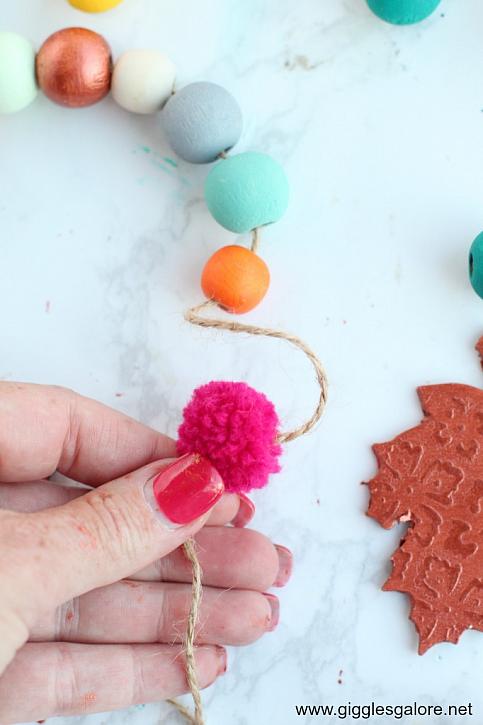 Add the textured metallic leaves to the garland and continue building your pattern.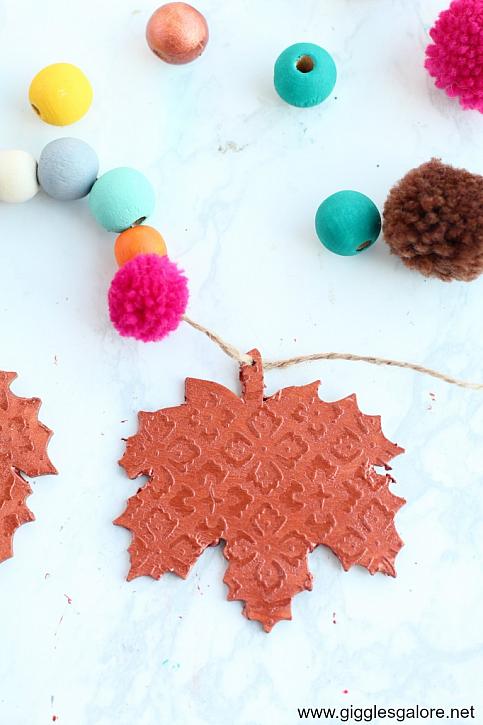 Once the garland pattern is finished, hang it from your mantel or wall to create a colorful and cozy fall display.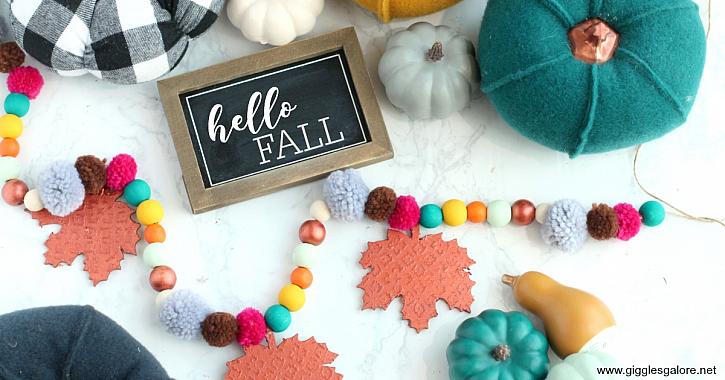 Be sure to stop by Giggles Galore to check out all of my other fall projects and inspiration for decorating your fall mantel.