Posted by DecoArt on Oct 17th 2018
Happy Fall Y'all!  
I recently received wonderful "goodie boxes" from DecoArt and Tando Creative. You would have thought it was Christmas morning the way I tore into them! Not to be disappointed since there were lots and lots of wonderful products that immediately got my imagination going. I was particularly inspired by two pieces … DecoArt's 6x8 Aztec Pattern Mixed Media Stencil and Tando Creative's Round Pot. These two are a match made in Mixed Media Heaven! 
I used several DecoArt Media products to create a "faux" Aztec Indian pot look. The Media line of products provides wonderful coverage and dependable results. The Aztec Pattern Stencil comes with four different patterns that repeat into a 6x 8 design. Each panel on the Round Pot is stenciled with a variety of different patterns from the Aztec Pattern Stencil. They fit perfectly!
The Tando Creative Round Pot is made from sturdy greyboard. It consists of sixteen 1 inch panels and two circular pieces that form the bottom and the top rim of the box. The finished height of this box is 4.5 inches. The width measures 6.25 inches across. So, this is a very striking and useful piece. The kit was easy to assemble and comes with full pictorial instructions.
I had so much fun creating this little round box that I will definitely use and proudly display. Want to know how I made it? Then let's get started!
Items Needed:
Tando Creative Round Box Kit (made From Greyboard)
Andy Skinner Stampendous Industrial Stamp Set
Paint And Stencil Brushes
Paper Towel
Standing Block
Permanent Black And White Inks
Painterstape
Strong PVC Or Other Type Of Glue
Ruler
Twine (for Exterior Embellishment)
Beads And Feathers (for Exterior Embellishment)
Wire (to String Beads)
Instructions:
Step 1: Begin by unpacking the Tando Creative Round Box Kit and look over the instructions for its construction.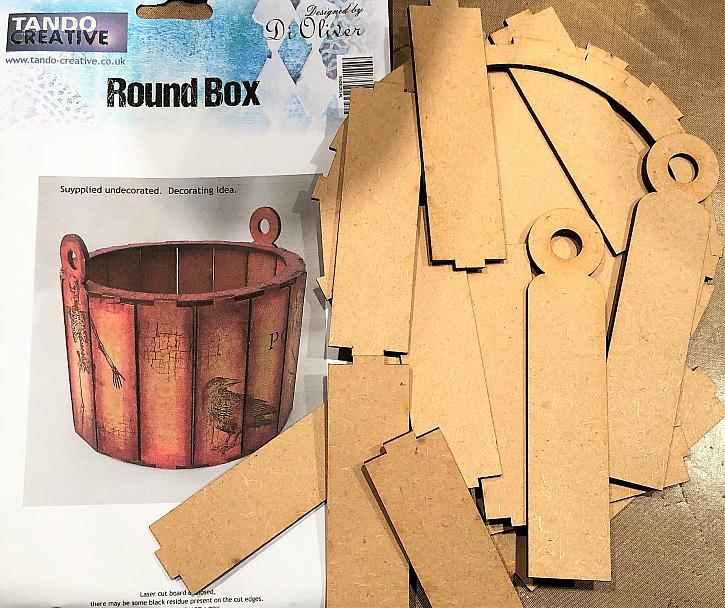 Step 2: Brush a light coating of DecoArt Media White Gesso over both sides of the panels and let dry or heat set to dry. Gently sand the panels, including the tabs and the tops and bottoms.
Depending on how you want your Round Box to look, you could just put it together and have a "whitewash" finish at this point. These panels really resemble a pickled wood effect. (Of course, you would also need to add Gesso to the top and bottom round pieces and sand them as well.
Step 3: I chose some southwestern colors for my faux Aztec Indian look. First I laid out all of the panels and decided how many panels of each color I would need to paint and how I would want them to line up once I put the Round Box together. I painted all of the DecoArt Media Fluid Acrylics Cobalt Teal Hue panels first (on both sides and let them dry). Next, I mixed DecoArt Media Fluid Acrylics Primary Yellow, Cadmium Orange Hue and Titan Buff to get a soft peach tone. Then, I brushed the next set of panels with it on both sides and let them dry. Finally, I painted the rest of the panels with DecoArt Media Fluid Acrylics Titanium White on both sides and let dry. Once dry, I lightly sanded all of the panels again, including the tabs.
Next, I randomly added first some white peeled paint images using Andy Skinner's Industrial Stamp on both sides of all of the panels and heat set them to dry. Then I randomly added some more black peeled paint images using the same stamp. The images were stamped on using Black and White Permanent Ink and heat set to dry. Then (I forgot to photograph it but...) I added a light coat of DecoArt Media Soft-Touch Varnish to seal all of the panels.
Step 4: I lined the panels back up the way they would appear on the Round Box and then began to stencil the chosen images on each color. I did all of the teal panels first, then the peach and then the white. I laid each panel in place, using painters tape to hold the stencil securely. I then almost dry brushed DecoArt Media Fluid Acrylics Carbon Black over the stencil to create the Aztec images. Don't add too much paint too quickly or you will get blobs and runs under the stencil. Add layers of paint as you go. At this point, I would also like to say that I used DecoArt Brush and Stencil Cleaner immediately after stenciling each design. That stuff is AMAZING for getting the thick paint right off! I was pleasantly surprised at how quickly it came off with minimal scrubbing of the stencil.
Step 5: I did not add a design on the two side handle panels. I left them white with the random paint peeling images only. When all of the panels were finished, I painted the round bottom (on both sides) and the top round piece (on both sides) of the box and heat set them.
Step 6: Following the instructions that came with the Round Box, I began to glue the panels in place, using a very strong glue (FabriTac) and pressing them in place. I also was making sure that my patterns and colors were aligned correctly as I was gluing them in place. Let all of the panels dry before adding the top piece.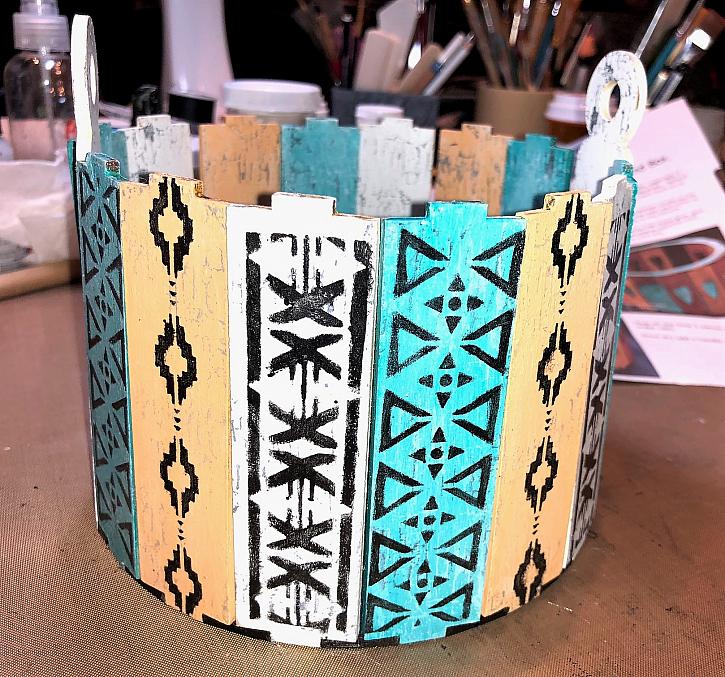 Step 7: I added glue to the back sides of all of the tabs of the panels and then pressed the top ring in place. This is a slow process to be sure that all of the tabs are lined up and pressed into place. Then be sure to apply pressure to the tabs so that they dry securely holding the top ring in place.
Step 8: I brushed a light coat of DecoArt Media Gloss Varnish over the tops of all of the panels on the outside of the box and lightly heat set it in place. Then I added a light second coat and repeated the heat set. Next, I did this same step to the interior panels of the box. Finally, I coated the top ring and bottom of the box with the Gloss Varnish and heat set it. This gave extra protection to the exterior of the box but also gave it a nice glossy finish.
Step 9: I took some twine, left about a 7-inch tail at the beginning and started tying a double knot about every 1 inch until I had tied 16 knots. This was done purely for decoration. Then I left about a 7-inch tail at the other end and cut it. I repeated this; creating two twines that are knotted. This would go around the box.
Step 10: I measured down 1 inch from the top of the ring on every panel and made a pencil mark as a guide.
Step 11: I applied a line of strong (clear drying) glue on each panel (doing a few at a time as I glued the twine in place). I started at one side of the white handle panel and went around the box, ending up back at the starting point. Tie a square knot using the two tails to secure in place. For the second twine, I started on the opposite side handle panel and repeated the process. That way, I could embellish each side of the box at the handles.
Step 12: Using some wire, beads and a couple of metal leafy or feathery looking embellishments, I created two charm dangles for each side that would be wired into the square knots of the twine. I left longer pieces of wire at the top of each dangle created to have enough wire to wrap into the twine.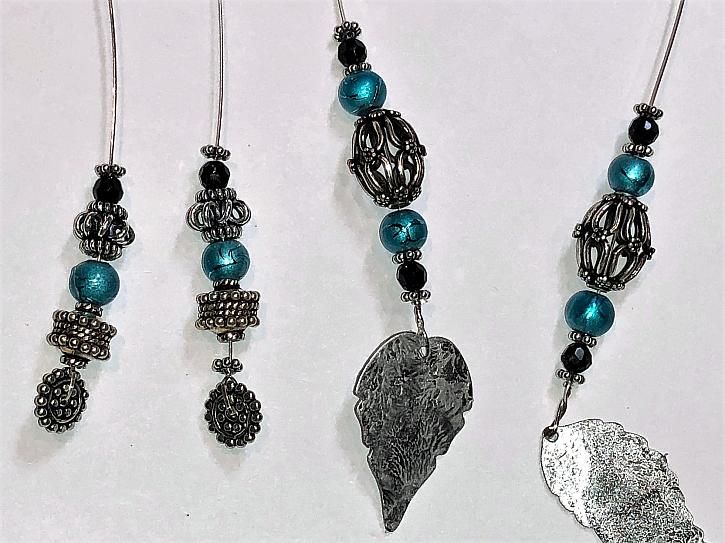 Step 13: I wired two dangles on each side of the Round Pot on each handle where the twine was tied together. Then I added a couple of pieces of thinner twine on each side. I made a four-loop bow out of the twine and tied it in place using the 7-inch tails from the original jute. I tied them in using a square knot. Finally, I glued a few feathers in place to add more decoration and also to hide the wire wrapped in with the twine and a series of knots.
Here is a photo of the inside of the Round Pot. So cute and sturdy!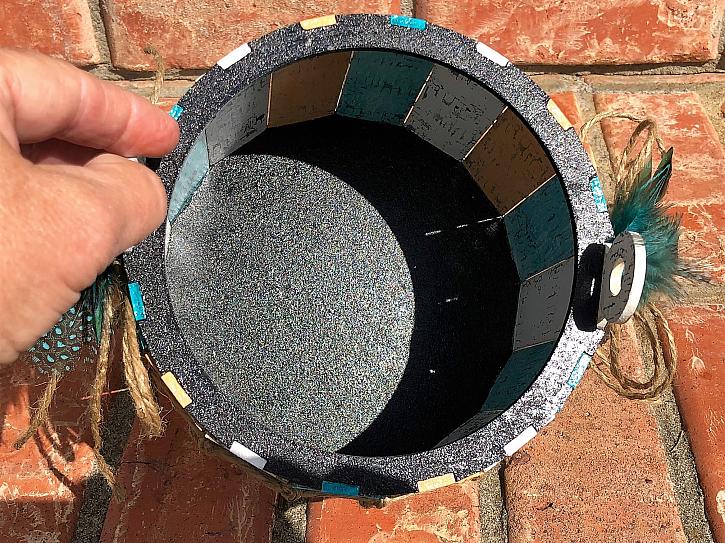 There you have it! Easy to do and a whole lot of fun to put together! I chose an Aztec theme but could you imagine this Round Box with a Halloween or Christmas theme? What a cute gift box this would be; filled with items to make Christmas cookies or hot cocoa! The potential for this box goes on and on!