Posted by DecoArt on Oct 24th 2019
Do you ever get an idea in your head to make something, and you're not 100% sure how it is going to work out? I had this tiny idea swirling around that I would create a cake or appetizer stand that would double as both a pretty centerpiece and something you could use. Normally centerpieces take up space or have to be taken off of the table when the meal is served, and don't serve much of a purpose. But, what if you could combine the functionality of a cake stand, with the prettiness of a floral pumpkin centerpiece? That's how this project was born! I painted the pumpkin by painting a beige-y Chalky Finish paint and then laying a cool gold over the top which gives it a gold, metallic sheen. I purchased faux florals in trendy tones of eggplant purple and mustard yellows and added a cooler sage green color. While I used a fake pumpkin with faux florals, this would also be gorgeous with a real pumpkin and flowers.
Items Needed:
Faux Pumpkin
Set Of 6-inch Cake Spacers
8-inch Cake Separator Plate
Faux Flowers
Multi-purpose Glue Or Hot Glue
10-inch Thin Wood Slice
6-inch Wood Round
Instructions:
Choose a pumpkin that is slightly shorter (about 1 inch) than the height of the cake spacers. It can be a real or faux pumpkin. It does need to be wide enough to fit all of the spacers. If you choose a real pumpkin, make sure the bottom is flat. A flatter pumpkin is the best choice for this project.
Steps 1-4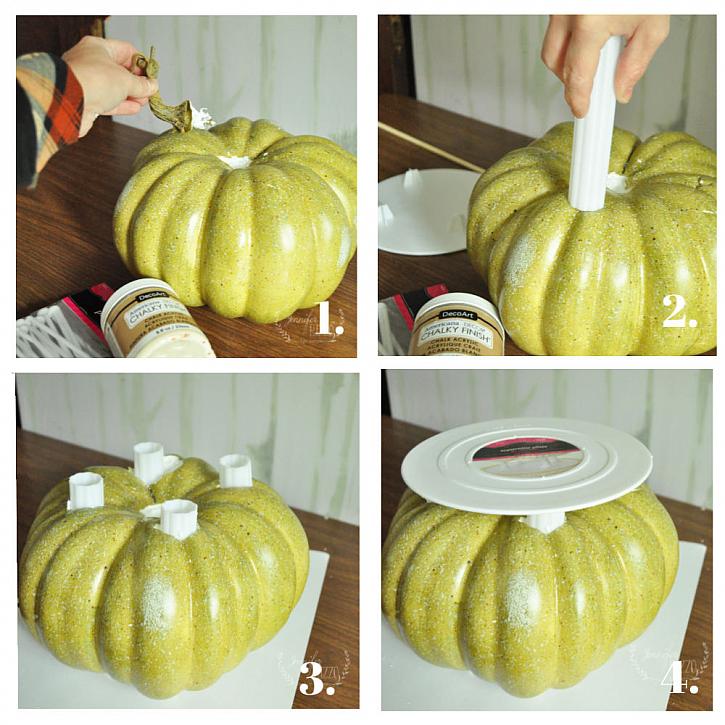 (1) Remove stem. (2) Create 4 holes in the top of the pumpkin for the cake spacers. It's important that they align with the pegs on the separator plate. How you create the holes will depend on what kind of pumpkin you use. Mine was a styrofoam pumpkin, so I pushed and twisted the cake spacers until they reached the bottom. (3) Add all four spacers evenly so the pegs align on the cake separator, and that they are all level with each other. (4) Check that the cake separator plate is level and even on the pegs.

Steps 5-8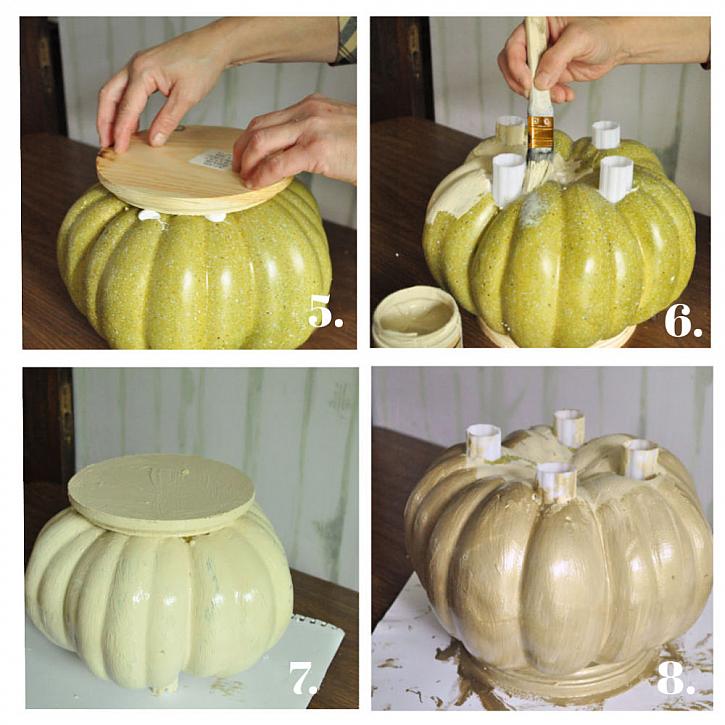 (5) After your spacers are in place, flip the pumpkin over and glue the craft round onto the bottom for your base. Let dry. (6) Paint your pumpkin with Americana Decor Chalky Finish in Timeless. (7) Let dry. (8) Paint entire pumpkin and base with Americana Decor Metallics in Champagne Gold. This will give it a pretty, cool gold sheen. Let dry.

Steps 9-11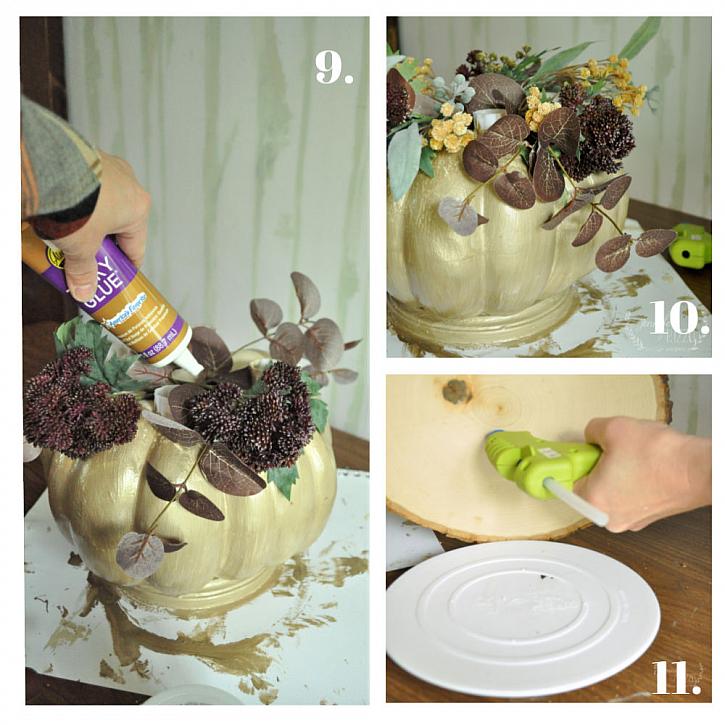 (9) Glue faux flowers around top of pumpkin, making sure the height stays under where the cake separator will sit on top of the cake spacers. (10) Let the faux flower glue dry. (11) Glue the wood slice to the top of the cake separator plate, let dry, then fit onto spacers.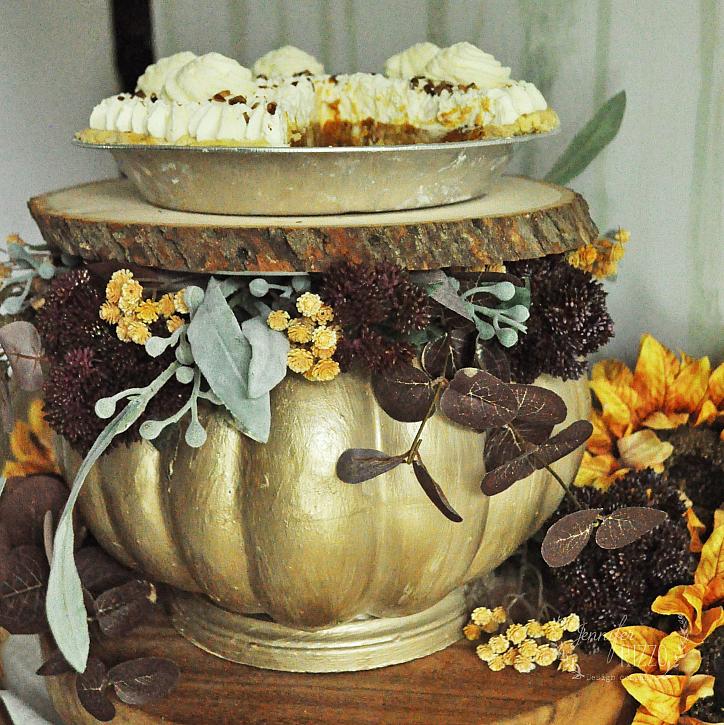 Once it's dry, you're ready to serve! I do recommend using another plate on top of the wood slice, for easier cleanup!

This DIY Floral Pumpkin Cake Stand Centerpiece is the perfect pretty thing for the center of your table, or for a holiday gathering!