Posted by DecoArt on May 21st 2015
My favorite outdoor activity from April through August is gardening. I am addicted to pretty flowers so I am always on the hunt for new flower pots. Unfortunately they aren't always affordable in the size and colors I want. But that is about to change with the help of DecoArt's Patio Paints! Now I can purchase inexpensive terra cotta pots and decorate them any way I want, including florals that are so trendy right now.
Items Needed:
Terra Cotta Pots In Graduated Sizes
Assorted Brushes
Instructions: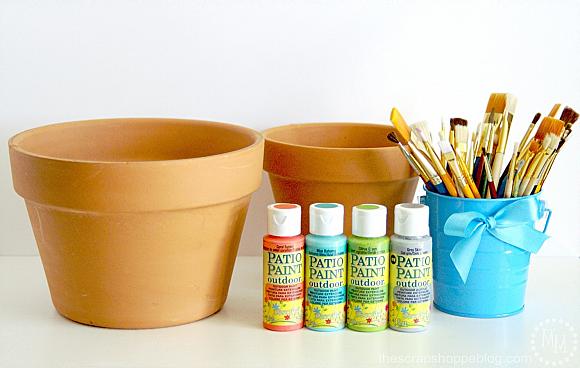 Paint florals on the two largest pots.
For floral inspiration I did a Google Image search for "watercolor flowers."
If you haven't experimented much with paintbrushes, you can practice your strokes on a paper towel. I am NOT a painter and just played around with different brushes to create the flowers on these pots. The Patio Paint has great coverage so you don't need to do multiple coats for this project. For contrasting colors, you can mix the coral, blue, and green each with a little bit of the gray paint. Once your first coat of paint is dry, go back with the contrasting paint colors to add extra accents to the flowers.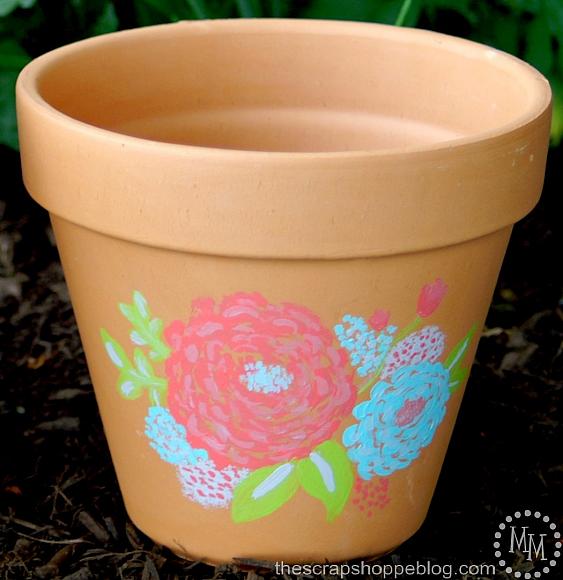 These pots turned out so fun! And it took less than an hour to paint these two pots.
After 72 hours the paint is cured so it's time for my favorite part: filling the pots with flowers! To create the tiered look, place the smallest pot upside down inside the largest pot. Top with the medium sized pot. Then just add your flowers.
Now my $4 spent in pots looks like a million bucks! I am so proud to show these pots off on my patio. And I can't wait to paint more!