Posted by DecoArt on Mar 13th 2019
I love cuffs and I love leather! So when DecoArt released their fantastic new DecoArt Stylin paint for fashion accessories, I immediately knew what I wanted to use it for! I have been hoarding some leather scraps for ages and now their time had come to shine. My aim was to go for a bright and joyful folklore style with my cuffs and I have done two variations – one being a very colourful and fun version, the other a simple but effective black and white version on a red leather stip.
Items Needed:
Leather Strip(s) (about 8 Inches Long)
Detail Brushes
Bristle Brush
Palette
Heavy Duty Scissors
Hammer
Press Buttons
Press Button Kit
Sturdy Working Surface Or Steel Bench Block
Ballpoint Pen
Ruler
Instructions:
Step One: Measure the length you need for your cuff and use a ruler and a ballpoint pen to draw straight cutting lines onto the leather. My strips measure about 8 ½ inches (22 cm). Make sure you cut off any marker traces when you cut out your leather strips. Clean the leather surface with alcohol so the Stylin paints will adhere well. Find the exact spots for the press buttons to go in and use a press button kit to add your closures. Simply follow the instructions on the kit package and make sure you're working on a sturdy wooden surface or a steel bench block.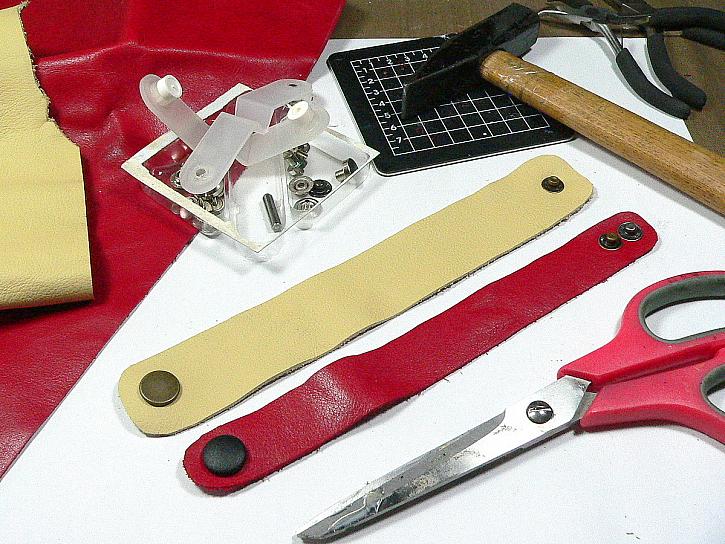 Step Two: For the beige leather cuff start with stippling on a base layer of Aqua Stylin paint. I have used a very old worn bristle brush to create uneven edges. Make sure that an outer edge of plain leather remains visible and untreated. You can use a heat tool to speed up drying time. Repeat this step for even coverage.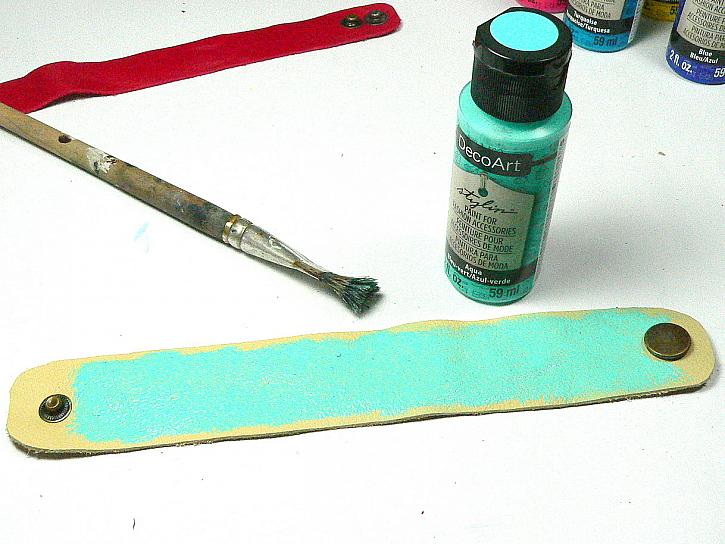 Step Three: Put on the cuff to find the center point for your design (which should sit on top of your wrist). Mark with the ballpoint pen.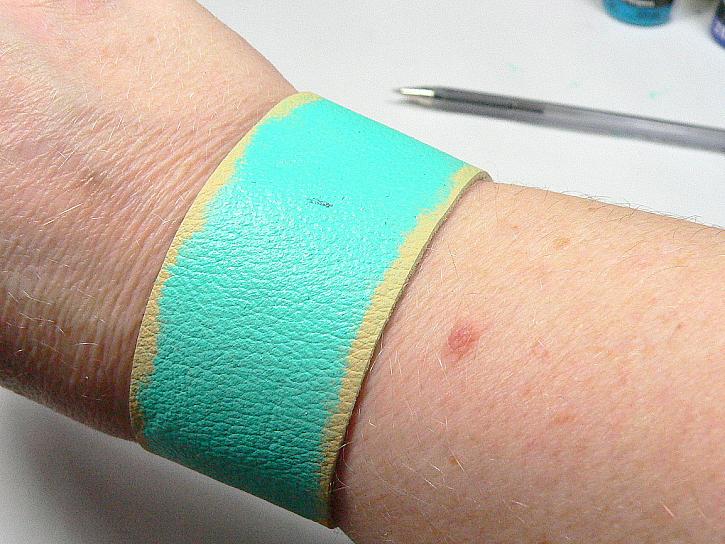 Step Four: Start in the marked spot and paint a simple flower shape. Don't work too small as we will be adding some line drawing with a fine detail brush at the end! I have used Brick and Orange Stylin paints for my first blossom leaves.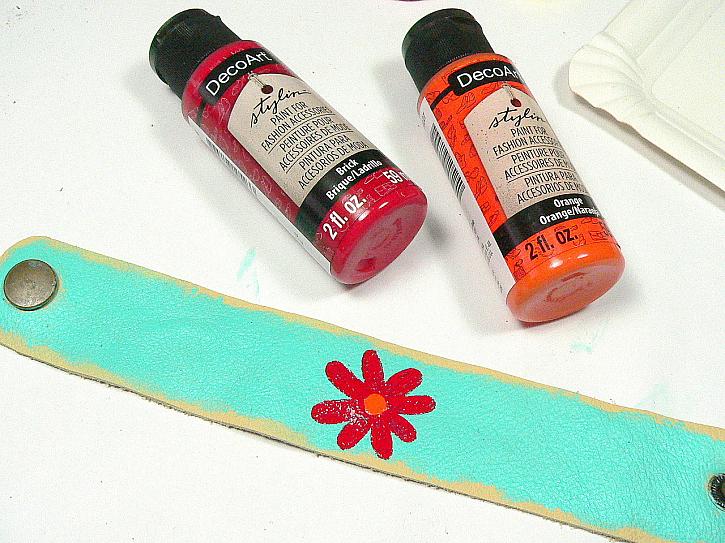 Step Five: Then add more petals and details in Stylin White, Yellow and Fuchsia. From there just follow your gut and add blossoms and twigs in Beige, Blue and Yellow Stylin paint. Then add more details in Stylin Turquoise, Brick, Orange and Yellow and try to stick to a symmetric design, but do not aim for perfect repetition on the two sides. I love it when you still see that something has been hand painted as that adds lovely liveliness to your work. As you can see I went for a folklore art style which is perfect to create playful flourishes and blossoms without having to stick to real flowers as models (though it helps if you have some real blossoms in mind I found). Heat dry the cuff before moving to the next step.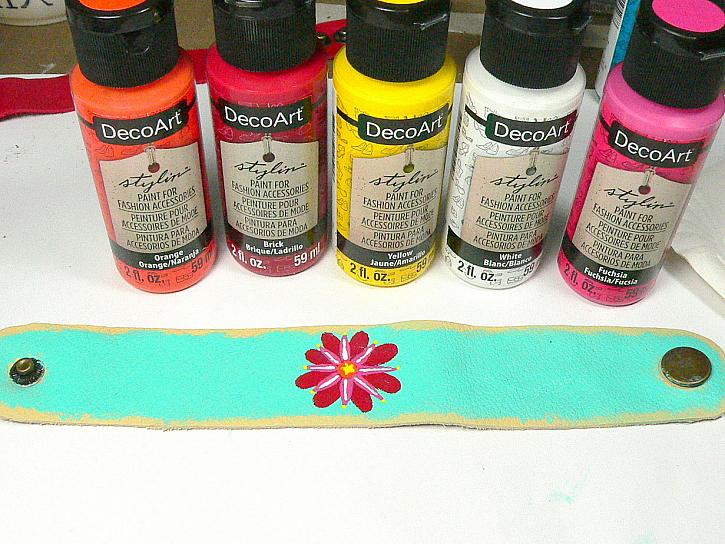 Step Six (optional): Before I added the fine line details in White and Black I first wanted to age the look of my cuff as it just felt a bit too "clean" for my liking. I applied a thin layer of slightly diluted Walnut Gel Stain with a soft brush and dabbed back with a soft cloth where needed until I was content with the look.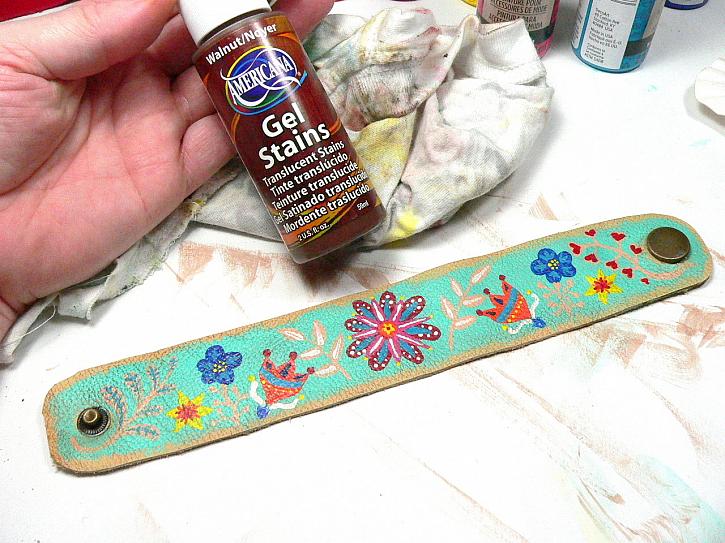 As you can see the Gel Stain also highlighted the texture of the leather just beautifully!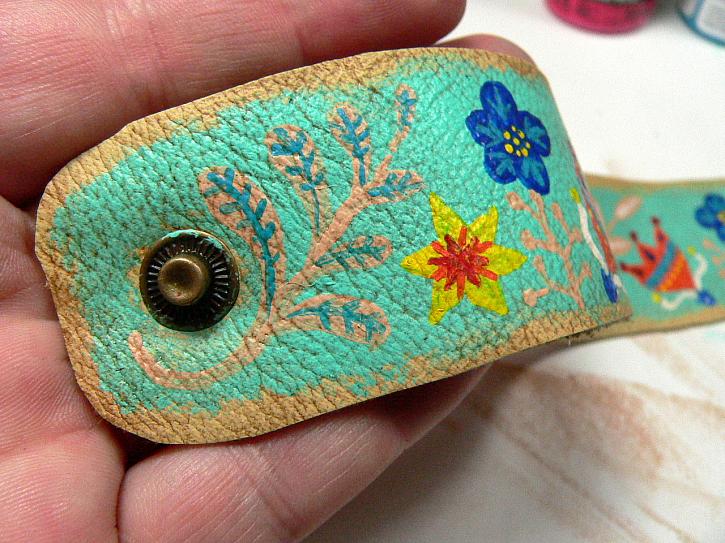 Step Seven: Time to add some black line drawings in Stylin Black with a very fine detail brush.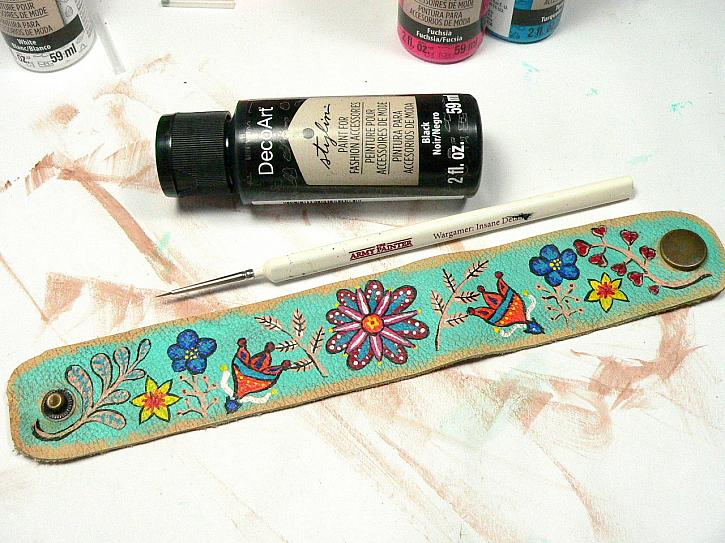 Step Eight: More line drawing in Stylin White was added to finish off the cuff. The white line drawings mainly add tiny dots and curves patterns to still empty areas and some highlights on leaves and twigs. Cure for 24 to 48 hours before using your cuff! (For more instructions check the label on your Stylin paint bottles).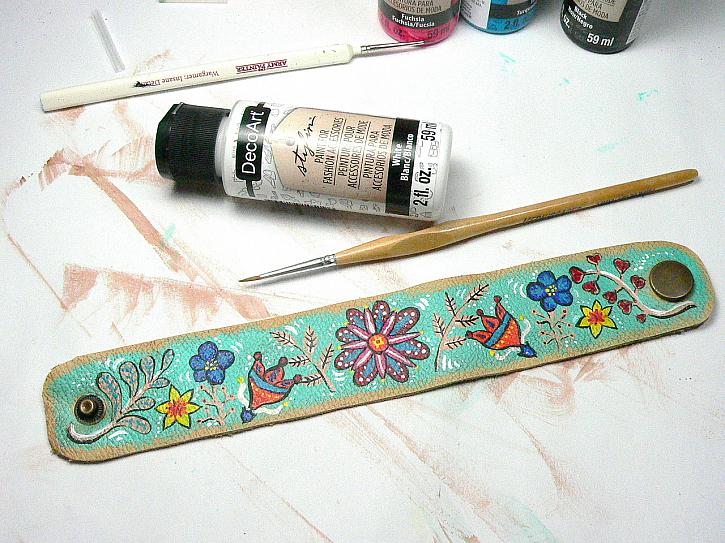 I have done a collage of some stages of the painting process so you can see what has been added in which order. And you can also see the difference the Gel Stain has made! I love the effect!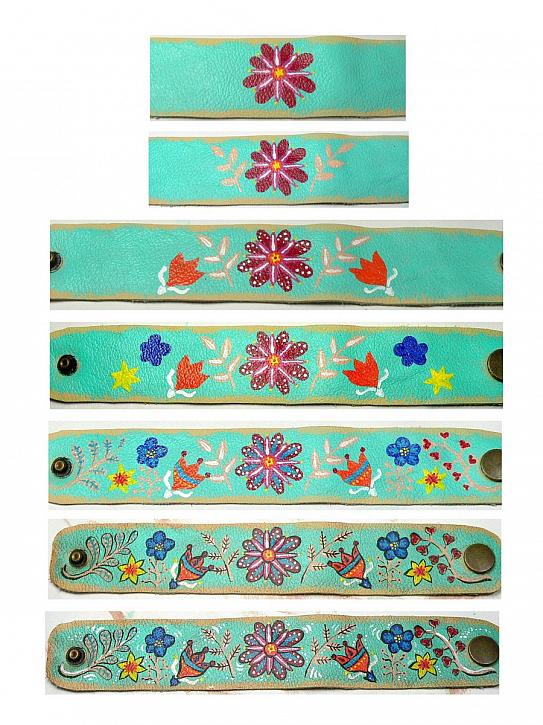 I also did a variation on a vibrant red leather cuff – this time only using Stylin Black and White and not going for a symmetric design.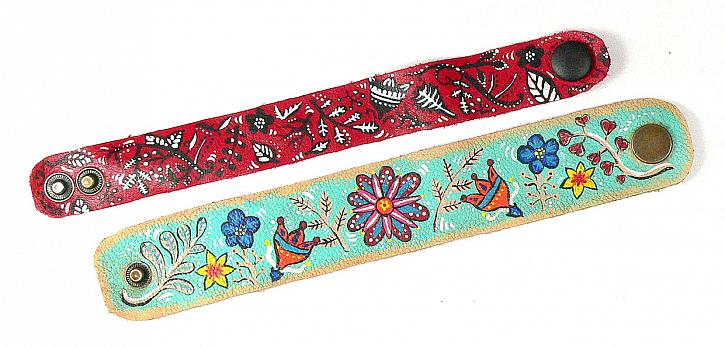 I first added shapes of twigs, flourishes and blossoms in black, heat dried the paint and then went in with the detail brush and more white line drawing.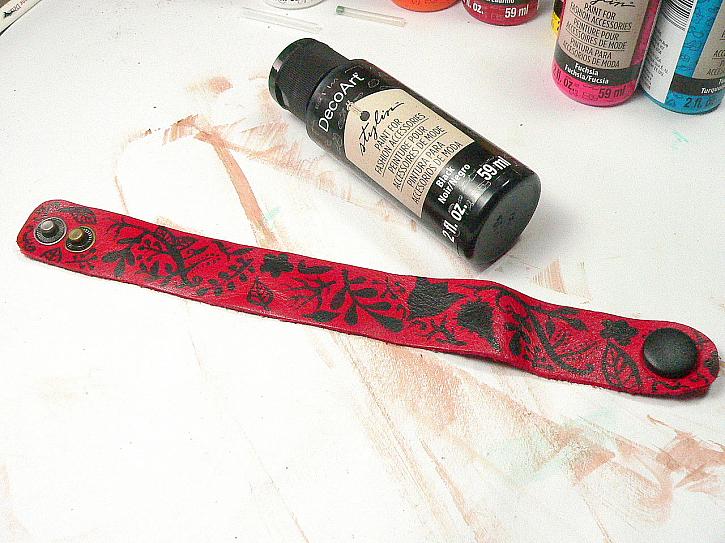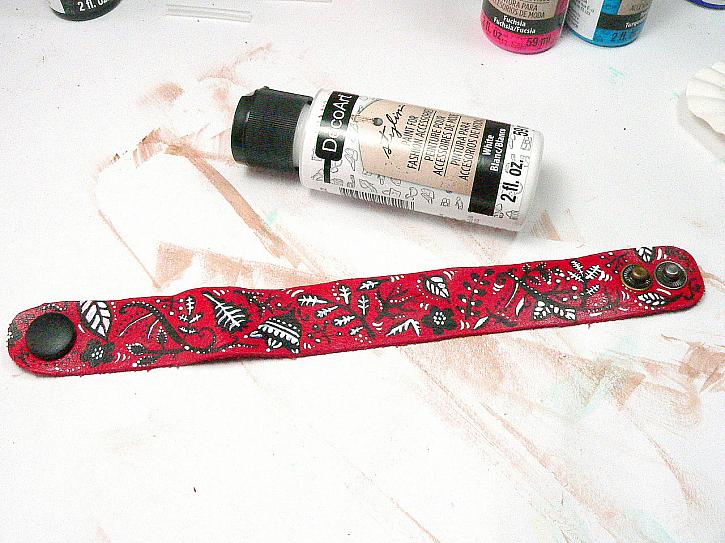 I hope you like my two folklore leather cuffs too!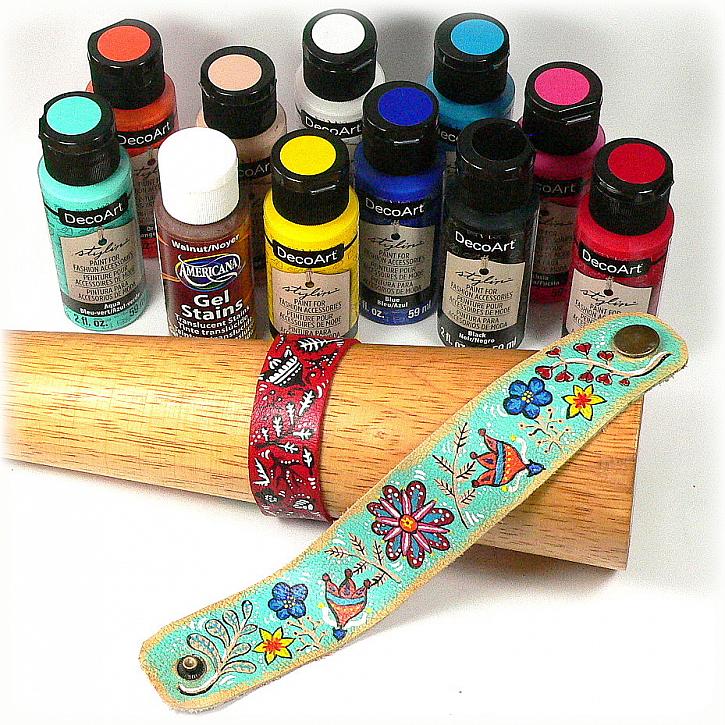 Have fun making your own leather cuffs or altering an old leather bag or purse. Folklore art style is also very easy and relaxing to do as it is a bit like doodling – only in paint. So if you are a doodler, you can do folklore style too. Thanks for stopping by today!
Hugs and happy crafting!
Claudia
xxx