Posted by DecoArt on Jan 17th 2019
Hi! I am Claudia and I am a tin hoarder!
I just love tins of all sorts. Round ones, square ones, large ones, tiny ones, new ones, scratched ones, rusty ones...the older the more beautiful! I have some tiny watchmakers tins in my stash as well as some old large tea and biscuit tins from a friend's old attic. And I always have several emptied tins that once held throat lozenges (a must have if you are a singer or a teacher like me). I have always wanted to give one of these a new life by creating a little scenery inside – only inspiration hadn't struck so far...until I discovered a gorgeous fox wood shape! I also love foxes, not just boxes – so creating a "Fox in a Box" tin meant the perfect combination of two loves of mine.
Items Needed:
Assorted Brushes
Palette Knife
Painting Palette
Emptied Lozenges Tin
Fox Wood Shape (from Calico Craft Parts)
Two Different Sizes Of Forest Wood Shapes (from Calico Craft Parts)
Heavy Black Cardstock
Foam Board Scraps
Precision Knife And Cutting Pad
Sticky Note Sheets
Tissue Wrap
Splatter Brush
Black Stamping Ink
Cosmetic Sponge
Letter Stamps
Instructions:
Step One: I browsed my stash for tree shapes that matched the size of the tin I wanted to use. I also traced the tin's bottom part with a pencil on some white cardstock and cut that out to create the panel for the background to glue inside the tin.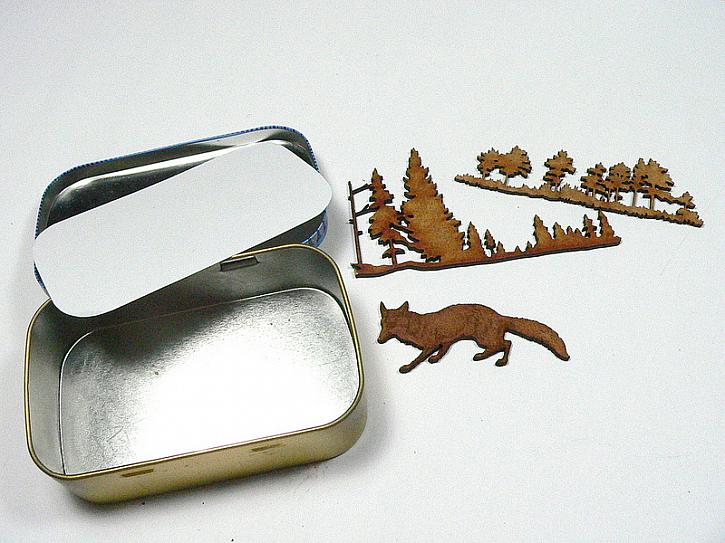 Then I started with painting my star - the little fox.

The base layer was done using a mix of Quinacridone Gold and Diarylide Yellow Americana Premium Acrylics. Once that had dried I painted the shading and the details using a detail brush and Titan Buff and Carbon Black Media Fluid Acrylics. Most important for a lively looking fox are the highlights on the eyes!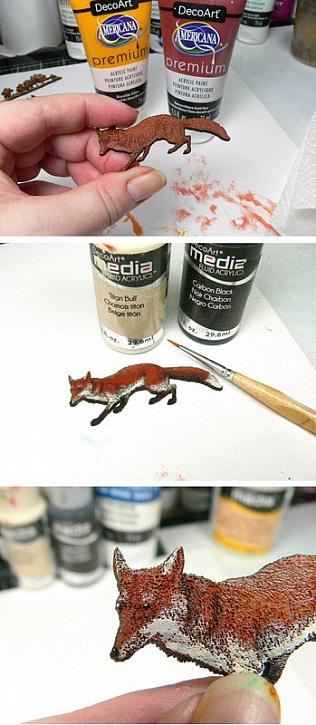 Step Two: The cut-out background panel was loosely painted using Prussian Blue Hue, Pthalo Green Yellow and Yellow Green Light premium acrylics. I didn't pay much attention to detail as most of the background was going to be covered up anyway. Once the paints had dried, I covered most of the background with torn into shape pieces of sticky notes sheets and then used a splatter brush and diluted Titanium White premium paint to add the Milky Way. Then I removed the mask to add some stars to the sky as well.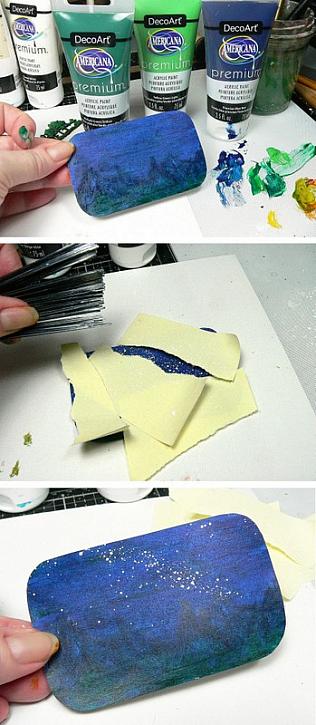 Step Three: Using matte Americana Decou-Page, I covered the inside of the tin's lid with crumpled tissue wrap. I also added a coat of Decou-Page on top, so the creases would be glued flat as well. Once my crinkled tissue wrap background had dried, I painted it with Prussian Blue Hue and used my heat tool to dry the paint. Then I created the second part of the Milky Way using the splatter brush again and painted a full moon.
Step Four: Time to paint the trees! I started with a darker layer of premium Phtalo Green Yellow and added Yellow Green Light wet on wet to the left side of the trees for a bit of a shading effect.

Once the trees were dry, I loosely painted white DecoArt Media Crackle Paint onto the trees with a soft flat brush to create the snow. I set the trees to the side to let them dry naturally.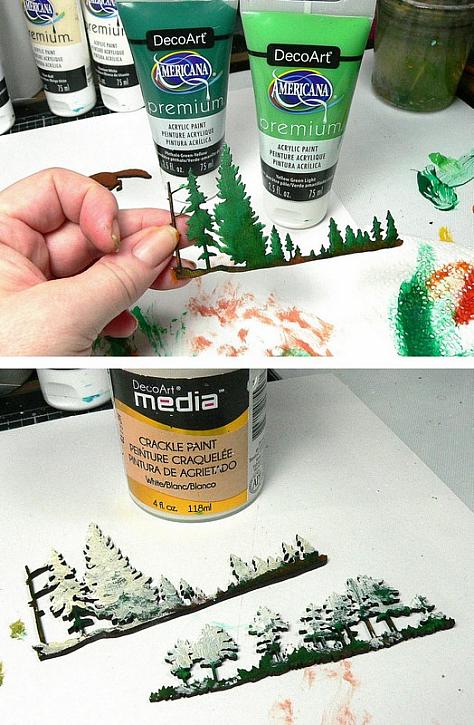 Step Five: As I wanted to stack the two tree lines at different heights inside the tin, I needed two "tabs" with different widths to glue them onto. I first traced the cut-out back panel onto the black cardstock to get the right bottom shape for a snuggly fit with the tin. I also used the painted tree line shapes and placed them onto the heavy black cardstock at their proper position and traced their bases with a pencil too. Then I removed the tree shapes and added a second line right above of the traced line at a distance of about two millimeters (see picture). This was going to be the cutting line, as I needed the two-millimeter "tabs" to glue the tree shapes onto (see next step).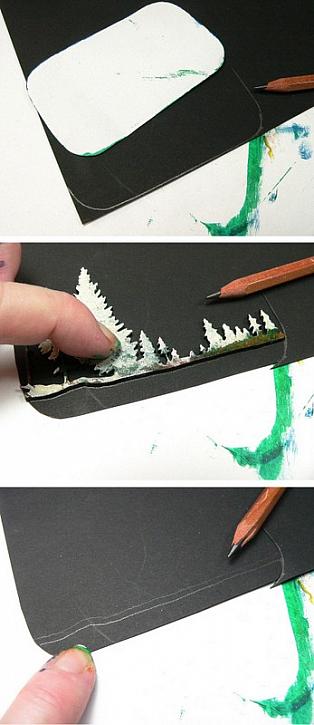 Step Six: I glued the tree shapes onto the cut out black cardstock bases using matte Decou-Page. The pictures show the different heights of the tree lines. This made sure the front tree line would not cover up too much of the second tree line in the background!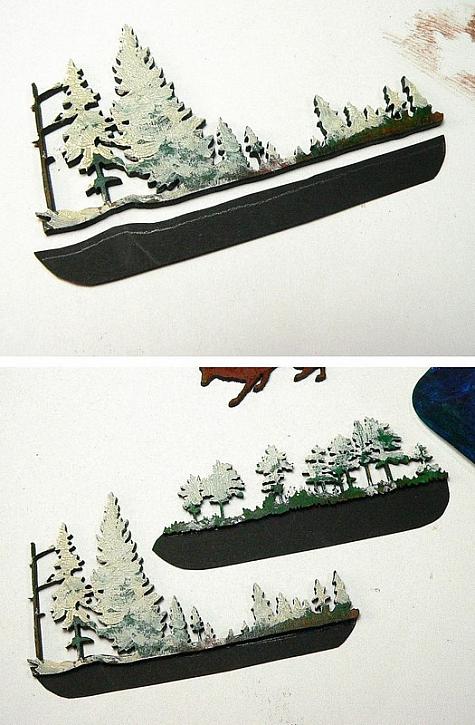 Step Seven: Using a palette knife I applied some Americana Premium Texture Medium to the treeline tabs to cover up the edges of the glued on wood shapes and also to create a snow-covered ground with yummy texture. Once the Texture Medium had dried (which took about twenty minutes on my switched on heater) I dry brushed it with a mix of Titan Buff and Titanium White premium paints.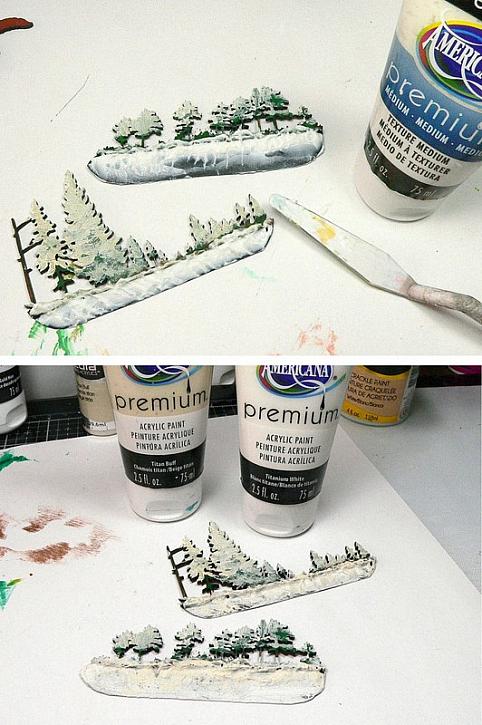 Step Eight: I stamped my "fox in a box" quote onto some painted cardstock in black stamping ink, cut it out and blended the edges with a small cosmetic sponge and black stamping ink. Then I applied a generous coat of DecoArt Media Liquid Glass on top and put that on the heater to let it dry naturally.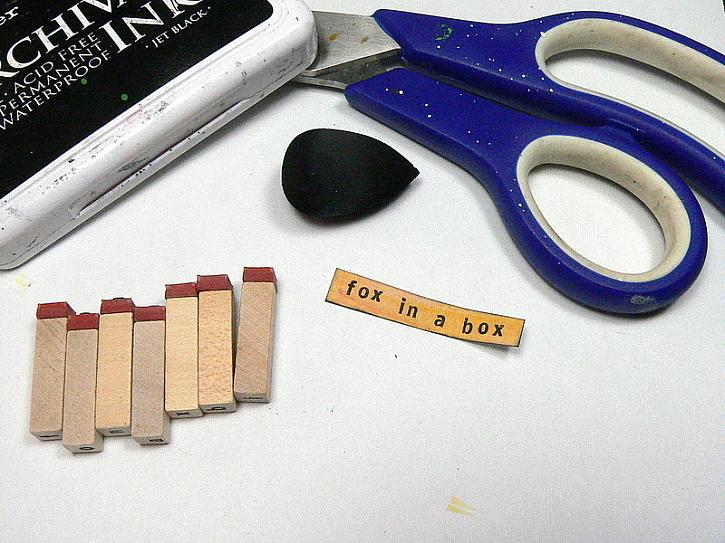 Step Nine: The background panel was glued inside the box using matte Decou-Page. Then I cut some thin strips from leftover foam board scraps to fix the different layers on top of each other, working my way from back to front.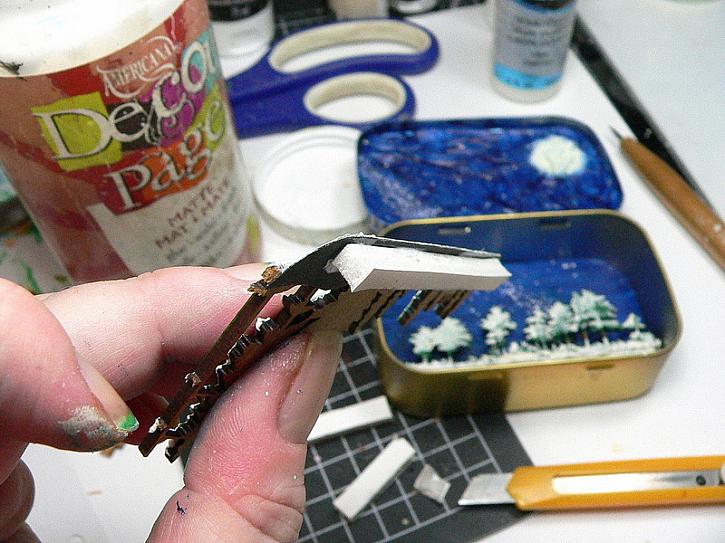 Step Ten: I needed loads of snow to place my fox on, so I added a generous amount of DecoArt Snow-Tex to the base of the front tree line and the tin's edge. I put the tin with the wet Snow-Tex on the heater again to speed up drying time.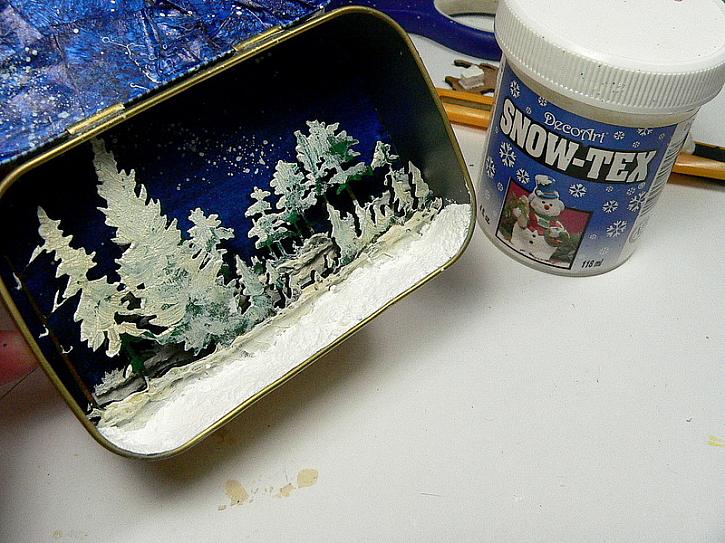 Step Eleven: Time to glue the "fox in a box" label and the fox in place to complete the scenery! My fox in a little winter wonderland in a box was finally done! Yay!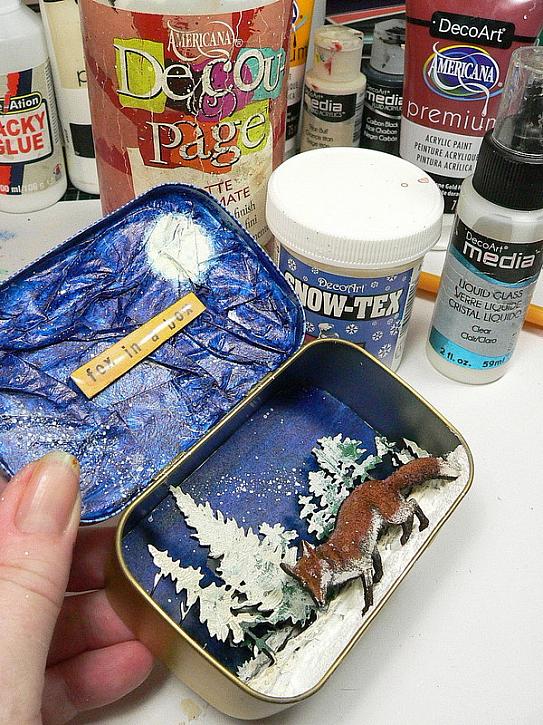 I love how the fox's paws really seem to sink into the snow!
You can use any of your favourite chipboards or laser cut wood shapes to create your own personal favourite little scene in a box or a tin. With just a little paint, the right texture media and proper layering you can create the impression of depth, so the spectator will be drawn right in and enter a tiny wonderland you have created for him – just by opening the lid of a tin. Seems like magic, doesn't it? Mixed Media magic!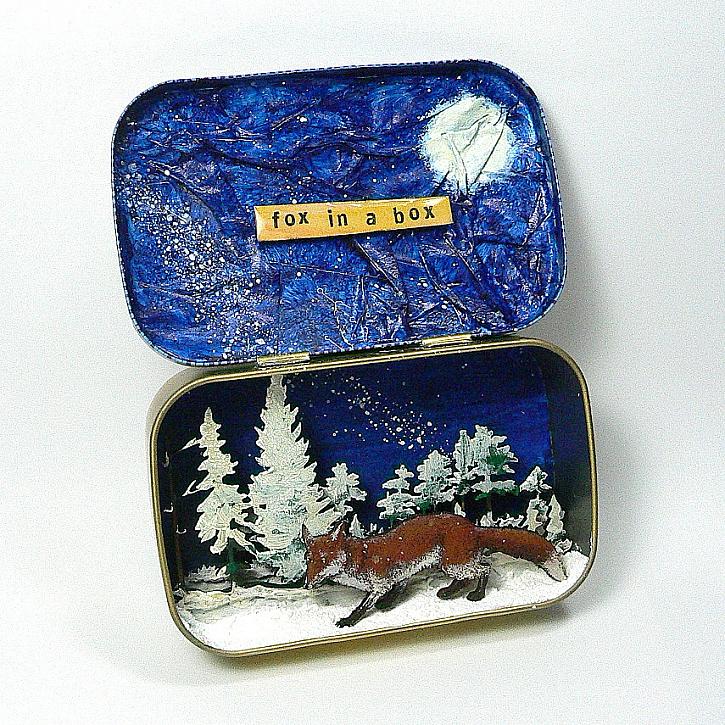 Thanks so much for stopping by! Hugs and happy crafting!
Claudia
xxx