Posted by DecoArt on Jun 15th 2014
There's something fun about all things Red, White and Blue. Not to mention the BBQ and fireworks and parades and good food that all come with celebrating the 4th of July. I've always wanted to have a cute little girl to doll up in patriotic colors for the big day. But I have no little girl. I didn't let that stop me though. I went ahead and made some cute patriotic shoes (and a cute matching dress) anyway. My 7 year old boy wishes he could have the shoes. I think they are a little girlie. But I don't blame him. They're pretty fun!
Items Needed:
Star Stencil (more On This Below)
Paint Brush
Red Ribbon
White Tennis Shoes
Instructions:
The first thing you need to do is create a stencil of some sort. I just cut stars out of some adhesive vinyl I had. You can also use contact paper. Get a star punch to use or use scissors, an exact-o knife or an electronic cutting tool. Cut out a bunch of stars. I used 8 per shoe.
Stick the stars all over your white tennis shoes: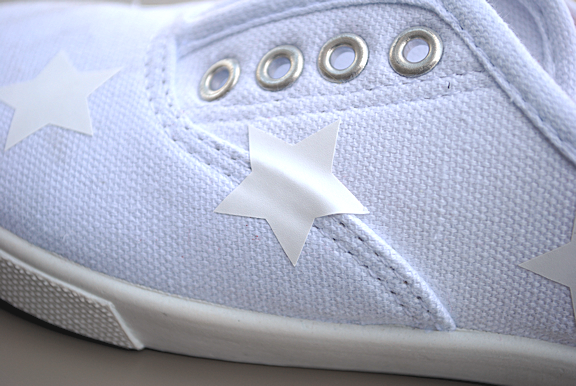 Make sure they are on nice and firmly. Then using your SoSoft Fabric Paint in blue, paint all over the shoes. I didn't worry about painting over the rivet-I just painted them blue too and the tongue. Paint anywhere that will show:
Let the shoe dry then peel off the stars.
My paint had leaked just a little around the edges of the stars: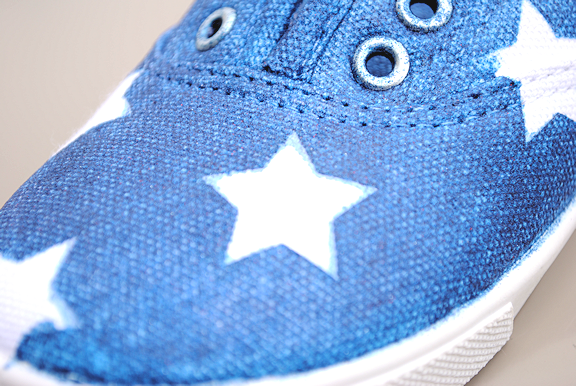 So I just used some white paint to touch them up a little.
Then I removed the shoe laces and threaded the red ribbon through. (I used about 1 yard per shoe but I had excess that I cut off on the ends.)
I tied the ends of the ribbon. You could also use fray check on them.
Happy 4th of July!