Posted by DecoArt on Mar 11th 2018
Spring is calling with warmer temperatures and sunshine. To me, flowers bring joy and I am always looking for new ways to display the pretty petals. Today, I am sharing how I turned an old rusted watering can into a beautiful matte metallic centerpiece. This flower arrangement would be perfect to display in home for spring and Easter.
Items Needed:
HomeRight Paint Sprayer
Paint Brush
Metal Watering Can
Flowers
Instructions:
I started by looking for a vintage metal watering can and I really lucked out on the one that I found on ebay. I really love the round shape and embossed flower on both sides of the water can. You can generally find items like this online or in antique stores.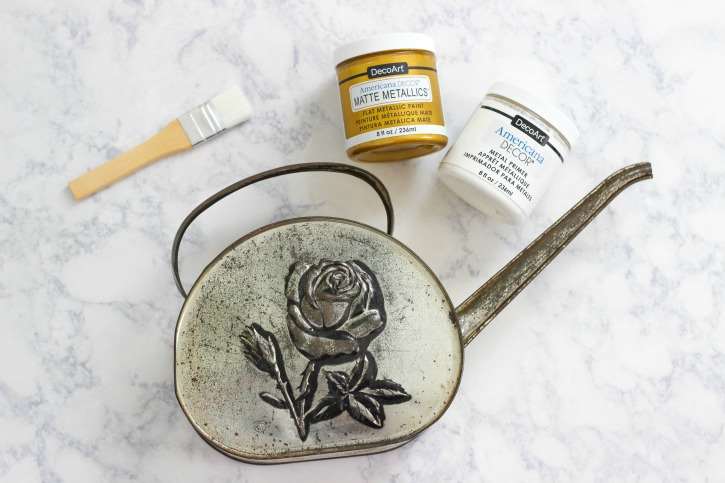 I started by cleaning the can using hot soapy water and a wire scrub brush. Once the can was cleaned and dried, I applied one coat of Americana Decor metal primer using a paint brush. Leave the primer on to dry for at least 12 hours. One coat was all I needed but if your piece is very rusted, you might need to apply multiple coats. The metal primer is used on already rusted surfaces to block further rusting.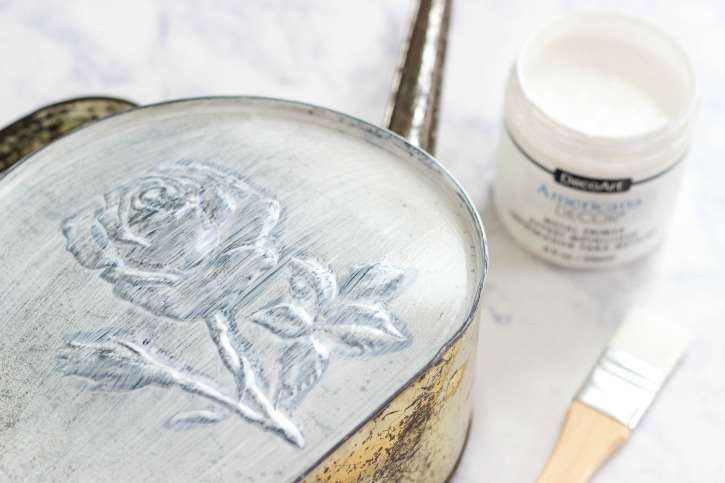 Next, comes the fun part. I made my own spray shelter using a cardboard box and set it up outside on a small side table. This will contain the paint so it doesn't get everywhere. I put some gravel rocks into the watering can to weigh it down so it didn't move while spraying it. I poured about half of the container of Americana Decor Matte Metallic in gold into a HomeRight finish max sprayer. You want to apply a light, even coat of paint moving the sprayer back and forth. I applied two coats for full coverage and allowed each coat to dry completely.
One tip I have when creating flower arrangements is to use both real and faux flowers. This creates dimension and texture. I really love the color contrast between the gold watering can and purple flowers.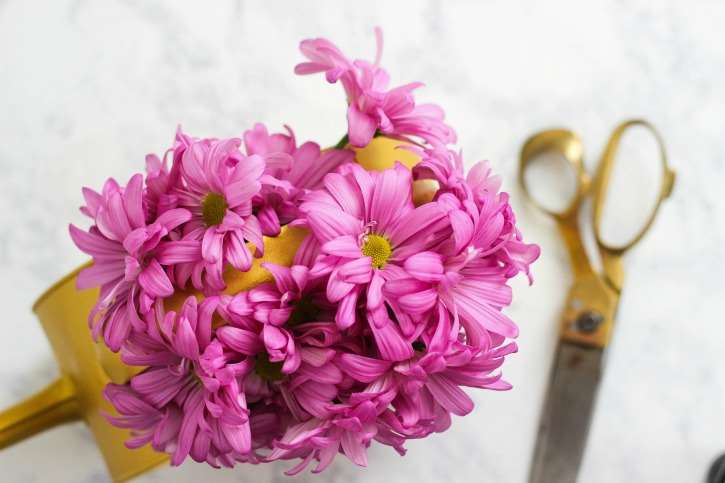 Painting this rusted vintage watering really breathed new life into it. It is now beautiful and can be displayed inside or outside for your spring and Easter decor.