Posted by DecoArt on Apr 13th 2015
This time I want to take you on a rather dark and grungy but still colorful journey and show you how to create a steampunk style "stand-alone" box canvas with loads of depth and fabulous texture.
Items Needed:
Brushos
Pizza Box
Old Book Or Dictionary Pages
12%22 By 12%22 Vintage Designer Paper
Heavy Black Card
Flourish Embossing Folders %28Spellbinders E 3DS-001%2C E 3D-018%29
Embossing Machine
Spray Bottle
Black Archival Ink Pad
Texture Stamps
Washi Tape
Lace Ribbon
Old Photograph
Palette Knife
Soft Wide Brushes
Stenciling Brush
Masking Tape
Box Feet And Corners
Various Embellishments And Found Objects
Non Stick Craft Sheet
Instructions:
Start by covering the sides and front outer rim of a pizza box with scraps torn from old dictionary pages using the matte Decou-page and a soft brush. Also glue a 12x12'' designer paper sheet of your choice to the front. Seal thoroughly with a coat of matte Decou-page.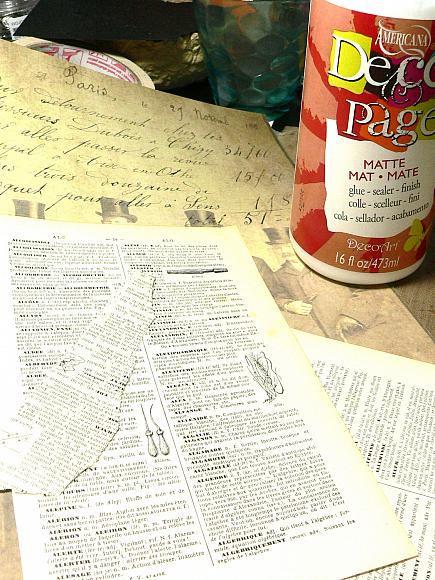 Dry emboss some heavy black card with some flourish patterns and tear off three pieces. Glue them to your pizza box canvas and let dry. Then paint them with a mix of Americana Chalky Finish paints "lace"and "heirloom".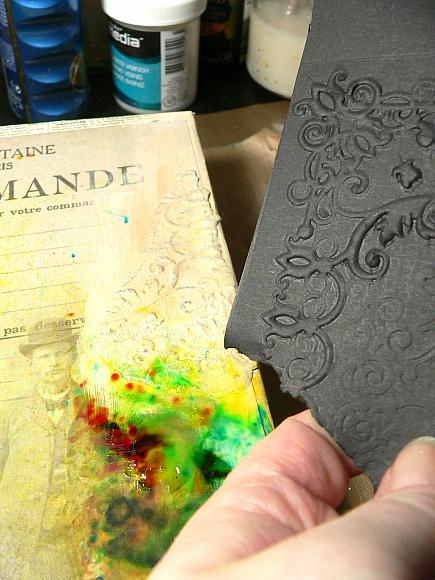 Using the palette knife spread some Matte Medium in various spots on your canvas and sprinkle on some Brushos (in green, yellow, orange and turquoise) while still wet.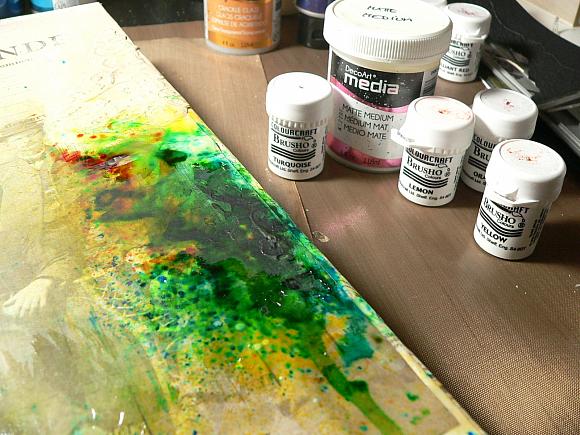 To prevent the Brushos from reactivating when painting over them later, seal them with some diluted Ultra-matte Varnish from a spray bottle. To make sure everything was sealed I sprayed on two coats of varnish.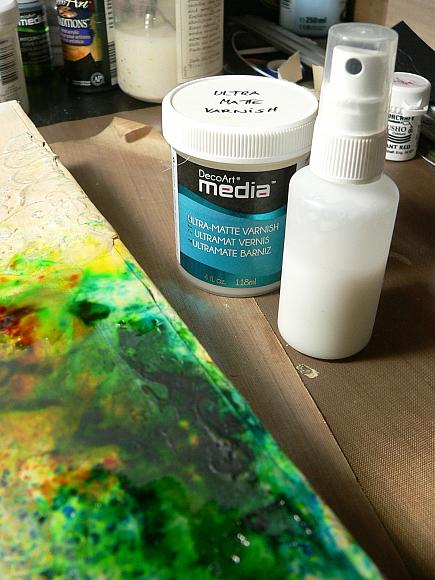 Once all has dried, apply some clear Crackle Glaze here and there with a soft brush. Don't worry about any edges not being neat. After toning down the canvas any of it won't be visible at all.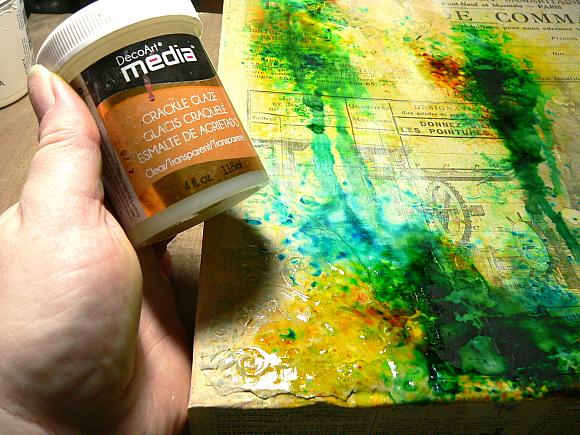 Let the Crackle Glaze dry thoroughly (best would be over night). Then brush on some Raw Umber Antiquing Cream to make the cracks more visible. Brush some diluted Antiquing Cream over the whole canvas too. Let the Antiquing Cream dry before you start wiping any of it off with a damp cloth or baby wipe.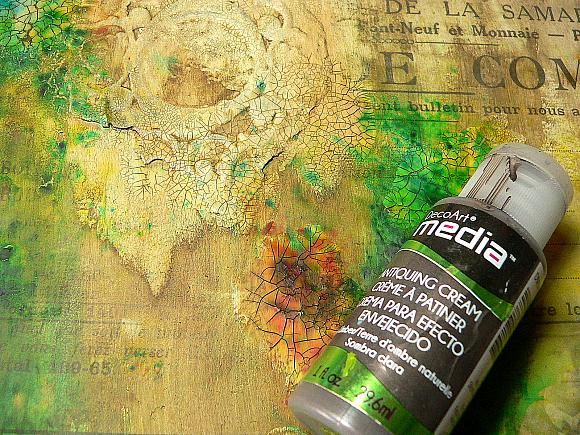 Repeat that step with the English Red Oxide Antiquing Cream in some spots.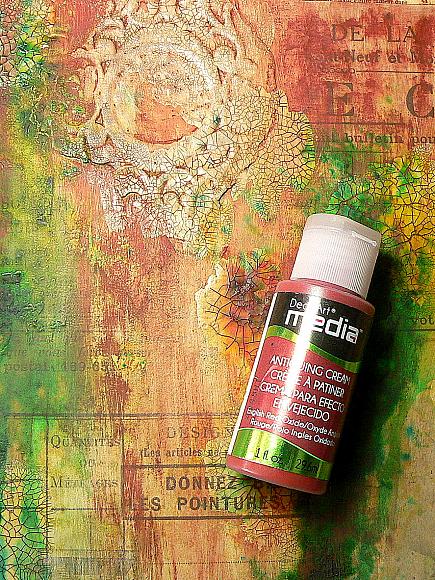 Stencil on some text using a palette knife and the black Modeling Paste. Use strips of masking tape to fix the stencil to the substrate to avoid any smudges.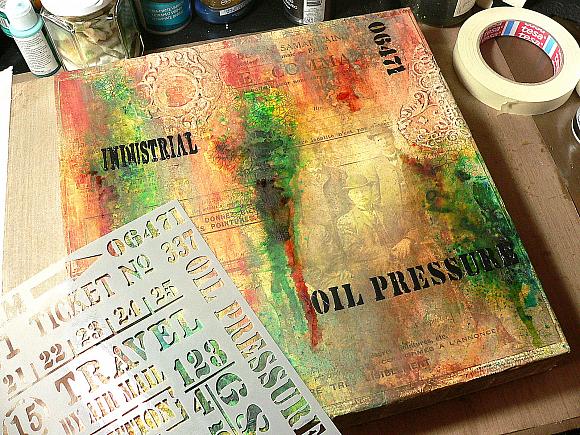 Once the Gesso has dried paint the stenciled words with Raw Umber. Then add washes of Transparent Red Iron Oxide and Transparent Yellow Oxide until you are content and the words blend in with the background. After the paint has dried rub on some Metallic Lustre here and there. I went for Lavish Green and Brilliant Turquoise this time.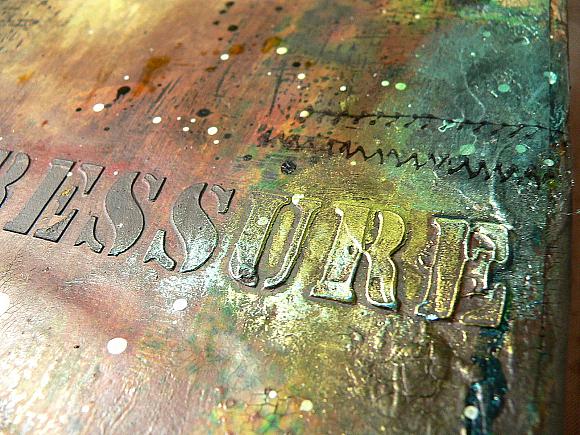 Now's the time to stamp on some texture using black archival stamping ink stamp. Also stencil on some more words and/or numbers using Titan Buff and a stencilling brush. Let dry. Then tone down the whole canvas using washes (heavily diluted paint) of Transparent Red Iron Oxide and Raw Umber until you are content with the look. This will help unify all the darker and lighter elements. If you get too dark do the same with a wash of the white Antiquing Cream. This will slightly brighten the look of your canvas and also add a "dusty" feel to it. You can repeat these steps as often as you like. And the good thing is: you can almost take off all of the Antiquing Cream you have added and start all over again (as we sealed the canvas before with the sprayed on varnish). For more detail sprinkle on some of the Black, White and Shimmer Turquoise Misters.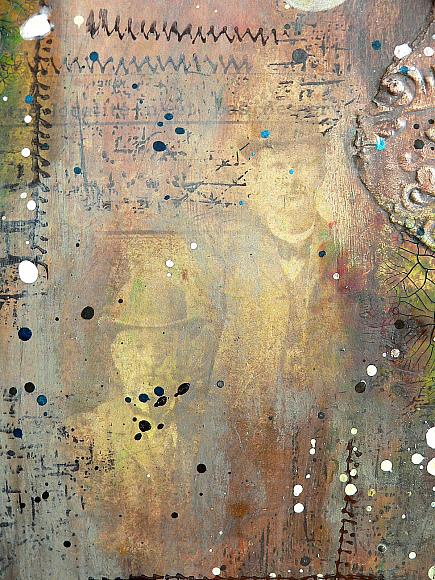 Start adding embellishments and old photographs, ephemera and found objects. Fix them to the canvas with the matte Decou-Page. It will even hold heavier items (like old keys or watch parts) in place! Before I added a colour copy of a vintage photograph I added some drip lines of Quinacridone Gold to it. For more texture I added some lace ribbon, washi tape and labels.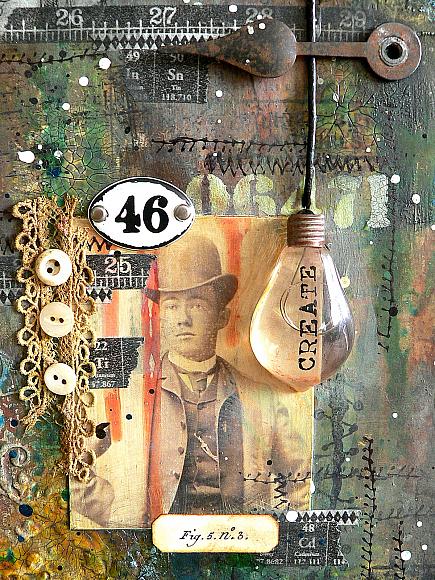 I dabbed some DecoArt Traditions Carbon Black around the edges of my pizza box canvas to create a visual "frame" that keeps the focus within the format. I like using my fingertip for this as this helps create rather random and smudged looking patterns. Then I painted the outsides of my pizza box with black Gesso.
For a finish I added an old light bulb (which I painted to make its metal match the look of my rusty tones), some letterpress blocs, two metal corners, handles and box feet to my pizza box canvas. If you want to paint on metal I recommend you give it a coat of matte Decou-Page first to give the paints some tooth to hold on to.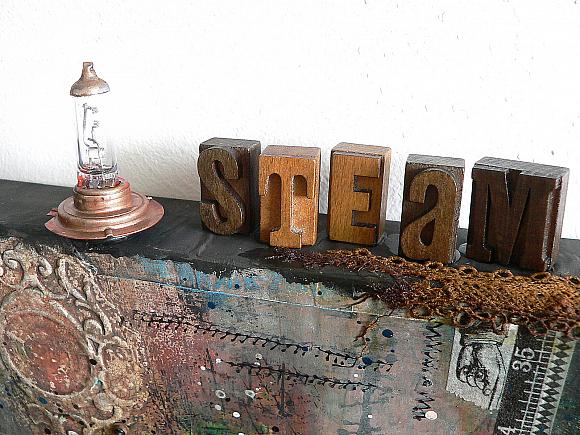 Applying Media Fluid Acrylics washes and adding and removing Antiquing Creams to change the tones of your projects is always a rewarding thing to do. I hope my project could lure you into playing around with these techniques!