Posted by DecoArt on Aug 17th 2015
I just love colour and I also love layers, so the combination of DecoArt Tinting Base along with the Fluid Acrylics is a dream combination for me! I created this project on a wooden box frame, although it would work equally well on a variety of surfaces such as a canvas, or even an art journal page. When used with the highly pigmented colours of the Fluid Acrylics, the Tinting Base allows you to build up layer upon layer of glorious colour!
Items Needed:
Ink Pads
Assorted Brushes
Pencil
Washi Tape
Junk For Stamping
Background Stamps
White Gel Pen
Wooden Base
Instructions:
Paint your chosen substrate with one or two layers of white gesso and allow to dry. Start by painting the Tinting Base in small areas and while wet add touches of your chosen colour in patches allowing it to blend with the base, and leaving plenty of white areas. Use your pencil, and the 'wrong' end of a paintbrush to draw doodles into the paint while still wet.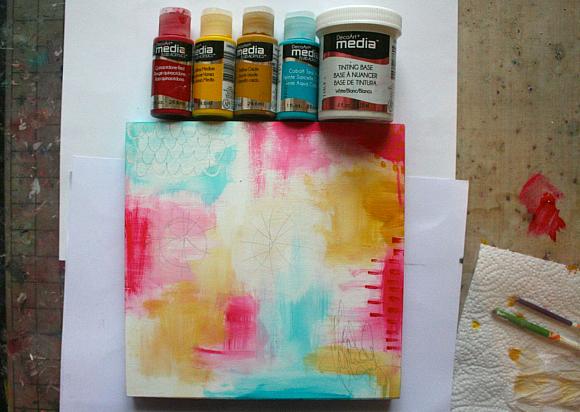 Build up the colour by adding more Fluid Acrylics tone-on-tone ie: red on red, blue on blue, until you have some lighter areas and some areas of deeper colour. If it looks a little too patchy try using your fingers to blend. Although initially scary, adding one or two areas of black really makes the other colours pop and adds a lot of depth. Start to add pattern and texture by stamping with any background stamps and an ink pad and also adding pattern with bottle lids with paint, and marks using the edge of your paintbrush. Anything goes! As long as you stick to the same colours you can keep building a busy background without it looking too cluttered.
Take the nozzle out of the spray bottle (carefully!) and use like a pen to write or draw patterns on your background.
Use a white gel pen to add doodles, scribbles, and to draw around the edge of patterns you have already created such as the black painted areas. Also add layered strips of coordinating washi tape in one or two random areas.
Use bottle lids of various sizes to add further pattern, sticking to the colours that you already have, not forgetting the black.
And finally, if you're working on a box frame, don't forget to continue the design around the edge.