Posted by DecoArt on Jul 7th 2021
Making over furniture is an inexpensive way to update your house quickly! There are so many different techniques, types of paint, brushes, etc that it can be overwhelming for a newbie to know what to do. Plus, if you don't do it right, all that time you spent could be totally wasted with peeling paint or stuck drawers. 
I've made over quite a few pieces of furniture over the past 10 years so I've learned how to paint furniture successfully. When painting furniture there are two paints I turn to the most, DecoArt's Americana Decor Chalky Finish or Satin Enamels.

Satin Enamels gives a wonderfully hard, satin finish, but without the shine or longer dry time of most enamel paints. Plus the coverage is amazing! Once you pick out your paint, you need to pick out the brush. The better quality brushes will leave fewer brush strokes than the cheaper quality. So, if you are wanting your dresser or table to look amazing opt for the pricier brush. It will make a serious difference! 
Read on for my step-by-step instructions to have you painting furniture like a pro, or watch my YouTube video below.
Items Needed:
DIY Paintbrush
Wood Glue
Sander
A Cloth (to Wipe Off Dust)
Wood Filler
Paint Stripper
Putty Knife
Drop Cloth
Sealer (optional)
Instructions:
The first step is to pick out the right furniture piece.
I bought this nightstand for $20. You can get pieces similar to this for cheaper, if not free! I loved this piece since it was wood and not veneer. You can usually tell by the weight and also by the edges if it's wood or particleboard/veneer. If the piece has a veneer or is made of cheaper material, it can still be painted but won't be as high-quality.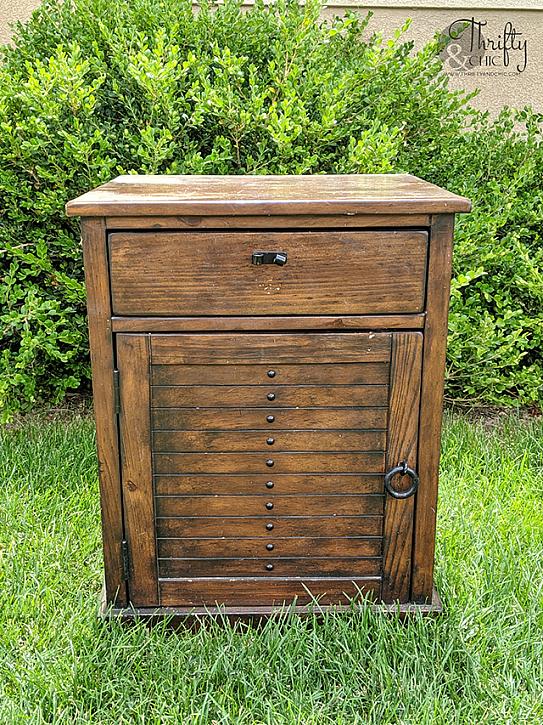 Take off all of the hardware that will get in the way of painting. Make it easy on yourself and even do the hinges. Trying to paint around any metal is a pain! Taking this extra minute of time will save your sanity in the future, trust me! :)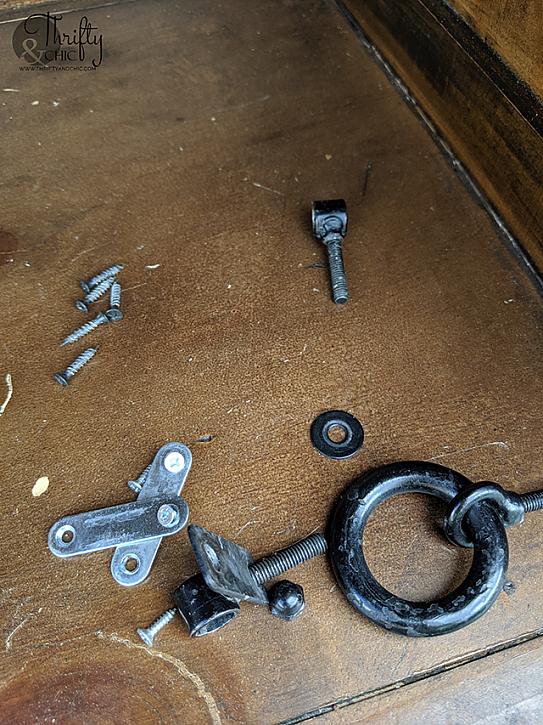 Do any necessary fixes prior to painting. Sadly, this door was not broken when I bought it. It broke while I was taking it out of the truck! Fortunately, this can be fixed.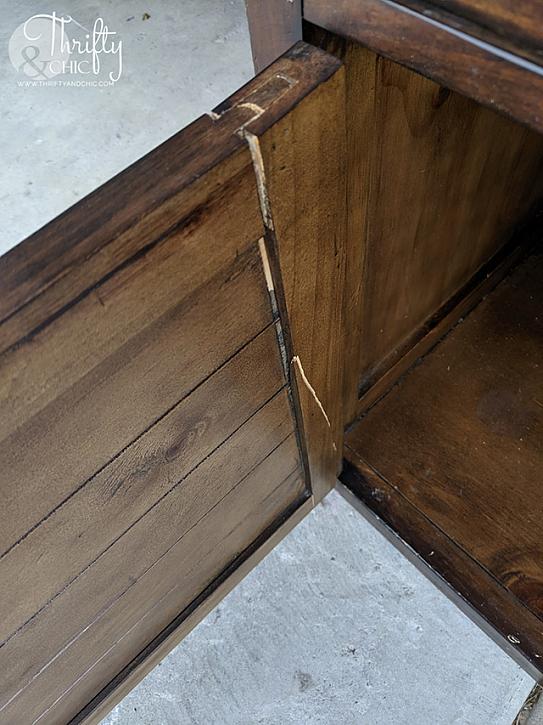 I used wood glue along the fracture to fix it.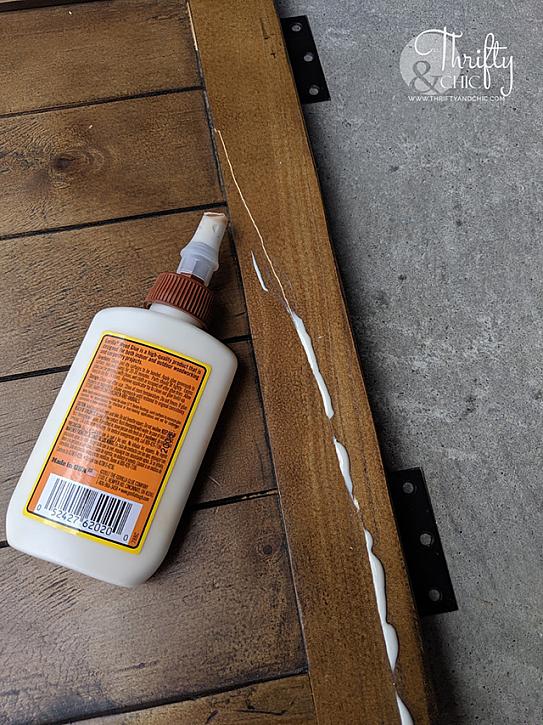 I then clamped it while it dried and cured. Soon it will be good as new! Fixes are a necessary part of the process when working with thrifted furniture, but there's something so satisfying about turning trash into treasure.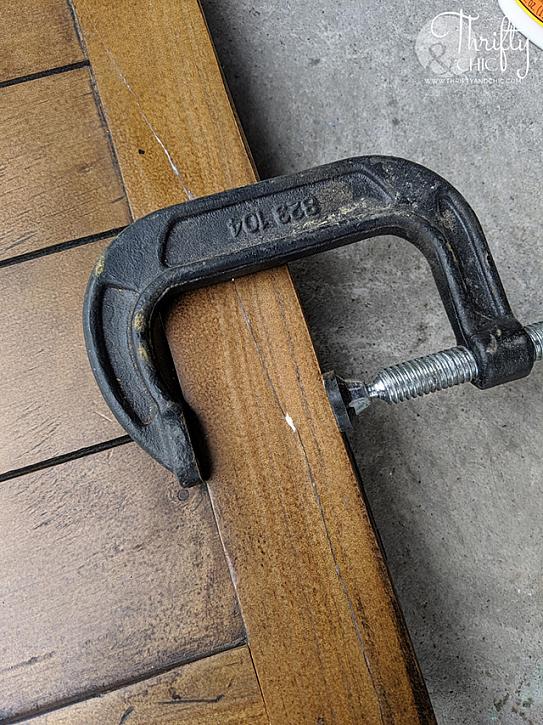 This will also be a point where you would want to fix any holes with wood filler.
When I took the door off to fix it, I realized I loved the inside of the door even more than the outside! I decided to switch it up and make it the front. Once the wood filler and/or wood glue dries, sand it down to a smooth finish.

Surprises like this are another rewarding aspect of furniture flips!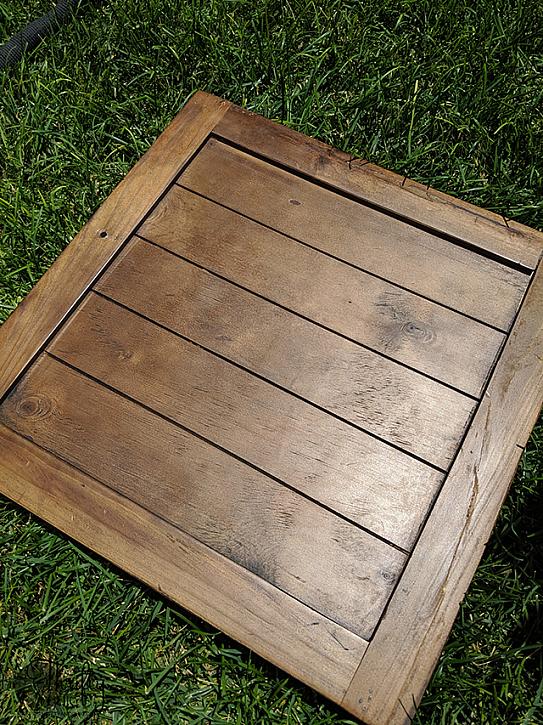 Using fine-grit sandpaper, go over the entire piece lightly. This should be just enough to give the paint something to grip to. I like to use a palm sander, but this can be done by hand as well.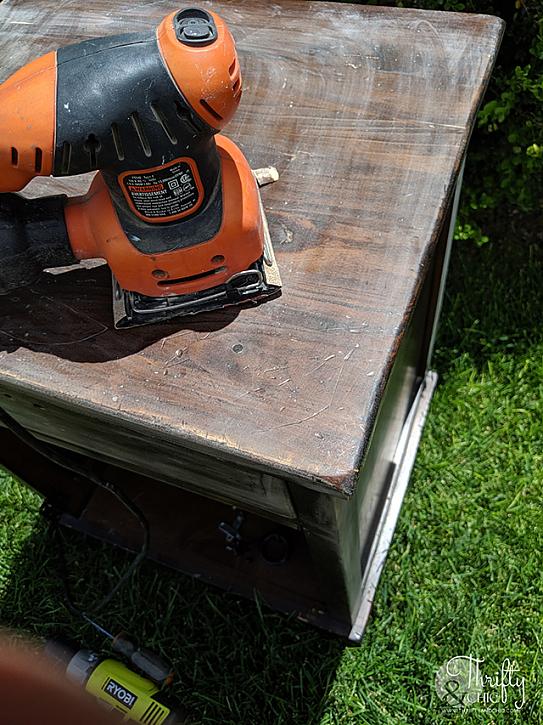 Clean up the sanding dust with a slightly damp cloth. Wait for the piece to dry, it shouldn't take long.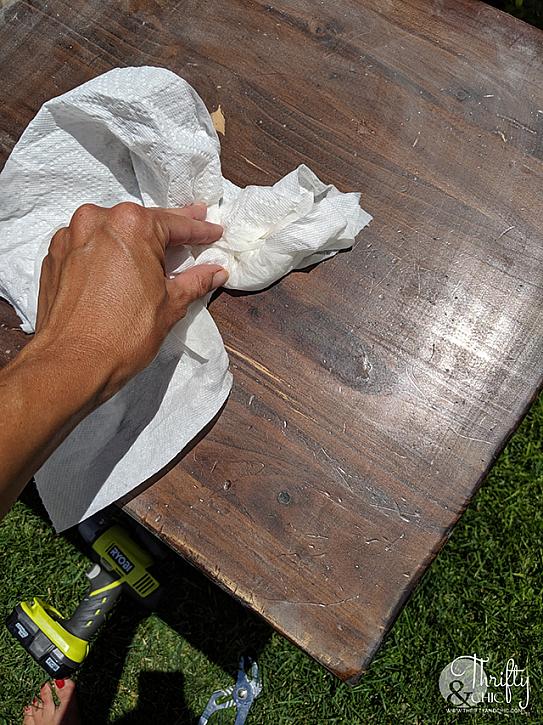 This step is optional, I wanted to keep the original wood at the top of the end table. You can paint the whole thing or let some of the original wood shine through, it's up to you! I like how the wood grain accents the paint.

To clean off the varnish on the wood I use a spray paint stripper. I sprayed a coat of it on the varnish and waited a couple of minutes. If you spray it on paint, it will take longer to soak through.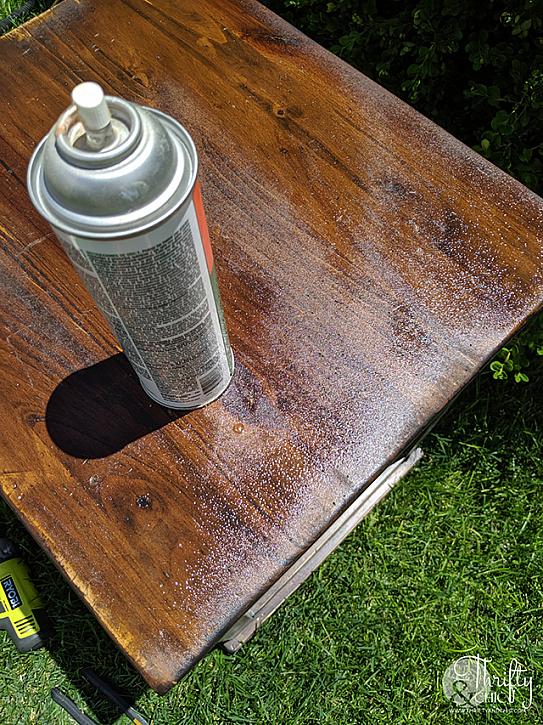 I then used my putty knife and scraped off the top layer of varnish. The wood underneath was beautiful!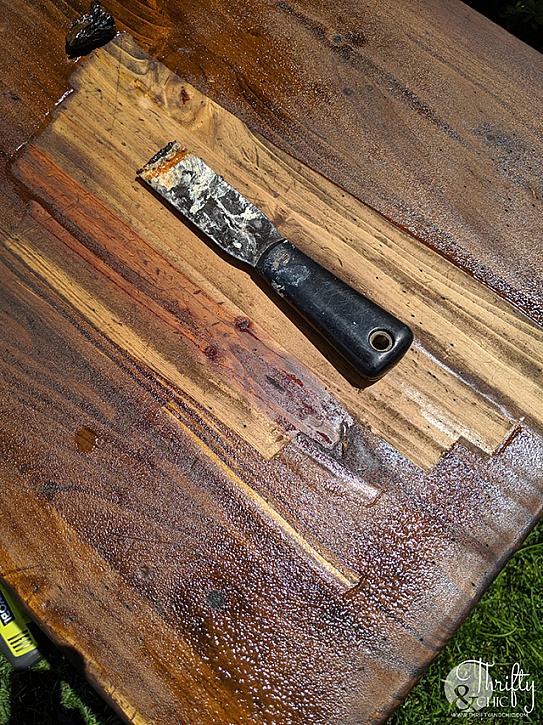 Isn't that gorgeous?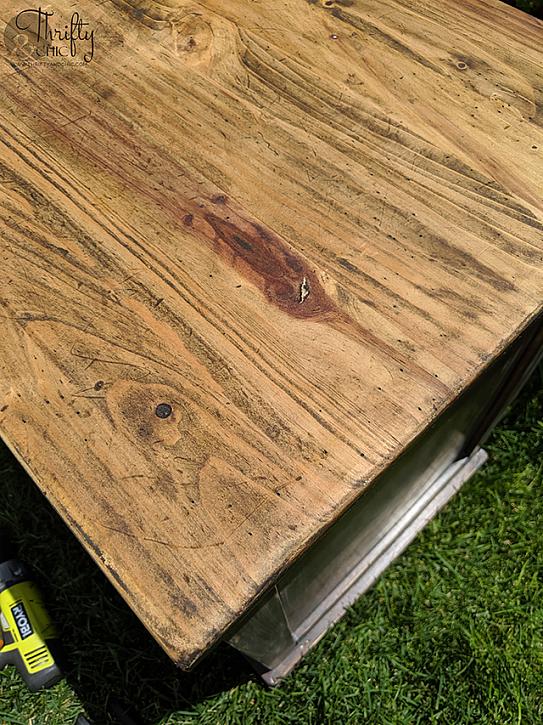 Now it's time to paint! If you haven't prepped your area, now is a good time to do it. I lay down a drop cloth and have my paint and brush ready to go.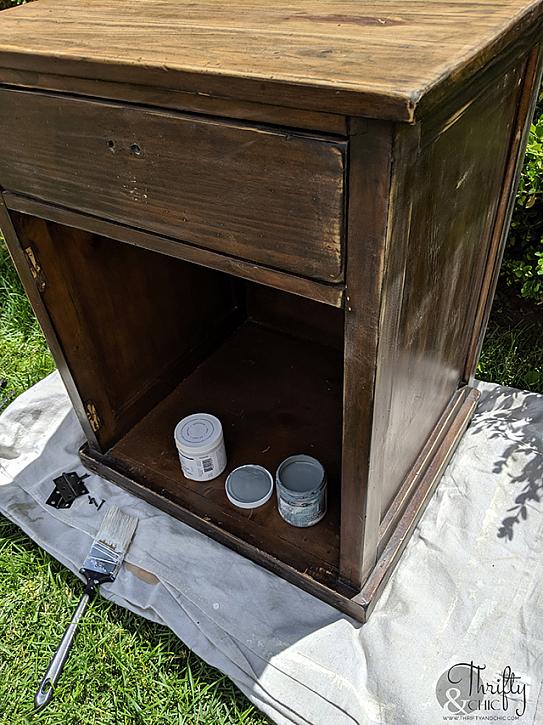 Here's the paint I chose from DecoArt's Americana Decor Satin Enamels. The color is Smoke Grey. This is one of the best paints to paint furniture. I know from experience!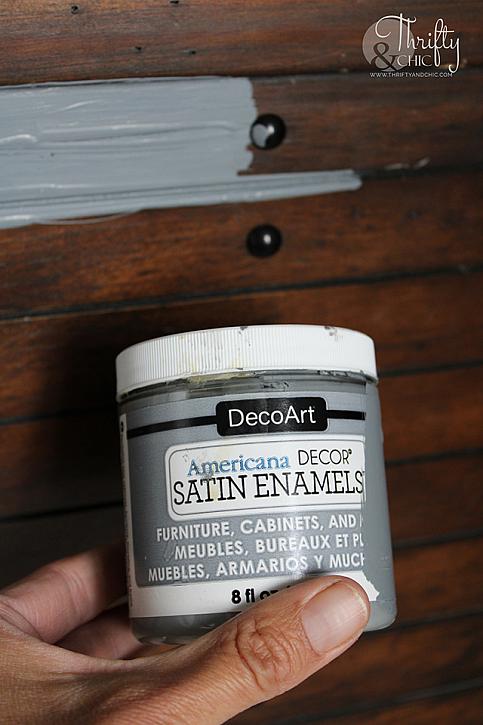 Start painting! I like to start in the edges and corners first and work inwards. Make sure to go back and catch all the drips. Never go over a spot that is tacky and almost dried, this will create problems and pull up or bubble the paint.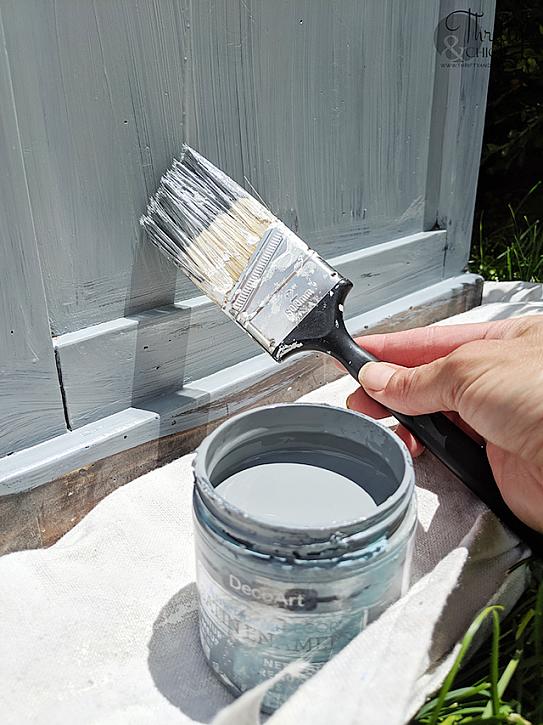 Take out the drawers to make things easier. Go over the edges/trim of the dresser with a coat of paint. This is the point where I would wait for all the paint to dry and then do a second coat.

If you do notice some paint streaking or brush strokes after your first coat, go over it lightly with fine-grit sandpaper before applying the second coat.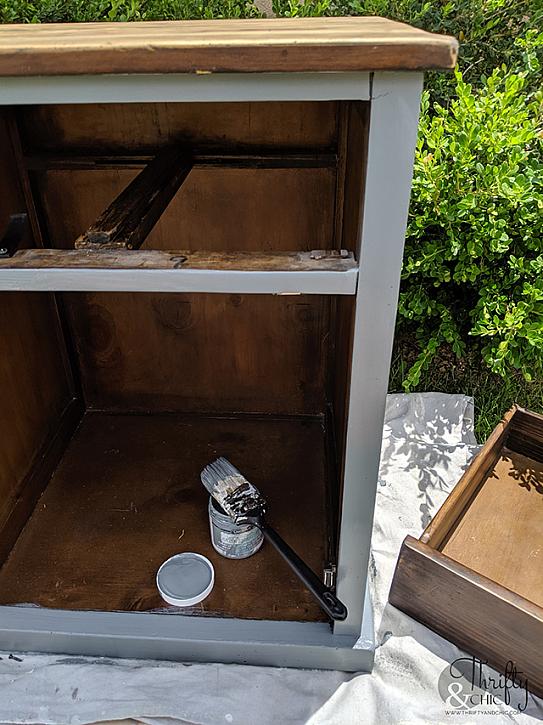 Insert the drawers and pull them out away from the dresser frame. Now it's time to paint the drawer fronts. Make sure to get the top, bottom, and side edges. Do two coats, or full coverage, on these as well.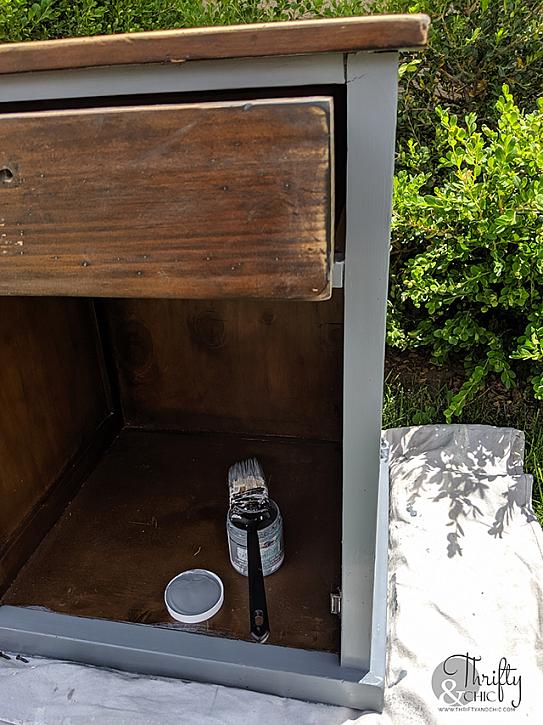 Now add your hardware back on! I usually change up the hardware a bit to make the makeover even more dramatic. Plus, this piece was missing half of its drawer pulls. I have an easy trick on how to quickly do this in the video at the top of this article.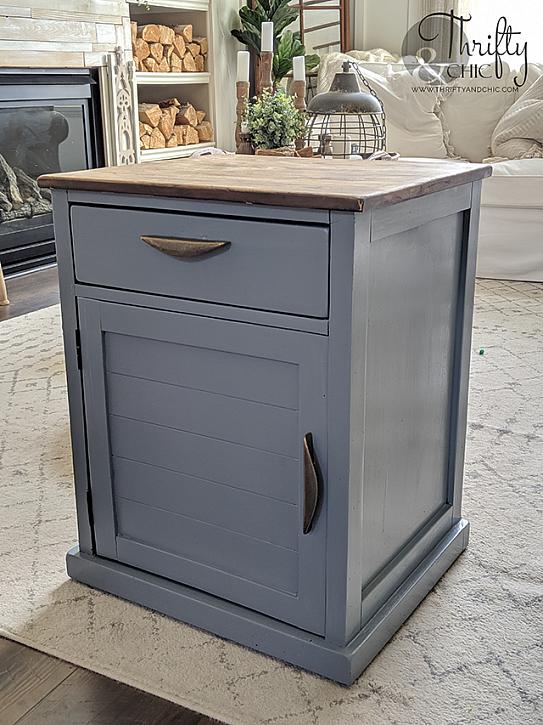 The great thing about working with DecoArt's Satin Enamel is that it dries to a good hard coat. There are no extra steps needed with sealing it. Two coats are all it took to cover that crazy dark wood!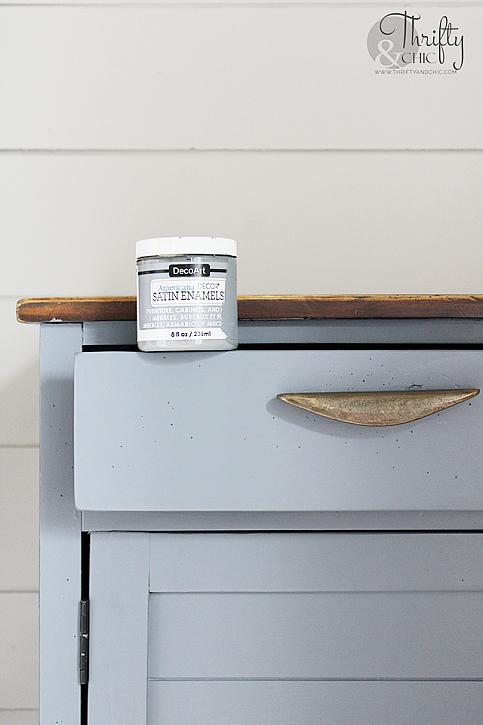 The Smoke Grey color is beautiful; it's almost like a smokey blue. I also am glad the inside of this door looked so awesome! Painting around all those brads on the original door would have taken forever.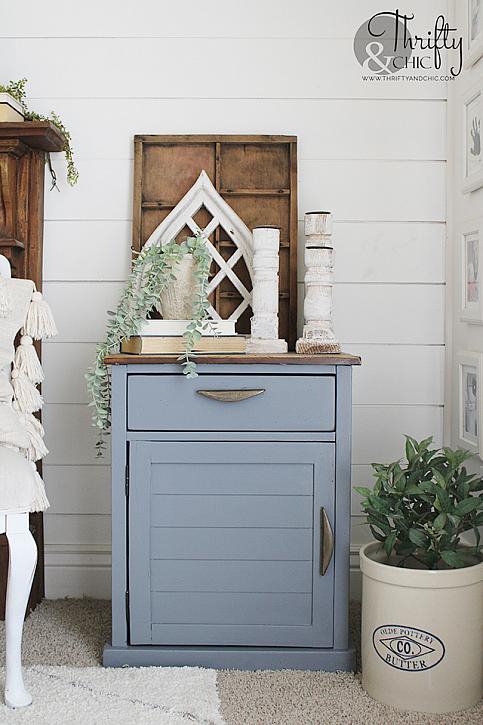 This top is not sealed or stained; it's the original wood. If I was going to use it often or put drinks and whatnot on it, I would definitely seal it with polyurethane. I loved the color so no stain was needed!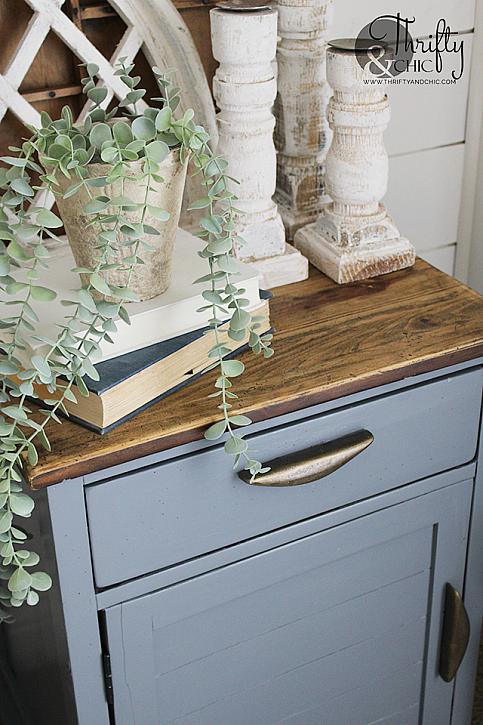 I love the contrast between the wood and the paint. This shows the quality of the piece! It's especially great if you are flipping furniture! It makes it unique and looks even more high-end.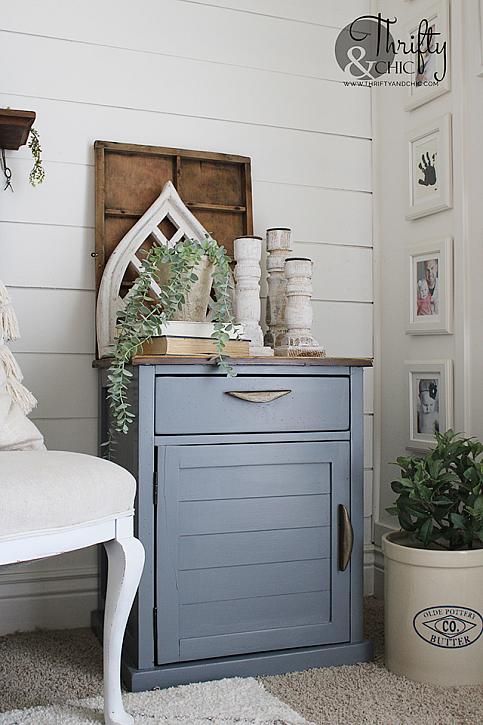 Although this was a smaller piece to paint, the same ideas apply to larger pieces. You can see more of my tutorials on my blog: www.thriftyandchic.com