Posted by DecoArt on Apr 8th 2020
I guess just like me you also have collections of stamps around one or several favourite themes in your stash. With me, it is trees, steampunk themes and… mushrooms!
So I decided to create a project that would showcase the majority of images from my mushrooms stamps collection and do so in a fun and playful mixed media way. The idea of creating a bobbin or spool journal crossed my mind while browsing through a book with Chinese calligraphy scrolls. Why not do a mini-book in scroll fashion?! Journals do not always have to be read from left to right, right? I loved the idea of enrolling a visual story from bottom to top instead!

And as I also had a little leftover cardboard jar and an empty spool that fit in it quite perfectly, the idea for my "I love mushrooms" bobbin journal was born!
Items Needed:
Stamps (your Favorite Theme)
Stamps (stitch, Dots, Or Splatter)
A3 Sheet Of White Sketching Paper
Small Cardboard Jar
Empty Wooden Bobbin That Fits Into Jar
Deli Or Tissue Paper
Black Stamping Ink
Assorted Brushes
Assorted Palette Knifes
String Coated Wire Or Sisal String
Circle Punches In Different Sizes
Old Dictionary Pages
Instructions:
Step One: Measure and cut two strips of sketching or mixed media paper to size. One that fits around the cardboard jar and has a small overlap (as shown in the picture) and one that measures twice the width of the strip that will go on the flat middle section of your bobbin. We will later cut this strip into half lengthwise to double the length of the journal scroll. As you can see I have already marked the line to cut along on the back of this strip. Also, cut out a circle the size of the jar's lid.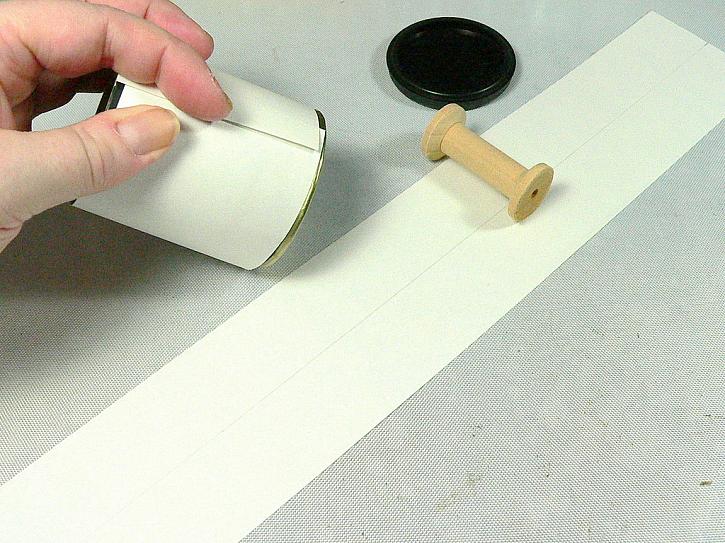 Step Two: Next add a base layer of the first three colours of Premium acrylic paints to your strips and the circle using a palette knife. Only use very little paint at once and spread each colour randomly across the whole strip. Make sure you create a lot of overlaps and also leave some spots untreated.

Start with the darkest tone (Prussian Blue Hue) and work your way towards the lightest (Burnt Umber and then Titan Buff). Partially mix the first three colours wet on wet where they overlap while you scrape on the paints. Then let dry before you continue with the next three tones (as in the middle picture – Warm Grey, Cobalt Teal Hue, and Titanium White). Let that layer dry again before you finish off your strips and the lid circle by adding hints of Dark Grey here and there on top.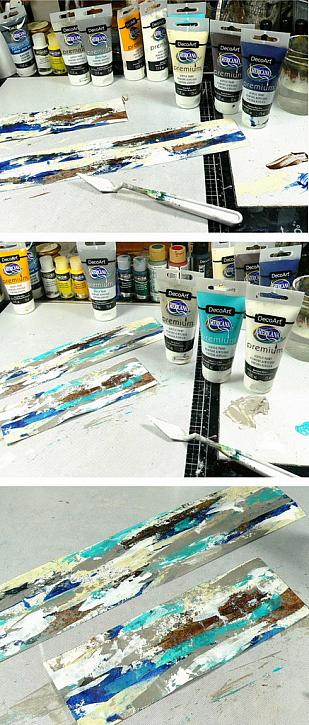 Step Three: Once your paints have dried, it is time to cut the strip for your bobbin journal in half along the previously measured and drawn line on the back and glue these halves together to form one long thin strip – your bobbin journal!

Hint: Align the strips along your desk's edge while gluing them together to make sure your long strip stays totally straight.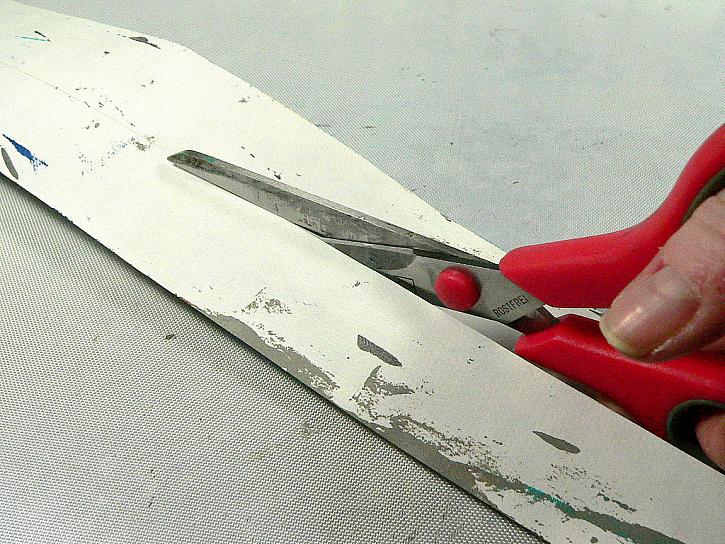 Step Four: Use the leftover paints on your palette to paint the bobbin. Randomly dab the colours on and let them mix on the bobbin. Put it aside to dry.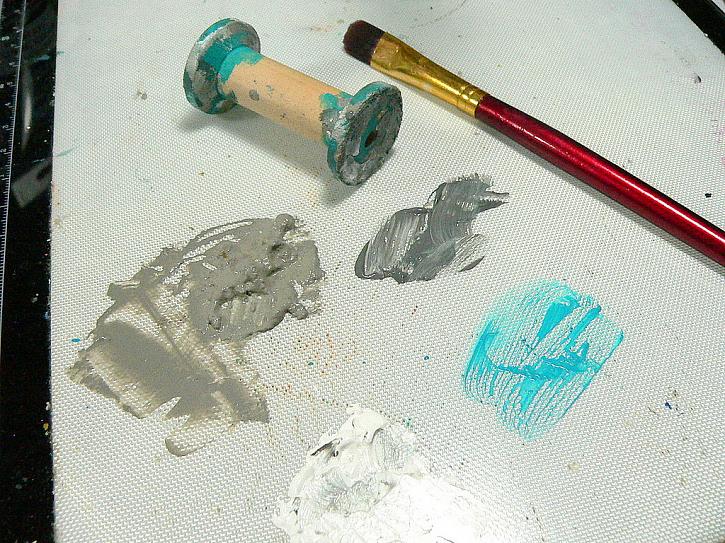 Step Five: Punch a bunch of small circles of various sizes from old dictionary pages using different circle punches. Put one of the circles to the side to save it for step eleven!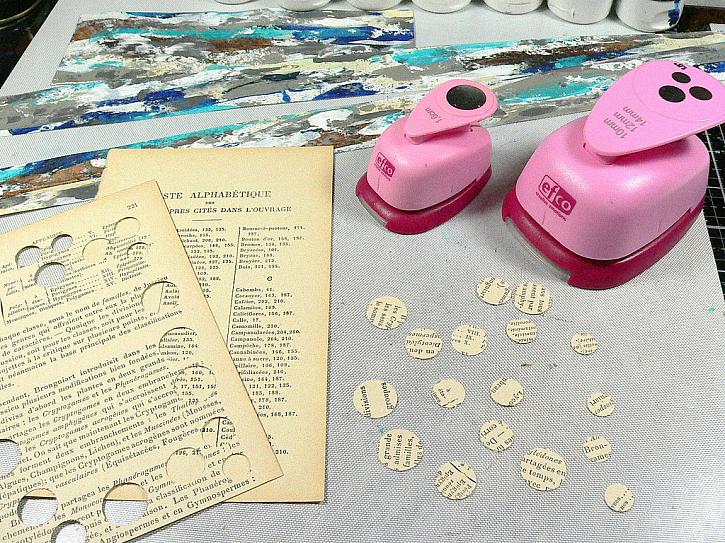 Step Six: Stamp at least ten to eleven different images of your favourite theme stamp collection onto Deli or tissue paper in black archival stamping ink. It doesn't matter if your images are wider than the scroll journal's width – you can cut them apart and use only sections of these in different spots.

Then take a detail brush and Titan Buff premium acrylic paint and paint the backs of the stamped images as you would do in a colouring book. Paint over the inner lines as these will be on top and visible anyway once you flip over the image and collage it to your background. But make sure you stay within the outlines of the image!

This way the glued-on images in your journal will look as if they have been glued to a white background and no detail from the stamped images will get lost while the still transparent border from the fussy cut images will let the colours from the background show through.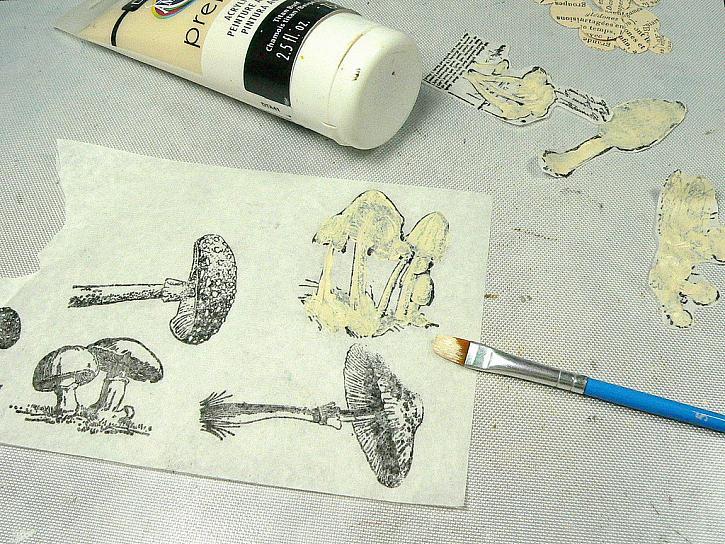 Step Seven: Time to collage the stamped, painted and fussy cut images and the punched dictionary page circles onto your scroll background and the strip to cover the jar with! To do so use the Paper Decou-Page as it is a lot more liquid than the matte Decou-Page, so the Deli paper won't tear while being glued on. Also, make sure to use a very soft flat brush for this! Add a thin layer of the Paper Decou-Page on top as well.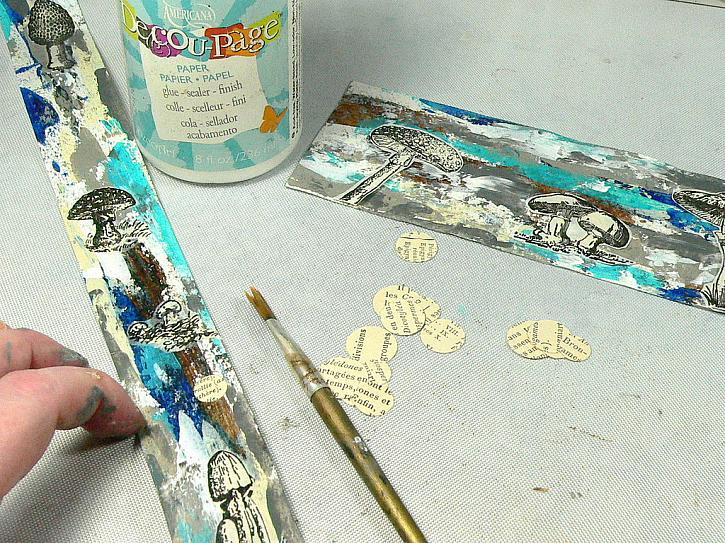 Step Eight: Once the Decou-Page has dried, take a palette knife with a very fine tip and spread small amounts of white Media Crackle Paint here and there on the strips and the jar lid circle using the very tip of the palette knife only. Let air dry!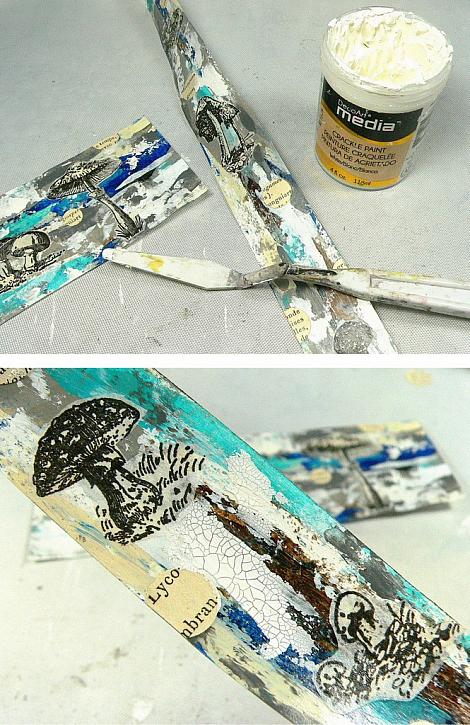 Step Nine: Add some splatters and some stitching – either the real thing or stamp it on here and there using black archival stamping ink. Also, blend all the strips' edges with black ink using a piece of blending foam.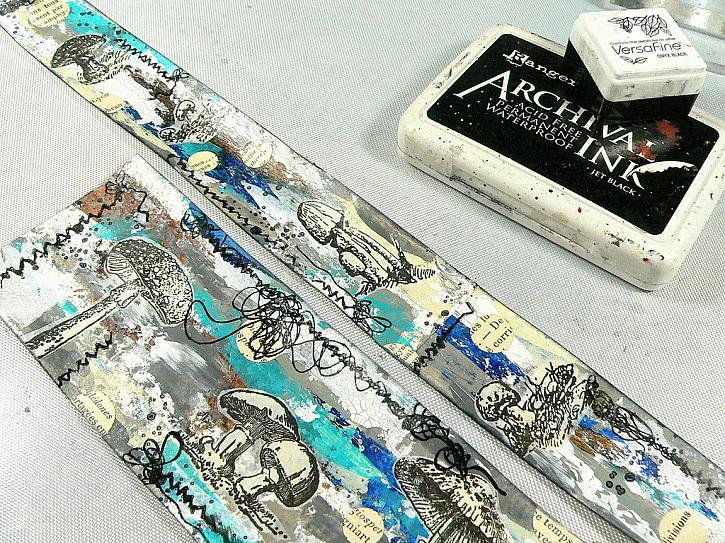 Step Ten: Using Raw Umber Media fluid acrylic paint and a fine detail brush outline the shapes of the collaged on images. Only do a very small section of outlining at once and then use a water-loaded brush to smudge the still wet paint for a subtle shading effect. Do the same with the glued on circles.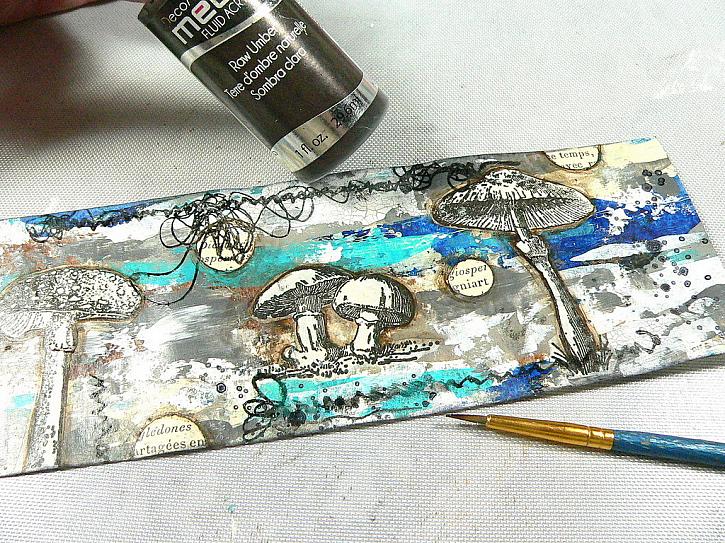 Step Eleven: Use matte Decou-Page to glue the shorter, wider strip around the jar. Add the punched out dictionary page circle we've put to the side earlier on top of the overlap and outline that with Raw Umber acrylic paint too.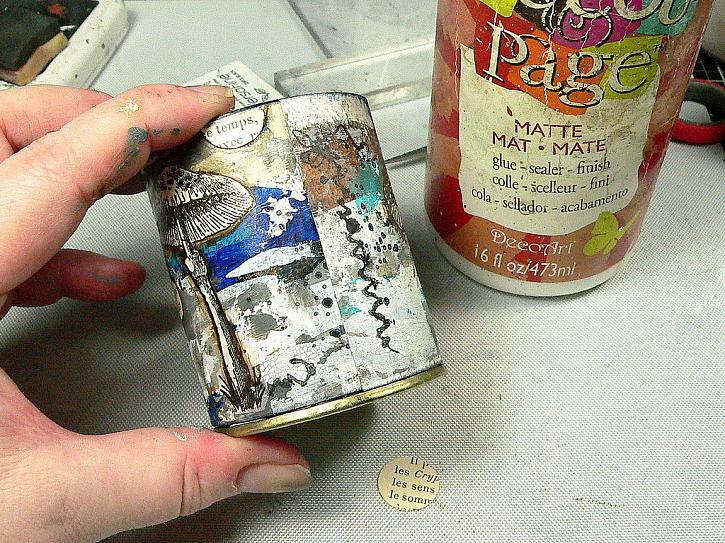 Step Twelve: Glue the journal strip to the bobbin and add a very thin wash of Raw Umber Media fluid acrylic paint to the strip's backside using a soft wide flat brush. Use your heat tool to dry.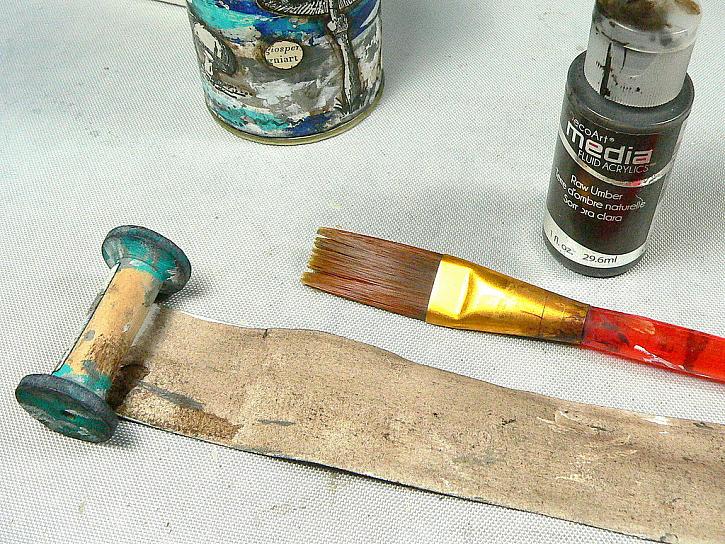 Step Thirteen: Finish off your bobbin journal with a hanging device made of either string coated wire or rough string. Make sure the string or wire stays loose enough so you can still easily roll up and enroll the journal strip!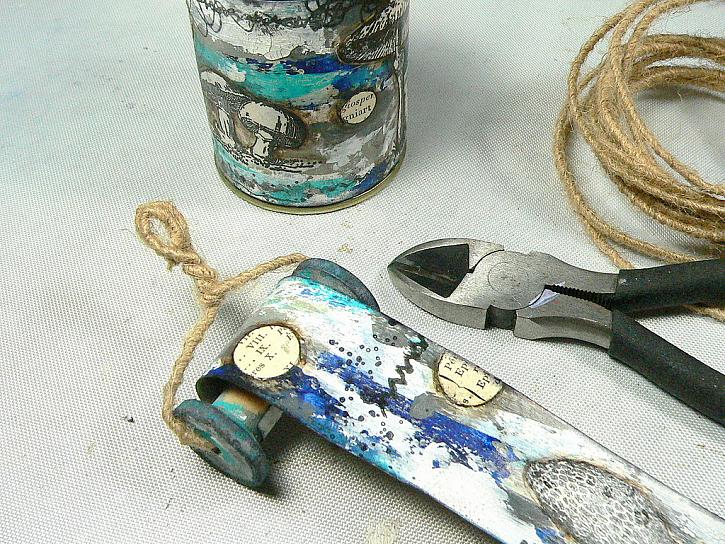 Step Fourteen: Add a piece of frayed fabric ribbon to the bottom end of the journal strip as a finishing touch.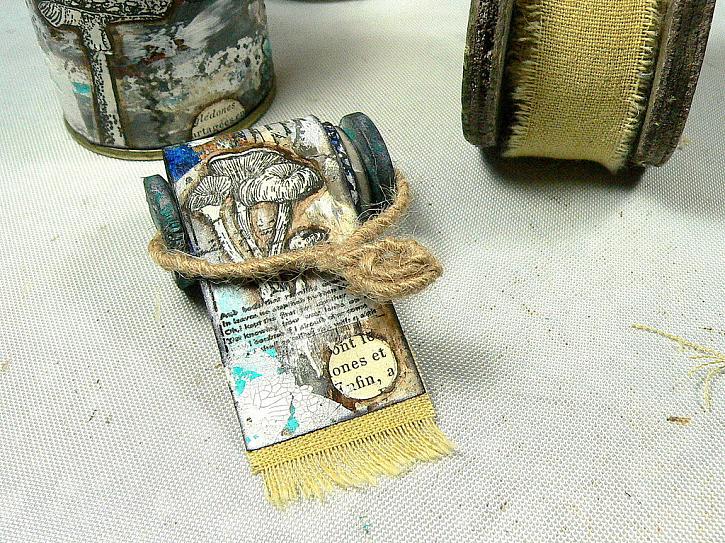 Step Fifteen: Glue some cut out words and/or word stickers and one small punched dictionary page circle to the prepared jar lid circle before you glue that into place with matte Decou-Page.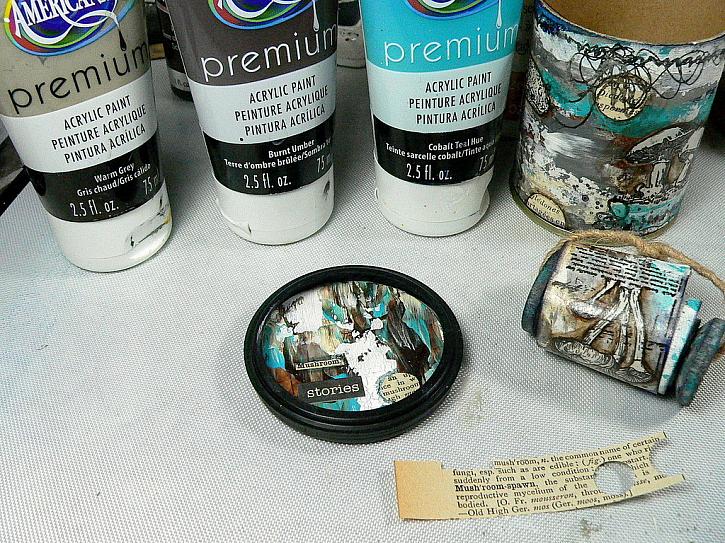 You're done!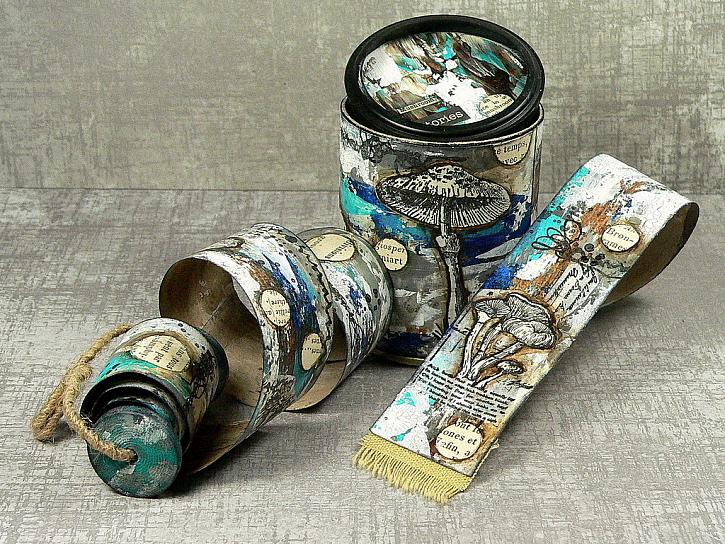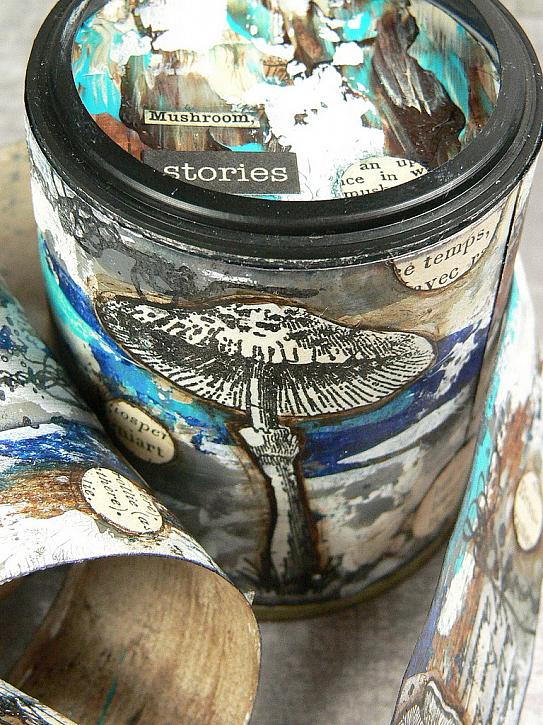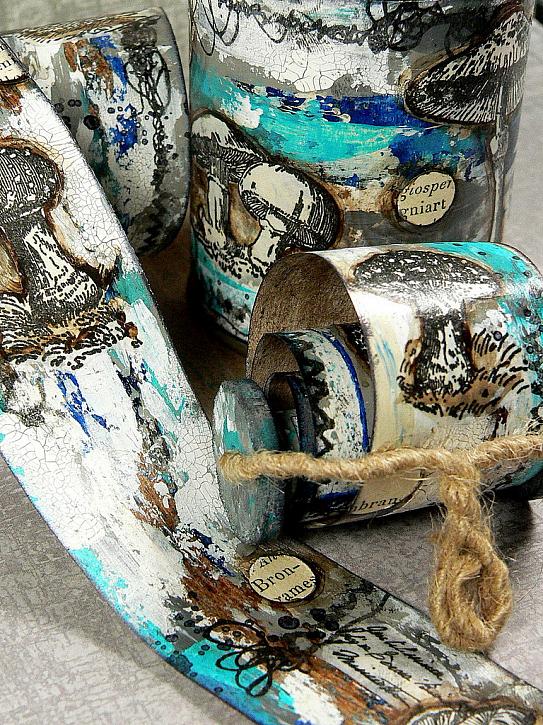 Isn't that a great way to showcase some of your most beloved stamps from your favourite themes? I hope you like my little bobbin journal in a jar and will have fun making your own!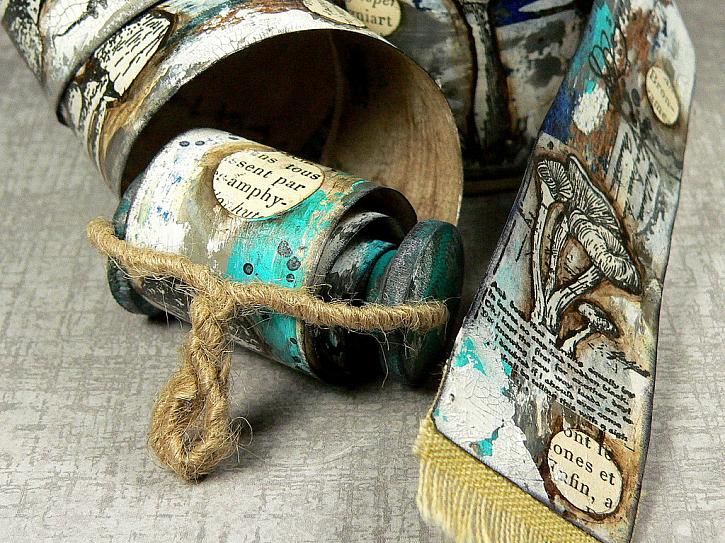 Hugs and happy crafting!
Claudia
xxx