Posted by DecoArt on Feb 8th 2017
Working on the 5 x 7 canvas boards gives me great opportunities to try out ideas without getting into larger canvases. I love that I can experiment with textures and colours and by recording these in a blog post whether that is here on the DecoArt Media Blog or on my own blog, I can then keep a record of what I have done so I can go back and use the process steps again with different colours etc. Why not try this background out using your own choice of colours, stencils, and elements.
Items Needed:
Palette Knife
Assorted Stencils
Assorted Brushes
Water Mister
Elements For 3D Collage
Archival Ink - Coffee
Canvas Board
Instructions:
Using a canvas board which is 5 x 7 ins in size take a palette knife and mix DecoArt Modeling Paste and White Gesso together in about a 50:50 mix and then randomly and thinly spread it over the surface leaving some of the canvas board exposed and leave it to dry.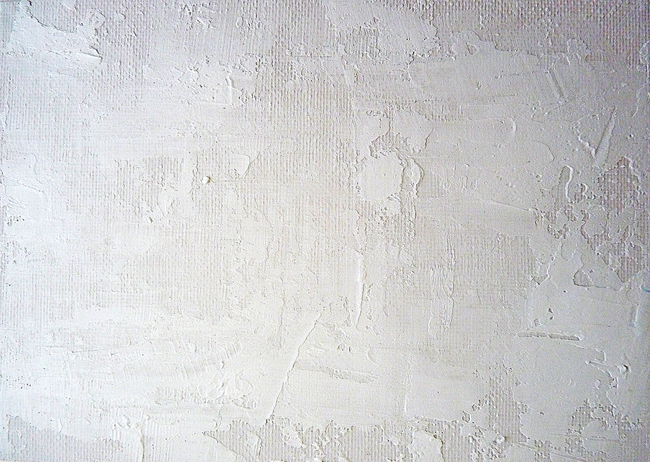 Add some textured stenciling using Modeling Paste.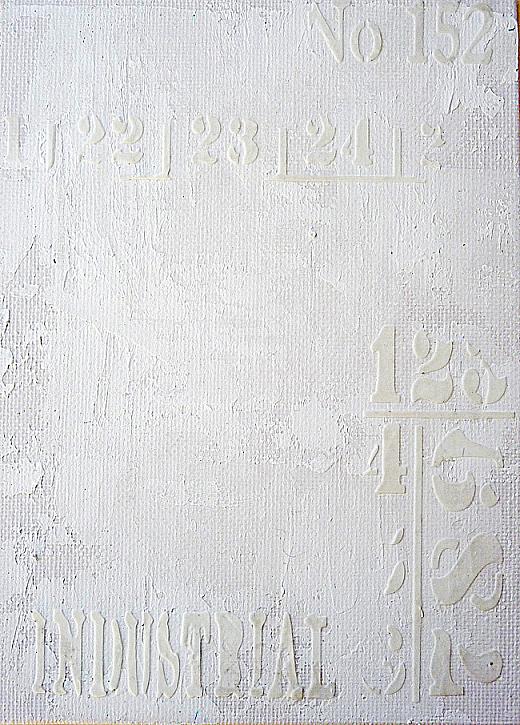 One of my favourite ways of laying down colour is to mix watery washes and adding a little on the canvas, spritzing with water, letting it drip and then drying it before adding another layer and repeating the process until you are happy with it.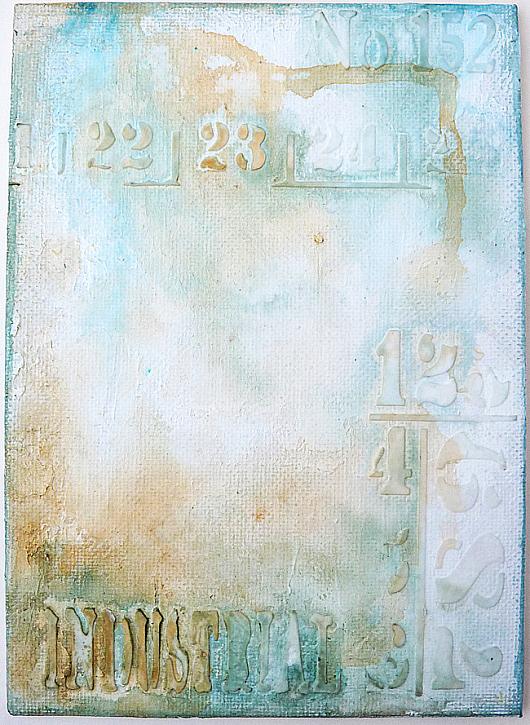 I chose two colours that look good together (Phthalo Turquoise and Raw Sienna) and would blend to create tonal contrasting colours. As well as spritzing and drying I also rubbed some of the colours around the edge of the canvas with my finger.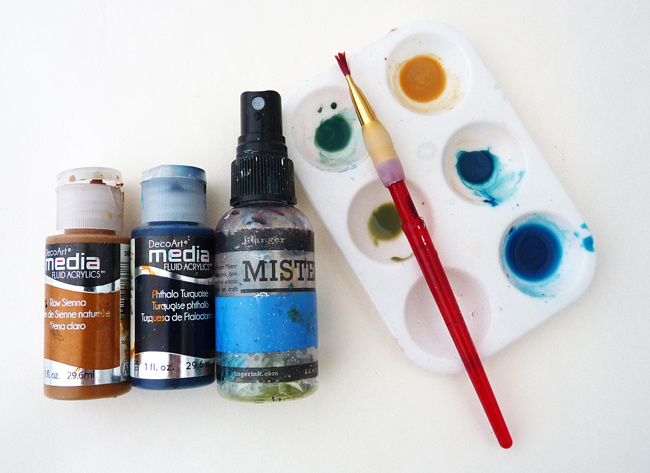 I searched out some metal and wood pieces to put together for a 3D collage and adhered them with DecoArt Crackle Paint which gave me some texture around the pieces when it dried. I didn't risk the large bulb staying in place without extra help so I glued that piece on with Matte Medium.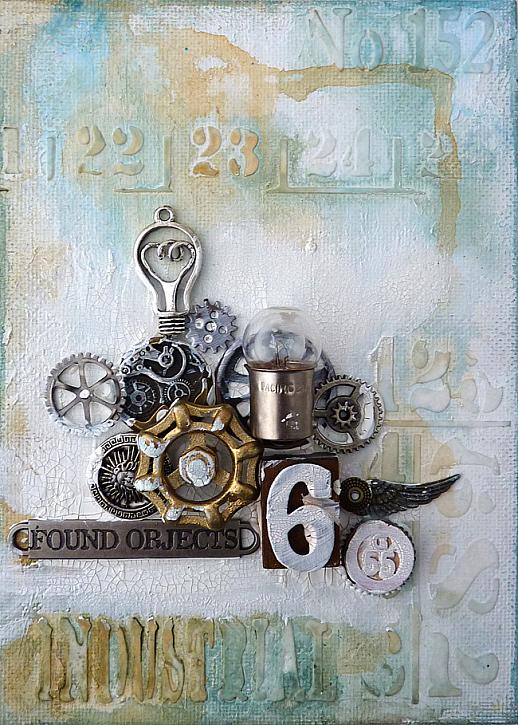 Next came a careful coat of Black Gesso to unify all the pieces and give me a surface to take the acrylic paints.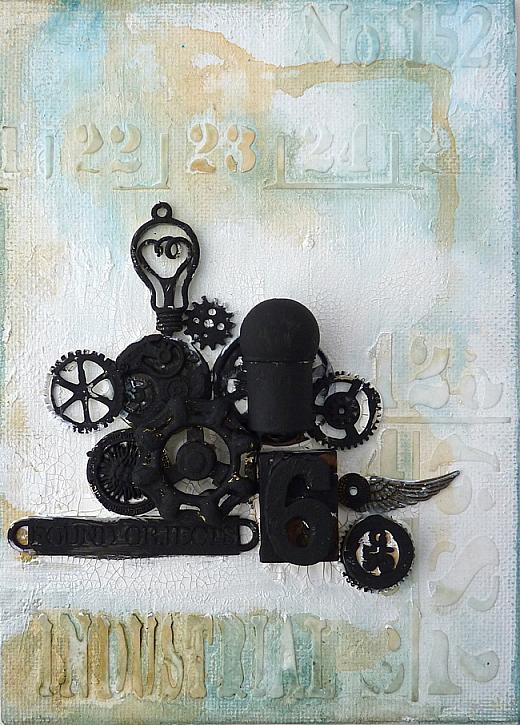 I also dry brushed everything with the most tiniest amount of White Gesso to give me some contrasts and highlights.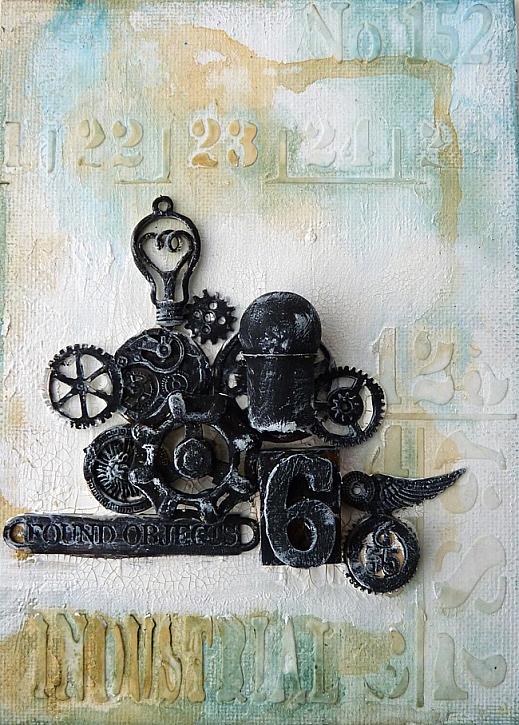 Begin adding patina colours over the elements starting with the same colours that were used on the background. Firstly the Phthalo Turquoise - dab and spritz some of the colour onto the background as well to build up the conformity of colours.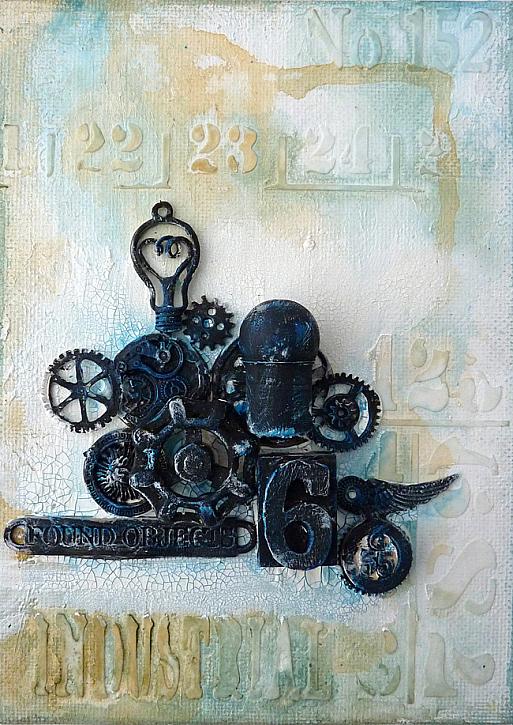 Then the Raw Sienna, repeating the step above.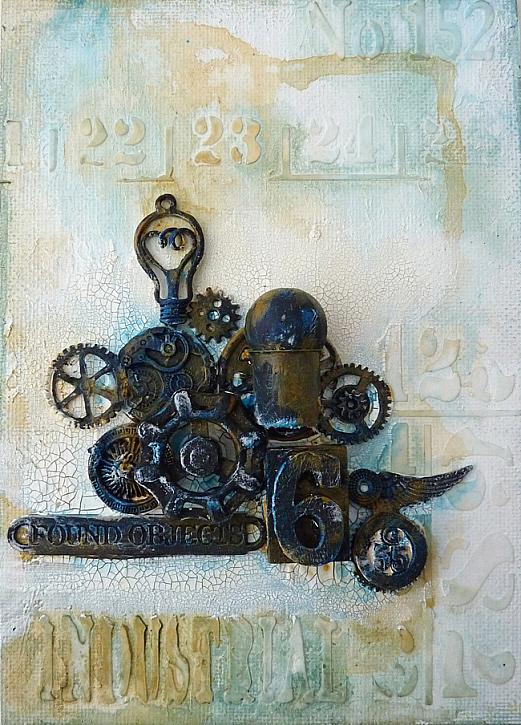 I also mixed the two with some titan buff to get that lovely patina green colour and repeated the steps again.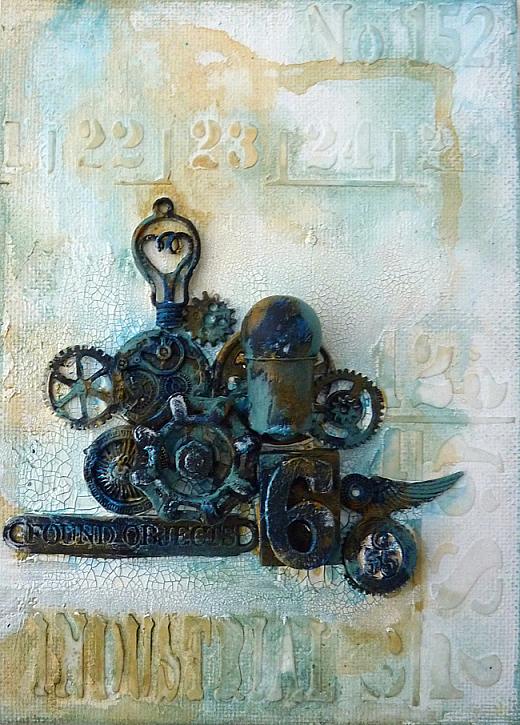 Now to get more of the industrial feel by adding 'rust' with Burnt Sienna and Transparent Red Iron Oxide.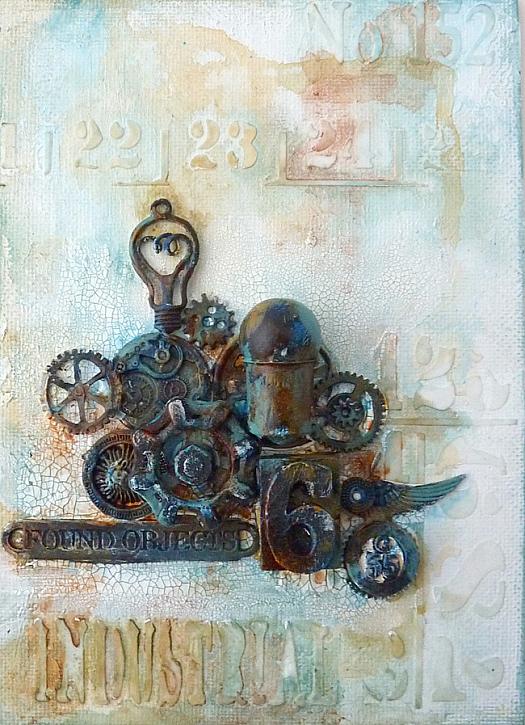 Transparent Yellow Iron Oxide...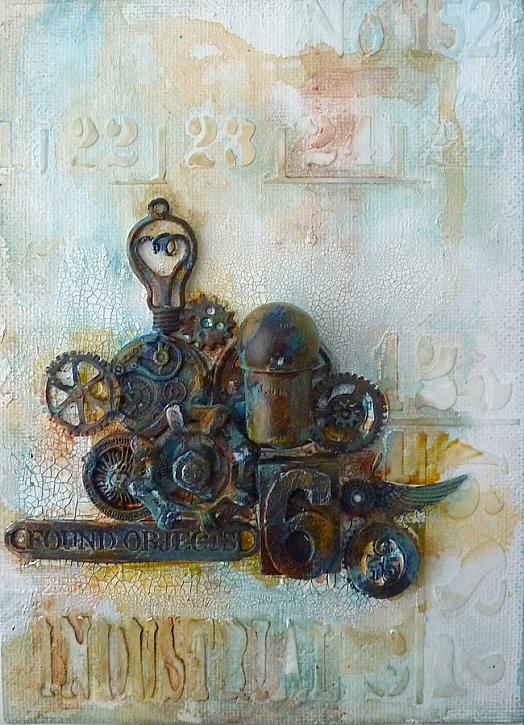 ... and Quinacridone Gold.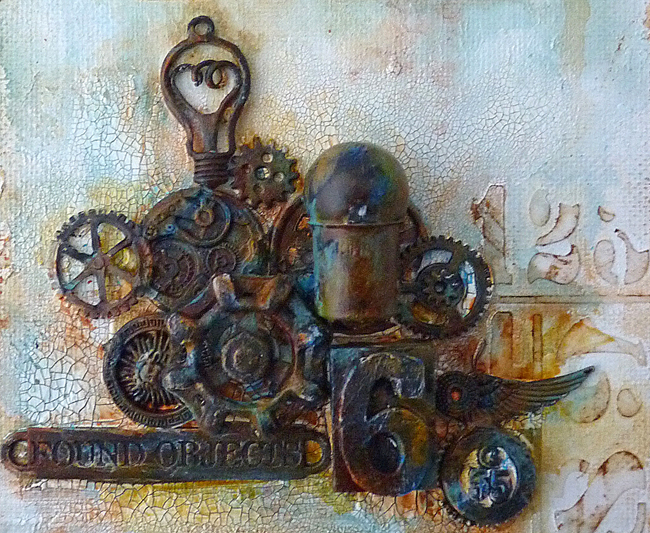 Finish off with a coffee archival ink pad rubbed extremely lightly over the stencilled areas to just highlight them with a rusty feel.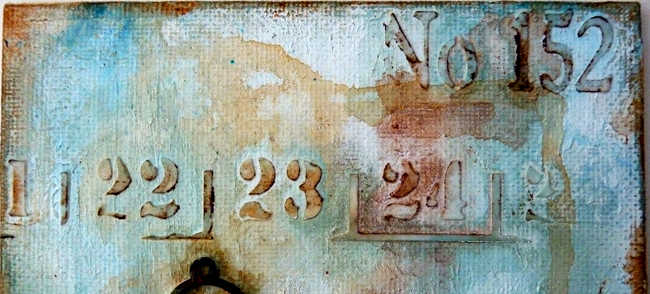 Don't you just love the contrast of the lighter colours in the background with the grungy elements and rusty highlights on the stencilling?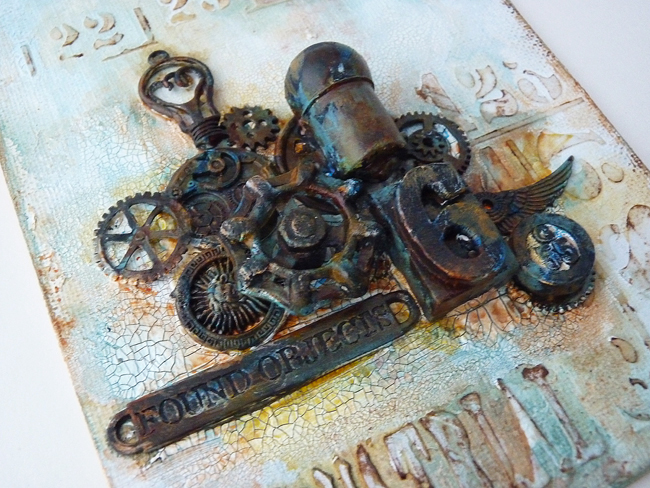 Thanks for stopping by and taking a look at this piece today and please let me know what you like or is useful.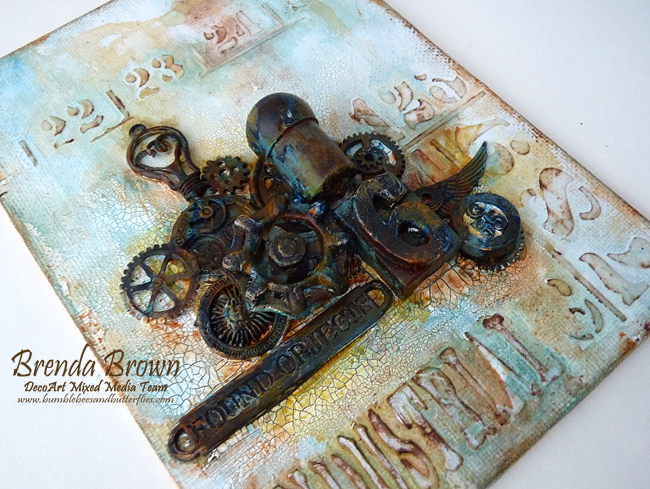 Hugs Brenda xxx