Posted by DecoArt on May 16th 2016
Create an easy and eye catching wall decoration using DecoArt products. This John Lennon canvas using Andy Skinner's Splash technique and an image transfer technique was loads of fun to do.
Items Needed:
8
Laser Printed Image
Assorted Brushes
Colorful Cardstock
Scissors
Stamps
Stencils
Palette Knife
Water And Sponge
Dipping Pen And India Ink
Old Toothbrush
Black Archival Ink
Black Ink Pen
Craft Mat
Sanding Block
Instructions:
You may choose to use other DecoArt Media Fluid Acrylics paint colors in your background, according to the colors you choose in your cardstock backing. Now let's get started!
First you will need your image. Here is a link to Andy Skinner's blog featuring not only John Lennon but numerous images that are free to download. THANK YOU ANDY! Your best results will be achieved if this image is printed on a laser printer.
Choose a colorful cardstock background. The pattern does not matter as it will be almost completely covered. It is more important to find something colorful. Brush a generous coat of DecoArt Media Matte Medium onto the 8x8 canvas surface and press your 8x8 piece of cardstock in place. Be sure that all of the edges are secured as well. Burnish in place and let dry. Once dry, take the sanding block and sand the edges of the cardstock to the canvas.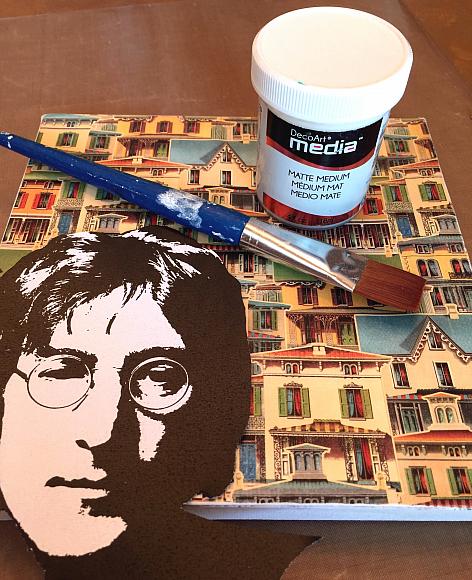 Choose various colors of DecoArt Media Fluid Acrylics paint colors that are also in the cardstock background. Use a paint brush (I prefer to use my finger) and add more color onto the cardstock. Again, you are not interested in the pattern of the cardstock, only in adding lots of color. Let dry or heat set.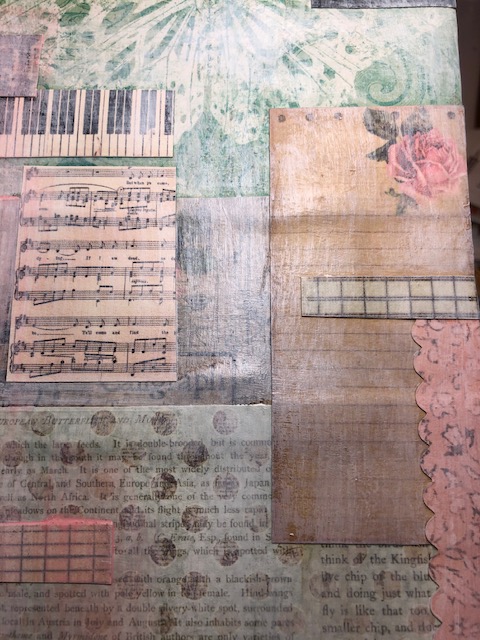 Add texture and pattern to your canvas with DecoArt Media Modeling Paste and your choice of a stencil(s). Use a palette knife to scrape the Modeling Paste through the stencil. Let dry or gently heat set.
Use a permanent black ink to add some random stamping to the background. Heat set. Apply two coats of DecoArt Media Satin Varnish, allowing it to dry between each coat.
Cut out the image you will be transferring and lay it on the canvas. Pencil around it so that you will have an idea of its placement. Choose DecoArt Media Fluid Acrylics Titanium and another acrylic paint color from your background. Working quickly, fill in the area where the image is to be placed with Titanium White so that when the image is transferred, it will be more opaque. Beginning at the outer edges of where the image will be placed, begin blending the second color and allow it to go darker and darker as you reach the outer areas of the canvas. In this case, I used Titanium White in the center and added Cobalt Teal Hue to blend out to the edges of the canvas. While the paint is still wet, sprinkle DecoArt Drying Time Extender over the canvas. I tried to avoid getting extender on the facial area of my transfer but that is just my preference. You can manipulate the extender with a pencil point or the end of a paint brush handle to drag it out of a puddle or dot more extender on the canvas. Let the extender sit undisturbed for 20-25 minutes. The extender will not be dry but the paint should be.
Use paper towels or a rag and lightly blot up the remaining extender off of the canvas. Using a baby wipe, gently wipe over the canvas in circular motions to remove paint where the extender has been. The paint will completely come off revealing the colorful cardstock beneath in a random splatter pattern. I honestly wish I had done even MORE splattering of the Drying Time Extender but I improvised and filled in the blank areas a little later in this tutorial.
This next step can be done one of two ways using either DecoArt Photo Transfer Medium or DecoArt Media Matte Medium. No matter which product you use, the instructions are exactly the same. Give the entire canvas surface and the black and white transfer image a coat of DecoArt Photo Transfer Medium or Media Matte Medium. Let dry. Then give a second coat to the canvas and let dry. Once that is dry, brush another generous coat of the Photo Transfer Medium or Matte Medium onto the black and white image being sure to completely cover the edges. Lay the image face down onto the canvas.
Burnish the image starting at the center and working outward to remove all of the air bubbles or any excess medium. Use your fingers, a straight edge or brayer. Leave overnight if possible or at least for several hours to dry. Be sure that the image is completely dry before going on to the next step.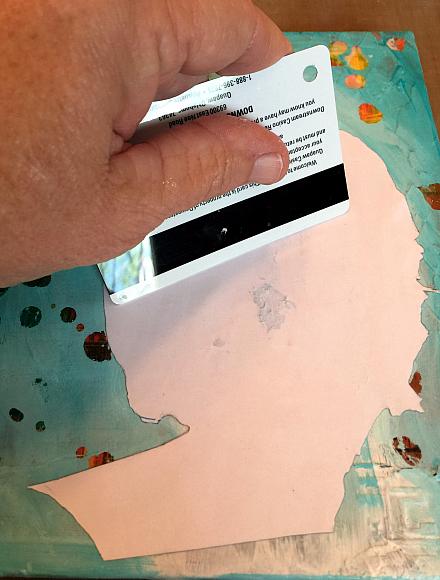 Using a sponge, moisten the surface of the paper backing of the transfer. Let it sink into the paper for about a minute and then with a wet sponge, gently start rubbing away the paper backing. Continue to do this until all of the paper backing is removed. Let dry. I was amazed at how quickly the paper backing came off and left a gorgeous transferred image underneath!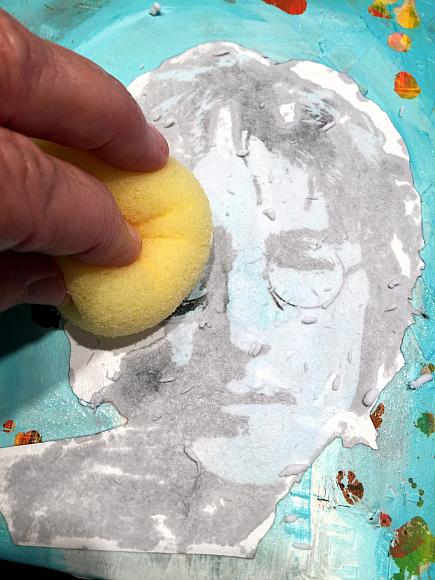 Once I removed the first major layer of backing and I let the image dry, I repeated the process another time or two until almost all of the white pulpy like surface on the image was clear. You will never get it completely off but once you brush on a final layer of DecoArt Photo Transfer Medium or DecoArt Media Matte Medium, the pulpy white residue disappears and leaves a beautiful black and white image.
Add the word "imagine" to your canvas. In this case, I sketched it onto the lower left side of the canvas.
Using a dip pen and India Ink, I filled in "imagine". You could also use a permanent black ink pen if you prefer. I just wanted a bit more of the "randomness" that a dip pen and ink produces.
To fill in some blank areas on the canvas and add even more color and texture, I created a wash using water and DecoArt Media Fluid Acrylics colors Carbon Black and Titanium White (separately). I rubbed the toothbrush into the wash and randomly flicked it onto the surface of my canvas. I COVERED MY JOHN LENNON TRANSFER SO AS NOT TO ADD RANDOM SPLASHES OF COLOR ON HIS FACE.
To define the edges of my canvas and to pull everything in together, I added DecoArt Media Fluid Acrylics Carbon Black to the outer edges of the canvas using my finger to apply the paint. I also used a small brush and filled in some of the Harlequin stenciled images on the canvas.
Using Permanent Black Ink, I randomly stamped on the sides of the canvas to finish it off.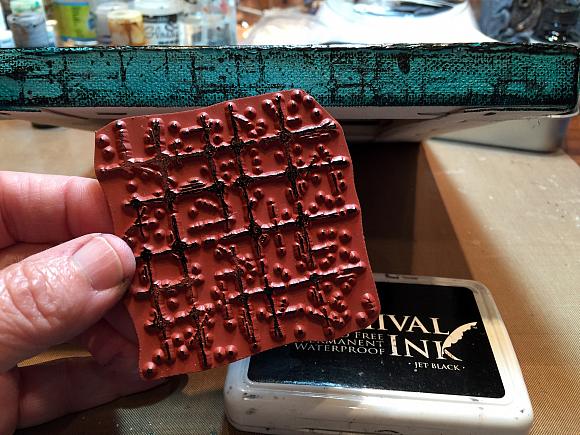 Here is a view of the almost completed canvas.
I still need to add a few more random toothbrush splotches of color. This time I used DecoArt Media Fluid Acrylics Vermilion (see in the final picture) and I added lyrics from "Imagine" around John's head using a Permanent Ink Pen. Seal with another coat of DecoArt Media Satin Varnish.
This canvas was so much fun to do. I totally experimented with Andy Skinner's splash technique and transfer technique as I had not done anything like the splash technique before. I LOVED the results. As I said, I just wish I had done more of the splashes with the Drying Time Extender initially.
You can view Andy Skinner's tutorial for these techniques on YouTube here.
You really need to try this technique! It's very different and the results are amazing! So much fun!